Best Office Printers Australia (2022 Update)
-
When it comes to office resources and amenities, choosing one of the best office printers takes the cake as perhaps the most finicky asset to select. There are a broad array of printing features and capabilities that you'll need to consider when selecting the ideal printer model for your particular office space. Not to mention plenty of incredible printing brands to choose between.
The fact of the matter is, however, that finding the perfect printing solutions for your office space can play an integral role in your company's ability to maintain correspondence with customers, clients, suppliers, stakeholders, and all other bodies that you may find yourself interacting with routinely.
Naturally, you'll want to ensure that the office printer you select to fill the vacant corner of your office will actually be able to see to all of your organisation's printing needs and maybe even contribute to your organisation reaching your collective sustainable printing goals.
We've endeavoured to include whatever specifications interest you the most in our little list of the best office printers that we've compiled below. Read on to discover the ideal office printer for your organisation based on your company size and professional printing needs.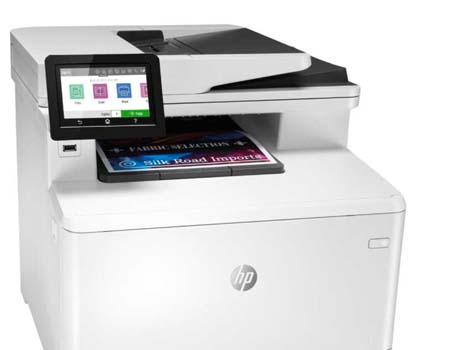 1. HP Colour LaserJet Pro MFP M479fnw Printer
(Best Small Office Printer)
Price: $889.35 (+ Free Shipping)
Even SMEs can have high capacity printing needs every now and again, so it makes sense to invest in an office printer whose monthly page volume falls within a fairly broad range.
Although the maximum recommended monthly page volume of the HP Colour LaserJet Pro M479fnw printer is actually 4000 pages, this LaserJet can also be perfectly maintained on a minimum of about 750 pages monthly. This may still be high for some SMEs, but any organisations who are looking to expand past the first twenty or so employees may benefit from investing in a high yield LaserJet like the M479fnw which will be able to cater to their rapidly changing printing needs. As such, the HP LaserJet Pro MFP M479fnw is one of the best small office printers available.
Speaking of print yields, the M479fnw is also a worthwhile investment for its varied toner cartridge compatibility. Being compatible with not just HP's 414A/X cartridges, but also the 415A/X and 416A/X toner cartridges, your organisation will likely never face issues with sourcing replacement toner cartridges for the foreseeable future. The X variants of the 414, 415, and 416 black toner cartridges are also ultra high yield, producing a whopping 7500 pages in black and 6000 pages in colour.
Alongside M479fnw's ultra high yield, printer users can also enjoy scan, copy, and fax functionalities on this LaserJet Pro, as well as mobile printing capabilities through Apple AirPrint, Google Cloud Print, Mopria, and HP's companion HP Smart app, which boasts plenty of additional features such as the ability to run remote printer diagnostics tests.
The M479fnw is also capable of duplex printing and scanning, making multi-document copy jobs a veritable breeze. Copy speeds for this LaserJet model are also incredibly fast at 27 cpm. Print speeds are comparable, with the first page out as fast as 9.5 seconds for black and white printing jobs, and in around 11 seconds for colour jobs. As the HP M479fnw is also valued at under $1000, it is equally low-cost as it is high-yield, making this laser printer suitable for both SMEs and larger corporations.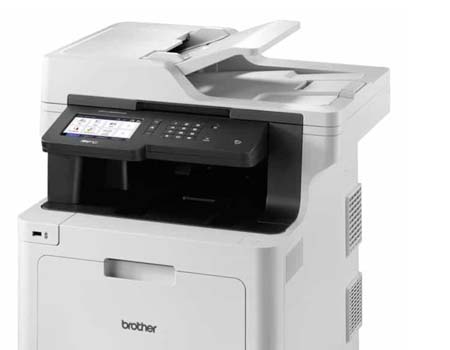 2. Brother MFC-L8900CDW Laser Printer
(Best High Capacity Office Printer)
Price: $943.14 (+ Free Shipping)
Whilst many modern businesses are looking to decrease their printing frequency, there are undoubtedly some companies who simply have no choice but to print often and heavily, like law firms and other professional bodies who may find themselves frequently printing larger document jobs like legal contracts.
If your organisation's printing needs are closer to 4000 than they are to 750, then you may benefit from an ever higher capacity office printer equipped with several paper trays. Enter the Brother MFC-L8900CDW Laser Printer. Although this behemoth of an office printer comes equipped with one tray in its original packaging, the MFC-L8900CDW can actually be fitted with a grand total of five paper trays. Sourcing all four additional trays allow printer users to expand the overall sheet capacity for the MFC-L8900CDW by 520 sheets apiece, totalling a whopping 2080 total additional paper capacity when you invest in this printer model's full tower tray.
What else does the MFC-L8900CDW have to offer offices with higher frequency printing needs? How about rapid printing speeds of around 31ppm, a printing resolution of 2400 dpi, duplex printing and copying, mono and colour scanning capabilities, and wireless printing capabilities to boot? And for organisations that rely on maintaining timely correspondence with clients and other parties, you can take full advantage of the MFC-L8900CDW's fax and email printing capabilities, either through WiFi printing or by using this laser printer 12.6cm colour touchscreen.
A true high-capacity office printer, the MFC-L8900CDW is compatible with Brother's TN-441, 443, and 446 toner cartridges, all of which possess ultra-high yields - think anywhere between 3000 to 6500 sheets, depending on the toner cartridge you select. And the choice is indefatigably yours! The Brother MFC-L8900CDW effectively allows business owners and employees alike to take their professional printing needs firmly into their own hands, supporting sustainable printing even in professional environments that may be sustained by their higher frequency printing practices.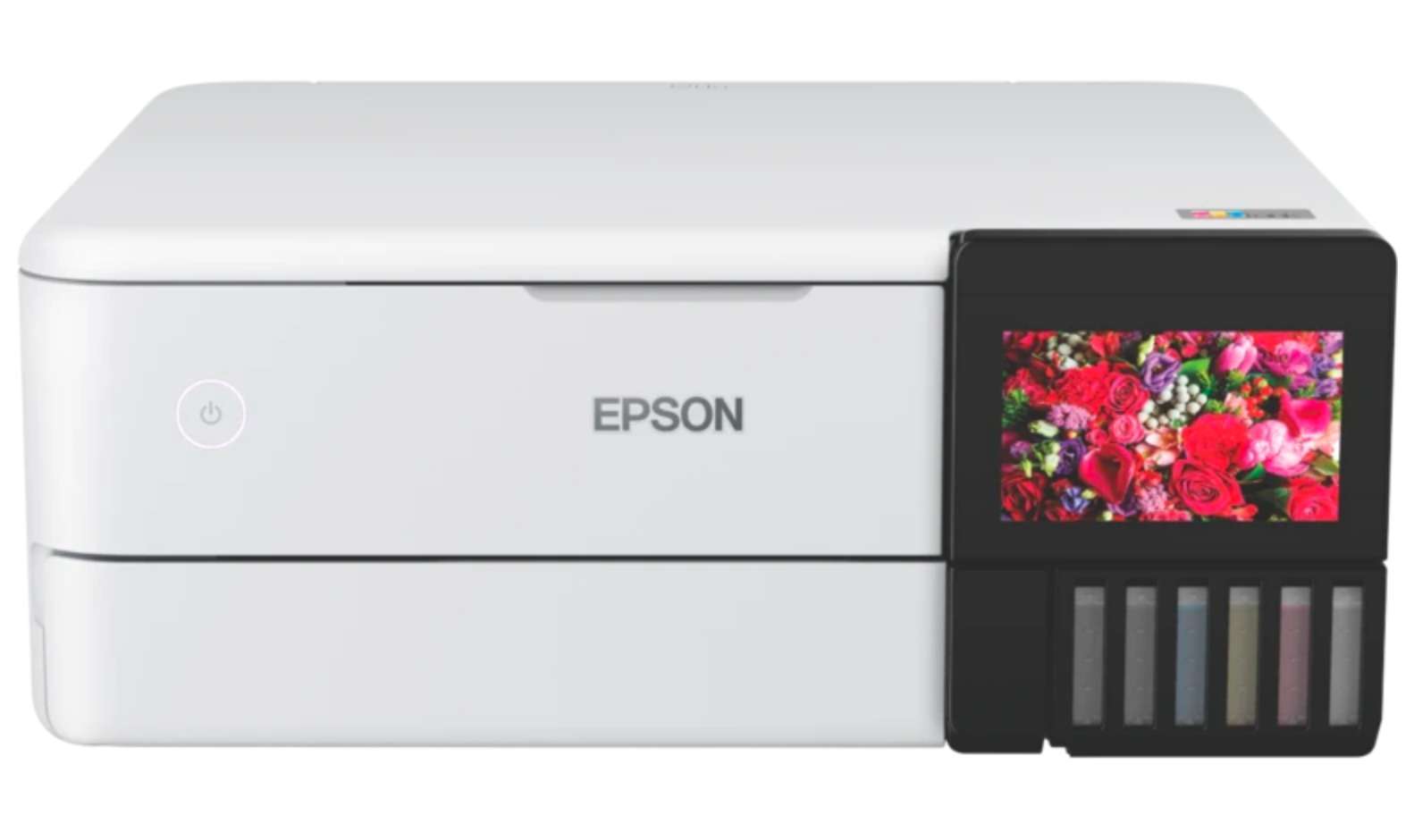 3. Epson EcoTank Photo ET-8500 Printer
(Best Office Printer For Creatives)
Price: $959.00 (+ Free Shipping)
If you work in creative industries, then chances are a basic document printer won't be the best fit for your colourful office environment. You may find yourself printing on different media types like photo paper, glossy brochure paper, or even on sublimation paper in the production of branded promotional materials.
If you feel that you and your organisation may benefit from investing in a printer that's just as eclectic and multifaceted as you and your coworkers are, then look no further than the Epson EcoTank Photo ET-8500 Printer. This innovative EcoTank doubles up as both a photo printer as well as a sublimation printer using specialist sublimation paper and inks alongside of course, being able to handle your standard everyday document print jobs too.
Everyday document printing boasts a print resolution of 5760 x 1440 dpi, and the ET-8500 is capable of printing documents at a speed of up to 16 ppm for black and white printing, and a respectable 12 ppm for colour print jobs. Copy speeds are comparable at 15 CPM for black and 8 CPM for colour copy jobs, which is fairly decent for a printer of such diminutive size.
And its size is a genuine selling point here too, amidst all of the ET-8500's many printing capabilities. This little powerhouse of a multifunctional, multimedia printer weighs just 8.4 kg, which is truly impressive when compared to the Brother MFC-L8900CDW weighs a comparatively gargantuan 28.7 kg, despite having more or less identical page yields to the ET-8500 with its more high-capacity toner cartridges.
Being an EcoTank, the ET-8500 naturally possesses a particularly high printing yield using Epson T552 pigment black ink bottles. The T552 pigment ink replacements will provide ET-8500 printer users with a total page yield of a whopping 6700 pages for black and white print jobs, and 6200 for colour printing.
So will the Epson EcoTank ET-8500 be equally suited to offices that may be printing at a higher frequency rather than printing on a variety of different media types? Well, yes and no. The ET-8500 is definitely a good all-around investment for any kind of office space, but if you don't foresee getting much use out of its photo printing and sublimation printing capabilities, then Brother's MFC-L8900CDW may be a more reasonable choice for your business.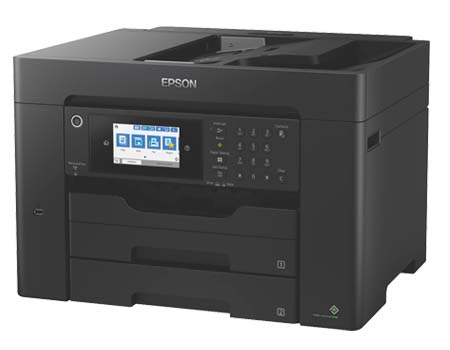 4. Epson WorkForce WF-7845 Printer
(Best A3 Office Printer)
Price: $362.80 (+ Free Shipping)
One print capability that select office spaces may be on the hunt for is A3 printing. It can often be surprising just how few standard office printers are actually capable of printing on paper sizes above A3. More often than not, A3 printers come fitted with other advanced printing capabilities, which can end up pushing the cost of that model straight through the roof.
If your organisation is seeking a good A3-capable office printer that doesn't come with any costly bells and whistles, then we must recommend the Epson WorkForce WF-7845 Printer. This particular WorkForce printer is an ideal choice for office spaces who are looking to print, copy, and even scan A3 documents, as the WF-7845 also comes fitted with a substantial A3 scanner that produces fairly high-quality scans at a resolution of 1200 x 2400 dpi. Essentially, you won't have to sacrifice quality in order to actually secure A3 scanning capabilities for your office space.
The WF-7845 is compatible with Epson's 812 (page yield of 350 black and 300 sheets for colour printing), high yield 812XL cartridges (page yield of 1100 sheets for black and colour), and ultra high yield 812XXL ink cartridges (page yields of 2200 sheets for black and colour), so you can feel free to secure an ink supply that aligns with your organisation's printing frequency.
Printing speeds for the WF-7845 are more than respectable at 25 ppm for black and white printing, and 12 ppm for colour print jobs. Printing resolution is also superb at 4800 x 2400 dpi. Copy speeds lag behind a little when compared to printing speeds, at 16 CPM for black and 9 CPM for colour, but overall the WF-4785 is a reasonably priced and highly capable office printer that's only made better by its A3 printing functionality.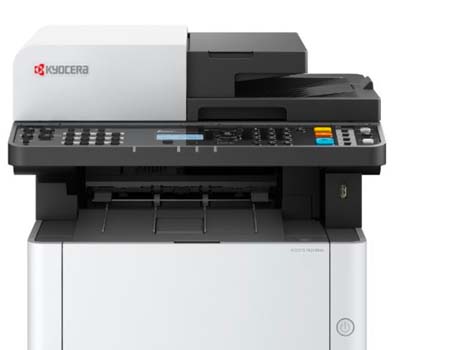 5. Kyocera ECOSYS M2540DN Mono Laser Printer
(Best Monochrome Office Printer)
Price: $787.64 (+ Free Shipping)
Finally, it's worth noting that not all modern offices undertake colour printing jobs on a regular basis. In fact, modern offices are infinitely more likely to opt for black and white document printing over colour printing wherever possible, simply for the sake of saving resources, or just because colour printing isn't always entirely necessary, especially if you're producing interdepartmental or interoffice correspondence.
If you are on the hunt for a fast and capable mono printer, then there are most likely already a handful of Kyocera office printers on your shortlist. Kyocera has forged a name for itself in the realm of high-capacity, eco-friendly office printers, especially with their ECOSYS printer series. The Kyocera ECOSYS M2540DN Mono Laser Printer is a prime example of this particular printer manufacturer's superb innovations in the art of monochrome printing.
Basically, what the M2540DN lacks in colour printing, it more than makes up for with regards to printing and copy speeds, as well as scanning capabilities amongst some other notable functionalities like network faxing and continuous copying. Printer users can enjoy up to 40 pages a minute with the M2540DN, and that includes duplex printing and copying as well!
But how does the M2540DN measure up to the other office printers on this list with regards to its printing capacity? With Kyocera's TK-1174 black toner cartridges, the M2540DN actually possesses a quite substantial page yield of 7200 sheets. Kyocera's toner cartridges are also often far more reasonably priced than other heavy-duty office printers, making the M2540DN a highly practical and rewarding printing solution for any office space that may be printing many mono, multi-page documents.
A roundup of the best printers for workplaces.
Finding the best business printer for your organisation requires you to outline what printer features you feel may be most beneficial for both your own personal professional needs as well as the needs of your fellow colleagues. From security to cost efficiency, there is plenty to consider and we hope that our shortlist of the best business printers has been helpful. Be sure to use this list and all of the specifications we've outlined above to help guide you as you continue on with your search for the best office printer to fit your working needs.
If you want to know more about any of the quality office printers that we've outlined above then please get in touch with our printing specialists here at CartridgesDirect to find out more about any of the products available in our wide range of printers and printing supplies.
Content Disclaimer: At CartridgesDirect, we are committed to providing up to date and independent reviews on the best office printers in Australia. All printer reviews are not commissioned by manufacturers and have been independently tested by our printing experts. If you have any questions about quality office printers, please contact us via live chat or feel free to leave a comment below. We look forward to hearing from you.
Explore Popular Articles
The 21st century is the age of information and seeking alternatives to harsh chemicals. Although

There are a number of criteria to be met when choosing a new business printer. Productivity is a

Photos are precious memories and it stands to reason that you would want to buy one of the best