Which Printer Ink Is Waterproof?
-
First things first, there is no such ink that can be classified as 'waterproof printer ink'. However, there are options for 'water-resistant printer ink' which serve the purpose of mitigating water damage to your documents or printed photography. When it comes to printing, sometimes you have important documents or photos that you want a high-quality finish. Smearing or smudging that results from wet inks or non-water resistant inks can be frustrating; especially when you do not realise smudging has occurred and you pull the document out after the fact! This is where waterproof ink or water-resistant ink comes in handy. It makes all the difference in your creative or professional output.
Being able to identify which ink is waterproof or water-resistant can be tricky. Firstly, we need to consider what classifies 'waterproof'. If you are okay with the smallest of smudges then you could classify some 'water-resistant' inks as totally waterproof. However, if the smallest of blemishes is all too much then there is absolutely no such product available that is completely waterproof. To help you decide which printer to purchase (and subsequently which ink cartridges to buy), follow this easy guide to understanding which printer ink is water-resistant and what considerations you can make to avoid damaged documents in the future.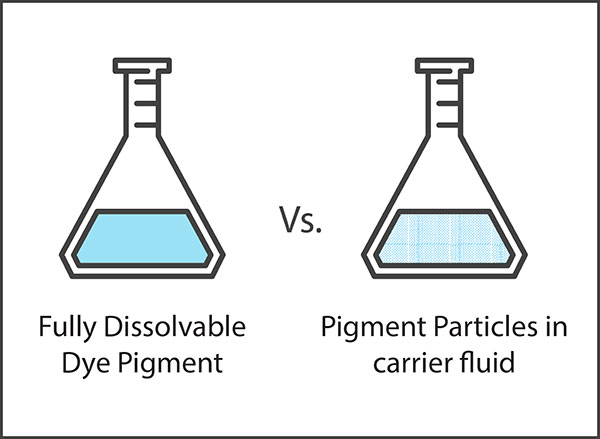 1. The Ink Base Is Important
Depending on the type of ink cartridge you use, there is a simple way to better understand if your ink is waterproof or not. This does not involve wetting your finger and rubbing it over your prints! An ink cartridge that uses ink which is water-based, is not waterproof or water-resistant. Because the ink is made from a base of water, if the ink is wet after printing, the ink will run and the print can be damaged or ruined. Inks which are pigmented or oil-based inks, however, are made to be water-resistant; meaning your prints shouldn't run, smear or smudge if they get wet. The best way to ensure your prints are waterproof is to use the right ink or opt for a laser printer instead.
2. The Printer Matters
Depending on the printer you use, the quality and reliability of your waterproof print can make a huge difference. Inkjet printers, using an ink that is not water-resistant, will result in an inferior print that will smudge when wet. Using a water-resistant, pigmented or oil-based ink cartridge on an inkjet printer will give you a much better result and produce a print that is unlikely to be severely damaged by water. For the best print, when smudging is a concern, it is always recommended to use a laser printer for the waterproofing results. Laser printers use toner cartridges that produce a solid powder which is then melted into the paper for the print, meaning it won't dissolve or run, even when wet. Laser printers are better for waterproof prints simply because they use a toner instead of an ink cartridge, meaning a more reliable print that will withstand water.
3. The Available Products
When it comes to selecting an ink cartridge, it all comes down to the system you're using to print and the end result you are anticipating. Epson, Brother and Canon all offer products which can produce water-resistant photo printing with an inkjet system, with some offering water-resistant inks or pigmented inks to help provide protection. Laser cartridges are the best way to avoid any water smearing or smudging issues and all of the big brands offer great options for laser cartridges. The additional advantage of the laser option is the cost, as it's far cheaper to print and will give you a better end product with no concerns.
Waterproof printing can be an important factor when it comes to your needs. Whether you're printing photos you'd like to last a lifetime, or important documents for work, smearing or smudging due to inferior inks can be very frustrating. Waterproof inks are a great way to help avoid this and laser toners are an ideal way to avoid it altogether. No matter what your printing needs are, there is a water-resistant option for you and your printer that will remove any major smudging for good.
If you are looking for waterproof inks, a laser printer or any of CartridgesDirect's supply of leading inkjet pigment-based ink print products; designed for quality output - view the full range here on our website. If you are working on a special project that has the potential for smudging with the projects you have, contact our team to find out what can be done and recommended for this job.
Explore Popular Articles
The 21st century is the age of information and seeking alternatives to harsh chemicals. Although

There are a number of criteria to be met when choosing a new business printer. Productivity is a

Photos are precious memories and it stands to reason that you would want to buy one of the best