Secure Printing 2020 - How To Print Securely?
-
There was a time when only fax machines boasted security. Now, with advanced secure printing features, the modern day printer offers an almost perfect vehicle for complete printing security. The emphasis on secure printing has grown over the past few years with malicious users finding new ways to hijack your data. Not only have they mastered the art of counterfeit printer cartridges, they have also found ways to hijack information without you even knowing. However, new technology is matching this stride for stride and now business owners and individuals can expect to keep their prints private from wandering eyes.
In this article we explore what's new with secure printing and how to print securely from both your home and office. Read on to find out how secure printing can save your business from potential embarrassment and protect towards data breaches.
Why is printer security important?
Before we delve into how to print securely, it's important to understand the ramifications of unsecure printing. Just like you would secure your computer, the same level of care should extend to your printer. As a computer device on your network, your printer is just as vulnerable from cyber attacks as your desktop or laptop. With a staggering 62% of businesses believing this is an area printing manufacturers should prioritise, it's due time that we all stepped up our efforts. If you have not invested into secure printing solutions or technology, your business is at great risk of some of the following:
Identity Theft.
Printer Attacks.
Data Breaches.
Overall Network Weakening.
If you hold data in your printing device (which everyone does) or print information that is sensitive, then you might want to sharpen your printer safety as an urgent matter. Medical records, employee salary details and termination paperwork are just a few examples of documents that are often printed on a shared printer, but contain information that should not be shared. Providing the tools for employees to properly handle private and confidential information is the responsibility of the organisation.
With an astonishing 60% of companies reporting print-related security breaches, no one is above exploring how to secure internal printing solutions.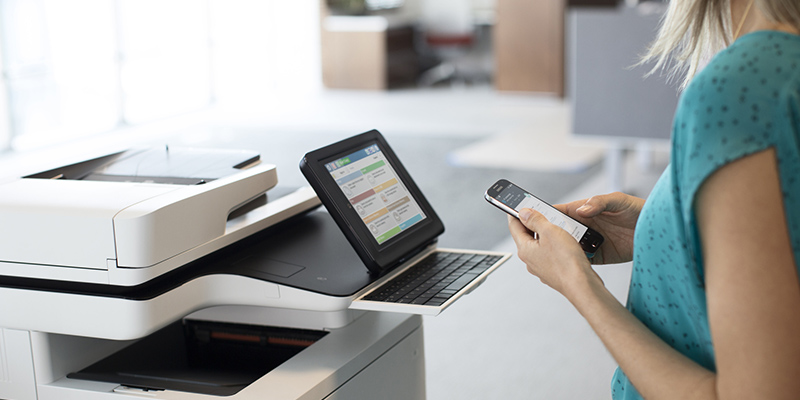 How to print securely in 2020?
Printing confidential information on a shared printer in a public place or large office can be risky, but several technologies help you eliminate most of the risk. Now that we've understood the importance of secure printing, let's explore how to print securely and use secure printing functions to mitigate our risks.
1. Use a secure printing function.
Most modern day printers will have this option available. If you are printing highly sensitive documents, rather than allowing them to print without you stationary at the printer, you can tell the printer to wait until you enter a passcode on the device. This way, should you get caught up or forget about your printing job, your documents will never enter the wrong persons hands.
To secure print from your computer, simply follow the steps below:
Open the Print dialog box in your application (e.g. Microsoft Word)
In the Print dialog, click Printer Properties (Link) or Properties (Button).
In the Properties dialog, select Secure Print from the Job Type drop-down menu.
In the Secure Print dialog, create your passcode (can be between 4 and 10 digits)
Click OK in the Properties dialog.
Secure Print is now displayed in the Job Type section.
Click OK in the Print dialog to send your document to print.
Your document will now have been sent to the printer and you're ready to release (print) your document using your passcode. At the printer, you'll need to enter your passcode to release your document. Be sure to remember your passcode or write this down before you leave your workstation. Otherwise, your print will become stuck within the network.
2. Upgrade your printer model.
Whilst the core functionality of printers does not change too much (i.e. they print paper), advanced technology improves with every new model release. Should you be operating with an obsolete printer, it most likely does not have appropriate security features for your organisation. Take the latest models of HP Laser Printers for example. Not only does each printer device come with upgraded technology across the board, users will also benefit from:
Access Control.
JetAdvantage.
Security Policy Control.
Self-healing BIOS System.
Encrypted Printing & Scanning.
Anti-Malware Features & Reporting.
Regular Firmware Updates.
By operating with an out of date printer, you are putting your business at huge risk. For the cost of replacing devices or upgrading your printer units, you could save thousands of dollars in potential law suits or data breaches. Leveraging HP Security Printing technology is the smartest and fastest way to mitigating your overall risks. For the everyday home user, this should not be such a problem. However, for big business, printer security and secure printing technology should be at the forefront of your IT solutions.
3. Data Encryption Solutions.
If you think that data encryption is exclusive only to computers, know that a printer is also a computer device. In fact, it is also a copier, fax machine, web server and email server. In addition, your printer will likely have a connection to all of your mobile devices, with a hard drive that contains key data ready to be viewed by those with the skills and intent. By encrypting your print data, you are providing a secure passage for your data to travel across networks.
Encrypted data means that a hacker will not see the text that would be present on your print. Instead, they would see a jumbled collection of letters and numbers. Print data encryption can be facilitated by a number of providers and may need to be checked periodically to ensure that it is working effectively with no successful breaches.
4. Managed Print Services & Networking.
By default, without setting up your network correctly your business is vulnerable. If you are operating with a newer printer, organising for an IT or networking specialist to configure your printer security network is wise. The University Of Washington has an awesome guide on how to secure your printer network which you can check out here
In addition to modern printers being designed to a higher standard, Managed Print Services (MPS) appear to be a solution that businesses of all sizes are engaging. MPS will be in charge of managing the print environment, which streamlines jobs and eliminates clutter and overdue maintenance. With a clearer device in action, it becomes easier to spot sinister behaviour that may be operating inside or outside of your office. It also takes this responsibility off the plate of someone who might not know the correct processes, and who could be inadvertently putting the company at risk through their ignorance.
Secure Printing Summary
If computer and printer security is of concern within your organisation, feel free to discuss your options with our experienced team of printing professionals at CartridgesDirect. We are committed to providing service that will get the best result for your business, from print quality to print security. Overall, there are many techniques on how to print securely in which you can implement throughout your organisation. From the basics such as limiting who can print certain types of documents to leveraging powerful security features in modern day printers, printer security is becoming a whole lot easier to manage.
Explore Popular Articles
The 21st century is the age of information and seeking alternatives to harsh chemicals. Although

There are a number of criteria to be met when choosing a new business printer. Productivity is a

Photos are precious memories and it stands to reason that you would want to buy one of the best