Inkjet Vs Laser - Battle Of The Printers (2021 Update)
-
At CartridgesDirect, we are often asked to compare inkjet vs laser printers to assist customers in making better purchasing decisions. With many factors to consider when choosing the right printer, deciding between inkjet and laser printers is the perfect place to start.
Scroll down to read our comprehensive comparison guide on laser vs inkjet printers. Once you're done, you can be confident in knowing that you will make the right decision, the first time around.
Inkjet vs laser printers summary:
In short, the greatest difference between inkjet and laser printers is that laser printers use toner cartridges and inkjet printers use ink cartridges. This affects the initial purchasing cost, running cost, performance and overall output of the printer.
Printer toners are suitable for large volume printing and inkjet printers are suitable for low volume printing. To this end, inkjet printers are typically used at home and laser printers are normally found within office environments. However, depending upon how you plan to use your printer, laser printers are also suitable candidates for home printing as a more economical alternative when printing in volume.
There is also a difference in startup and operational costs when comparing inkjet and laser printers. Typically, laser printers are more costly upfront and inkjet printers can be purchased for a much cheaper price. However, running costs are quite often the complete opposite with laser printers cheaper to operate longterm due to a superior page yield and monthly duty cycle.
For more information and a list of pros and cons, continue reading our guide on inkjet vs laser printers to understand more about specific differences between these two popular printers.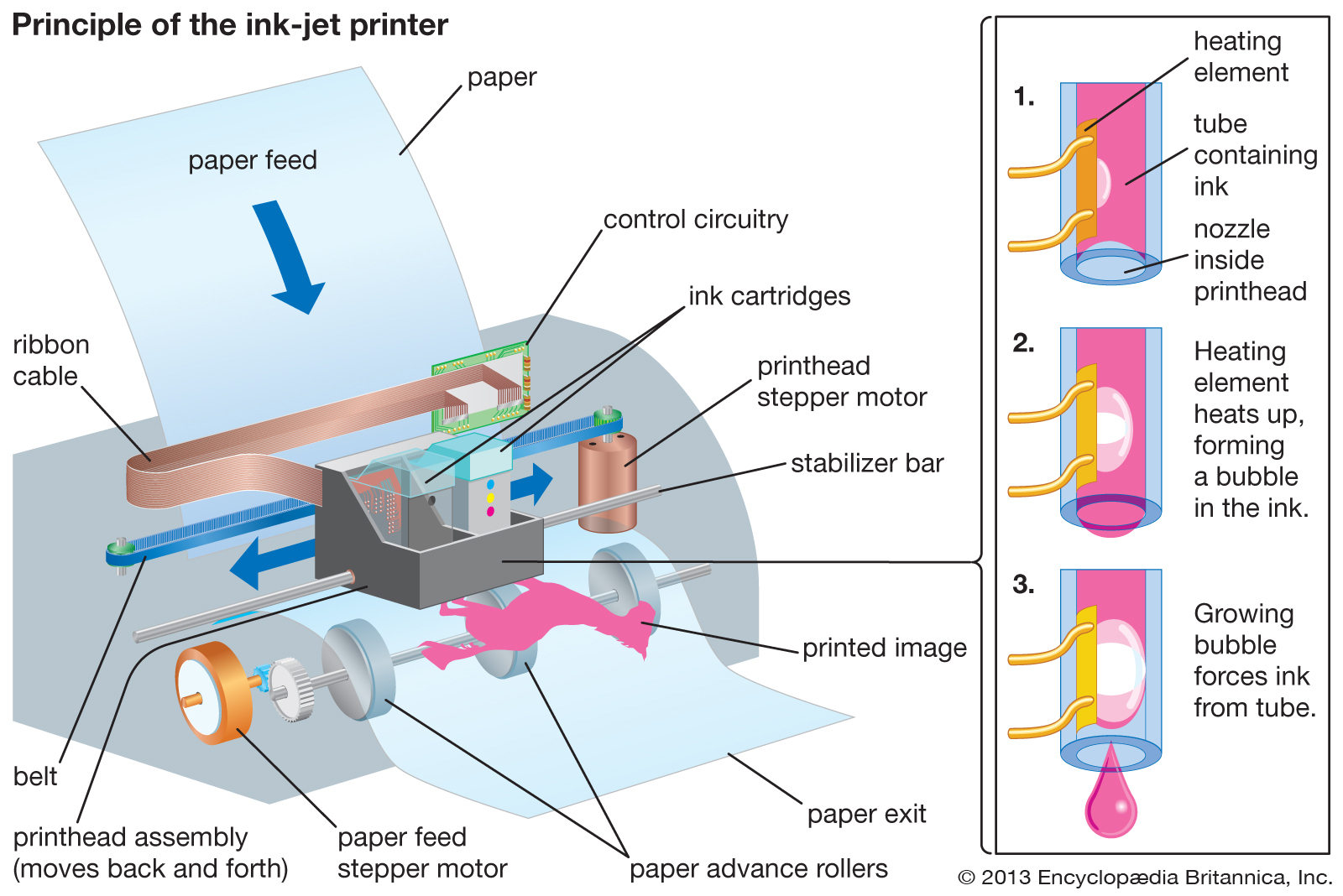 What is an inkjet printer?
Before we delve into inkjet and laser printer differences, it's important to understand what each term means. Inkjet printers are printing units that spray microscopic drops of ink onto paper. As you will see from the image above, due to the minuscule size of each droplet, this makes inkjet printers great for high-quality photos. However, that does not mean that they are not suitable for text-documents and, when processing in low volumes, they will get the job done.
In addition to this, inkjet printers are typically cheaper to purchase and smaller in physical size. While the cheaper nature of inkjet printers is often appealing, the very cheapest of models (when printing frequently) become extremely costly to operate. Therefore, if you do plan on using an inkjet printer often, you are best to purchase a mid-range inkjet printer or a colour laser printer which delivers a reduced cost per printed page for similar quality.
Are OfficeJet printers inkjet?
As a final note on inkjet printers, another question we are asked about is the difference between OfficeJet and inkjet printers. OfficeJet printers are a brand of inkjet printers from HP (Hewlett Packard). Whilst often mistaken for another type of printer, OfficeJet technology works similarly to inkjet technology. However, they often come with features more suitable for a workplace such as scanning, copying and fax capabilities. If you wish to know more, head on over to our guide about the differences between OfficeJet and Inkjet printers to clear up any questions you may have.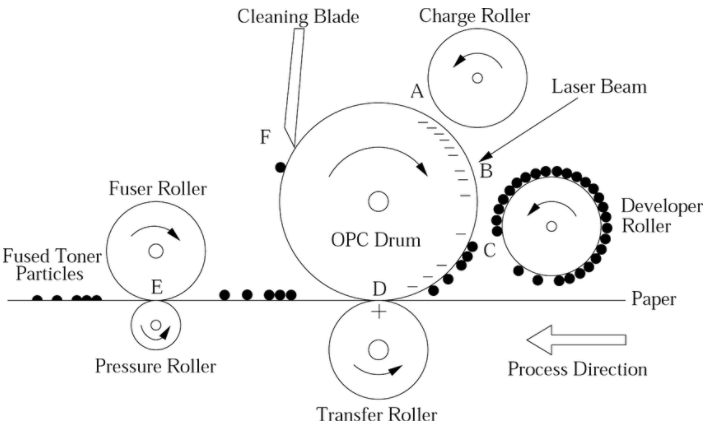 What is a laser printer?
Whereas an inkjet printer sprays microscopic drops of ink, laser printers are machines that melt toner powder onto paper to create a print. Because microscopic droplets are more accurate, this makes laser printers a weaker choice for exhibition worthy photography printing. However, for high volume text-based printing, laser printers are the way to go.
than inkjet printers. Inclusive of this, toner cartridge replacements are typically more expensive than inkjet cartridges too. Whilst you are probably now wondering why you would even consider a laser printer when it's clear that inkjet printers are just cheaper overall, there is a slight catch.
On the pricing front, we will explain this further in our guide, however, laser printers are more expensive to purchaseBy operating a laser printer for high-volume printing, you will be saving money in the long term. Due to higher page yields and reduced cost per printed page of toner cartridges, laser printers are a superb long term strategy for busy offices. In addition, should time equal money, laser printers are much faster at printing documents and therefore you will save here too.
Let's take a closer look at the strengths and weaknesses of laser printers vs inkjet printers.
Print quality comparison.
Print quality is subjective. After all, what determines a good quality print?
When assessing print quality between two closely matched printing units, we often have to remind ourselves of our desired outputs. If you are looking to print sharp documents in bulk, a reliable laser printer is what you are seeking. For those of you requiring frame ready photography prints, a mid-range photo inkjet printer will produce far greater image resolutions and colour depths.
For lazy eyes, due to improved printer technology, any mid-range laser printer or inkjet printer will deliver fairly identical photo prints. However, when it comes to professional photo printing, the colour depths and tones from inkjet printers specifically designed for photo printing deliver extremely impressive outputs.
Then, there is a monochrome printing quality to consider. Should you be searching for an office printer for a law firm or accounting company, the need to print colourful documents may be obsolete. As such, you should choose a laser printer that will deliver text-rich documents en mass. After all, inkjet printers are renowned for their colourful outputs and expensive ink cartridges are not your friend.
Monochrome Laser Printing Quality:
Superb for black and white text documents.
Economical operating costs long term.
Colour Laser Printing Quality:
Superb for colour text documents.
Prints 'personal use' photographs.
Monochrome Inkjet Printing Quality:
Most economical to purchase.
Suitable for black and white text documents.
Suitable black and white photographs.
Photo Inkjet Printing Quality:
High-quality photo printing.
Wide colour range and tonal depth.
Used for printing photo galleries.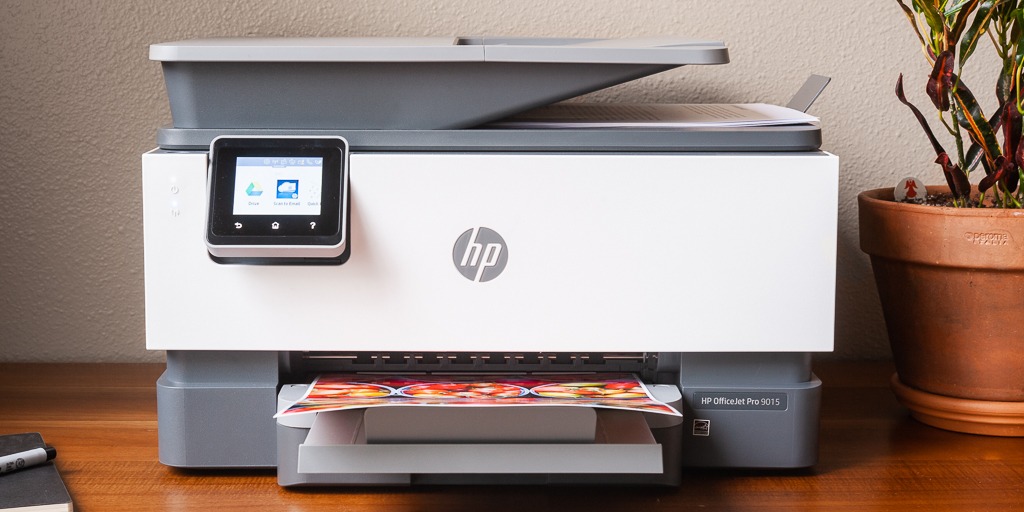 Print speed comparison.
When it comes to speedy printing, there is nothing that matches laser printers. Built to accommodate the demands of hectic workplaces, laser printers are specifically engineered to print much faster than inkjet printers. There is, however, a handful of exceptions. For example, although no longer in production, the Brother HL-S7000DN inkjet printer delivered 100 pages per minute. That's 40% more than any of it's closest competitors at the time which was incredible; yet costly.
In addition to this, laser printers typically take less time to warm up and can also deliver a much larger monthly print volume. While inkjet printers suited to low volume printing, laser printers can print between 15 to 100 pages per minute (also known as ppm). In summary, modern-day inkjet printers and laser printers can print at the following speeds:
Laser Printers: 15 to 100 pages per minute
Inkjet Printers: 16 pages per minute (average).
Print volumes and monthly duty cycles.
Similarly to printing speeds, there is a stark difference in printing volumes and duty cycles when comparing laser printers vs inkjet printers. To ensure we are not confused here with the terminology, let us quickly clear them up. A printers maximum monthly duty cycle determines how much a printer can print without causing damage to its parts. Should you exceed your printers maximum duty cycle, you would be best to give it a break and good service.
As for the recommended monthly print volume, this refers to the number of prints you should process each month to keep your printer at optimal performance. Just as a car runs better when hot, a printer needs to regularly be in action for sustained performance too.
Print Volumes Comparison (laser printers vs inkjet printers)
When comparing two HP printers that are both suitable for home and office, you will notice how the laserjet printer absolutely storms the inkjet printer when printing in black ink. Despite the almost identical price range, the laser printer will also be at peak performance for much longer too.
For our comparison, we have selected two models that come as close as a comparison can be between laser and inkjet printers. However, please note that most other inkjet printers (especially photo inkjet printers) will print at much slower speeds than what has been highlighted below.
HP LaserJet Pro M404dn Laser Printer - See Full Review
Price: $295
Pages/Minute: 40ppm (Black)
Max Duty Cycle: 80,000
HP OfficeJet Pro 9020 All In One Inkjet Printer - See Full Review
Price: $299
Pages/Minute: 24ppm (Black)
Max Duty Cycle: 30,000
As you can see, despite the almost identical price, there is a clear difference in printing volumes here between the HP LaserJet Pro M404dn and the HP OfficeJet Pro 9020. But how do inkjet printers and laser printers stack up for cost-efficiency? Scroll down to find out more.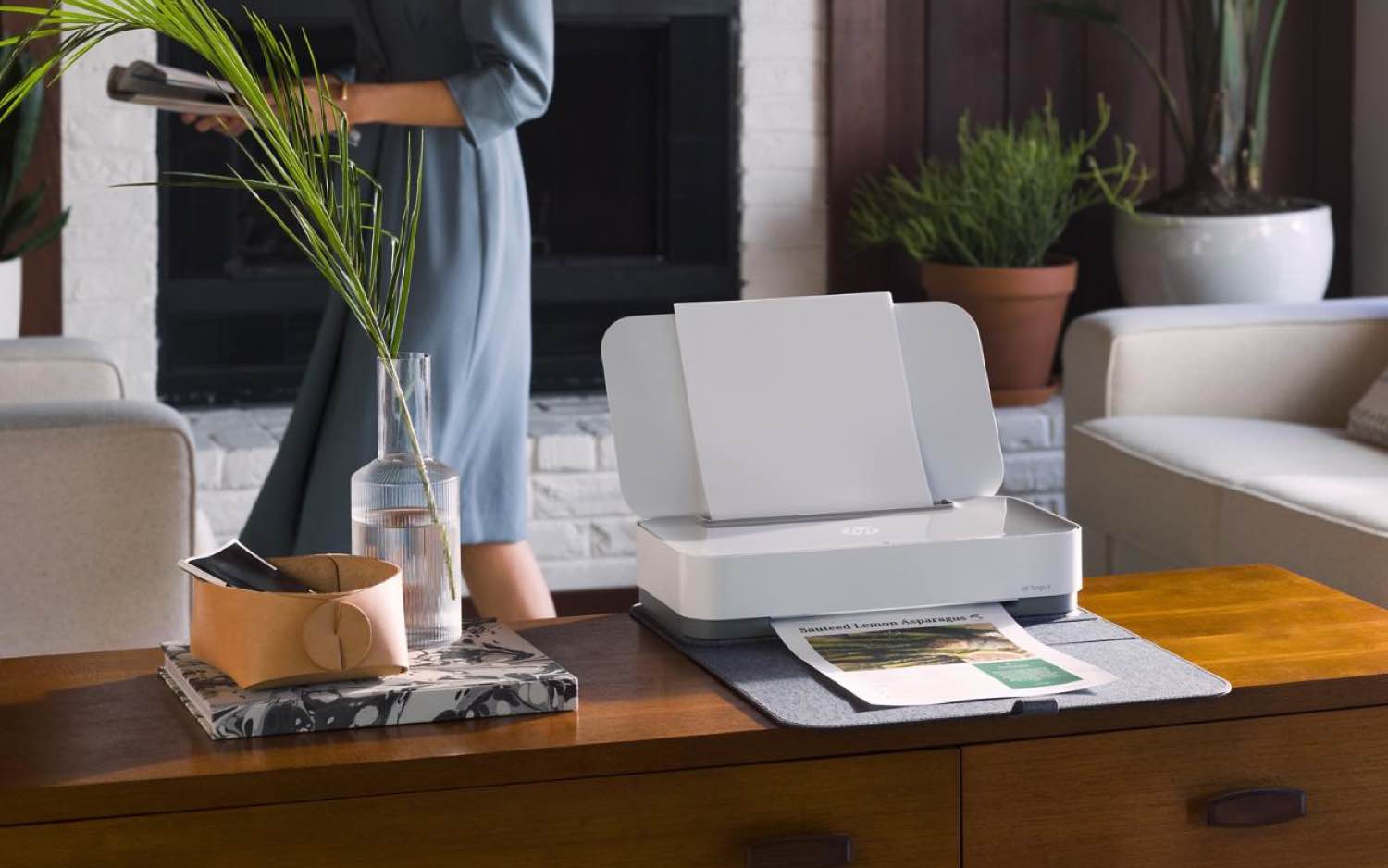 Laser toner vs ink cartridge page yields.
The page yield of a printer cartridge refers to how many pages can be printed before you will need a replacement. Finding a printer with high page yields and a low cost per printed page is a surefire way to reducing your overall printing costs.
Toner cartridges, used within laser printers, can print significantly more pages than ink cartridges (inkjet printers) before a replacement is required. Although more expensive to purchase per unit, a toner will print anywhere between 2,000 to 10,000 pages. As for ink cartridges, you are looking anywhere between 135-1000 pages per cartridge.
Again, this makes inkjet printers more suitable for those of you looking for higher quality, but less frequent printing. If you are looking to avoid replacing cartridges frequently and are not too concerned about frame-worthy photos, we recommend that you go with a colour laser printer. A mid-range colour laser printer is a good hybrid between reducing your costs and also printing medium quality photo prints. It's the go-between amongst laser and inkjet printers.
Printer vs ink cartridge replacement costs.
For most of you, saving costs on printing will be top of your priority list. This is where comparing inkjet and laser printers gets very interesting. To get the absolute maximum value from your printer, you will need to perfectly balance your requirements and on-going operational costs.
Take a look below at the differences between the initial setup cost, operational cost and typical cost per printed page when comparing laser vs inkjet printers.
Printer unit cost comparison.
At face value, the upfront cost of a laser printer may turn you against purchasing. After all, the purchasing price of inkjet printers can start from as low as $30 whereas the cheapest laser printer stands at around $60. Whilst we would not advocate purchasing the cheapest of printers, should you only need to use on the rare occasion, you would still want to purchase a laser printer. The reason for this is because an inkjet printer will dry up the ink cartridge when not in use.
Laser printers, for offices, have multifunction printing capabilities such as scanners and copying functionality. As such, the prices you have probably seen for some laser printers are much higher thank inkjets. However, should you not need these functions, laser printers are typically 50% more expensive.
A partial reason why inkjet printers cost less is that:
Inkjet printers have a minimum life span of 3 years.
Laser printers have a lifespan of at least 5 years.
Given that you are unlikely to replace your printer very often, opting for a printer that is going to stand the test of time is also a wise option here.
Cartridge replacement cost comparison
Due to the fact that laser toners have a significantly higher page yield, the cost to purchase toner cartridges is way more expensive than ink cartridges. However, you should not be fooled by this as when you break down the cost per page, you will be saving in the longterm. Ink cartridges are cheap because they will only last for around 100-200 pages before needing refilling or replacing. As such, the cost per printed page is extremely high and you will end up having to replace cartridges frequently.
As an example, see compatible ink pricing for the printers we compared earlier for speed.
Laser Toner - HP 76A (Black Toner): $173.00
Ink Cartridge - HP 965 (Black): $49.00
Ink Cartridge - HP 965 (Bundle): $136.00
As you can see, you can purchase a bundle pack complete with all colours you will need for your inkjet printer for almost $40 cheaper per unit than single monochrome laser toner. However, when you break down the cost per page for each of these printers and compatible cartridges, this is where the pricing and savings become interesting.
Cost per page comparison
To work out the cost per page, you must divide the cartridge price by the cartridges expected page yield cartridge price/cartridge page yield. As explained, laser toner cartridges deliver significantly higher page yields than ink cartridges and last much longer. Where most ink cartridges will print between 135 - 1000 pages, laser toners can print anywhere up to 10,000 pages each refill or replacement. So, what first looked like a huge win for inkjet and it's replacement ink cartridges, the story starts to look at little different.
Comparing one laser printer and one inkjet printer, let's break down the cost per page.
Laser printer cost per page
Model: HP LaserJet M401N Printer
Toner: HP 80x High Yield
Page Yield: 6,900 Pages
Unit Cost: $285.00
Cost Per Page: $0.04
Inkjet printer cost per page.
Model: Epson Workforce WF 100
Toner: Epson 215 Black Ink
Page Yield: 250 Pages
Unit Cost: $30.00
Cost Per Page: $0.12
As you can see, the cost per printed page of the Epson Workforce WF 100 Printer is four times the cost of your HP LaserJet M401N printer. If you were to print 6,900 pages with the Epson Workforce WF 100, you would require nearly 28 replacement cartridges at a total cost of $840 which is nearly three times the price of your single laser toner cartridge.
Since the Epson WF 100 prints, only 3% with a single cartridge compared to the HP LaserJet, you better start grabbing your wallets. That said, pixel-perfect photography printing is priceless.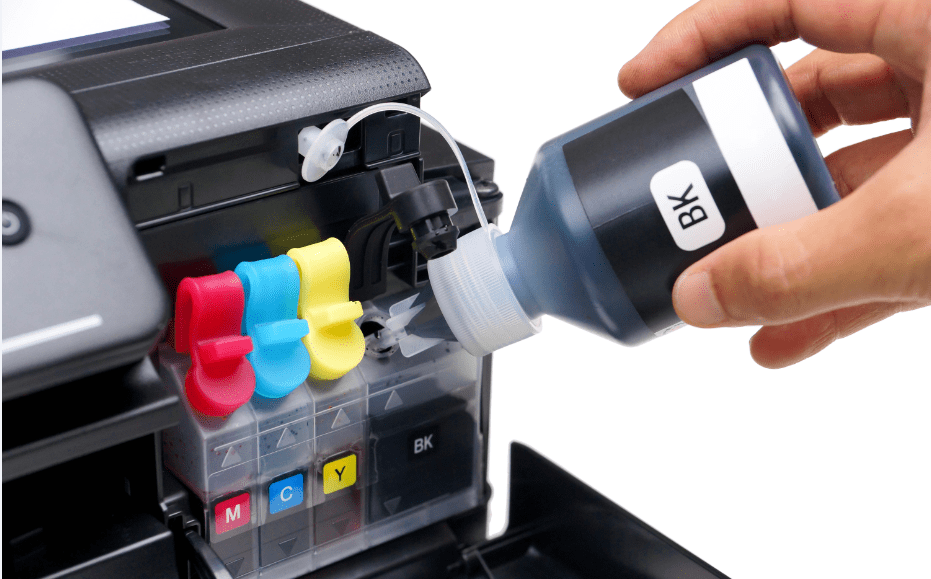 Ink Tanks - (Ink cartridge alternative)
If seeing some real-world figures of ink cartridge replacements is throwing you, there is an alternative. Should you want quality photo-printing, without the associated replacement ink costs, the good news is that manufacturers have alternatives to buying ink cartridges. Introducing, ink tanks. Both Brother and Epson have reimagined replacement cartridges by creating a series of printers that can hold bigger volumes of ink. This means that you will not need to replace your ink cartridges very often at all.
Ink tanks make use of a continuous ink supply system whereby you simply refill your tank with ink, rather than purchasing and installing a cartridge. We have a complete article that compares ink tanks vs ink cartridges and you should check this out if you are heading in this direction. Additionally, if you are already sold on the idea of continuous ink, you should check out our article on the best ink tank printers available right here at CartridgesDirect.
Printer security and durability.
When it comes to differences in security between inkjet and laser printers, laser printers will typically come with greater support. Given that laser printers were built with the office in mind, the security detail is often impeccable. With manufacturers, such as HP, leading the charge in secure printing, should security be on top of your bucket list, the laser printer will be the way to go.
As for durability, laser printers are renowned to be more durable and will print large quantities of monochrome and coloured documents frequently. This makes them a better choice for office environments where absolute pixel perfection is not a priority. To compound this, laser printers also have an average of 5 years of usage before they start to go a little funky. This is an additional two years when compared with what you can expect from an inkjet printer.
Should I buy inkjet or laser printer?
Phew, now that's a lot of information and congratulations if you reached this part of our comparison guide.
When it comes to deciding whether you should buy an inkjet or laser printer, understanding how often, why and what you choose to use your print will massively help with your decision. To make the right decision, we ask our customers the following questions:
How often do you print?
What do you print and on what materials?
What is your budget for printing?
How much do you care about printing quality?
Once you have the answers to these questions, choosing between inkjet and laser printers becomes a whole lot easier. If you are going to print frequently, laser printers will save you money over time. However, if you are going to be printing high-quality photos then you might want to consider the better quality of an inkjet printer for this specific purpose.
If you are still unsure about how to decide between an inkjet or laser printer, we have put together a list of common use cases for both of these printing devices. Take a look at our shortlist below:
Laser Printer Use Cases:
Typically, a laser printer would be used for the following purposes and environments:
High Volume Printing: Mid-Range Laser Printer.
Large Text-Rich Documents: Mid-Range Laser Printer.
High Volume Office Use: All In One Laser Printer.
Home Frequent Use: Mid-Range Laser Printer.
Printing On The Move: Mobile Laser Printer.
Inkjet or Officejet Printer Use Cases:
Typically, an inkjet printer would be used for the following purposes and environments:
Low Volume Use: Mid-Range Inkjet Printer
Small Office Environment: OfficeJet Printer
Professional Photography Prints: Photo Inkjet Printers
Casual Home Use: All In One Laser Printers.
Printing On The Move: Mobile Inkjet Printer.
Although primarily built for office use, the laser printer has become a great home alternative for busy households as a more economical choice. If you have children at school who will be using the printer a lot, then a laser printer may be the better option for you too.
One final question that we commonly receive is 'should I get a colour laser printer or an inkjet printer?' The answer to this boils down to how you plan to use your coloured prints. If you require gallery-quality photos for an album or wall art, you should purchase a photo inkjet printer. However, if the quality is not an absolutely necessity and medium quality coloured prints will suffice, we recommend colour laser printers over inkjet printers for two reasons:
The toner will not dry up when not used.
You can print more pages from laser toner cartridges.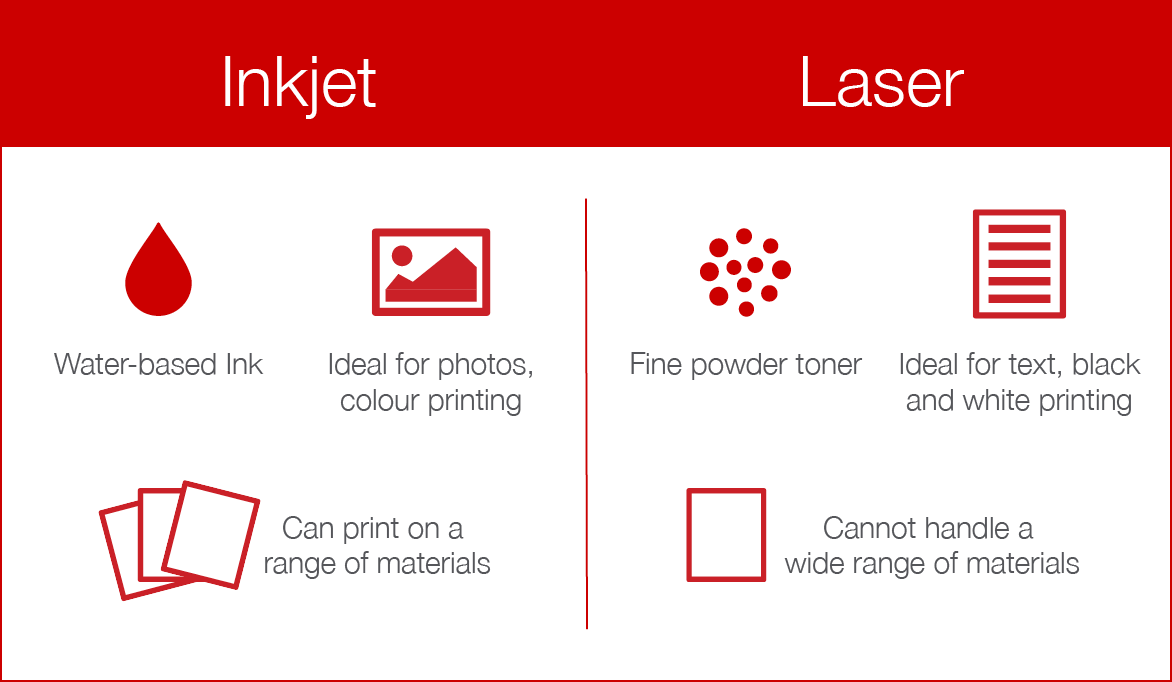 Summary of differences between an inkjet and laser printer:
Now that you have learned all there is to know about inkjet printers vs laser printers, let us summarise with a list of pros and cons. Remember to take into serious consideration both your current and future use before making a decision.
Inkjet Printer Positives:
Cheaper to purchase.
Typically smaller physical footprint.
Produces high-quality photo printing.
No warm-up time required before printing.
Prints on a variety of paper types.
Accommodates large paper sizes.
Compatible ink refills kits can reduce operational costs.
Inkjet Printer Negatives:
Expensive replacement ink cartridges.
Fewer page yields per ink cartridge.
Lower capacity paper trays.
Ink can dry up quickly when not used.
Cannot be used for high volume prints.
Not always as well supported.
Laser Printers Positives:
Typically faster at printing than inkjet printers.
Sharper printed text documents.
Better prepared for high volume printing.
Cheaper toner cartridge replacements.
Far greater page yields compared to inkjets.
Typically more economical.
Well supported by manufacturers.
Laser Printer Negatives:
Upfront costs are usually higher than inkjet printers.
Typically larger physical footprints.
Less versatile paper handling.
Poor handling of complex images and photos.
In summary, deciding on whether you purchase a laser printer or inkjet printer really comes down to your usage. Inkjet printers are best suited for image-heavy documents that are small in size. Whereas, heavy volume text-based documents are best suited for laser printers.
Either way, with the right guidance from an experienced printer professional, you are bound to make the right choice. The good news is that printer technology is always improving and the gap between laser and inkjet printers closes every year. As such, should you be purchasing a fairly new model of printer, there will not be too many stark differences for disappointment.
If you have any questions, don't forget to hit us up in the comments or speak to us via live chat. Our team of printing experts would be more than happy to answer any questions you have regarding inkjet printers or laser printers. We hope you enjoyed our power guide.
Explore Popular Articles
The 21st century is the age of information and seeking alternatives to harsh chemicals. Although

There are a number of criteria to be met when choosing a new business printer. Productivity is a

Photos are precious memories and it stands to reason that you would want to buy one of the best