HP OfficeJet Pro 8010 Printer Review
-
Working from home or a small office can sometimes call for an efficiency trade-off when space is limited, Being short of space does not necessarily mean being short of work though. What is needed is a multifunction printer that is space-saving, cost-saving, versatile and productive. In other words - the HP OfficeJet Pro 8010. This compact All-in-One Printer scans, copies and prints whilst still being economical in paper with standard automatic double-sided printing, ink and energy use. With Wi-Fi connectivity, it can be located anywhere and using the HP SmartApp all its functions can be accessed from anywhere to give the ultimate useability.
Printing
Print productivity is important and the HP OfficeJet Pro 8010 meets this criterion with a print speed of up to 28 pages-per-minute (ppm) in black and up to 24 ppm in colour using the generally-accepted Draft format. For premium presentation purposes, high-quality ISO format prints at 18 ppm in black and up to 10 ppm in colour. There's no need to wait for things to start happening either. The first page out time is just 13 seconds for a mono page and 17 seconds for a full-colour page.
Productivity is more than just speed. It also relies on efficiency and cost-saving measures. The HP OfficeJet Pro 8010 can cut costs with automatic double-sided, or duplex, printing as standard. This feature can reduce paper costs by up to 50% by printing on one side of a sheet of paper and then turning it over to print on the other side.
Print resolution is a clean and crisp 1200 x 1200 dots per inch (dpi) in black and up to 4800 x 1200 optimised dpi on HP Advance Photo Paper with 1200 x 1200 dpi input. The HP OfficeJet Pro 8010 uses four HP 915 Original Printer Cartridges; one black, one cyan, one magenta and one yellow. In standard form, the HP 915 Black Original Printer Cartridge has a page yield of up to 300 pages whilst the HP 915 Original Printer Cartridge in any of the colour forms has a page yield of up to 315 pages.
For greater economy and even greater productivity, the HP 915 XL Original Printer Cartridge range in either black, cyan. magenta or yellow will each print up to 825 pages.
You can order your HP 915 Original Printer Cartridges from CartridgesDirect here.
The Smart App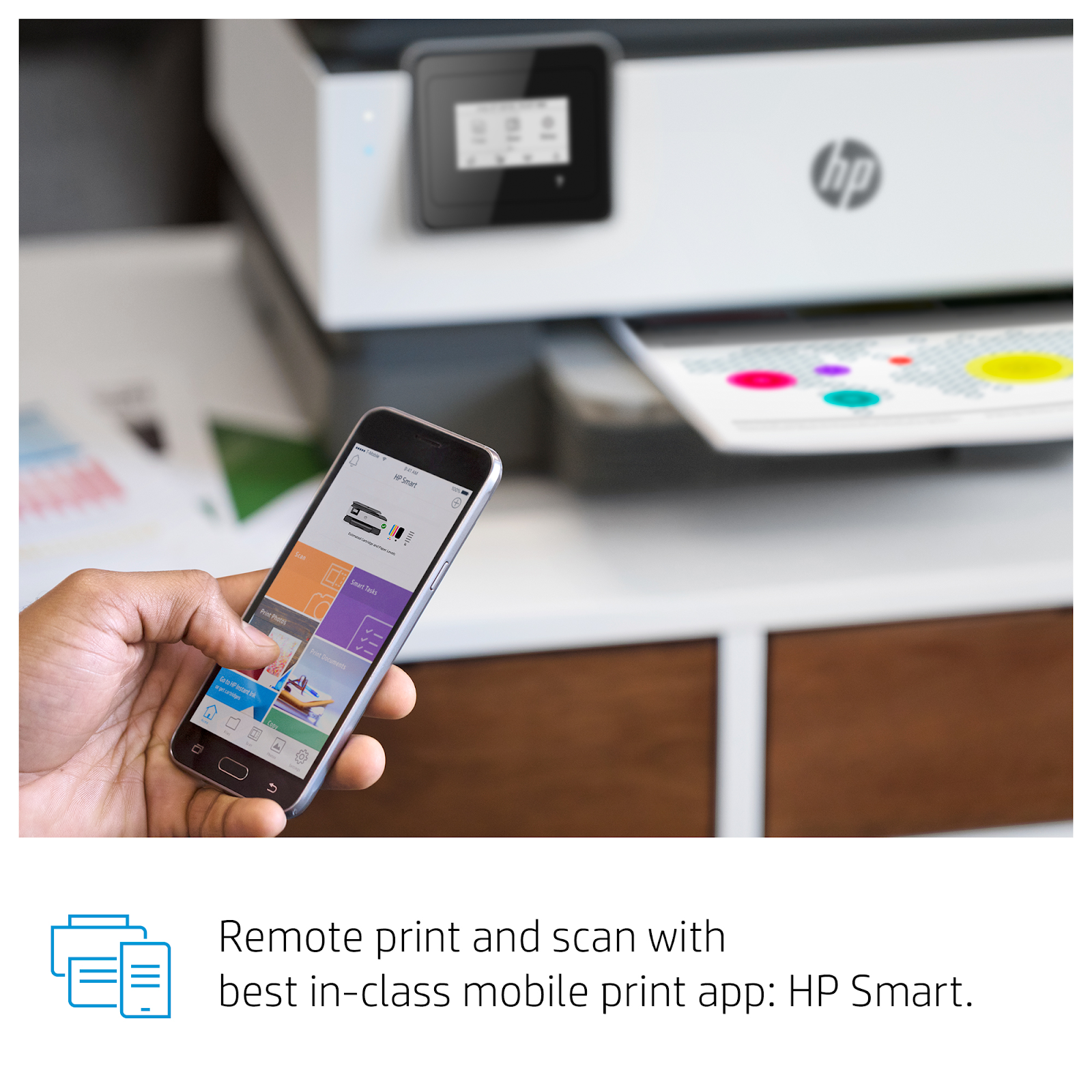 With the HP Smart App downloaded to a phone, the print and scan functions on the HP OfficeJet Pro 8010 can be controlled remotely. It isn't necessary to be closed to, or even in the same space, as the printer. The Smart App allows actions to be selected remotely. Features such as Orientation, either Portrait or Landscape; Duplex or single-sided printing, Flip on Long Edge or Flip on Short Edge.
The Page Order can be selected either front to back or back to front, as well as the number of Pages per Sheet: 1, 2, 4, 6, 9 or 16, which can all be programmed from the Smart App. Quality Settings such as Draft/Normal/Best, as well as Printing Shortcuts (Print in Grayscale: Off/High-Quality Grayscale/Black Ink Only), can also be selected, as well as a wide range of page layouts.
Scanning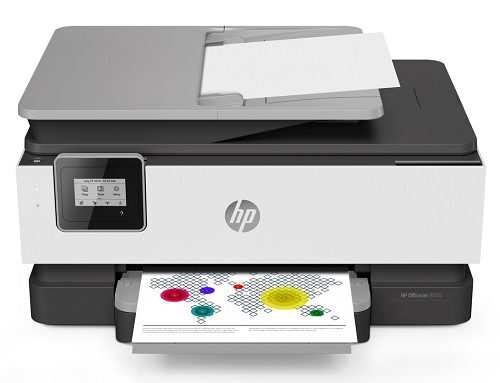 The top-mounted flatbed scanner measures 216 x 297 mm and can be accessed directly by lifting the lid or by the 35-sheet Automatic Document Feeder.mounted on the top. The ADF will take a maximum size original document of 215 x 356 mm. Using Contact Image Sensor (CIS) technology A4 documents in black are scanned at up to 8 pages-per-minute (PPM) at a resolution of 200 pixels per inch (PPI) whilst A4 colour documents are scanned at up to 3.5 ppm with the same resolution. An enhanced resolution of up 1200 dpi is also available. Documents are scanned to a range of popular file formats as well as sent digitally directly to a PC.
Copying
Up to 99 copies of an original document can be made using either the flatbed or the ADF at a speed of 13 A4 copies per minute in black to International Standard Organisation (ISO) quality. and up to 7 CPM to ISO quality. Copies are produced at a resolution of 600 dpi in both B&W and colour. The original document can be either increased or decreased in size between 25% and 400%. The quality of the copy can be improved from the original by making it lighter or darker as well as cropped in area.
The Display Panel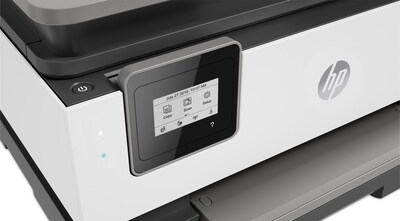 All functions for printing, scanning and copying can be accessed using the 5.25 cm intuitive capacitive touchscreen or by the HP Smart App that is downloaded to a Smartphone.
Media Handling
The single input tray has a capacity of up to 225 sheets which, when duplex printing is used, makes the HP OfficeJet Pro 8010 a real workhorse. It gives versatility in functions and is just as versatile in media handling. Naturally, small and home businesses have a wide variety of printing needs, and therefore require a system with the ability to print on a wide variety of media to meet those needs. Such materials include Plain Paper, Matte Inkjet Papers, Glossy Inkjet Papers, Thick Plain Paper, Light/Recycled Plain Paper, HP Tri-fold Brochure Paper and Glossy paper.
The single paper tray is adjustable to take international paper sizes ranging from A4 to B5, with weights ranging from 60 to 105 grammes per square metre (gsm). In addition to paper, the MFP will also print on A4 Cardstock weighing between 163 and 200 gsm, and photo paper weighing between 220 and 280gsm, as well as a range of envelope sizes. The output tray has a maximum capacity of 60 sheets.
Connectivity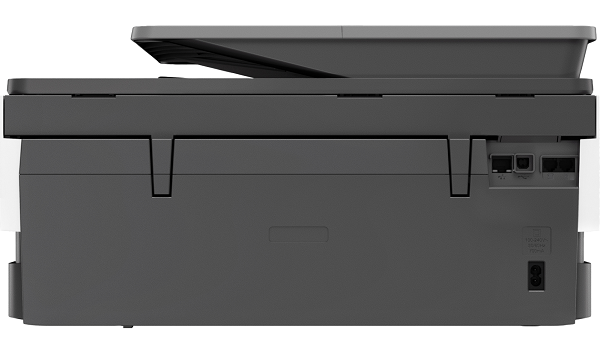 A small business or home business operator will probably need to access the functions of the HP OfficeJet Pro 8010 from a variety of locations, rather than just a dedicated office. This makes wireless connectivity a highly-desirable feature.
The HP OfficeJet Pro 8010 has self-healing Wireless 802.11a/b/g/n connectivity rather than an ethernet connection as WiFi gives more accessibility options. It means that all available facilities can be accessed from a smartphone, tablet, or laptop from the same room, any other room, or even another location entirely with mobile printing capability using Apple AirPrint™; Wi-Fi® Direct Printing; Mopria™ Certified as well as the HP Smart App. What's more, the HP OfficeJet Pro 8010 also features voice-activated operation through Alexa and Google Assistant.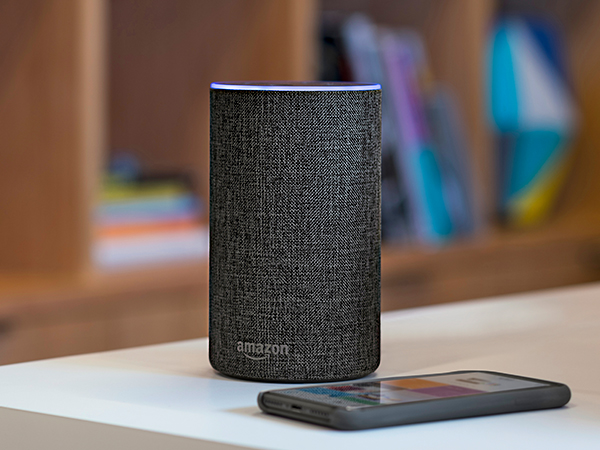 How little space do I need?
With such an array of features and such a high level of capability, you can easily believe that the HP OfficeJet Pro 8010 would need a lot of room. However, if you thought this, you would be wrong.
With a width of 46 ck and an operating depth of 34.12 cm, the full system is small enough to fit on most shelves. Even with the paper tray fully extended, the depth is still just 51.12 cms. The height is 23. 3 cms to the top of the ADF nut extra height will be required when the flatbed scanner is used rather than the ADF.
The HP OfficeJet Pro 8010 weighs just 8.2 kgs.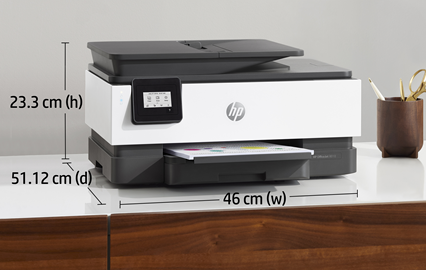 Operating costs
The HP OfficeJet Pro 8010 is economical in its use of consumables with automatic double-sided printing available to reduce paper usage and its use of HP 915XL Original Ink Cartridges to print more pages per cartridge. It is also economical in time usage with so many ways to access its many features from both near and far. They all add up to give significant savings on operating costs.
Energy costs are a major factor in operating overheads and the HP OfficeJet Pro 8010 is very energy efficient with a power consumption figure of less than 21 watts when printing. In the ready state, the power consumption is 5.8W which drops to 0.9W in the Sleep Mode. Switch it off and the figure drops to 0.08W. The 220V power supply is inbuilt and the printer gives a Typical Energy Consumption (TEC) figure of 0.20-kilowatt hours a week
The HP OfficeJet Pro 8010 gives extreme versatility packed into a small package. Its numerous features give flexibility in operations and access. For a small or home-based business, it ticks all the boxes when it comes to saving time and money.
Explore Popular Articles
The 21st century is the age of information and seeking alternatives to harsh chemicals. Although

There are a number of criteria to be met when choosing a new business printer. Productivity is a

Photos are precious memories and it stands to reason that you would want to buy one of the best