HP OfficeJet 8010e Printer Review
-
When it comes to the best all-in-one printers, there tends to be an overwhelming amount of printer models for consumers to choose from. Whether you're seeking a machine for your home, classroom, or workplace, you will not be stuck for choice. More often than not, many of us are likely to narrow our choices down to just a particular brand alone, which is exactly why printer manufacturers release models at a range of different price points and within a hierarchy of additional features and printing capabilities.
In this HP OfficeJet 8010e printer review, we're going under the hood of one of HP's most modest yet surprisingly impactful office printers. Providing an overview of the specifications and what printer users can expect when selecting this innovative all-in-one printer, discover how the OfficeJet 8010e manages to set itself aside from its larger OfficeJet counterparts in our experts HP OfficeJet 8010e review below.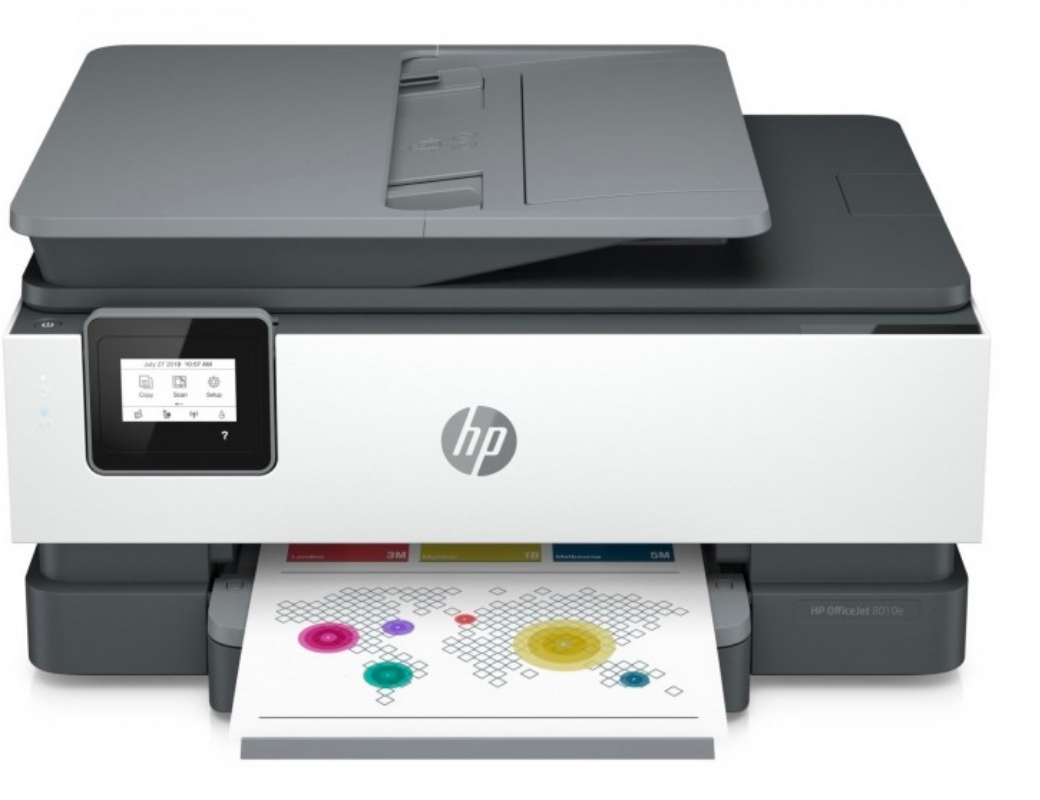 HP OfficeJet 8010e Printer Performance
A true HP all-in-one printer, the HP OfficeJet 8010e can print (both paper documents as well as photographs), scan, and copy with ease. Printer users can swap easily between these different printer capabilities by using either the HP Smart companion app or by interacting with the OfficeJet 8010e's 2.2" MGD touch display.
Printing speeds are up to 10ppm for colour and 18ppm for mono printing jobs, whilst photo printing speeds average at around 49 seconds for both 10 x 15" and 4 x 6" photos. Print quality is a standard 1200 x 1200 dpi for mono printing jobs, and for colour jobs, the OfficeJet 8010e is capable of producing prints at a maximum quality of 4800 x 1200 dpi on HP Advanced Photo Paper.
One striking limitation of the OfficeJet 8010e is that despite having a monthly page volume of around 800 sheets, the printer itself has just a single 225-sheet paper tray, which is quite a small paper capacity when compared to HP's other OfficeJet printers and even DeskJet models. The OfficeJet 8010e does, however, come equipped with automatic duplex printing to minimise your overall paper usage. With all this in mind, we're led to believe that the OfficeJet 8010e is best suited to printer users with medium to high-frequency printing needs.
Although fax capabilities cannot be found on this particular printer, the OfficeJet 8010e does support a myriad of wireless printing capabilities in lieu of this missing feature. Using the HP Smart app, printer users can easily print via mobile phones or tablets, with the option to send scans directly to others via email as well. On top of this, the HP Smart app is capable of producing scans itself, meaning that you won't necessarily even have to use the OfficeJet 8010e's ADF flatbed scanner to produce some high-quality scans.
Media Handling
Alongside photo printing at a variety of sizes, the OfficeJet 8010e is also capable of printing on a range of different media types, including plain, glossy, and matte Inkjet printer paper, including presentation paper for brochure production. Borderless printing is also enabled on photo printing jobs specifically.
The heaviest paper type that the OfficeJet 8010e can handle is cardstock weighing up at 200gsm, which is more than enough for a great majority of printer users. If you're looking to print on cartridge paper with a heavier than average gsm for this particular paper type, this printer model is likely to have little to no issues here either.
Scanning & Copying
As we mentioned earlier, the HP OfficeJet 8010e does have a flatbed scanner that is also fitted with an automatic document feeder (ADF) with a 35-sheet capacity, so scanning larger multi-page documents is a near-effortless process. The 8010e's scanner is capable of producing scans with a resolution of 1200 dpi and maximum measurements of 215.9 x 297mm.
Copy functionality for the 8010e is also quite impressive, given the size and reasonable price tag of this humble, little OfficeJet. For colour printing jobs, the 8010e can deliver copies at a speed of 22cpm. Mono printing is a touch faster, at 28cpm for black and white prints. All prints have a respectable resolution of around 60o dpi.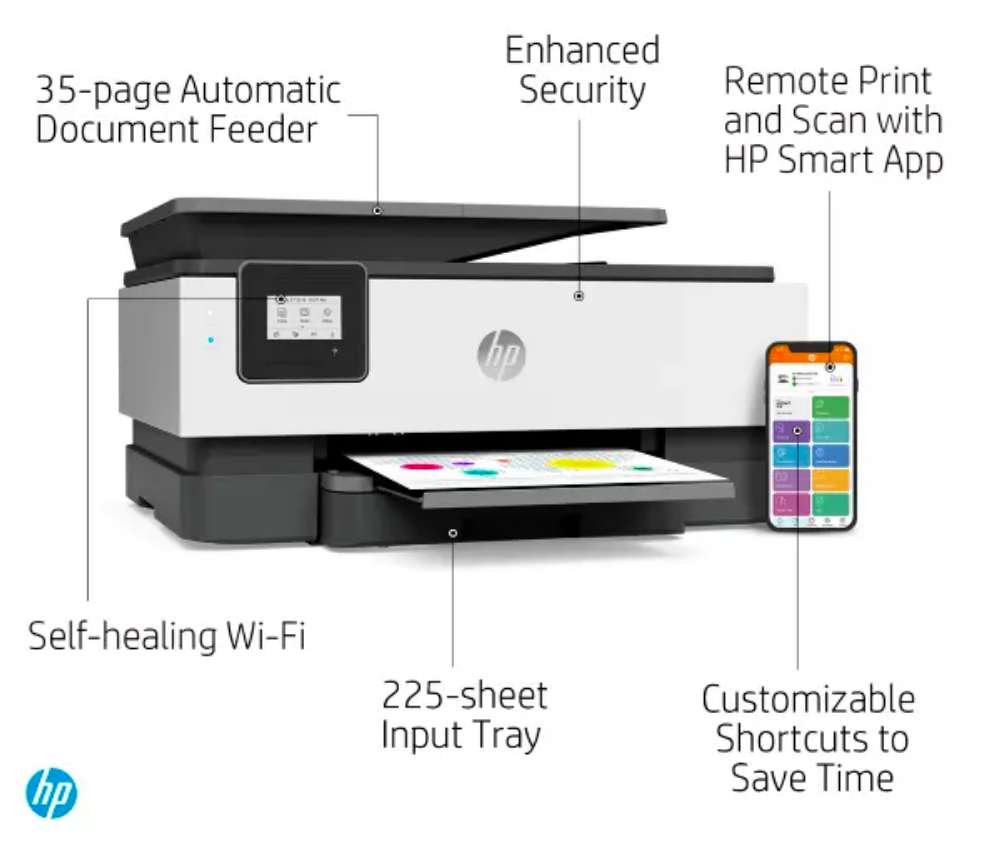 HP OfficeJet 8010e Printer Connectivity
One of the HP OfficeJet 8010e's main selling points is its impeccable wireless printing capabilities, as well as its compatibility with HP's innovative Smart app. On top of being able to print through HP's Smart app, the OfficeJet 8010e is capable of printing with Windows 7 and above, most current MAC operating systems, Chrome OS, Apple AirPrint, and Mopria for easy Android printing as well.
The OfficeJet 8010e is also lacking an ethernet port, which could be an issue for larger workplaces or any other environments that may like to take advantage of wired connectivity capabilities. The 8010e's self-healing Wi-Fi connectivity makes it highly unlikely that this printer model will ever be offline for prolonged periods of time. This is definitely a wireless printer that's more than capable of delivering on its promises when it comes to its competencies with cloud printing.
Printer Cartridges & Energy Efficiency
The HP OfficeJet 8010e uses HP 915 and 915 XL printer ink cartridges. Whilst the former has page yields of around 300-315 sheets, the high yield XL cartridge variants actually possess more than double this capacity, with a page yield of around 800 sheets. Naturally, going with the 915XL ink cartridges can allow printer users to experience some serious savings, both with regards to their printing supplies budget as well as when it comes to the overall resource consumption of their printing practices. If you want to buy your printing resources less frequently, the 915XL cartridge variants are absolutely the way to go.
With a power consumption of around 21 watts during printing jobs, the OfficeJet 8010e is also by no means a power-hungry machine. In sleep mode, printer users can enjoy a highly minimal consumption of just 0.90 watts. The idle mode sees the OfficeJet 8010e use only around 5-6 watts. All in all, the OfficeJet 8010e has a rather decent sustainability rating just based on its page yield and power consumption alone, though there is more to be highlighted with regards to this printer's eco-conscious design!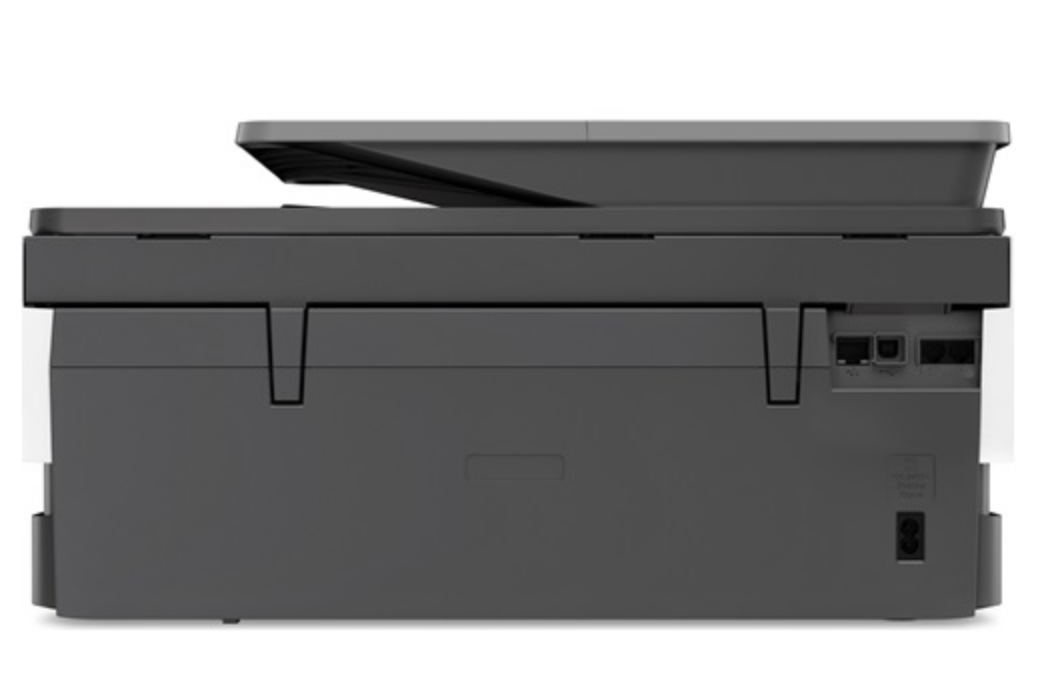 Physical Size & Build
As aforementioned, the HP OfficeJet 8010e is actually the smallest printer by height in the OfficeJet series, measuring up at just 460 x 337.5 x 233 mm (W x D x H respectively) with its paper tray pulled in and weighing up at just 8.2kg. Its diminutive size makes it a perfect fit in home office spaces or as an administrative printer for small businesses.
Another unique selling point of the OfficeJet 8010e is the fact that it has been manufactured using recycled materials. HP states that 15% of OfficeJet 8010e's body is made up of recycled plastics. This unique build quality, coupled with the model's 915XL cartridge compatibility, makes the OfficeJet 8010e an ideal all-in-one printer choice for any household or business looking to adopt sustainable printing practices and minimise its overall carbon footprint.
Benefits of HP+ compatible printers
Speaking of boosting the sustainability rating of your personal printing practices, the OfficeJet 8010e is also on the list of HP's printer models that are eligible to receive HP's premiere HP+ service.
Not only does HP+ grant you an additional year on your HP manufacturer's warranty, but through the HP Smart app printer users can also enjoy discounts on authentic HP printer ink cartridge replacements through HP's Instant Ink programme, as well as participate in HP's Forest First printing initiative, which funds reforestation projects across the globe. On top of all of this, an HP+ subscription also allows printer users to enjoy added advanced features on the HP Smart app.
In essence, the HP+ subscription service has been designed to enhance your printing experience. Although it's not required in order to enjoy all the OfficeJet 8010e's onboard printing capabilities that we've outlined throughout this review, it is definitely highly recommended for medium to high-frequency printer users who are looking to maximise the usage of their printer over the course of its usable life.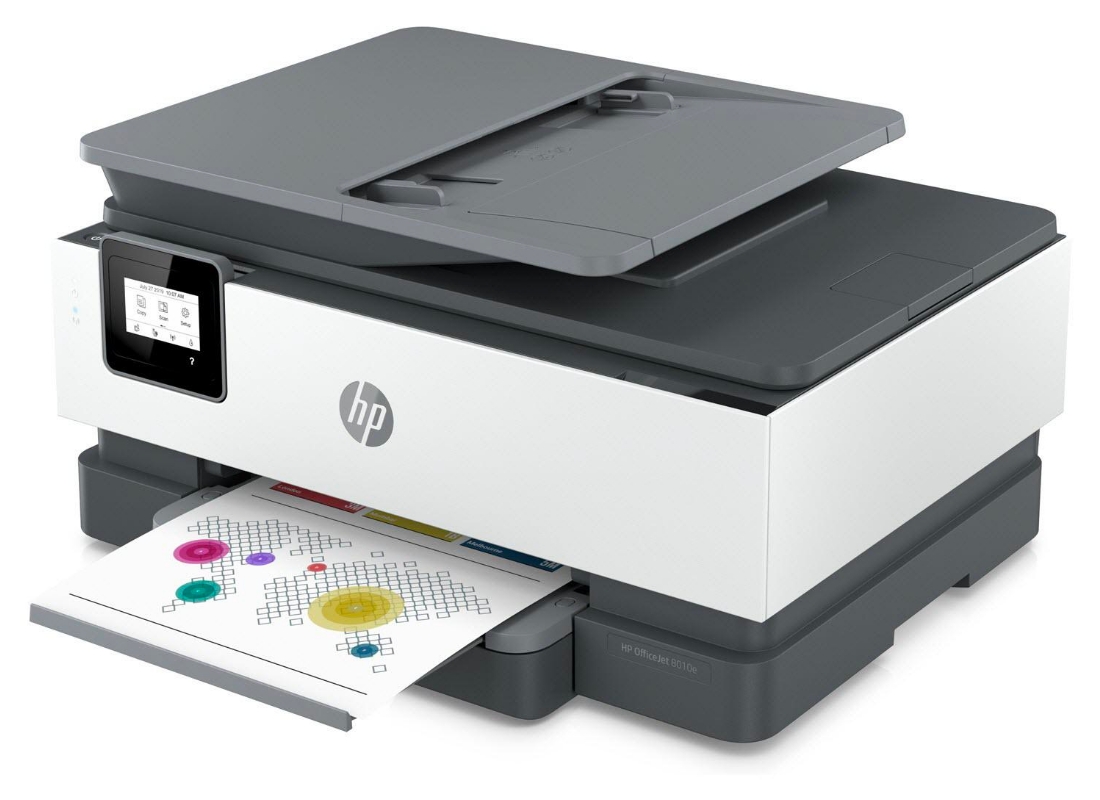 HP OfficeJet 8010e All-In-One Printer Review Verdict
As far as HP's series of OfficeJet printers go, the HP OfficeJet 8010e All-In-One Printer is definitely the runt of the family. Not because the printer is bad. However, through being the shortest and lightest model alongside also possessing some of the most modest printing speeds and capabilities that are typical of other mid-level and flagship OfficeJet printer models, you might think the HP OfficeJet 8010e is not going to deliver the goods. However, you would be mistaken.
What the HP OfficeJet 8010e lacks in speed, it more than makes up for with regards to its wireless printing and streamlined printer maintenance capabilities. In essence, this is not only HP's most affordable OfficeJet but also the best value for money you're likely to get when shopping HP's range of OfficeJet All-In-One printers, especially if you're purchasing for your home or small business space.
All in all, the HP OfficeJet 8010e is a highly reasonable selection for all conscientious consumers and medium-to high-frequency printer users who are looking to find themselves a reliable and cost-efficient household or office printer. The 8010e's modest price tag already makes it a highly attractive choice for many of our customers here at Cartridges Direct. We're here to let you know that an investment in an HP OfficeJet 8010e All-In-One Printer won't go amiss.
Content Disclaimer: At CartridgesDirect, we are committed to providing up to date and independent reviews such as this HP OfficeJet 8010e Printer Review. All printer reviews are not commissioned by manufacturers and have been independently tested by our printing experts. If you have any questions about printers or office printing, please contact us via live chat or feel free to leave a comment below. We look forward to hearing from you.
Explore Popular Articles
The 21st century is the age of information and seeking alternatives to harsh chemicals. Although

There are a number of criteria to be met when choosing a new business printer. Productivity is a

Photos are precious memories and it stands to reason that you would want to buy one of the best