HP LaserJet Pro M15W Review: Surprise Is The Size
-
Being a small business does not necessarily mean that your printing needs are small. However, it also does not mean that your printer needs to take up a lot of space either. There's not always a lot of space for productive, quality and cost effective printing equipment. This is especially true if you want an AiO multifunction printer that alleviates business challenges.
If space and simplicity are on your wishlist, the HP LaserJet Pro M15W Mono Laser Printer may well be the solution that is right for you. Renowned for advanced technology, HP show that they can also deliver wonderfully simple printing devices. Scroll down as we go under the hood of one of HPs most compact LaserJet printers in this HP LaserJet Pro M15W Review.
When you're done, don't forget to hit us up in the comments with any questions you may have about the HP LaserJet Pro M15W. We would be more than happy to assist.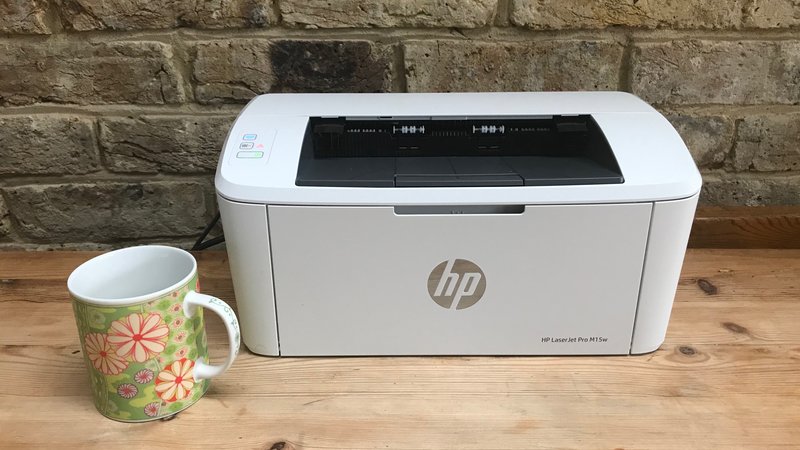 HP LaserJet Pro M15W Review Summary
For small businesses or home offices looking for a compact printer that delivers core functions at decent speed, the HP LaserJet Pro M15W mono printer is a great choice. Okay, so it doesn't have all the bells and whistles that you can expect with some of HP's multifunction or more advanced printer models. However, it does the basics very well and has a good range of connectivity should you have a slightly larger distance from you and your printer.
As well as it's small footprint, the HP LaserJet Pro M15W is priced similarly to an inkjet printer. When you combine this with the fact that it comes with laser printing performance and HP Smart App compatibility, the HP LaserJetPro M15W is a modest purchase.
Need more information? Keep reading our LaserJet Pro M15W review as we dive deep into performance, efficiency, connection and compatible ink cartridges.
HP LaserJet Pro M15W Printing Performance
Despite the M15W's simplistic nature, we were moderately surprised at the printing speeds of the HP LaserJet M15W Mono Printer. Not only was the M15W mono printer quick off the mark, it also sustained performance when printing multiple pages.
On average, we achieved the following print speeds:
18x A4 pages per minute (ppm)
8.4 seconds first page out (sleep mode)
8.4 seconds first page out (ready mode)
The ability to print just as fast from sleep or ready mode reduces energy consumption significantly. In addition to this, the printing resolution of up to 600 x 400 x 2 dots per inch (dpi) ensures very high quality print output no matter what you are printing. Just like most laser printers, the halftone reproduction in grey scale is of exceptional high quality.
Compatible Laser Printer Cartridges
Unlike other HP laser printer models that can take different cartridges, including colour cartridges, the HP M15W is strictly a mono printer. As such, the M15W uses a single black HP 48A Original LaserJet Toner Cartridge for trouble free installation and printing. This combination of printer and toner cartridge delivers a seamless user experience and also yields:
Up to 1000 printed pages per cartridge (page yield)
Printer Paper Handling & Trays
The LaserJet Pro M15W mono printer has one paper tray located behind a hatch at the front of the machine. It has a capacity of up to 150 sheets ranging in size from A4 down to A6. The printer can also handle the following types of paper:
Envelopes
Postcards
Labels.
Inclusive of the varied paper handling types, the M15W mono laser printer can also handle a range of media weights. These include any weights from 65gsm to 120gsm. So, no matter what type of printing job you require, the HP LaserJet M15W Mono Laser Printer can assist both quickly and efficiently.
As for the output tray, this is situated at the top of the printer. With a capacity of up to 100 sheets of paper, it's not the biggest of output trays available. That said, this assists with the M15W's compact nature and should be more than adequate for the printing needs of most small businesses.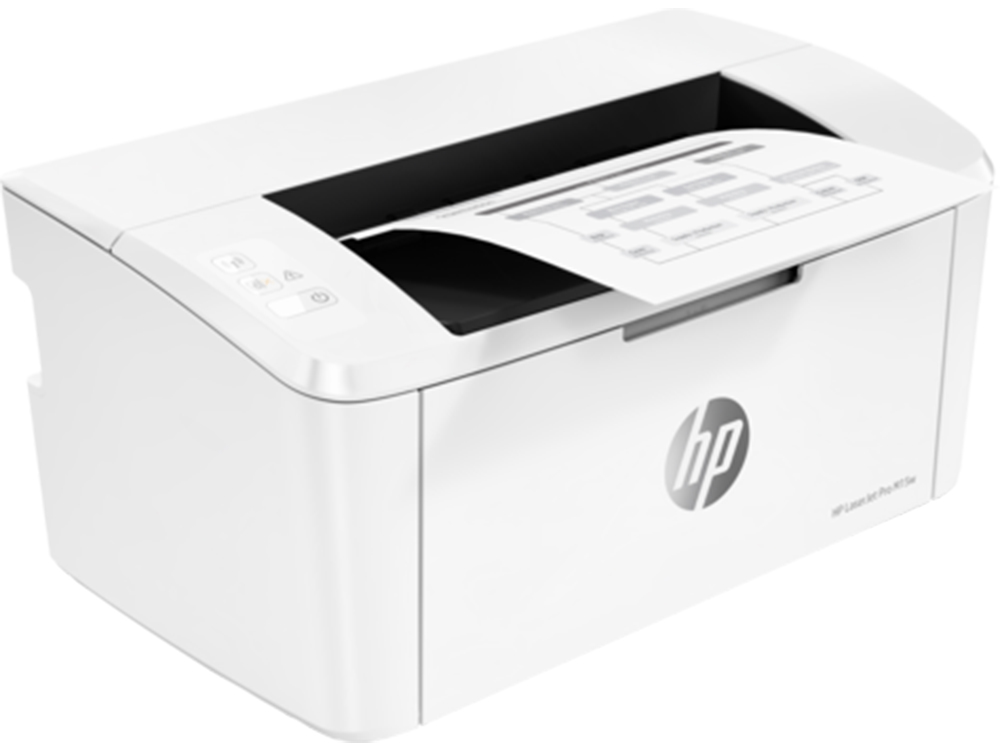 Printer Connectivity
The key to success in small business is flexibility. For those of you who strictly want an ethernet connected printer, then the HP LaserJet Pro M15W will not be your best friend. However, for fans of less cabling, the HP LaserJet Pro M15W offers great flexibility with the way it can connect with other devices. With standard wireless connectivity, the printer can connect directly with a whole range of devices such as notebooks, tablets, smartphones and desktops. It really does eliminate the spaghetti tangle of wires usually associated with direct connectivity; resulting in significant space saving and productivity boost.
For most small businesses a printer will need to be accessed from a variety of devices. Should you be preparing documents on a laptop, tabler or smartphone, the wireless connectivity of the HP LaserJet Pro M15W enables direct access printing from the following types of mediums:
AirprintTM
Google CloudPrint
2.0, Morpria Certified
Wi-Fi Direct as well as the HP Smart App.
Downloading the HP Smart App to your Smartphone also allows the camera of the phone to be used as a scanner. Whilst the HP LaserJet Pro M15W does not come with a built in scanner, you can use the HP Smart App as a cool workaround.
Simply take a photo of the document via the Smart App and then print it on the HP LaserJet Pro M15W.
As for other connections, you can hardwire via a Hi-Speed USB 2.0 port should you need a direct connection. Instructions can be entered from a panel on the top and displayed on a top mounted LED panel. Alternatively, by downloading the HP SmartApp to your smartphone all instructions can be entered from there.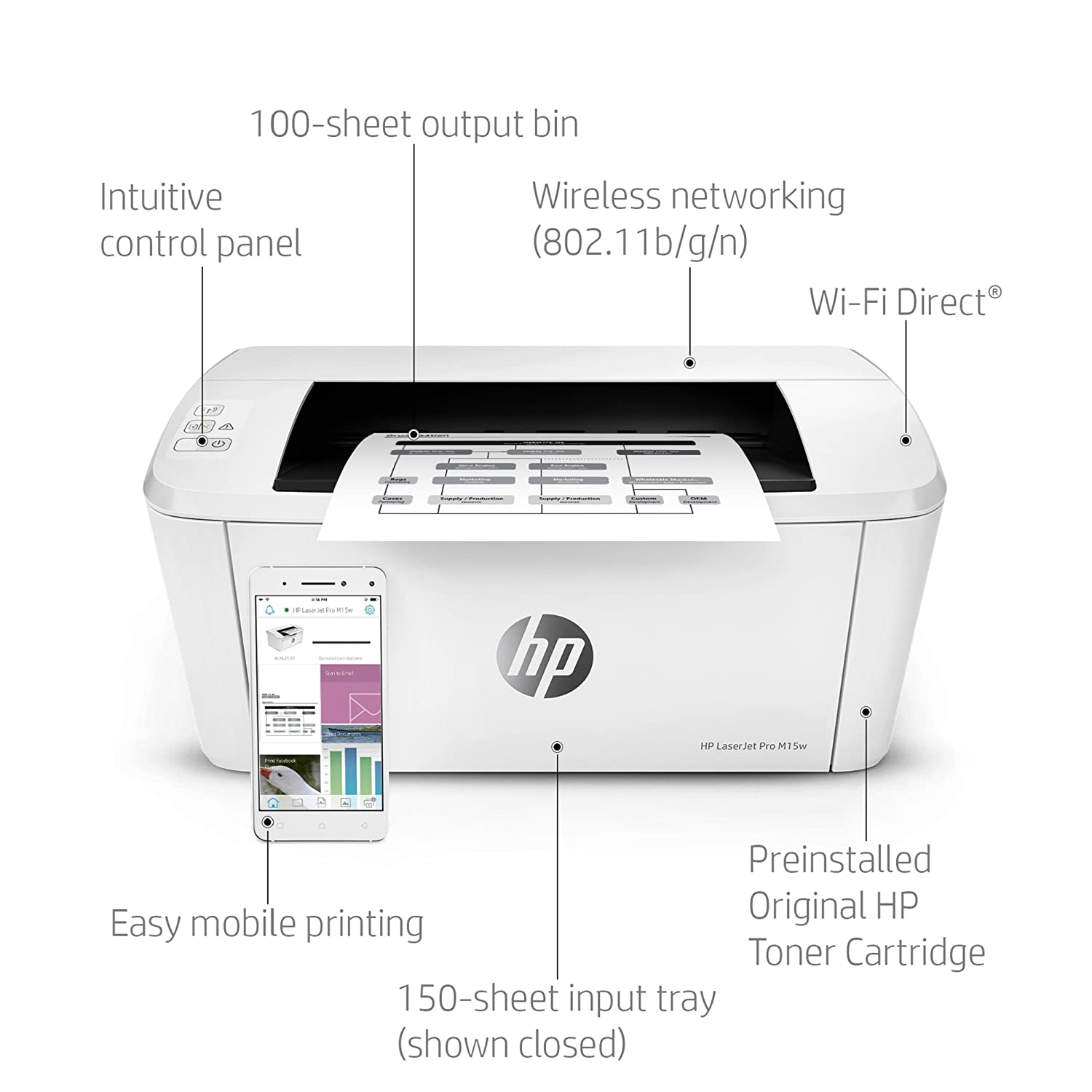 Laser Printer Energy Efficiency
For any business, be it large or small, minimising space usage is important. However, minimising overheads is even more important should you want to run profitably. For years, printer manufacturers have been heavily focussed on energy consumption. It is now a critical consideration when choosing new office equipment.
For the HP LaserJet Pro M15W, it is not the most economical of printer models, however, still only uses just 210W when printing. During ready and sleep mode state, you can expect the following energy use:
2.2W (ready state)
0.4W (sleep mode).
The above said, the HP LaserJet Pro M15W does come with an 'Auto Off' feature that will bring your energy usage down to just 0.1W when the printer is switched off. You do not need to do anything here, the printer will know when it is not being used and put itself into 'Off' mode.
HP LaserJet Pro M15W Printer Review Conclusion
With its compact size, low purchase cost, high productivity and versatility, the HP LaserJet Pro M15W is a quality startup printer. Ideal for small businesses who are not presenting coloured documents to clients, the high quality black and white printing will not cost you a fortune to purchase or own.
Yes, there are more efficient printers on the market and some would deem the HP LaserJet Pro M15W slightly more expensive to operate, however, this printer is aimed towards those who do not print hundreds of documents each day.
With a print speed of up to 18 pages per minute and wireless connectivity to allow high quality laser printing access to multiple devices the HP LaserJet Mono M15W printer has a surprisingly small footprint of just 346 mm wide x 348 mm deep and a maximum height clearance of 280 mm with all trays open wide for access too.
We hoped you liked this HP LaserJet Pro M15W review. For more information about the LaserJet Pro M15W mono laser printer or to find out more about printing solutions for your business, hit us up in the comments below. We would be glad to assist and one of our experts will respond back to you as soon as possible.
Explore Popular Articles
The 21st century is the age of information and seeking alternatives to harsh chemicals. Although

There are a number of criteria to be met when choosing a new business printer. Productivity is a

Photos are precious memories and it stands to reason that you would want to buy one of the best