The HP LaserJet Pro MFP M377dw Review
-
The HP LaserJet Pro MFP M377dw is aimed at small to medium enterprises with workgroups of from 3-19 users. As printing fast becomes the communications hub of an organisation, the need for a 'can do it all' printer is real. With copying, scanning, email and mobile printing capabilities, the HP LaserJet Pro M377dw is far more than just a cost-effective colour laser printer.
Read on as we explore why small workgroups are choosing the HP MFP M377dw as the printer of choice in this comprehensive HP LaserJet Pro MFP M377dw printer review.
When you're done, don't forget to hit us up in the comments with any questions that you have. From the best printer for your workplace to how to print securely, we're here to help with how to best structure your workgroups utilising readily available advanced printing technology.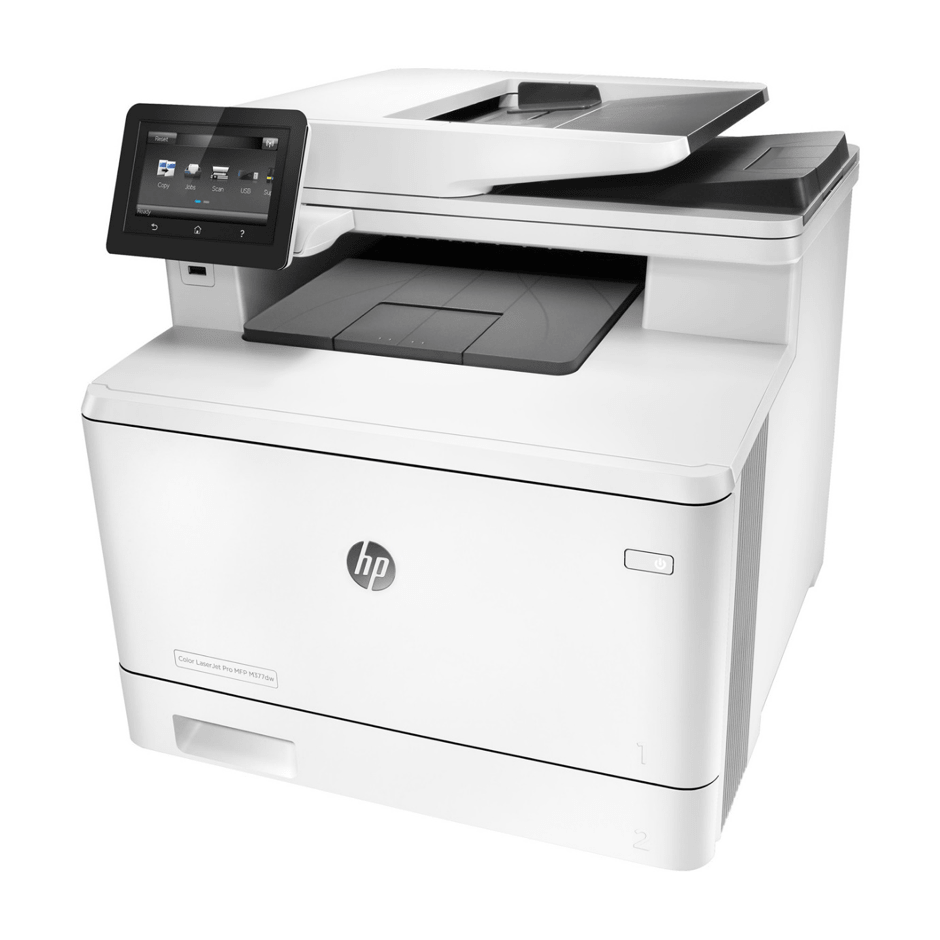 HP LaserJet Pro MFP M377dw Printer Review Summary.
Using the latest HP JetIntelligence laser technology, the HP LaserJet Pro MFP M377dw printer offers higher page yields and lower energy consumptions than ever before. It also decreases the overall size of the unit, making this the smallest HP multifunction printer in its class. For any small workplace, a multi-function printer that comfortably handles multiple tasks and does not take up too much real-estate is critical. In this regard, the HP LaserJet Pro MFP M337dw is the ultimate choice. Compound this with high productivity and unmatched energy efficiency, you have yourself a stellar small workgroup multifunction printer.
Want to get technical? - Read on as we break down the core functionality of the HP LaserJet Pro MFP M377dw multifunction printer.
HP JetIntelligence Explained.
A core and much-loved feature of the M377dw multifunction printer is HP JetIntelligence. As a small to medium business, whatever cost savings you can acquire are hugely beneficial. HP JetIntelligence extends these savings to your printer by creating unrivalled printing efficiency and energy consumption. Some of the core benefits of HP JetIntelligence include:
Up to 53% in energy savings.
Up to 33% more printed pages per cartridge.
Faster printing speeds.
Higher overall printing quality.
Automatic seal system for instant toner installation.
Increased protection from counterfeit cartridges.
To find out more about why users of the HP LaserJet Pro MFP M377dw multifunction printer absolutely love HP JetIntelligence, watch the video below.

Printer Productivity.
High productivity with versatility and the ability to perform multiple tasks quickly is key to business success. In this regard, the MFP M337dw multifunction printer permits these high levels of productivity comfortably.
Comprising of two paper input trays, the main tray holds 250 sheets with an additional multipurpose tray that can hold up to 50 sheets. However, for very heavy print loads, there is also an optional input tray that has a capacity of 550 sheets. This delivers a grand total of 850 sheets of paper that can be set up with the HP LaserJet Pro MFP M337dw printer. When printing, the output tray can hold up to 150 sheets of paper before they will need to be removed.
As for printing speeds, the M337dw delivers:
Up to 25 pages per minute in black ink.
Up to 25 pages per minute in colour ink.
First page out time of 8.9 seconds in black.
First page out time of 9.8 seconds in colour.
Laser printing technology.
Additionally, to minimise paper usage, the HP LaserJet Pro MFP M337dw delivers automatic duplex printing as a standard feature. Surprisingly, many business owners fail to utilise this feature with printers despite delivering huge cost savings and strong environmental benefits.
Page Yields & Compatible MFP M337dw Printer Cartridges.
The MFP M337dw makes use of four HP 410A LaserJet Toner Cartridges. With an automatic seal that makes replacing toner cartridges seamless, users of the HP LaserJet MFP M337dw will have zero hassle in finding or replacing ink. As for page yields, you can expect the following:
HP 410A (Black) has a page yield of up to 2,300 pages.
HP 410A (Cyan) has a page yield of up to 2,300 pages.
HP 410A (Magenta) has a page yield of up to 2,300 pages.
HP 410A (Yellow) has a page yield of up to 2,300 pages.
For even greater economy the HP 410X High Yield LaserJet Toner Cartridges will also print up to 6,500 pages in black and up to 5,000 pages in colour. For businesses looking for additional savings, the best option is to purchase bundle packs.
Printer Connectivity & Mobile Printing.
Diverse and stable connectivity is a key factor for businesses and the HP LaserJet Pro MFP M337dw delivers on all fronts. Users can choose between a hardwired network utilising a built-in Gigabit Ethernet 10/100/1000 connection or wireless capabilities through built-in WiFi that offers fully secure wireless direct printing.
Alternatively, the printer also comprises of a Hi-speed 2.0 Port and easy-access USB port. Whilst other printers offer a wider range of connectivity options, the HP LaserJet Pro M337dw delivers everything that a small workgroup of up to 3-19 people would need.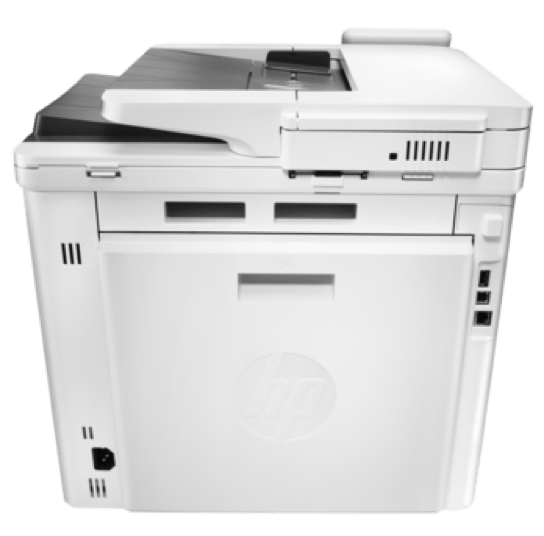 For users on the go, the HP LaserJet Pro MFP M337dw delivers seamless mobile printing facilities. This feature is now very common with all HP Multifunction Printers and ensures seamless experiences, no matter where in the office you are currently located. Specifically for the M337dw printer mobile, the mobile printing facilities deliver:
HP ePrint
Apple AirPrint
Wireless Direct Printing
Mopria Certified
Google Cloud Print 2.0
Mobile Apps

Scanning & Copying Functionality.
As with any good printing solution, you should expect sound scanning and copying functionality. Delivered with both, the scanner of the HP LaserJet Pro MFP M337dw can be fed two ways:
Automatic Document Feeder with a capacity of up to 50 sheets
Flatbed with a scan area of 216 x 297 mm.
In addition to scanning paper, the MFP can digitally send information directly to emails or specific folders stored via a USB drive. The scanner has a scan speed of up to 26 pages per minute in black and white and 21 ppm in colour. Plus, it also supports both PDF and JPG formats.
As for the copier, this is also fed from the ADF or flatbed to reserve space and be preset for up to 99 copies. Utilising the touchscreen display, you can copy with resolutions of up to 600dpi in both colour and black and white. When processing, the copier will deliver speeds of up to 24 copies per minute.
Printer Security
Information security is of increasing importance to businesses. An unsecured printer, because it is part of your network, can provide an entry point for a malicious attack on your system. However, HP secure printing is a world leader in delivering the latest security solutions for all of its products and this also extends to the HP LaserJet Pro MFP M377dw. Offering a full suite of security protection, the MFP is covered from boot-up to shutdown.
See this cinematic video by HP which showcases how your business is protected.
The Wolf Cinematic by HP

Energy Efficiency & Printer Size
Energy efficiency is an important criterion for any purchasing decision and the use of HP JetIntelligence technology is of significant benefit. The lower melt point of the toner means that the fuser wire operates at a much lower temperature. This results in significant power savings. In full print mode, the HP LaserJet Pro MFP M377dw uses 560W which drops back to just 19W at ready status. Additionally, the Auto On/Auto-off feature when the task is finished reduces power consumption even more with just 1W being consumed.
As for the physical size of the printing unit, the HP LaserJet Pro MFP 337dw stands compact at the following dimensions:
416 x 472 x 400 mm (W x D x H) when closed.
416 x 472 x 400 mm (W x D x H) when fully opened.
The unit weighs 23.2 kg.
Additionally, the efficiency of the printer does not just stop at it's power output. To maintain and ensure maximum productivity the HP LaserJet Pro M377dw is also eligible to be a part of the CartridgesDirect automated ink replenishment program. This will ensure that you never run low on toner, no matter your workload.
HP LaserJet Pro MFP M337dw Roundup
Whilst not the most feature-rich printer available from HP, the MFP M337dw takes into account core business needs and delivers successfully. If you're looking for a printing solution that delivers all the features you will need without too many bells and whistles, the HP LaserJet Pro MFP M377dw is worthy of consideration. When using this printer, we found that it matched all-important business requirements without too much messing around. The printing output is of the best quality and the reduction in costs due to HP JetIntelligence technology was significant. Overall, this is a top-quality printing unit for growing businesses.
If you would like to find out more about this printer, or any other printer model we stock, hit us up in the comments and we will get back to you as soon as possible. Alternatively, why not head on over to our live chat feature to speak with one of our printing experts directly.
Explore Popular Articles
The 21st century is the age of information and seeking alternatives to harsh chemicals. Although

There are a number of criteria to be met when choosing a new business printer. Productivity is a

Photos are precious memories and it stands to reason that you would want to buy one of the best