Epson EcoTank Photo ET-7750 Printer Review
-
Today, almost everyone has photographs stored away on smartphones and digital cameras. The trouble is, these memories are often completely out of sight, even on SD cards until the end of time. Rather than bringing constant pleasure to your household by printing your stunning memories for hanging frames mounted on walls, we forget about our adventures.
But what if you could change all of that by printing your photos with one of the best photo printers which will deliver superb versatility across printing, scanning and copying while interacting seamlessly from both wired and wireless connections? Step up the Epson Expression Premium EcoTank Photo ET-7750.
In this Epson EcoTank ET-7750 printer review, we're uncovering one of Epson's greatest photo printers that will not only bring your memories to life but will also support your home or home office printing needs through leading printing functions. As a printer that is reaching the end of life, your chance to grab an absolute steal that is bundled with enough ink to last you over 2 years worth of printing straight out of the box is coming to a close.
With so much value to be had, discover why the Epson ET-7750 is one of our best picks to purchase over the next few months with our experts Epson ET-7750 printer review below. When you're done, don't forget to leave us a comment with any questions you have about the Epson ET-7750 and how continuous ink printers are the way forward for all modern printing. Now, let's get into it.
Buy Epson ET-7750 EcoTank Printer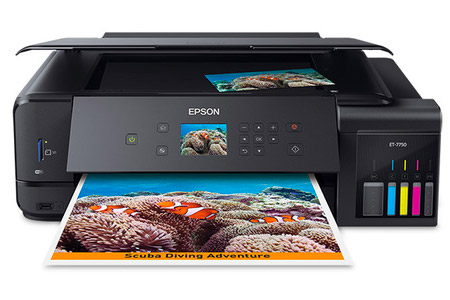 Epson ET-7750 Printer Review
At its heart, the Epson EcoTank Photo ET-7750 is a printer that prints documents and photos. For photo printing, the ET-7750 takes roughly 27 seconds to print a 15 x 10cm photograph at an amazingly high resolution of 5760 x 1440 drops per inch. This provides a richness of detail with the photo that you are printing. To ensure the highest quality prints, the ET-7750 uses 5 variations of Epson T512 ink bottles. Now while 5 ink bottles might sound expensive, they are absolutely loaded with ink and will last you years.
The types of ink bottles the ET-7750 uses are as follows:
Epson T512 Standard Black Ink Bottle
Epson T512 Photo Black Ink Bottle
Epson T512 Magenta Ink Bottle
Epson T512 Cyan Ink Bottle
Epson T512 Yellow Ink Bottle
The black ink bottle provides a matte black finish while the photo black is a dye-based ink that gives your printouts a gloss finish that really makes them stand out. Through glossy finished, your photographs and printouts will deliver greater definition to the darker areas of the photo. This is especially true when you use Epson Photo Paper which results in wonderful photos that are ready to be framed and mounted onto walls.
As for standard printing, the Epson EcoTank Photo ET-7550 deals with printing documents just as efficiently as the majority of leading inkjet printers. With a print speed of 13x A4 pages per minute (ppm) in black and white and 10x A4 ppm when printing colour documents, you will not be waiting too long for your printouts. In addition to this, because the ET-7750 uses pressure which is generated by a piezo crystal to force the ink through any one of the 360 black ink nozzles (or any of the 180 nozzles for each of the colours) the first page prints in the same short time as the second and every other sheet.
Most other inkjet printers have to heat up the ink to boiling point before printing anything and that takes several seconds longer. Therefore, although the ET-7750 is not the fastest inkjet printer on the market, the technology behind the printing is still very respectable nonetheless.
Paper Handling
For paper handling, there are two cassette-style paper trays on the front of the Epson EcoTank Photo ET-7550. In addition to this, there is also a pull-up hopper at the rear of the printer. The bottom paper tray takes up to 100 sheets of A4 paper for general printing purposes. The second tray, which is just above the bottom tray, takes up to 20 sheets of glossy photo paper up to 15 x 10 cm in size.
For A3 printing the third tray, which is at the back of the printer, will take up to A3 size sheets of standard printing paper or photo paper larger than 15 x 20 cm for those moments where you want to print larger photos.
In addition to this, the Epson ET-7750 also comes with automatic duplex printing which will cut down the amount of paper you use and save you money. When you combine this with the low setup cost, 2 years worth of ink straight out of the box and generally low operational costs, the Epson ET-7750 becomes a very economical solution for office, home and photo printing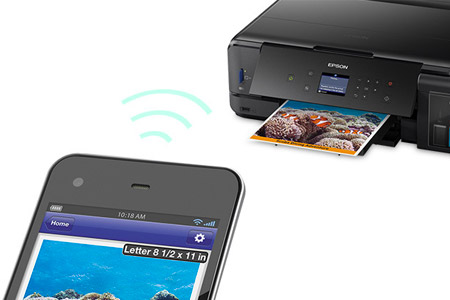 Scanning and Copying
No matter whether you are printing at home or within an office environment, you never know when you might need a scanner or copying functionality. There is nothing worse than having to rush to get documents scanned to an authoritative body to find that you don't actually have that capability at home. For this, the Epson EcoTank Photo ET-7550 serves as more than just a printer. The top-mounted flatbed scanner lets you scan and copy original documents up to A4 size. You can scan single sheet originals or bulkier items, such as books, by lifting the flap that covers the scanner bed. This provides total flexibility over the types of documents that you decide to scan.
In addition to this, the ET-7750 also serves as an efficient copier too. Turning out copies of the original documents at the rate of 10 images per minute (IPM) in black and white and 7.5 IPM using colour documents, you will not have to wait long before you have multiple copies of your documents.
To access scanning and copying functionality, this is achieved via the control panel at the front of the printer. The control panel itself is angled towards you for better visibility and this is a very nice feature that Epson has provided. As with the majority of Epson printer control panels, all the functions are at your fingertips and displayed on a 16.8 cm colour screen. It's not a touchscreen but, as we shall see in a moment, all the functions can be accessed via an App from your smartphone or tablet.
Connectivity
Very few people are using only a networked PC these days. Far more common is the need to use the printer from a smartphone, tablet or laptop. As with all modern technology, you should expect this versatility and the Epson EcoTank Photo ET-7550 provides a wide range of connectivity options to match your needs.
Although the Ethernet 100BASE-TX/10BASE-T connection is there to use the printer functions from a desktop PC, there is wireless connectivity as well so that you can use the multifunction printer from all sorts of mobile devices. In addition to this, the printer comes with an 802.11b/g/n connection giving Wi-Fi and Wi-Fi Direct connectivity.
For mobile device printing, the Epson ET-7550 supports the following via Epson Connect:
Epson Email Print + Epson iPrint
Apple AirPrint,
Mopria
Scan to the Cloud.
As long as you are connected to the same network, you can literally kickstart your printing from anywhere throughout your home or office. There is also a Hi0-Speed USB 2.0 port and, most importantly, a built-in SD Card Slot to get those photos out of a digital camera and onto long-life photo paper for display.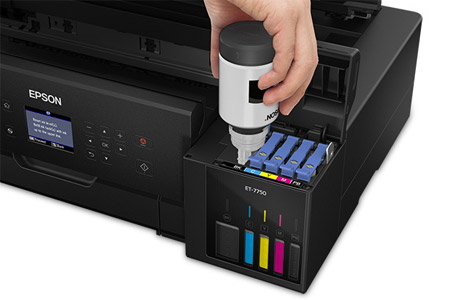 Printing Costs
Okay, so we have all heard the rumours that inkjet printing is horrendously expensive. In fact, the most expensive liquid on the planet. Frankly, it's a myth. The major contributor to the cost of an inkjet cartridge is the microtechnology that it carries on the cartridge device. Printheads are minuscule and manufactured to meet microscopic technologies. Many printer cartridges incorporate a method to almost instantaneously superheat the ink to form a bubble and force it through a tiny nozzle and onto the paper. It is a marvel of engineering and manufacture.
The problem? An ink cartridge with all its paraphernalia is a bit bulky and limits the amount of ink it contains. This is where continuous ink printers like the Epson ET-7550 really shine.
The Epson EcoTank Photo ET7750 is one of a growing number of inkjet printers that does away with the ink cartridge by separating the technology from the ink. Instead of replacing all the technology every time the ink runs out, it carries bulk ink in a refillable tank and puts all the other bits inside the printer so they are not needing to be replaced in each instance. This has a major impact on the price of printing and is something we can all smile about.
The number of pages an inkjet printer cartridge will print before it needs to be replaced is measured in the hundreds. For the same price as a low-end cartridge, the number of pages a bottle of ink will print is measured in the thousands and even tens of thousands. That's a huge difference.
The Epson EcoTank Photo ET-7750 goes a step further. Remember how the Epson Inkjet Technology uses pressure instead of heat to force the ink through a nozzle? Well, that reduces the amount of energy needed. As a result, the Epson EcoTank Photo ET-7750 uses much less electricity than most other printers at just 13W when printing and less than 1W at other times.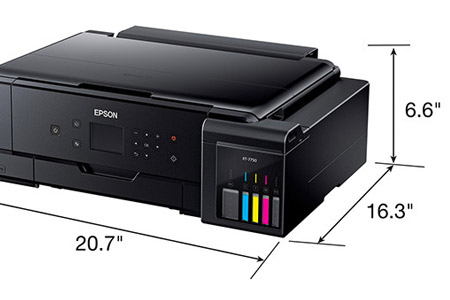 Physical Size
For a printer that is ready for long term use and packs a punch with features and value, the Epson EcoTank Photo ET-7750 needs very little valuable space in your home or office. It holds thousands of pages worth of ink in a footprint that measures just 526 mm wide and 415 mm deep. The height is just 168 mm and the weight is a relatively light 10.5 kgs.
So, now you have a powerful printing unit that does not weigh a metric done and also does not cost you a fortune to operate. It's a win, win.
Epson EcoTank ET-7750 Review Verdic
If you couldn't guess when reading this Epson ET-7750 printer review, we absolutely love this printer.
Overall, the Epson EcoTank Photo ET-7750 represents incredible value for money. When you think that once the printer has printed your first page you won't need to add any ink for almost up to the next two years buying this printer becomes an absolute bargain. Plus, when you do eventually need to add more ink, the replacement ink bottles are also going to last for thousands of pages as the running costs of the Epson ET-7750 are amongst the lowest anywhere.
Combine this with very high-quality photo printing, as well as document printing, copying and scanning and you will find so much value each time you look at the printer. If we wanted to quibble, there is no automatic document feeder which typically would speed up your scanning or copying process. However, you cannot feed photographs through an ADF and therefore because the ET-7750 is primarily a photo eco tank printer, this becomes less important. In addition, a little extra paper capacity would have been nice. But, once again, as a home or small office printer, there is very little chance that you will be performing extremely long print runs as you see with laser printers. So, that is not too much of a handicap either.
The Epson EcoTank Photo ET-7750 does almost everything with a very low operating cost and is an outstanding purchase. Especially when you take into account that the new generation of Epson EcoTank Printer, the Epson EcoTank Photo ET-8500 and ET-8550 cost considerably more.
Content Disclaimer: At CartridgesDirect, we are committed to providing up-to-date and independent reviews such as this Epson EcoTank ET-7750 printer review. All printer reviews are not commissioned by manufacturers and have been independently tested by our printing experts. If you have any questions about printers or compatible ink cartridges, please contact us via live chat or feel free to leave a comment below. We look forward to hearing from you.
Explore Popular Articles
The 21st century is the age of information and seeking alternatives to harsh chemicals. Although

There are a number of criteria to be met when choosing a new business printer. Productivity is a

Photos are precious memories and it stands to reason that you would want to buy one of the best