What's Cheaper: Buying New Ink Or Printer?
-
Owning a printer is essential for almost all professions. However, there is an enormous difference in quality and price that needs to be considered before purchasing. When choosing a new printer, for many consumers, there comes a time to decide whether the investment of new ink or a new printer is the more cost-effective option.
While high-quality ink can be expensive, it does not mean you throw your printer away every time your ink runs out. It is alarming how many printers are thrown into landfill in an attempt to outsmart manufacturers. There are many ways you can save money printing and with longer-lasting ink cartridges, the myth of old is well and truly debunked. Of course, now more than ever, we need to acknowledge the true cost of our decisions. This includes finding new ways to reduce outgoing expenses while considering how our choices affect future generations.
For every printer that is kept from landfill and every ink cartridge we can recycle, the world will be a better place. In this article, we explore the true cost of throwing away your printer instead of purchasing replacement ink.
Should you buy new ink or a new printer?
In addition to this, there are further ramifications of choosing to buy a new printer instead of ink cartridges. Take a look at some of the real costs of making this decision below.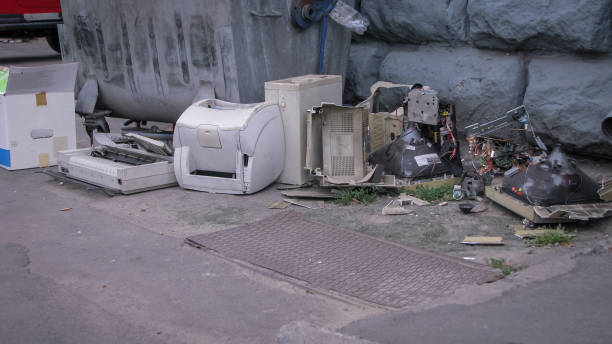 1. The Environmental Impact.
Most leading print brands have started to incorporate recyclables into the design and parts of new printers, with brands like HP being bold enough to state that they will be a fully-recyclable brand in as little as ten years. These efforts are not acknowledged if consumers are simply throwing away printers after minimal use instead of replacing used ink and placing a new order. With printers not being used for their intending lifecycle and not always ending up back with the manufacturer but in a landfill, this then presents a negative environmental impact. If you have recently watched David Attenborough's documentary "A life on our planet" you will know that the world needs us all to start making ethical choices such as recycling printer cartridges.
Of course, for brands that are not as advanced in their environmental operations, the threat is even greater still. Printers are using many precious metals and minerals, and unfortunately, some manufacturers are still using virgin materials in their model design, and so squandering these working printing units is incredibly wasteful.
2. Convenience.
Professionals and creatives who have come to rely on the quality will look at more than just price when it comes to the consideration phase. After all, convenience is a premium that many are willing to prioritise. The cost to your convenience in purchasing an entirely new printing unit and getting that connected to your device could stand in the way of better productivity. By replacing ink cartridges, you will avoid double-handling with your employees or dependents who are also using the printer and also the hassle of setting up printers across your network.
There is also the inconvenience of packaging up your old printer and responsibly disposing of the unit. Not to mention the fluctuating prices of printers. With new models regularly rolled out, including brand new technology such as continuous ink printers, there is more to consider today.
3. Only Replace What You Need.
The price of ink is dearer than any other running cost in a printer, and so one can understand why consumers believe this to be a "loss leader strategy" and instead decide to replace a printing unit rather than the ink. What many fail to understand is that when it is time to replace the ink, you often don't need to replace every colour - but rather the ones that need to be replenished. If you are printing in monochrome and less likely to use a vibrant palette in your work, then the price of replacing new ink will be more affordable than you had originally thought.
You can also elect in your printer settings to not print to a high-quality standard when you select black and white, which is particularly useful when printing written documents with no pictures. There are also eco settings that take this even further and use ink and other printing functions more sparingly.
CartridgesDirect works with offices and sole traders all over Australia and remains committed to ensuring every product purchased has a long life and yields the quality results you are looking for. View our full printer range and printer cartridges product range here on the website, and find the best, most cost-effect solution for your professional or creative needs.
If you have read this article and are still on the hunt for a new printer, take a look at our regularly updated guide on the best cheap printers available within Australia today. From single inkjet printers to multifunction printing capabilities, all printers within this list are valued at under $100.
Explore Popular Articles
The 21st century is the age of information and seeking alternatives to harsh chemicals. Although

There are a number of criteria to be met when choosing a new business printer. Productivity is a

Photos are precious memories and it stands to reason that you would want to buy one of the best