Best Sublimation Printers Australia (2022 Update)
-
Jumping into the world of sublimation printing and exploring new materials to print with? This modern style of making and creating utilises phenomenal sublimation printing technology that allows printer users to produce goods and clothing that bear their own unique, independent designs. Our range of sublimation printers here at CartridgesDirect consists of inkjet and photo printers that possess sublimation printing capabilities.
We've outlined our selection of the best sublimation printers below to help you find the ideal sublimation printer model to suit both your day-to-day printing needs as well as your home or office's wider sublimation printing requirements. Read on to find the best sublimation printer for your wider household or workforce.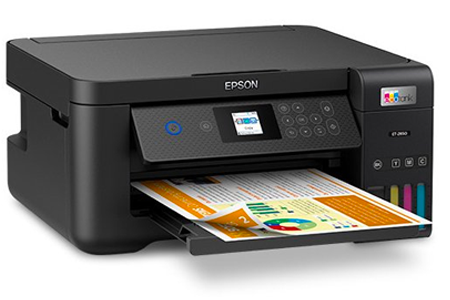 1. Epson EcoTank ET-2850 Inkjet Printer (Best Sublimation Office Printer).
Price: $477.07 (+ Free Shipping)
As Epson's EcoTank series of printers use micro piezo inkjet printing technology, all the EcoTanks do actually double up as sublimation printers. The only issue with using the Epson EcoTanks for sublimation is simply that you'll need to clean out your printer's ink chambers thoroughly when swapping out the EcoTank's T502 black ink bottles with your sublimation ink, as sublimation inks vary in their density when compared to traditional printer ink.
As cleaning your printer out between every alternating printing job is incredibly time-consuming, it is in your best interests to invest in two printers for your organisation or commercial space, if you're looking to profit off your sublimation print creations. For office spaces that are looking for a quality sublimation printer to suit their low to moderate sublimation printing needs, we would have to recommend the Epson EcoTank ET-2850 Inkjet Printer.
A true EcoTank, the ET-2850 is an ideal model for smaller office spaces or any professional environment that would benefit from a streamlined sublimation printing station. The ET-2850 weighs only 5.5kg and measures at just 375mm x 567mm x 259mm (W x D x H), making it amongst some of the lightest and smallest office printers available in our online store.
With scanning and wireless printing capabilities as well, the ET-2850 is an ideal compact sublimation printer for office spaces where multiple people will be working collaboratively on sublimation print creations.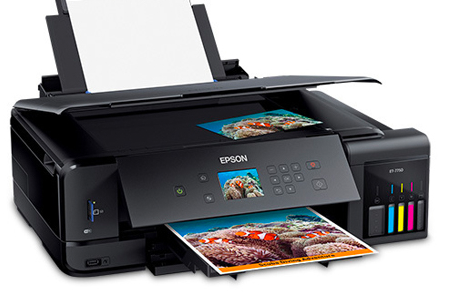 2. Epson Expression Premium ET-7750 (Best A3 Sublimation Printer).
Price: $949.20 (+ Free Shipping)
If you're looking to make larger-scale sublimation print creations, a printer with A3 printing capabilities is likely to be just what you and your team will need. Thankfully, with the release of the Epson Expression Premium ET-7750, artists and makers looking to utilise sublimation printing technology for larger-scale logo and decal production, can do so with minimal fuss
Weighing up at 10.5kg and measuring approximately 526 x 415 x 168mm (W x D x H), the ET-7750 is larger than Epson's other EcoTank printers, specifically because it's capable of producing A3 sized print jobs. Like the ET-2850, it comes equipped with a CIS flatbed scanner so that you can scan existing images or logos and process them into sublimation print creations with minimal fuss.
The ET-7750 also comes equipped with a 2.7" LCD display for easy user navigation, as well as being compatible with the Epson Connect applications, Apple Airprint, Google Cloud Print, and Mopria for Android too. A built-in SD card slot will allow printer users to print images straight from storage through to physical form with some suitably sized sublimation printing paper as well.
Of course, if you are looking to use your ET-7750 to print sublimation creations to A3 size, you will need to source A3 sublimation printing paper. CartridgesDirect currently does stock sublimation printing paper in both standard A4 and A3 paper sizes.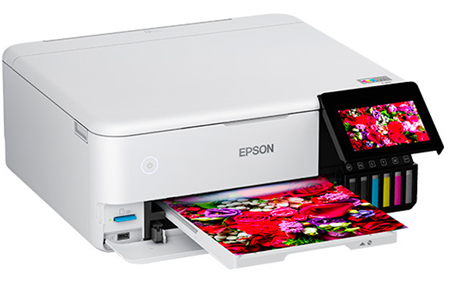 3. Epson EcoTank Photo ET-8500 (Best Photo Sublimation Printer).
Price: $959.00 (+ Free Shipping)
For those of you who are eclectic artists and are looking to dabble in sublimation printing alongside photo printing, the Epson EcoTank Photo ET-8500 may be the ideal, versatile sublimation printer to suit your varying printing needs. Of course, as is the case with all the other EcoTank sublimation printers outlined in this blog post, you will need to thoroughly clean out your ET-8500's ink chambers when swapping between sublimation and photo printing.
If you are looking to use your sublimation photo printer more frequently with regards to photo printing over sublimation printing, then the ET-8500's high yield ink capacity will more than provide for your photo printing needs. Using the Epson T552 black ink bottles, the ET-8500 is able to produce about 6700 pages when printing monoprints (7300 with its photo black ink), and about 6200 pages for colour printing jobs.
Alongside being able to print photos, the ET-8500 can also print A3 sized documents and is compatible with a variety of different glossy and matte printer paper and other mixed media types, making it another great sublimation printer model for commercial printing purposes. Due to its A3 printing capabilities, the ET-8500 is a similar size and shape to the ET-7750, with the ET-8500 weighing up at 8.4kg and measuring approximately 403 x 369 x 162mm (W x D x H).
The ET-8500 also boasts a flatbed CIS scanner for easy logo, image, photo, and document scanning, a built-in SD card slot, and a 4.3" colour LCD display for easy user navigation. All in all, the ET-8500 is an ideal choice for any individuals looking to explore a variety of disciplines within the visual arts, or for organisations looking to profit from their sublimation printing capabilities.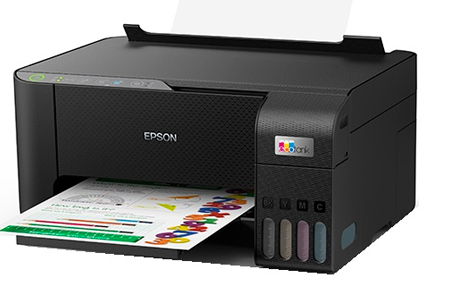 4. Epson EcoTank ET-1810 (Best Cheap Sublimation Printer).
Price: $292.67 (+ Free Shipping)
Finally, if you're a hobbyist and are looking to simply dabble in sublimation printing as emerging practice for homegrown makers and creators, you likely won't be requiring heavy-duty sublimation printers like the ET-8500 or the ET-7750. If you fall into this category of creative spirits, chances are the Epson EcoTank ET-1810 may actually be the ideal sublimation printer for you.
Our most affordable sublimation printer here at Cartridges Direct, the ET-1810 is still a fully-fledged Epson EcoTank in its own right, and possesses phenomenally focused printing capabilities. It's important to note, however, that the ET-1810 is not an all-in-one printer, and so does not feature copy, scan, or fax capabilities
What the ET-1810 does have, however, is a superb print resolution (5760 x 1440 dpi), fair printing speeds (10ppm for mono; 5ppm for colour), and a super high page yield of around 4500 pages for black and 7500 pages for colour print jobs with the Epson T522 ink bottles.
As the ET-1810 is streamlined in both its design and printing capabilities, this little affordable sublimation printer weighs up at just 2.7kg, and measures at around 375mm x 578mm x 253mm (W x D x H).
Best Sublimation Printers Roundup
All of the sublimation printers we've outlined above will be sure to please any budding sublimation artists out there as well as organisations looking to make their own promotional materials in-house.
Be sure to source sublimation printing paper as well as some high-quality sublimation ink alongside your new printer and heat press so that you can hit the ground running when the time comes for you to take your first steps into the world of sublimation!
Content Disclaimer: At CartridgesDirect, we are committed to providing up to date and independent reviews on the best sublimation printers in Australia. All printer reviews are not commissioned by manufacturers and have been independently tested by our printing experts. If you have any questions about home or home office printers, please contact us via live chat or feel free to leave a comment below. We look forward to hearing from you.
Explore Popular Articles
The 21st century is the age of information and seeking alternatives to harsh chemicals. Although

There are a number of criteria to be met when choosing a new business printer. Productivity is a

Photos are precious memories and it stands to reason that you would want to buy one of the best