Best Student Printers Australia (2022 Update)
-
It has been a long time since we were students.
Yet, we remember all too well the frustration of having to spend beer money on useful equipment such as printers to complete our coursework. Believe us when we say that we understand the struggle of finding the best student printer to match your budget.
Now more than ever before, it's important to buy leading technology. There is no excuse to not do your research and coming to an article like this is the perfect place to start. With many students working from home, buying one of the best printers for students is an ideal investment. Your printer should offer great value for money, solid performance and, of course, reliability. Over the past 15 years, our printing experts have tested more printers than you could ever imagine. Whittling down to our hand-picked selection of the best students printers available throughout Australia, find the perfect student printing solution for your coursework right here.
Best Student Printers Australia (2021 Update)
From casual student printers to thesis-ready all-in-one printers, our experts have tested over 30 inkjet printers, laser printers and photo printers to provide you with a list of some of the best printers for students available within Australia. Whether you are looking for wide format photo printing, quality document and photography functions or a simple device to carry around with you to print cute snaps of your friends in the classroom, we are sure you will find the right printer here.
Now, without further ado, let us crown the best student printer for your home setup. Scroll down to read the entire list or write to us in the comments so that we can help you find the right type of printing unit to match your application. For any further assistance on getting the best value for money printer, our experts are available via live chat to assist with any questions you have.
1. Best Cheap Student Printers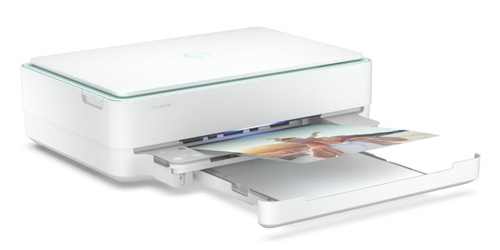 HP Envy 6034 All-In-One Inkjet Printer
Price: $99.00 (+ Free Shipping)
Also winning our award for the best cheap printer of 2021, the HP Envy 6034 Inkjet Printer is an all-in-one printing solution that every student can afford. Not only does the HP 6034 AiO printer look absolutely stunning, but this compact inkjet printer is also packed with functionality. Offering serious value for money, students will enjoy printing, scanning, copying, mobile printing via the HP Smart App and seamless Wi-Fi connection. It's a printer your family or friends will enjoy too.
Another reason why the HP Envy 6034 has taken the crown for our best cheap student printer is through offering duplex printing as standard. This will literally cut your paper costs down by 50% as the printer will automatically produce your documents on both sides of the page. With print speeds of up to 10 pages per minute (ppm) using monochrome printing and 17ppm when printing with colour, the HP Envy 6034 will not slow you down all too much when rushing for that deadline.
While security as a student may not be your biggest priority, the HP Envy 6034 All-In-One Inkjet Printer will also protect both you and your housemates when transmitting data over Wi-Fi connection. There is not a single printer on the market that offers this kind of value for money when you combine all features of the HP Envy 6034 Inkjet Printer. It is the true definition of All-In-One printing technology and looks absolutely stunning too.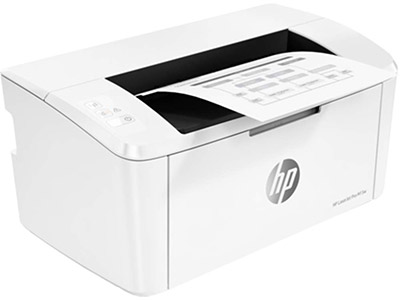 HP LaserJet Pro M15W Printer
Price: $152.00 (+ Free Shipping)
If the HP Envy does not take your fancy then one of your next best options is the HP LaserJet Pro M15W laser printer. With its compact size, low purchase cost, high productivity and versatility, the HP LaserJet Pro M15W is a quality student printer. Ideal for small businesses or students who are not presenting coloured documents to clients, the high quality black and white printing will not cost you a fortune to purchase or own.
More Info? -Read Full HP LaserJet Pro M15W Review
Yes, there are more efficient printers on the market and some would deem the HP LaserJet Pro M15W slightly more expensive to operate. However, this printer is aimed at those who do not print hundreds of documents each day. With a print speed of up to 18 pages per minute and wireless connectivity to allow high quality laser printing access to multiple devices the HP LaserJet Mono M15W printer has a surprisingly small footprint of just 346 mm wide x 348 mm deep and a maximum height clearance of 280 mm with all trays open wide for access too.
2. Best Smart Home Student Printer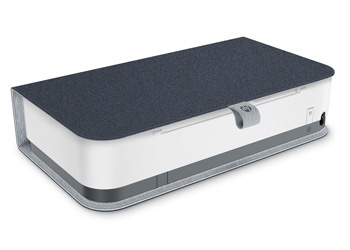 HP Tango X Smart Printer
Price: $401.80 (+ Free Shipping)
Do not be fooled by the picture, this is a real printer!
Nobody wants to have the worst technology when living within student halls. In this regard, the HP Tango X Smart Printer will have your friends thinking twice about whether printers are redundant. What looks like a book on your bookshelf is actually a solid printer that comes Alexa enabled and prints high-quality documents and photos. While this printer is no workhorse, for the student that prints just a handful of documents every now and again, you may prefer style over functionality.
That said, the HP Tango X will produce up to 11 pages per minute straight from your smartphone. Inclusive of voice-activated printing, the HP Tango X photo printer is the first printer with a cloud-based two-way network that will enable you to print, scan or copy from any device, anywhere around your home or office. With a seamless setup experience, you can print up to 8 high-quality colour photos per minute and 11 photos when using monochrome settings. In addition to this, the HP Tango X utilises thermal ink technology and a small range of HP 804 Colour Ink Cartridges. This means that your printing costs are kept reasonably low with complete flexibility on the paper types that you choose to print with. As you could expect with any HP Photo printer, the HP Tango X is at the top of its class and leads the way as the best smart home photo printer that you can buy this year.
3. Best Portable Student Photo Printer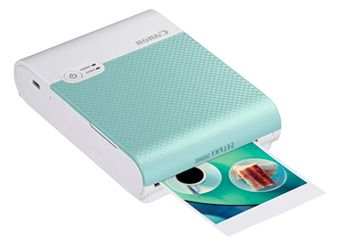 Canon Selphy Square QX10 Photo Printer
Price: $253.00 (+ Free Shipping)
As the winner of our previous articles awards for the best photo printers, the Canon Selphy Square QX10 photo printer is perfect for students who want to capture those special moments. As a student, you will no doubt have downtime with your friends. From beer pong to exploring your local city, snapping selfies will be frequent.
The social media addict in you will be pleased to know that the entire Canon Selphy range is absolutely perfect for printing quick selfies with your friends. As a portable printer that is capable of producing stunning square prints, the Canon Selphy QX10 is suitable for a wide range of classic applications such as portrait and landscape photos. Due to printing at the ratio of 1:1, the Canon Selphy Square uses the same specifications as Instagram.
Therefore, you will not need to crop your photos to get the perfect printout. If they are ready for Instagram, they are ready for the Canon Selphy too. While Canon promotes that your snaps are ready within an instant, they actually take up to 43 seconds to print. However, what is great about the Canon Selphy QX10 photo printer is that there is minimal rendering time as the printer very promptly takes straight from your phone into printing mode.
Even once you graduate, the Canon Selphy will just keep going and going. Promising that your photos will last up to 100 years, Canon makes use of dye-sublimation technology that is extremely advanced and can withstand the most treacherous of conditions. So, when you are old and grey (yes, this will happen), you can flip open the nostalgia box and take a trip down memory lane with all the printouts you and your college friends took while supposedly studying!
4. Best Student Printer For Creatives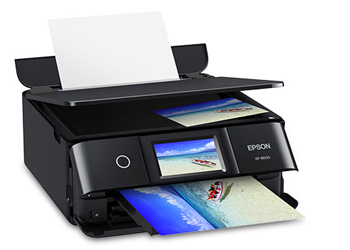 Epson Expression Photo XP-8600 All In One Printer
Price: $285.95 (+ Free Shipping)
For anybody studying creative arts, you may be looking at one of the best student printers available to print your stunning artwork. While you could, and potentially should purchase a dedicated photo printer that will set you back a few dollars, the Epson Expression Photo XP-8600 All In One Printer is a much cheaper alternative that delivers fantastic results. Taking the crown as one of our best photo printers for small businesses, the XP-8600 is also highly suitable for students.
Compact, stylish and affordable, the XP-8600 has all of the functions you could expect from a multifunction printer such as scanning, copying and wireless connectivity and is suitable for both printing photos, documents and more. While you obviously want to know more about photo printing technology, we wanted to cover this first as you likely will need to print some documents too. The Epson Expression XP-8600 will not let you down here.
Now for the best parts. With automatic duplex (2-sided) printing, you will save time and paper which is perfect for students. What's more, when it comes to photo printing, the Epson Expression Photo XP-8600 delivers an innovative six-colour Claria Photo HD ink. With 6 colours and high-grade printing, you will be amazed at the smooth gradients and amazing skin tones this printer can produce. Enjoy borderless photo printing within as fast as 10 seconds, printing from anywhere within your office including smartphones and instant scanning to Facebook or the cloud. Overall, the Expression Photo XP-8600 is the ultimate versatile photo printer for students.
5. Best Ink Tank Student Printer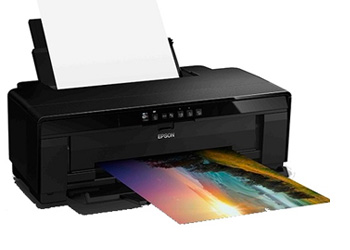 Epson EcoTank ET-2750 Inkjet Printer
Price: $477.07 (+ Free Shipping)
Spending nearly $500 on a student printer may seem excessive. However, the Epson EcoTank ET-2750 Inkjet Printer would claim otherwise. Proving that cartridge-free printing is the way forward for inkjet printers and to reduce your costs, Epson EcoTank Printers come with almost 2 years worth of ink out of the box and will print thousands of documents for you and your fellow students without batting an eyelid. If you are looking for one of the best student printers you can share with your roommates, the ET-2750 is well worth the upfront investment.
Despite a fairly ordinary design, the Epson EcoTank ET-2750 comes absolutely packed with power. With printing at respectable speeds of 5 pages per minute using colour and 9 pages per minute using black ink, the ET-2750 will not slow you down too much. As a multifunction printing unit, the ET-2750 will also smoothly handle your printing, scanning and copying needs seamlessly. Users can connect to the printer via a stable Wi-Fi connection and will never have to replace ink cartridges for up to 2 years worth of printing.
Overall, the Epson Expression ET-2750 EcoTank printer is remarkably cost-efficient and delivers very good wireless printing. The ability to print thousands of documents before needing refilling will be enough to potentially last you the entire time that you are studying. Therefore, with no hidden costs, this printer becomes a great investment for shared printing.
Best Student Printers Roundup
As you can see from our expert's hand-picked list, the very best printers for students come in a variety of different shapes and sizes. HP takes the crown for the cheapest student printer that offers great value for money. However, the bulky but hugely beneficial Epson EcoTank ET-2750 will be best suited for sharing with your fellow students.
Finding the best student printer for your time at university or college will come down mainly to your budget and what you actually need the printer to deliver. If you are creative, a higher-end inkjet printer might be better suited to bring your creations to life. Whereas, if you are studying law or journalism, a monochrome printer or laser printer will save you money when printing hundreds of pages before submitting your thesis.
No matter what student printer you decide to purchase, be sure to use genuine or, at the very least, 100% compatible ink cartridges. By using counterfeit cartridges, you are at a huge risk of your printer malfunctioning. This will result in even further costs as you frantically look to replace your printing unit before your deadline. If saving cost on ink cartridges is a top priority for you, share your printer with your dorm mates and check out our list of some of the best continuous ink printers. By sharing an ink tank printer between many of your study buddies, chances are that you will never need to replace your ink cartridges at all!
Content Disclaimer: At CartridgesDirect, we are committed to providing up-to-date and independent reviews on the best student printers in Australia. All printer reviews are not commissioned by manufacturers and have been independently tested by our printing experts. If you have any questions about student printers, please contact us via live chat or feel free to leave a comment below. We look forward to hearing from you.
Explore Popular Articles
The 21st century is the age of information and seeking alternatives to harsh chemicals. Although

There are a number of criteria to be met when choosing a new business printer. Productivity is a

Photos are precious memories and it stands to reason that you would want to buy one of the best