Best Printers For Teachers Australia (2022 Update)
-
Even with the prevalence of learning from home initiatives, teachers still do a lot of printing. Whether it's making copies of worksheets, scanning and printing work by students, or collating resources in time for the report-writing season, teachers rely on their personal and organisational printers on a daily basis.
In this regard, it only makes sense for us as printer enthusiasts here at Cartridges Direct to provide recommendations on what we believe to be the best printers for teachers available on the market in Australia today. Read on for some of our favourite printer models that are absolutely perfect for both teachers and classrooms alike
When you're done, don't forget to hit the comments with any questions you have about our ultimate guide to printers for teachers. We would be more than happy to answer any queries you have to ensure that your classroom is equipped with the best printing solutions. Now, let's get into it.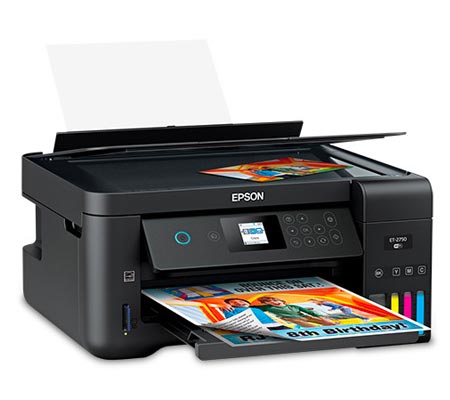 1. Epson EcoTank 2750 Inkjet Printer
Price: $477.07 (+ Free Shipping)
One of the best printers for teachers looking to save money is the Epson EcoTank 2750 Inkjet Printer. Although many teachers do claim the costs associated with their home printer and ink supply back on their annual tax returns, compiling receipts from ink cartridge purchases over the course of the financial year is yet another form of record-keeping that teachers can well and truly do without. That's why it pays to have a printer with a higher output or at least cartridges with a higher page yield so that you're spending less frequently on ink. This is where the Epson EcoTank 2750 comes into play.
In fact, you don't even need ink cartridges at all. As one of the most affordable EcoTank models, the ET2750 boasts all the premium features and specifications of Epson's other models within this wider series, being an all-in-one printer that's capable of printing, scanning, and copying with ease. Say goodbye to last-minute ink cartridge replacements and say hello to nearly 2 years worth of ink straight out of the box.
Features & Specifications
The ET2750 can also print at a speed of around 9.5 ppm when printing in black and white, making a perfect standard-sized printer for teachers who aren't looking to allocate a whole corner of their classroom to an oversized copier. The 8.5" x 11.7" flatbed scanner can produce files with a resolution of up to 1200 x 2400 dpi. Printing quality is just as impressive, with a resolution of up to 5760 x 1440 dpi.
Alongside its excellent printing capacity, the ET2750 is also equipped with a 1.44" colour LCD display to ensure that all of its features are available to you at the tap of a button.
Ultra-High Yield Ink
An added benefit of the Epson EcoTank series is Epson's ultra high-yield ink bottles which can produce up to over 7000 pages when printing in black and white, and around 5200 pages when printing in colour. As the Epson ink refill bottles for the EcoTanks usually cost around $15, the reduced cost of ink and their incredibly high yield tends to offset the premium price tag of the printer itself. This makes the ET2750 a perfect model for busy teachers and other working professionals who may have high printing needs.
Epson also generally ensures all refills are compatible with multiple models in the EcoTank series. So, it's highly unlikely that your refills will ever be in short supply.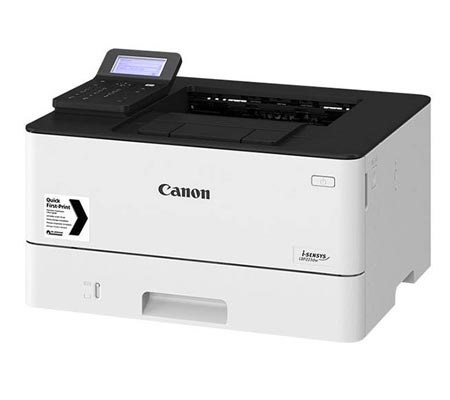 2. Canon imageCLASS LBP223dw Mono Laser Printer
Price: $449.09 (+ Free Shipping)
As teachers are often on the hunt for affordable printers with a high output and minimal printing costs, it's common for many to invest in laser printers as more efficient and cost-effective alternatives to inkjet printer models. If you're a teacher who's looking to print solely in black-and-white, then it would be remiss of us not to recommend the Canon imageCLASS LBP223dw Mono Laser Printer.
One of Canon's most affordable and robust mono laser printers, this imageCLASS model is a no-nonsense, single-function printer that is perfectly suited to teachers looking to print large amounts of grayscale worksheets.
Affordable toner cartridges and high capacity printing
The LBP233dw uses Canon's CART057 toner cartridges which have a page yield of around 3100 pages, making them perfectly suited to busy classroom environments or even offices who may benefit from access to quality grayscale document printing.
With a paper capacity of around 350 sheets and a printing speed of a whopping 33ppm, the LBP233dw has proven itself to be a heavy-duty mono laser printer that's built to simplify the printing needs of organisations like schools or law firms who use a high volume of printing paper. The LBP233dw also boasts automatic dual-sided printing to support your sustainable organisational practices.
There have also been countless positive reviews of the LBP233dw's printing quality since the model's release in mid-2020, with a printing resolution of around 600 x 600 dpi.
The Disadvantages
Of course, the LBP223dw being a single-function printer may also be of detriment to some teachers who are looking to scan or copy physical documents. The imageCLASS LBP223dw is also a larger printer than most single-function printers, measuring at around 25cm high and 40cm wide. Naturally, its larger size may feel unnecessary for this reason.
Despite this, the model's incredibly high page yield still makes it an attractive printing solution for many teachers. Using the LBP223dw alongside a dedicated document scanner can help mitigate the limited functionality of this laser printer.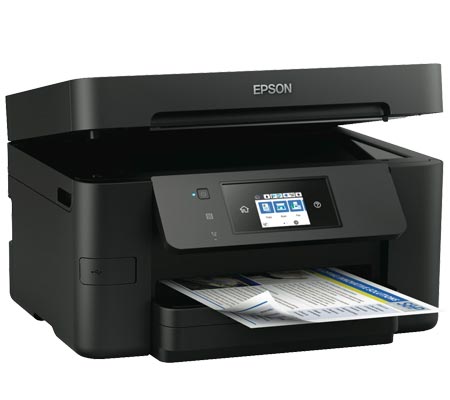 3. Epson WorkForce Pro WF3725 Inkjet Printer
Price: $209.43 (+ Free Shipping)
As one of the best cheap printers for printers, number three on our list is the Epson WorkForce Pro WF3725. Epson's WorkForce series has garnered a positive reputation for being popular office printers, but these industry-ready colour inkjets can also prove to be the perfect printer model for your classroom set-up too.
A standout model in the Epson WorkForce series has to be the WorkForce Pro WF3725, a modern all-in-one printer with impressive printing capabilities, including high quality colour and mono printing.
Scan & Copy Functionality
Most printers for teachers tend to sacrifice printing quality for print volume, simply because there's an assumption that teachers are only printing black-and-white worksheets and thus, aren't in need of high-quality prints.
The WF3725 manages to incorporate the best of both worlds, with a printing resolution of 4800 x 2400 dpi, and a printing speed of around 10.2 ppm, which is greatly improved against older WorkForce printer models and makes the WF3725 perfect for multi-page print jobs. With a scanning resolution of 1200 x 2400 dpi and copying speeds of 9 ppm for colour and 17 ppm for black and white copy jobs, the WF3725 is also a highly capable all-in-one that is sure to feel right at home in a classroom or office setting.
The WF3725's 2.7" touchscreen LCD and mobile printing capabilities also ensure this printer stays highly user-friendly. This printer is likely to be a valuable asset to classrooms undertaking multimedia projects or classrooms where multiple devices are required to print wirelessly.
High-Yield Ink Cartridges
Alongside possessing strong printing capabilities, the WF3725 is also compatible with Epson's 702XL cartridges, which have a page yield of over 950 pages for magenta, cyan, and yellow, and over 1100 pages in black.
This is a superb value for any high-yield cartridge variant, and will absolutely ensure you'll be able to make the absolute most of your classroom's supply of printer cartridges.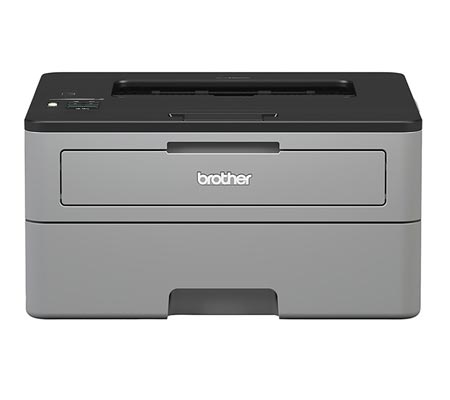 4. Brother HL-L2350DW Mono Laser Printer
Price: $141.00 (+ Free Shipping)
As the second monochrome laser printer to feature within our review of the best printers for teachers, say hello to the Brother HL-L2350DW. Although a larger mono laser printer like the Canon imageCLASS may be better suited to offices or classrooms that are generally printing a large amount of worksheets or documents, having a monolithic page yield or rapid fire ppm may not be of a benefit to most modern classrooms.
With schools looking to save resources and minimise printer use, opting instead for digital worksheets and computer-based activities, a smaller capacity mono laser printer like the Brother HL-L2350DW may feel more at home in modern classroom environments.
As this model is compatible with Brother's TN2340 toner cartridges, the page yield for the HL-L2350DW is around 1200 pages. The costs per page for this printer average at around 0.06 cents per page when using laser printing paper or other types of printing paper.
A Wireless Printer For Classrooms
Being a wireless printer that still feels like a traditional laser printer with a streamlined user interface (being equipped with a monochrome LCD display and clear-cut buttons for all your printing commands), the HL-L2350DW has been designed for effortless use and for users of all ages, making this a quintessential printer for modern classroom environments.
Its 250-page paper capacity also ensures you'll spend minimal time fiddling with this printer during print jobs. Automatic dual-sided printing can also help minimise unnecessary paper use during the printing process.
Impressively Fast Printing Speeds
The Brother HL-L2350DW is smaller than the imageCLASS LBP223dw and can be found at a more affordable price than other similar mono laser printers, making it an ideal printer model for teachers and students alike.
Although the page yield of this model averages at around a third of the page yield for the imageCLASS LBP223dw, the Brother HL-L2350DW boasts similar printing speeds to this Canon model, and can reach up to 30 ppm. Simply put, the Brother HL-L2350DW is more than capable of catering to the high printing needs of classroom environments.
Best Printers For Teachers In Australia Roundup
Whether you're looking for a mono laser printer that can churn out documents at a fraction of traditional printing costs, or a versatile all-in-one inkjet, to suit your printing needs as a teacher, then the printer models we've outlined above may very well be the solution for you.
You may be wondering why HP does not feature on this list. While there are many fantastic HP printers available, both Epson & Canon strike chords with the home and home office market. As such, the current printer ranges available are suitable for teachers given the very similar amount of printouts and document types you will be printing. If you were looking for a HP printer, the HP OfficeJet 9020 All In One printer is one of the best budget printers for teachers available.
Browse through our website for more information on any of these ideal printer models for teachers, or stay right here on our blog to explore some of our other printer reviews.
Explore Popular Articles
The 21st century is the age of information and seeking alternatives to harsh chemicals. Although

There are a number of criteria to be met when choosing a new business printer. Productivity is a

Photos are precious memories and it stands to reason that you would want to buy one of the best