Best Printers For Mac & iOS Users
-
Mac users often find themselves in their own world with regards to technology. After all, Apple compatibility tends to be a fickle thing, especially when it comes to using third-party connected devices. So, it stands to reason that you might be on the hunt for the best printers for mac users. I mean, we had to search for them too!
Sadly, Apple hasn't had a hand at making their own printers yet, so Apple Mac and iPhone users alike need to do a little extra research to ensure that the home and office printers they invest in are compatible with their personal Apple devices. But with so many different types of printers compatible with Mac devices, it can be tricky to find one that's perfectly suited to your personal and professional printing needs alongside, of course, being compatible with Apple AirPrint.
Thankfully, our printing specialists here at CartridgesDirect have browsed through and tested our range of printers to outline all of our best printers for Mac users. Here are some of the best printers with AirPrint and Mac compatibility for all homes and office spaces who live firmly within Apple's ecosystem.
Best Home Printer For Mac Users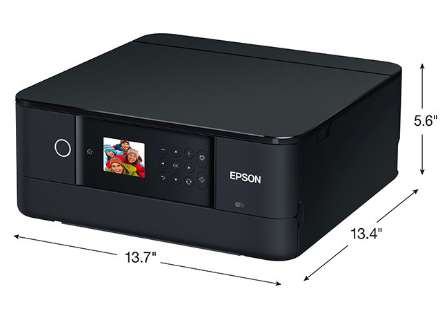 Epson Expression Premium XP-6100

Brand: Epson
Price: From $153.60 (+ Free Shipping)
The best home printers available on the market today are known for being compact without having to sacrifice on printer functionalities. We in the printing biz like to call these printers 'small-in-ones'. That's precisely what the Epson Expression Premium XP-6100 is. Despite its diminutive size, the Epson XP-6100 is a powerhouse of a home printer, offering not just wireless print, copy, and scan capabilities, but also borderless photo printing and CD/DVD printing to boot.
These are just some of the reasons why Epson home printers are much loved by home users.
Built-in printing quality enhancements like Auto Photo Correction and Red Eye Removal amongst other optimisation techniques, allow the Epson XP-6100 to produce high-quality print jobs across a range of different media types. And with 5 separate ink cartridge slots and compatibility with Epson's 302XL Black & Colour Ink Cartridges, XP-6100 printer users can enjoy optimal colour printing alongside higher page yields.
The Epson XP-6100 is also universally compatible, with printer drivers for Mac and Windows PCs and Apple AirPrint for iPhone and iPad users. What more could you ask for from a modern home printer?
Best Office Printer For Macs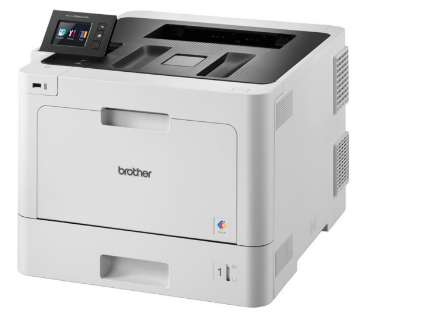 Brother HL-L8360CDW Laser Printer
Brand: Brother
Price: From $599.87 (+ Free Shipping)
It can be easy to feel boxed in by many traditional office printers. After all, their higher stocking capacities across high yield toner cartridges and multiple paper trays, tend to come at the cost of print quality. Since the release of Brother's line of modern office colour printers, however, office printer users have gotten accustomed to drastically higher standards.
The Brother HL-L8360CDW Laser Printer is a high-capacity colour laser printer with a fair few tricks up its figurative sleeves, the least of which includes precision colour printing. With printing speeds of up to 31ppm and a paper capacity of up to 2380 sheets with additional paper trays, the Brother HL-L8360CDW is truly a monolith of an office printer, and is suitable for a wide range of professional spaces, from law firms that print a lot of monochrome, double-sided documents, to creative agencies that may produce highly detailed colour print jobs on a daily basis.
Alongside being scarily high-capacity, the HL-L8360CDW is also super high-yield thanks to its compatibility with Brother's TN441, TN443, and TN446 Black Toner Cartridges. Page yields for the Brother HL-L8360CDW can range from anywhere between 3000 to 6500 pages depending on which toner cartridges you select. Simply put, investing in the Brother HL-L8360CDW will likely see your company's printing costs decrease significantly.
If you are working with a range of both Mac and Windows devices in your office space, then you'll be happy to hear that the Brother HL-L8360CDW is compatible with all Macs that operate on Mac OS X 10.10.5 and above, and all PCs that operate on Windows 7 onwards. Mobile printing is also supported, with full Google Mopria and Apple AirPrint compatibility.
Best Photo Printer With AirPrint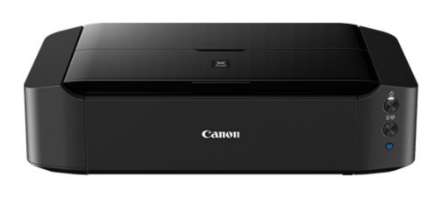 Canon Pixma iP8760 A3 Inkjet Printer
Brand: Brother
Price: From $599.87 (+ Free Shipping)
For those who are looking to print photos using their Apple devices, investing in a Canon Pixma iP8760 A3 Inkjet Printer is likely to elevate your photography studio space and improve on your photo production capabilities with minimal fuss. The Canon Pixma iP8760 may very well just be the most impressive photo printer available on the market today for two key reasons.
First of all, this printer is capable of producing A3-sized high resolution photo prints. This is thanks to the Pixma iP8760's 1 picolitre FINE printhead technology, that's capable of producing A3 prints at a resolution of 9600 x 2400 dpi. This is an unprecedented level of quality, especially for photo printing.
The second reason we're inclined to recommend the Canon Pixma iP8760 to both professional and amateur photographers, is simply because of this model's universal compatibility and total ease of use. Canon's Pixma Printing Solutions App allows both iOS and Android users alike to enjoy high-quality wireless photo printing both in and out of your office or studio space. Apple AirPrint is also supported for Apple users who want to print photos straight from their own camera roll.
Like the Epson XP-6100, Canon Pixma iP8760 printer users can enjoy superior colour photo printing with the use of five different ink cartridges, including one Photo Black or Canon's PGI650XL. Canon Pixma iP8760 printer users can take full advantage of our Canon PGI650XL and CLI651XL cartridge bundle pack to ensure that their Pixma iP8760 printer is fully stocked on compatible ink cartridges.
Best Mono Printer For Macs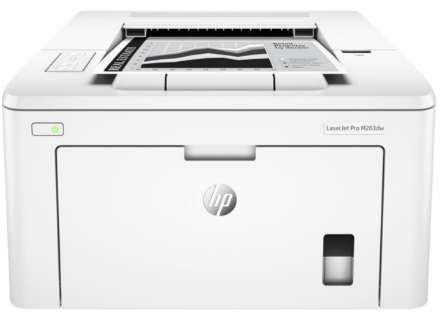 HP LaserJet Pro M203DW Mono Laser Printer
Brand: Hewlett Packard
Price: From $423.50 (+ Free Shipping)
Although the Brother HL-L8360CDW is undoubtedly one of the most impressive office printers we stock here at CartridgesDirect, there is no denying that its ultra high-capacity and printing capabilities are a little unnecessary for some office spaces with low to medium print frequencies. If you believe that the Brother HL-L8360CDW is a bit too gargantuan for your professional and personal printing needs, then HP's LaserJet Pro M203DW Mono Laser Printer is likely to be a better fit for your office space.
With page speeds of up to 28ppm, a paper capacity of around 400 sheets, and an ADF for easy duplex printing, the HP LaserJet Pro M203DW is the monochrome printer of choice for office environments that find themselves printing monochrome A4-sized documents at a high frequency. The LaserJet Pro M203DW can also print on A5 and A6 sized sheets, and a range of different media types, including envelopes, labels, postcards, and cardstock.
Unlike other boxy monochrome laser printers from years past, the HP LaserJet Pro M203DW is incredibly lightweight, weighing up at just 6.9kg. Alongside being quite lightweight, the HP LaserJet Pro M203DW is surprisingly modern when compared to other similar mono printers in one more way, and you guessed it, it's because of the machine's universal compatibility.
The LaserJet Pro M203DW can be used with a wide variety of PCs and other personal devices, with printer drivers available for anything above and including Windows Vista and Macs running on anything above and including macOS 10.12 Sierra. The LaserJet Pro M203DW is also compatible with Apple AirPrint for easy printing from any iPhone or iPad.
HP LaserJet Pro M203DW printer users can enjoy a high yield when using compatible HP 30A or 30X Black Toner Cartridges. For printer users who want even higher page yields, then we strongly recommend investing in some HP 32A Drum Units, which will deliver approximately 23000 pages.
Best A3 Printer With Apple AirPrint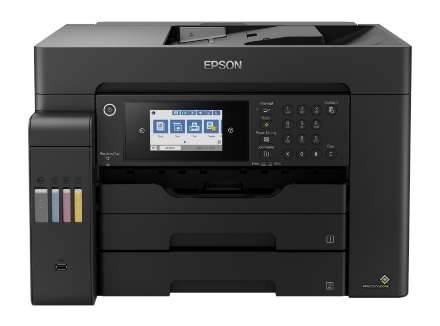 Epson EcoTank Pro ET-16600
Brand: Epson
Price: From $1,689.53 (+ Free Shipping)
Epson printer drivers have always been renowned for their compatibility with Mac computers in particular, which is precisely why a lot of long-time Mac users already prefer Epson printers. Although there's no denying that other printer manufacturers have been catching up and perfecting their own drivers, applications, and internal software to ensure full compatibility with all computers and personal devices, maintaining a soft spot for Epson is also more than reasonable. We may very well have a soft spot for Epson ourselves.
That's why we feel this list would be incomplete without at least mentioning the Epson EcoTank Pro ET-16600, a powerhouse of an ink tank printer that also happens to boast easy A3 printing just like the Canon Pixma iP8760. As the ET-16600's ADF is also fitted for A3 use, ET-16600 printer users can actually enjoy duplex printing on even A3-sized print jobs.
Also featured within our shortlist of the best continuous ink printers, The ET-16600's DURABRite ink and colour printing technology combined with its duplex capabilities makes this particular EcoTank an ideal printer model for poster printing and other large format colour printing applications. In essence, if you're an iOS user or a Mac user working in a creative field or in events management, the ET-16600 is likely to be a genuine asset to your office space.
Whilst the Epson ET-16600 is comparable to the Canon Pixma iP8760 with regards to print quality, one major benefit to opting for the ink tank over the inkjet is naturally going to be the super high page yields that printer users can enjoy with this aptly named EcoTank. Epson's T542 DURABRite EcoTank Ink Bottles allow ET-16600 printer users to experience page yields of around 4500 sheets, making the ET-16600 a superb investment for any homes, studios, or office spaces with medium to high printing needs.
How to find the best printer for your Apple device?
With all the information and printer models we've outlined above, chances are you should have plenty of direction for finding the best mac printer to suit your own personal and professional printing needs. If you're still stuck, simply consider what Apple devices you'll be most likely to print with. Will you be on your iPhone more than your MacBook? In that case, prioritising a printer with Apple AirPrint may be the best choice for you.
When it comes to high quality mac printing, don't be fooled into thinking that printers are just for windows devices. With many printing manufacturers now designing printer models specifically to work with your mac and iOs devices, there's so many options to choose from.
Want to know more about any of our printers here at CartridgesDirect? Check out some of our in-depth printer reviews to read up on some of our best-selling printer models. Need some extra pointers? Then get in touch with our friendly team of printing specialists to inquire about any of our printers, printer cartridges, and other office supplies, accessories, and technology available here at CartridgesDirect.
For more incredible printer reviews and buyers guides, check out some of our editors most recent articles below
Best Office Printers In Australia
Best Small & Compact Printers
Top 5 Inkjet Printers
Must Buy All In One Printers
Best Printers For Teachers
Best Laser Printers In Australia
Explore Popular Articles
The 21st century is the age of information and seeking alternatives to harsh chemicals. Although

There are a number of criteria to be met when choosing a new business printer. Productivity is a

Photos are precious memories and it stands to reason that you would want to buy one of the best