Best Black & White Printers (2022 Update)
-
In an attempt to stay eco-friendly and economical, buying one of the best black and white printers makes perfect sense over purchasing a colour printer. While colour printers are not too expensive, sometimes you only need black and white printing capabilities. In particular, corporate offices will only really use monochrome printers to print documents and invoices.
So why not save some money?
With specialised mono printers, you are more likely to receive increased room for larger black ink cartridges or toner cartridges. Through this, you will not only reduce your cost per printed page (larger ink cartridges are better valued) but also the higher volume of ink that can be fitted within your printer will increase your printers page yield. This means that you do not have to replace your ink cartridges or toner cartridges too often.
Best Black & White Printers Australia (2021 Update)
When it comes to the best monochrome printers, the 'go-to' choice is normally laser printers. The reason for this is because laser printers are typically faster to print and deliver much cheaper costs per printed page. Unlike some of the best photo printers in the market, laser printers are not suited to super high fidelity photo printing. If your primary goal is to save money when printing, then a monochrome laser printer becomes the perfect choice. However, monochrome inkjet printers are more versatile and continuous ink monochrome printers can even match or surpass the page yields of some of the best laser printers.
So, what do you do?
Our experts have tested over 50 black and white printers to bring you the best monochrome printers available throughout Australia today. Scroll down to read the entire list or write to us in the comments so that we can help you find the right type of printing unit for your needs. Should you need any further assistance on getting the best value for money printer, our experts are available via live chat to assist with any questions you have.
Now, let us crown the best monochrome printer of 2021.
1. Best Black & White Printer - The Champion: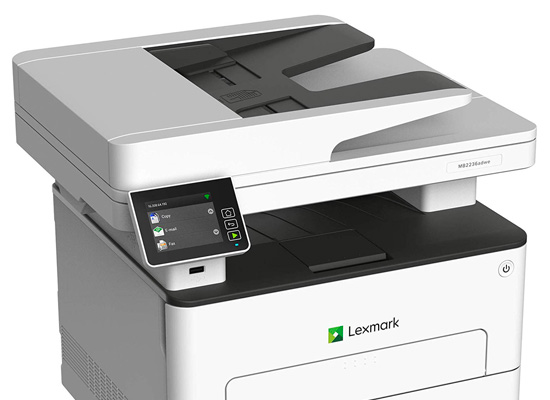 Lexmark MB2236ADWE Mono Multifunction Laser Printer
Price: $367.17
When choosing the best black and white printer for your needs, the primary use case for the printer plays a huge factor. For example with some printers, although brilliant individual units are not suitable for busy offices. Whereas others are best matched to infrequent printing. Therefore, to choose an overall winner of the best monochrome printer, we took into consideration versatility and the flexibility to suit both small home environments or bustling workforces.
Our winner? - The Lexmark MB2236ADWE multifunction monochrome laser printer.
Built with monochrome printing outputs and a whole heap of multifunction printing goodies, the Lexmark MB2236ADWE also includes Wi-Fi connectivity and USB port; alongside an extremely convenient and easy to use e-task touch screen built into the printer. With printing speeds of up to 34 pages per minute, a 1-GHz dual-core processor and 512 MB of memory, the MB2236ADWE offers all-round impressive performance.
This also includes up to 250 sheets of input paper and up to 6000 pages of available toner capacity with support for up to four users. But there is more. Coupled with this, the Lexmark MB2236ADWE operates with double-sided printing as standard, energy-saving modes to reduce your operational costs and single-sided scanning which will capture your documents in monochrome; processing up to 23 pages per minute.
In addition to the Ethernet and USB connectivity, standard on-board Wi-Fi makes it easy for authorized mobile users to print documents via the Lexmark Mobile Print App, as well as Mopria® and Apple AirPrint technologies. When space is at a premium around the office, the MB2236ADWE poses zero problems. With dimensions of only 16.4 inches wide, 14.2 inches deep, and 13.9 inches tall [41.5 cm wide x 36 cm deep x 35.2 cm tall], you can place this multifunction printer almost anywhere without a hitch. Not to mention that the crisp white exterior and green highlights blend extremely well with most modern furniture.
Overall, the Lexmark MB2236ADWE multifunction monochrome laser printer, despite the long name, is a simple all in one printing unit that is suitable for small offices and working environments. Sure, if you have larger teams, you may want a printer that can keep up with the pace, however, for the majority of small offices and home workforces, the Lexmark MB2236ADWE is the ultimate selection.
2. Best Cheap Black & White Printer: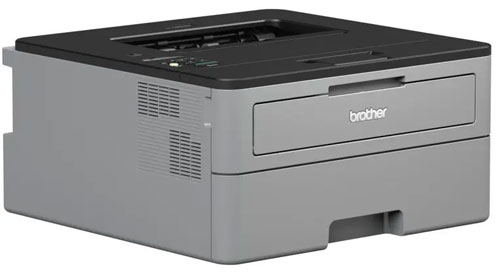 Brother HL-L2350DW Mono Laser Printer
Price: $141.00
For anybody looking to purchase a simple, reliable and effective printing unit to bring your documents to life, you cannot go wrong with the Brother HL-L2350DW Mono Laser Printer. Complete with print speeds of up to 30 pages per minute, automatic duplex printing, a 250-sheet paper input tray and wireless connectivity the Brother HL-L2350DW is an absolute dream machine for the price.
What's more, when you purchase compatible high-yield toner cartridges (such as Brother TN-2430 Toner Cartridges), you will be able to print up to 3,000 pages per replacement. This higher page yield ensures that you also spend less money on replacement ink cartridges too.
Ideal for small teams that are looking for consistent and high-quality printing, the Brother HL-L2350DW wins our award for 'best cheap mono printer' due to its compact size and powerful nature. Although a strong candidate for our 'best mono laser printer award', the price of the Brother HL-L2350DW is just too good to ignore. Not many printers for this price range can deliver up to 30 pages of high-quality monochrome printing per minute. Furthermore, with the ability to fit this printing unit anywhere in your office, this sleek grey printer will not take up valuable real-estate too. It's a huge step towards quality printing for less.
3. Best Black & White Laser Printer: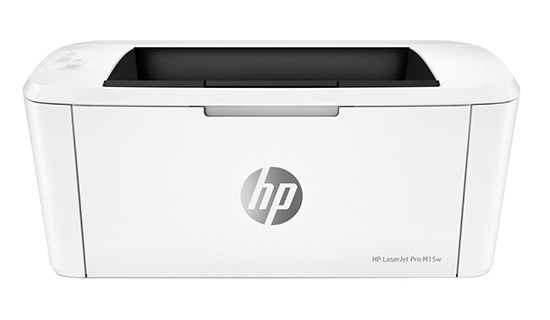 HP LaserJet Pro M15W Laser Printer
Price: $151.80
As a close contender for the best cheap monochrome printer, the HP LaserJet Pro M15W takes the crown for the best black and white laser printer. Although there are many other contenders, we have chosen the HP LaserJet Pro M15W due to the sheer minimalism of the printing unit. Aimed squarely at the booming micro-economy, the HP LaserJet Pro M15W is the smallest within the same class but without too much damage to the performance. It serves as a print-only monochrome laser printer and achieves speeds of up to 19 pages per minute. You will not find any fancy features here, just pure printing and smartphone App compatibility.
With thanks to the very slick smartphone application, the HP LaserJet Pro M15W is probably the easiest to install out of all the printers we have tested. If you are looking for a monochrome laser printer that will produce super-high-resolution photos then the HP LaserJet Pro M15W is not for you. Due to the limitations of print resolution at just 600 x 600 DPI, the LaserJet M15W is superbly aligned towards basic document printing. However, despite the lack of prowess within the print quality department, the major attraction of the HP LaserJet Pro M15W is the physical size, low economy printing and price point. Given that your cost per printed page will be just as low as any other HP LaserJet printer, you cannot really go wrong with something this simple.
4. Best Black & White Inkjet Printer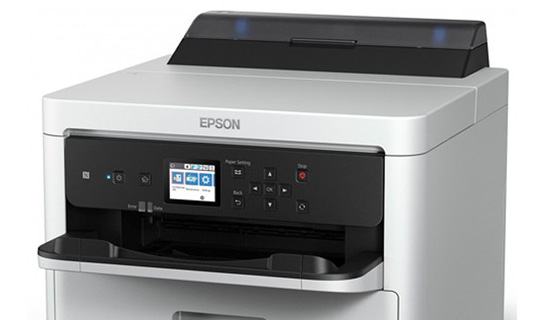 Epson WorkForce Pro WF-M5290 Monochrome Inkjet Printer
Price: $325.75
As a close match to the highly esteemed Epson WorkForce Pro WF-3825, but with pure monochrome printing functionality, the Epson WorkForce Pro WF-M5290 takes our crown as one of the best monochrome inkjet printers. Suitable for small to medium-size offices, the Epson WorkForce Pro WF-M5290 prints smoothly, produces approximately 62% lower costs per printed page than similarly classed laser printers and is surprisingly fairly inexpensive to operate for an inkjet printing unit.
All printers within the Epson Workforce Printer Series are absolutely top-notch for small offices. They are built to support the bustling nature of growing businesses and the Epson WorkForce Pro WF-3825 is no different. Couple this with automatic duplex printing and next-generation printing technology such as PrecisionCore, the Epson WorkForce Pro WF-M5290 delivers superior quality results without the huge waiting times for your printouts.
As an entry-level monochrome inkjet printer, the Epson WorkForce Pro WF-M5290has modest printing speeds of up to 24 pages per minute and can hold up to 830 sheets of paper when at total capacity. What is more impressive is that the replaceable ink pack system for the Epson WorkForce Pro WF-M5290will allow you to print up to 10,000 ISO pages without having to charge the ink pack. When you combine this sheer printing power with the ability to connect wirelessly, print from smartphones and state of the art security, the Epson Workforce Pro WF-M5290becomes a series contender for a lot of our categories within our best monochrome printer reviews.
5. Best Monochrome Multifunction Printer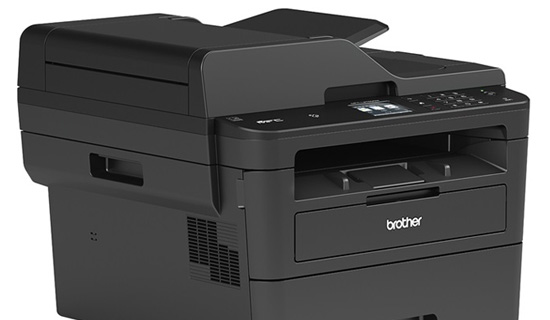 Brother MFC-L2750DW Mono Multifunction Printer
Price: $286.89
For anybody hunting down a monochrome multifunction printer that performs superbly across printing, copying, scanning and even faxing then you need to consider the Brother MFC-L2750DW. While slightly chunkier than other multifunction printers within the same class, the Brother MFC-L2750DW will fit comfortably within most home office and small office settings. Printing up to 36 pages per minute and holding up to 250 sheets of paper, this printing unit is built for volume documents.
What's more, the Brother MFC-L2750DW connects seamlessly with both Windows & Mac and you can also print via iOS and Android phones using applications such as Apple AirPrint, Google Cloud Print, Brother iPrint and Wi-Fi Direct. The overall print quality of the Brother MFC-L2750DW is parallel with the majority of printers within this price range. However, to receive a multifunction monochrome laser printer for less than $300 that ticks the boxes across all core functions, you really cannot go wrong here.
6. Best Black & White Wireless Printer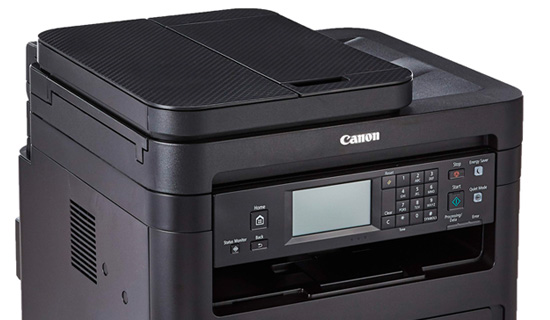 Canon ImageCLASS MF269DW Monochrome Laser Printer
Price: $616.06
As a close rival to the Lexmark MB2236ADW and HP's LaserJet Pro MFP M428FDW, the Canon ImageCLASS MF269DW is a multifunction monochrome wireless laser printer with connectivity options aplenty. When spending around $600 on any printer, you would expect all connectivity options to come as standard. However, they do not always feature this type of flexibility.
That is what makes the Canon ImageCLASS MF269DW so good because you have almost every connectivity option possible. Covering all bases, the MF269DW monochrome laser printer allows you to connect to a single PC via USB 2.0, Ethernet, Wi-Fi (802.11 b/g/n) and even Wi-Fi Direct. This is a peer-to-peer networking protocol to connect mobile devices to the printer without either them being hooked up to a local area network or router.
In addition to this, the Canon ImageCLASS MF269DW wins our award for best wireless monochrome printer due to offering complete mobile printing capabilities such as printing from Apple AirPrint, Canon Print Business (a mobile app for both Android and iOS), Google Cloud Print, and Mopria. While not as fast at printing as the Brother HL-L6200DW, the Canon MF269DW is absolutely no slouch. Offering print speeds of 30 pages per minute and automatic duplex printing, this multifunction wireless monochrome printer is absolutely ideal for offices looking for total flexibility on wireless printing.
Epson EcoTank M1100 Mono Continuous Ink Printer
Price: $260.39
As one of the cheapest ink tank printers, the Epson EcoTank M1100 Monochrome Printer takes the throne as one of the best mono ink tank printers available within Australia. As a purely black and white ink tank printer, the unit price of the EcoTank M1100 is almost 3x less than any other colour continuous ink printers on the market. Despite this stark price difference, the M1100 delivers lightweight, elegant, low-cost and fast monochrome printing. When compared to monochrome inkjet printers, the EcoTank M1100 saves up to 95% of power consumption and comes with a whopping 6,000 printed pages ready to go from the box.
Another huge cost saving factor that the EcoTank M1100monochrome continuous ink printer delivers is through large refill bottles. Each time you refill your EcoTank M1100, you will receive up to 6,000 printed pages which saves you approximately 80% on purchasing standard black Epson ink cartridges. Over the course of a few years, the cost savings on ink cartridges alone will pay for the printer. Sure, the EcoTank M1100 does not come with duplex printing or wireless connectivity.
Note: Even some of the best mono printers come with higher costs per printed page than more expensive printing units. If you print very frequently, you may want to explore some of the best continuous ink printers instead. Yes, you pay much more upfront for the printing unit, however, your cost per print is heavily reduced and subsequently. Therefore, you might save more money printing over a longer period.
Content Disclaimer: At CartridgesDirect, we are committed to providing up to date and independent reviews on the best black and white printers in Australia. All printer reviews are not commissioned by manufacturers and have been independently tested by our printing experts. If you have any questions about monochrome printers, please contact us via live chat or feel free to leave a comment below. We look forward to hearing from you.
Explore Popular Articles
The 21st century is the age of information and seeking alternatives to harsh chemicals. Although

There are a number of criteria to be met when choosing a new business printer. Productivity is a

Photos are precious memories and it stands to reason that you would want to buy one of the best