HP LaserJet Enterprise M607n Review
-
When your business is serious about printing you need a serious printer. You may be printing multi page documents from multiple users. The printer must be fast, versatile and adaptable to cope with the variety of jobs it is called upon to print.
The HP LaserJet Enterprise M607n and M607dn are just such printers .They are mono laser printers with a print speed of up to 52 pages per minute and a first page out time of 5.4 seconds so it gets the work done quickly. They are both network printers, the only difference being that the M607dn has automatic double sided printing whereas the M607n has manual double sided printing. But it is in the area of paper handling that the HP LaserJet Enterprise M607 series starts to get serious with a standard 100 page multipurpose feeder tray with 100 sheet capacity and a second feeder tray with a capacity of up to 550 sheets. The output tray has a capacity of 500 sheets. This makes them ideally suited to continuous printing of long runs.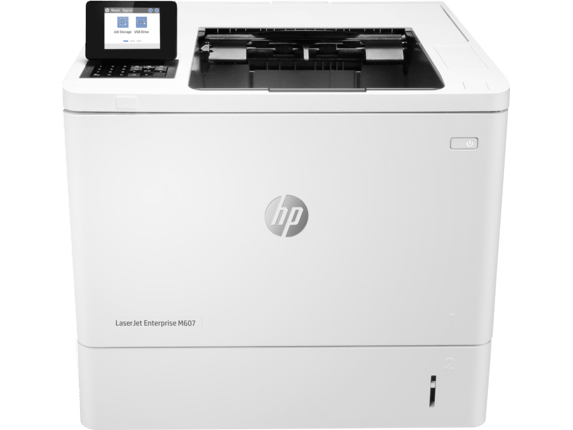 Designed and built for workgroups between 10 and 30 users and a monthly page volume of between 5,000 and 20,000 pages per month the HP LaserJet Enterprise M607 series are designed for serious printing. But heavy use does not necessarily mean high operational overheads. The HP LaserJet Enterprise M607 series uses the latest HP JetIntelligence toner cartridges which reduces operating costs with lower energy usage. The ne, and unique, HP JetIntelligence toner has an outer coating that melts at a lower temperature than other toners. This means that the fuser wire, which melts the toner and fuses it to the paper, does not need to be as hot as before and this means that the HP JetIntelligence system uses less energy.
With an energy consumption of 870W when printing and 3.7W at rest, the HP LaserJet Enterprise M607 series is more cost efficient than competitive laser printers.

Like all printers in the HP JetIntelligence range the HP LaserJet Enterprise M607 series has a smaller footprint than comparable laser printers. Being only 431 mm wide, and 466mm deep it doesn't take up a vast amount of precious bench space to carry out its tasks.

Access to the single HP LaserJet 37A Black cartridge is simple with a large fold down panel at the front. This toner cartridge gives a page yield of up to 17,000 pages. For even greater economy the HP 37X gives a page yield of up to 25,000 and, for really serious printing with really serious economy the HP 37Y Toner Cartridge will print up to 41,000 pages.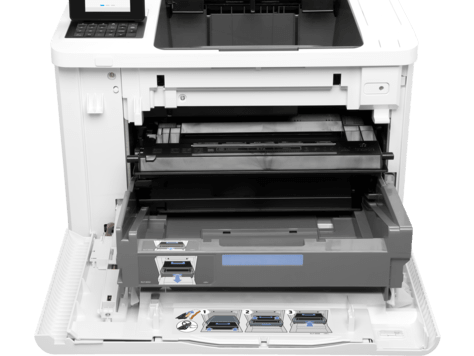 SERIOUS PAPER HANDLING CAPABILITIES
It is in the area of Paper Handling that these printers get really serious. They both come with two paper trays as standard. Tray 1 is a multi-purpose tray with a capacity of 100 sheets and a wide range of paper sizes and media types, including an envelope feeder. Tray 2 has a capacity of up to 550 sheets and is adjustable to take a wide range of paper sizes. With a standard, versatile, paper tray capacity of 650 sheets the HP LaserJet Enterprise 607 series printers are quite serious. But with the addition of up to four additional paper trays, each with a capacity of 550 sheets it gets very serious indeed with a total capacity of 2,850 sheets before it needs to be reloaded. It doesn't fall short on output handling either with an output tray holding up to 500 sheets.
SERIOUS CONNECTIVITY
Both of these models are designed to work for medium to larger work groups of up to 30 users. As such they offer a wide range of connectivity to allow access from a variety of devices.
Although, in their basic form, they are network printers with a 1Gigabit 10/100/1000 network connection they also have, as standard, 1 hi-speed 2.0 USB port for device connection, 2 Hi-Speed 2.0 USB host connection ports and they support HP e-Print, Apple AirPrintTM and Mopria Certified Mobile printing. Both models can be further optioned with an HP dedicated server as well as HP JetDirect 3000w NFC and wireless accessory.
TAKING SECURITY SERIOUSLY
In recent years data security has become an increasing concern for many users. Unless it is secure a printer can provide unauthorised access to a network. And that can lead to all sorts of trouble.
HP SECURITY - THE WOLF
SERIOUS OPTIONS
The HP LaserJet Enterprise M607 series takes security very seriously. It comes equipped with a whole raft of security systems to safeguard valuable data. Identity management: The security suite includes:
PIN authorisation with PIN codes for up to 1,000 users, optional HP and 3rd party advanced authentication solutions (e.g.; badge readers);

Network: IPsec/firewall with Certificate; Pre-Shared Key; and Kerberos authentication; Supports WJA-10 IPsec configuration Plug-in; 802.1X authentication (EAP-PEAP; EAP-TLS); SNMPv3; HTTPS; Certificates;

Access Control List; Data: Storage Encryption; Encrypted PDF & Email (uses FIPS 140 validated cryptographic libraries from Microsoft);

Secure Erase; SSL/TLS (HTTPS); Encrypted Credentials; Device: Security lock slot; USB port disablement;

Intrusion Detection with Red Balloon Security Technology - Constant in-device monitoring for attacks;

SureStart Secure Boot - BIOS Integrity Checking with self-healing capability;

Whitelisting - loads only known good code (DLLs, EXEs, ...);

Security management: Compatible with HP JetAdvantage Security Manager,

Device Security Syslog Messages processed and accessible in Arcsight and Splunk SIEMs.
This is the most comprehensive security suite in its Class and keeps your data and networks secure from prying eyes and unauthorised access.
SERIOUS OPTIONS
The HP LaserJet Enterprise M607 series is meant for serious printing in its standard form, but when options are added they can get really serious! Up to four extra paper trays can be added, each with a capacity of 550 sheets. Each additional tray is adjustable so that they can each hold different sheet sizes and weights to eliminate the need to change paper for a new print job. For a long print run they can all be filled with the same sheet size and, because automatic duplexing is available as standard that's a total of 5,700 printed sides before reloading!
When working with larger workgroups some users may find an even wider range of connectivity than the standard offering an advantage. Not all users may be on the network or prepare their work on a mobile or portable device. To meet this requirement the HP LaserJet Enterprise M607 series can be optioned with an HP Jetdirect 3000w NFC/Wireless Accessory to provide both wireless and NFC connectivity. The additional connectivity it provides is also protected by the same security suite that the standard printer provides.
To maintain and ensure maximum productivity both the HP LaserJet Enterprise M607n and M607dn are eligible to be a part of the CartridgesDirect AutoMATETM automated Ink Replenishment Program to ensure that the HP LaserJet Enterprise M607 series printers never runs low on toner no matter the workload and maintains their serious printingity.
Explore Popular Articles
The 21st century is the age of information and seeking alternatives to harsh chemicals. Although

There are a number of criteria to be met when choosing a new business printer. Productivity is a

Photos are precious memories and it stands to reason that you would want to buy one of the best