Types Of Printing Paper: The Definitive Guide
-
Commonly unknown, there are many types of printing paper. From your physical printing paper types to your weight, finish and size, no two paper types are equal. If you want the best printouts, investing in the right printing paper is the first step towards timeless prints that won't let you down.
However, with so many different printing papers, determining which paper type is right for the ultimate finish can be difficult. Read on as we uncover the various types of printing paper and the benefits that follow in our ultimate guide to printing paper below.
Different Types Of Printing Paper
Choosing the right type of printing paper can be hugely beneficial for perfect printouts. While many will curse at the printer for underperforming, the underlying issue could actually be with your paper selection or your choice of ink cartridges. After all, a laser printer is not going to print out high-fidelity photographs - and especially not when loaded with matte paper. Scroll down to explore the different types of printing paper and their common uses below.
1. Inkjet Printer Paper
As the label, inkjet printer paper is designed to work seamlessly with inkjet printers. Inclusive of inkjet photo paper, business card paper, glossy inkjet printing paper and more, there are different forms that will determine the type of printout you are looking to achieve.
While other types of printing paper will work with inkjet printers, it's always best to use the paper that has been specifically designed to achieve the best results.
2. Laser Printer Paper
Similarly, laser printer paper is best used for laser printers. For business printing and high-volume document printing, laser printing paper will typically be used. While you may think that there is not much between laser paper and inkjet paper, there is actually one major difference.
Whereas inkjet printers use inks that soak onto the paper, laser printers and copiers use toner cartridges and use ink that stays on the surface of the paper. As such, inkjet printing paper can withstand much more moisture.
3. Matte Paper
As one of the most frequently used types of printing paper, matte paper sheets come with a smooth and untextured finish. Just like a matte photo, you will want minimal gloss for the desired effects and, as such, using matte photo paper is the perfect match.
A primary benefit of matte photo paper is the ability to print high-grade double-sided printouts. Due to the brightness of the paper, this means that half-covered printouts will not show on the other side which could be disastrous for your presentation.
4. Glossy Paper
Typically used for photographs instead of text documents, glossy printing paper delivers the ultimate shine to your project. When combined with durable inks and good colour depth cartridges, glossy printing paper will make your printouts sharp and of brilliant colour. By absorbing the ink, the glossy surface creates additional clarity to images which is not a trait of the common matte printing paper.
5. Card Stock Paper
Strong and sturdy, card stock paper is the ultimate choice for scrapbooking or for printing business cards. When you go to a printing shop to purchase your business cards, they will most likely use card stock paper due to its durability and thickness. Through increased durability, card stock paper is known for keeping its shape even through the toughest of climates such as your pockets or stashed away within your wallets.
6. Resume Paper
Although less frequently used due to digital CVs, resume paper was once the go-to choice for printing out your resume to hand into businesses. As a slightly heavier paper type, this formed a weighted feel to your resume which would stand out from the crowd.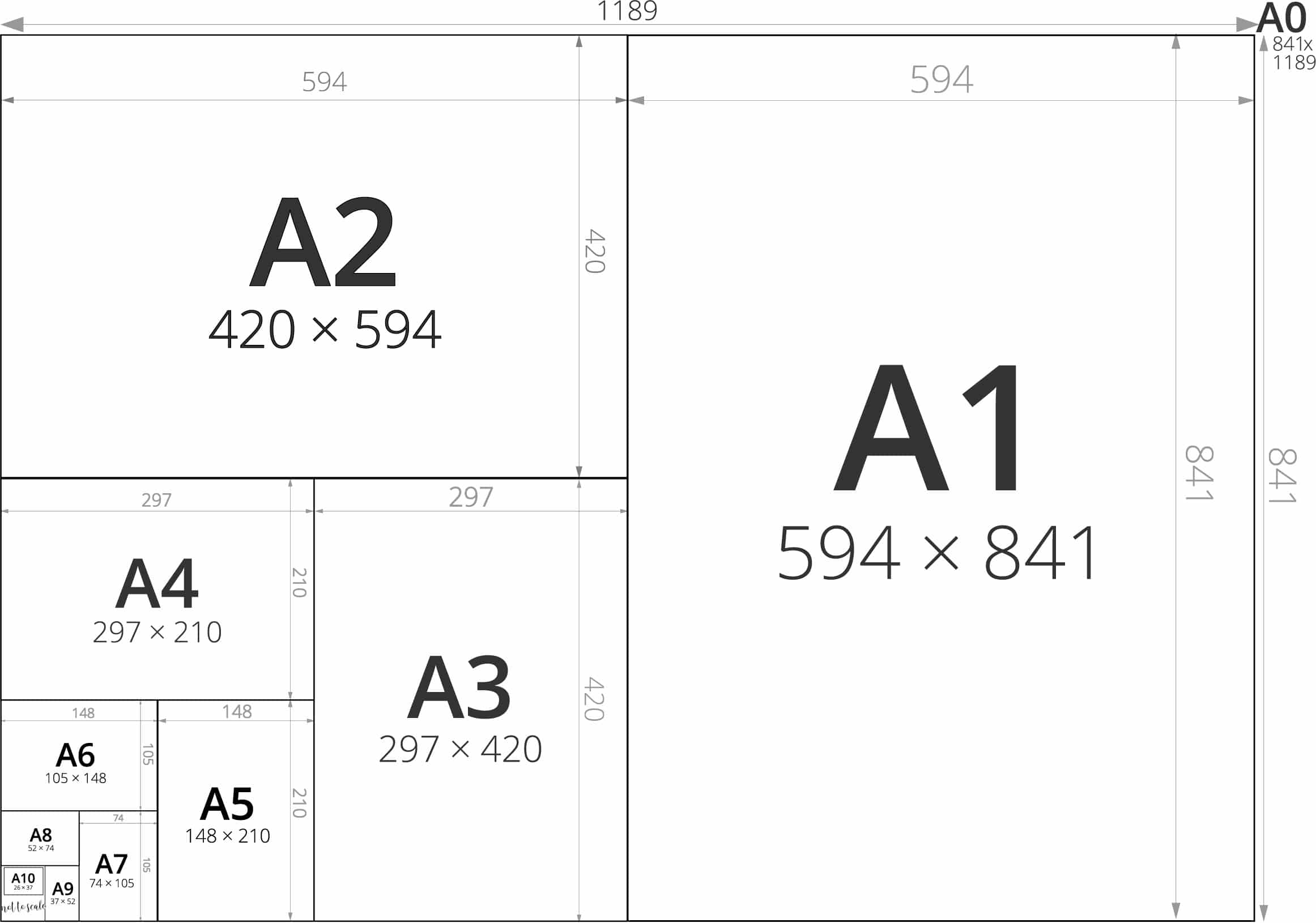 Different Printing Paper Sizes
Mostly, you will use 'A' paper sizes throughout your printing. However, there are also many different sizes of paper for specialised printing. Increasing and decreasing in size, the various types of printer paper sizes are easy to understand. See the most common paper sizes below:
1. A Size Printing Paper
With A4 the most frequently used printing paper size, the A range starts from A1 and finished with A10. Most printers will come with the option for A3 and A4 printing, however, specialised printers will also enable certain sizes for printing cards or business cards. In addition to this, the majority of the A size printing papers come with various coats and weights to provide you with total flexibility on your options.
| | |
| --- | --- |
| Paper Type | Width x Height (mm) |
| A1 | 594 x 841 mm |
| A2 | 420 x 594 mm |
| A3 | 297 x 420 mm |
| A4 | 210 x 297 mm |
| A5 | 148 x 210 mm |
| A6 | 105 x 148 mm |
| A7 | 74 x 105 mm |
| A8 | 52 x 74 mm |
| A9 | 37 x 52 mm |
| A10 | 26 x 37 mm |
For huge printouts, you can also use A1 or A2 paper to create a masterpiece poster with smaller sizes such as A5 and A6 paper being used for flyers or small media. The size of your paper will determine how good your printout will look. By ensuring that you design your printouts with your paper size in mind, you can avoid unnecessary last-minute changes.
1. C Size Printing Paper
Exclusive to envelopes, C size printing paper sizes vary from C1 to C10. As with A size paper, the smaller the number, the bigger the paper size. While you can print documents on C paper sizes, this is not recommended as they are primarily used for printing envelopes. Below you will find the most common C paper sizes used today.
| | |
| --- | --- |
| Paper Type | Width x Height (mm) |
| C1 | 648 x 917 mm |
| C2 | 458 x 648 mm |
| C3 | 324 x 458 mm |
| C4 | 229 x 324 mm |
| C5 | 162 x 229 mm |
| C6 | 114 x 162 mm |
| C7 | 81 x 114 mm |
| C8 | 57 x 81 mm |
| C9 | 40 x 57 mm |
| C10 | 28 x 40 mm |
Another common factor of C paper is that the size gap between each size will align closely to that of A paper types. This is to ensure that you can easily fit the corresponding A paper type within the envelope for the C paper. After all, the last thing you need is to find out that you have purchased A paper types that are too large to fit within your envelope.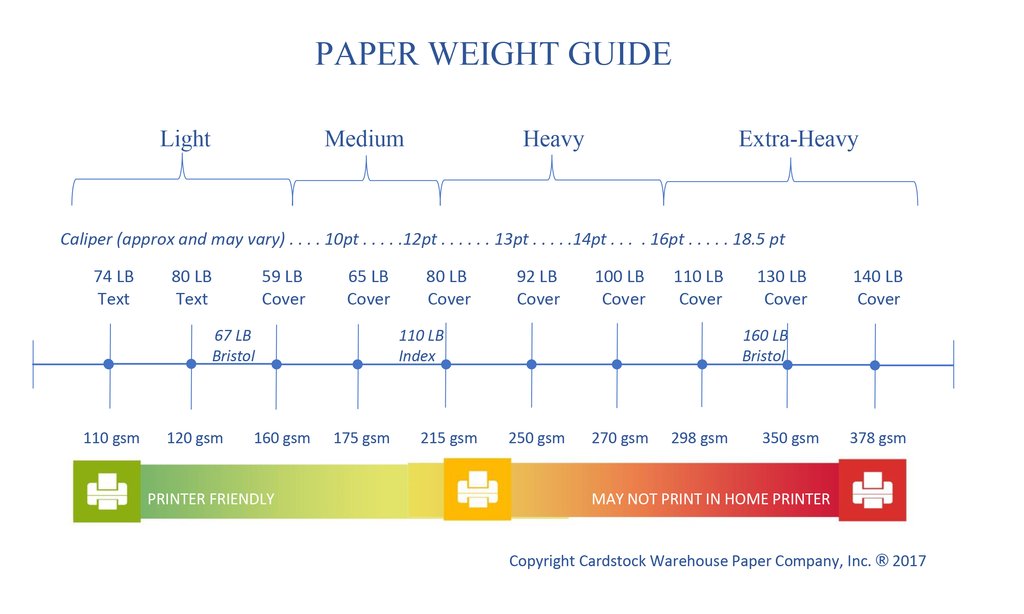 Different Paper Weights
Common with professional printing studios, you will likely have come across different paper weights when printing your business cards online. For paper weights, this is generally measured with 'Grams per Square Metre' or as more commonly known, GSM.
The higher the GSM value, the thicker the paper will be. Of which, the paper thickness or density will typically directly correlate to the quality of the media. For example, your business cards will require a much thicker weight than your typical office letter. Although GSM values can go much higher, here are the most common types.
| | |
| --- | --- |
| Paper Weight | Use Cases |
| 300 GSM+ | Business Cards |
| 180 - 250 GSM | Magazine Covers |
| 130 - 170 GSM | Promotional Posters |
| 80 GSM | Office Matte Paper |
| 35 - 55 GSM | Everyday Newspapers |
Different Paper Coatings
If that was not enough to consider, each paper type also comes with varying paper coatings and opacities. If you are looking for a specific finish to your artwork, paying close attention to paper coatings and opacity will make a huge difference. However, for everyday document printing, this is not usually a consideration.
For paper coatings, the most common coats are as follows:
1. Varnish Coatings
Varnish coatings will typically be produced using either gloss, satin or duller finishes. In addition, these can also be tinted with certain coatings. Depending on which varnish coated printing paper you purchase, these can become an incredibly affordable type of finish. That said, they do come with much lower protection to your printouts than other laminates. Because of this, you will find varnish coatings most used within professional photography environments where wear and tear are controlled to a minimu
2. UV Coatings
UV coated paper delivers superior protection to your printouts and will also slightly enhance the colours. Through a liquid that is applied before being hardened using ultraviolet lighting, the thickness of UV coated paper can vary depending on how much liquid is applied. With a range of matte or gloss finishes, UV coatings will also enable you to present your printouts with specialised glitter or tints depending on your needs.
3. Aqueous Coatings
An aqueous coating comes as a more environmentally friendly option than the previous alternatives. As a water-based coating, this is fast to dry when combined with inkjet printing. Besides that, there are no special tinting or glitter effects that can be used with this paper coating.
Different Types of Printing Paper Roundup
So there you have our master guide to the different types of printing paper and their typical use cases. With a wide range of options to choose from, speaking with a printing expert is always recommended before you splash out with your paper and stock. Each paper type has different pros and cons and therefore using the right paper type for your printing needs is absolutely critical. When it comes to everyday printing, your choice of paper will not make too much of a difference. However for specialised printing or businesses who want to go that extra mile with everything that they do, being selective over your paper type and ink cartridges will make a massive difference.
To find out more about printing paper, photo printing or any of our printers listed on the website, please feel free to reach out to our team via live chat. We would love to hear from you and would be more than happy to answer any questions that you have.
Explore Popular Articles
The 21st century is the age of information and seeking alternatives to harsh chemicals. Although

There are a number of criteria to be met when choosing a new business printer. Productivity is a

Photos are precious memories and it stands to reason that you would want to buy one of the best