HP Colour LaserJet Pro M454 Series Review
-
Meeting the printing demands of a busy workplace and multiple users does not need a complicated printer. The HP Colour LaserJet Pro M454 series of printers offers a range of configurations allowing users the ability to set up a printer that meets their needs rather than adapting their needs to match a printer. The three models in the series offer different features to meet different requirements. The HP Colour LaserJet Pro M454nw is suitable for workgroups of up to 10 users who can use an Ethernet or a Wireless network to access the printer. The only major feature it lacks, which the others feature is automatic double-sided printing although duplex printing can be done manually.
The HP LaserJet Pro M454dn has automatic double-sided printing but only has an Ethernet connection and no wireless connectivity.
The third model, the Hp LaserJet Pro M454dw is fully loaded with Ethernet and Wireless connectivity and automatic double-sided printing.
Other than this there are only minor differences between the three models. All three models give the same performance levels.
Printing
The HP Colour LaserJet Pro M454 series of printers only have one job - printing. With a first page out time of just 9,7 seconds for a black print page and a print speed of 27 pages per minute (ppm), it does a very good job of it too. When printing in colour the first page out time is 11.3 seconds with the same ongoing print speed of 27 ppm. For the HP Color LaserJet Pro M454dn and M454dw models, duplex printing in both colour and B&W is at up to 24 images per minute (ipm).
The standard print density of 600 x 600 dpi in both colour and B&W can be enhanced to an astonishing 38,400 x 600 dpi.
All three models use cartridges from the HP 416 Original LaserJet Toner Cartridge range; one Black and one each Cyan, Magenta and yellow. There are two ranges of HP 416 Toner Cartridges; the HP 416A and the HP 416X series. The HP 416A Black Toner Cartridge will print up to 2,400 pages under ISO testing whilst the three colour cartridge has an ISO page yield of up to 2.100 pages.
For even greater economy the HP 416X Black Original LaserJet Toner Cartridge has an ISO tested page yield of up to 7,500 pages whilst the three HP 416X Colour LaserJet Toner Cartridges each has a page yield of up to 6,000 pages
All the LaserJet Pro Toner Cartridges use HP JetIntelligence technology to produce high-quality prints at a lower operating cost
The Control Panel
On all three models, the Control Panel is located on the top and on the right-hand side. On two of the models, the HP LaserJet Pro M454nw and the M454dn it is a 2-line, backlit LCD graphic display with 5 buttons (Cancel, Select, Reverse, Right/Left arrows) and LED indicator lights (Attention, Ready). On the M454dw, however, it is a 54 mm x 40,5 mm intuitive colour touchscreen with 3 Buttons; Home, Help and Back.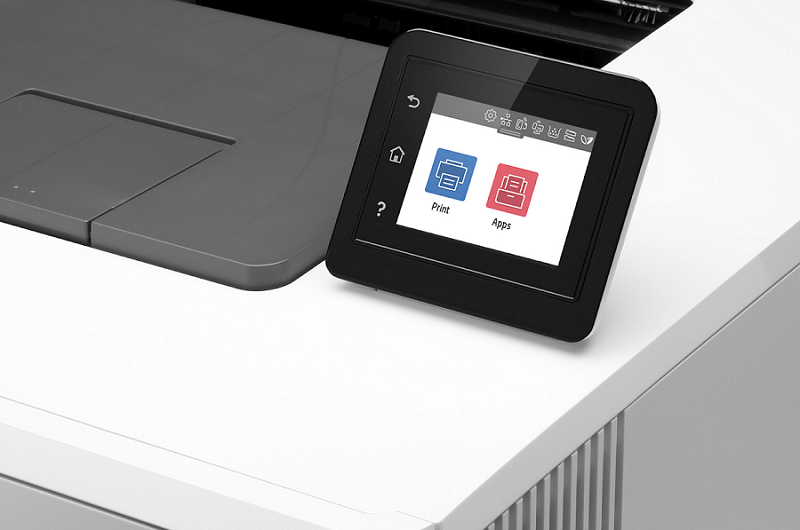 Paper Handling
Individuals within a workgroup will have a range of printing needs, with differing size sheets, different print runs and different print media. The HP Colour LaserJet Pro M454 series meets these demands with two adjustable paper trays as standard, The first tray has a capacity of 50 sheets whilst the second tray has a capacity of up to 250 sheets to give a total capacity of up to 300 sheets For those users who want even more paper capacity n optional paper tray with a capacity of up to 550 sheets can be added to give a total of 850 sheets of up to three different sizes.
The smaller input tray is adjustable to take a huge range of standard sheet sizes from A5 down to A6 as well as other standard sizes. For non-standard sizes, it is adjustable from 76 x 127 mm up to 216 x 356 mm. Different applications also call for different types of media. Tray 1 can feed weights ranging from 60 to 176 grams per square metre (gsm) However, postcards and glossy laser photo papers up to 200gsm are supported.
The second input tray with its capacity of up to 250 sheets will support the same standard sheet sizes as Tray 1 but is adjustable over a slightly smaller range of custom sizes ranging from 100 x 140 mm up to 216 x 356 mm. And can support media weights from 60 to 163 gsm and up to 176 gsm for postcards and glossy laser photo paper The optional third tray is adjustable over the sizes as Tray 2 When using the automatic duplexer, where fitted, the maximum media weight is 163 gsm.
Long print runs are easy with an output tray that can hold up to 150 sheets
Connectivity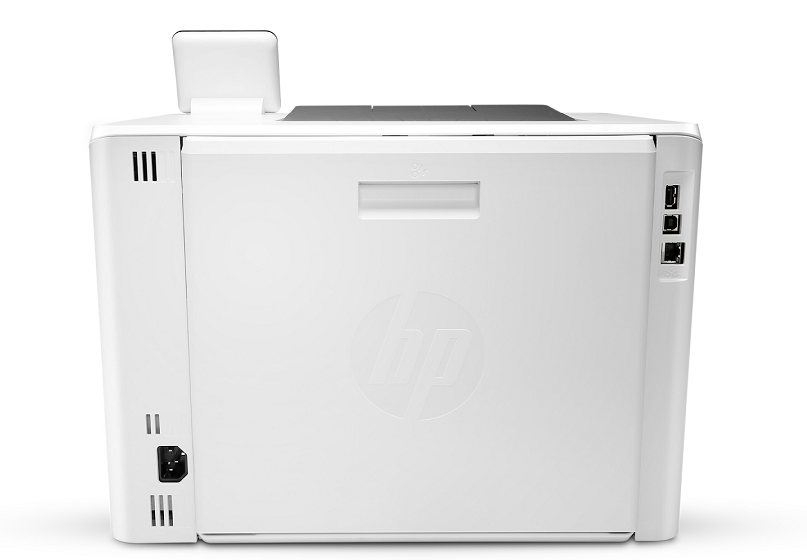 All three models have a Hi-Speed USB 2,0 port and a Host USB port on the side at the rear, with network connectivity by way of a built-in Gigabit Ethernet 10/100/1000 Base-TX port. The HP LaserJet Pro M454nw and M454dw also offer secure built-in dual-band Wi-Fi with authentication via WEP, WPA/WPA2, WPA Enterprise and encryption via AES or TKIP; WPS;. Mobile printing using Apple AirPrint™; Google Cloud Print™; HP ePrint; HP Smart App and other mobile Apps; Mopria™ Certified; ROAM capable for easy printing can be effected by using a USB On The Go (OTG) cable to the Host USB port or Wi-Fi Direct as well as Bluetooth Low-Energy without using a Wi-Fi Network.
Securing Your System
One of your most valuable corporate assets is the data held on your network. An unsecured printer can provide an entry point to your network data, The HP Colour LaserJet Pro M454 series offers the highest level of network security in their class,
It starts with a secure start-up including self-healing BIOS. It includes continuous runtime intrusion detection to guard against attacks, automatic encryption to protect data being transferred even to smartphones and tablets. Network ports and features can be centrally enabled or disabled All access is password protected and for those models with Wi-Fi, it is protected from unauthorised access.
Big Performance From A Compact Size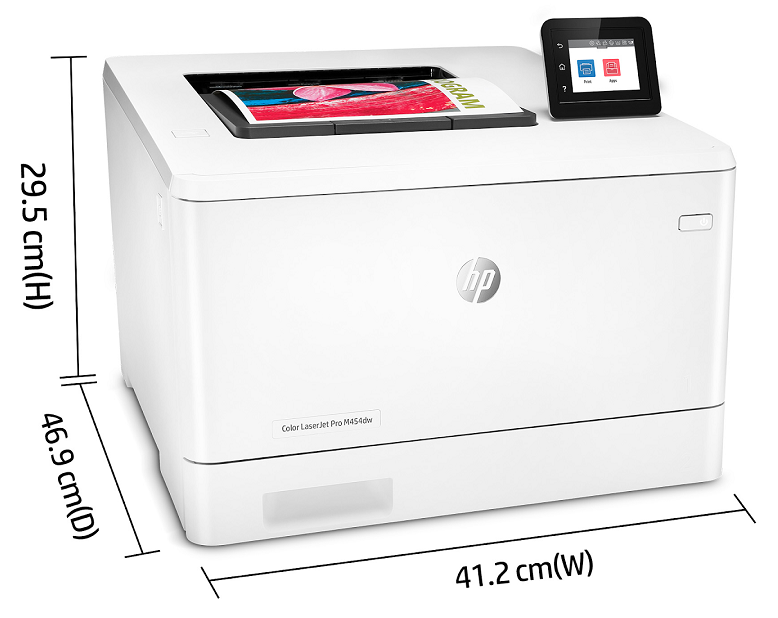 A workgroup of up to users can get a lot of productivity from a relatively small space with the HP Colour LaserJet Pro M454 series printer.
The HP Colour LaserJet Pro 454nw has the smallest footprint of 41.2 cm wide X 45.3 cm deep. The other two models, with the automatic duplexing capability, have a slightly increased depth of 46.9 cm. All three models are 29.5 cm high. Adding the 550 sheets third paper tray increases the height by 13.1 cm.
Energy Efficiency
Energy efficiency is a vital criterion these days and all models in the HP Colour LaserJet Pro M454 series return acceptably low energy consumption figures.
With an inbuilt 220/240V power supply the unit uses 550W whilst printing and 17W in the ready mode. Significant energy savings are achieved with the standard HP auto-off/auto-on feature which means that the unit uses a mere 0.07W in this mode. Two of the three models in the series hold Ecolabel certification from Blue Angel and Energy Star with Typical Electricity Consumption (TEC) figures of 1.144 kWh/Week (Energy Star), 1.046 kWh/week (Blue Angel).
Conclusion
The Hp Colour LaserJet Pro M454 Series offers printers that are fast and economical colour Laser Printers with each model in the series being configured to suit a variety of printing scenarios. Each one can handle the workload of a medium-sized workgroup efficiently. They offer versatility in the types and sizes of media that can be printed on and can connect with a range of input devices by being hardwired to a network or, in the case of two models through a WiFi network.
Explore Popular Articles
The 21st century is the age of information and seeking alternatives to harsh chemicals. Although

There are a number of criteria to be met when choosing a new business printer. Productivity is a

Photos are precious memories and it stands to reason that you would want to buy one of the best