Must Have Office Gadgets (Besides Your Printer!)
-
At CartridgesDirect, we make a conservative effort to be surrounded by all the latest office gadgets at our warehouse. Spanning from our range of innovative office printers to copious collection of smart desk toys, there's not an inch of surface free from technology.
Whilst we do love tech blindly, what we undeniably love more are office gadgets that actually elevate your workday. Whether it be by improving your productivity or by allowing you to feel more at home when in the office, we like gadgets that provide function; not just fun!
Today, we decided to rate our best office gadgets to bring you this shortlist of must-have office gadgets for your business. No matter whether you are in the finance space, a creative or even an eCommerce store like us, you cannot ignore some of these gadgets below. Let's get into it!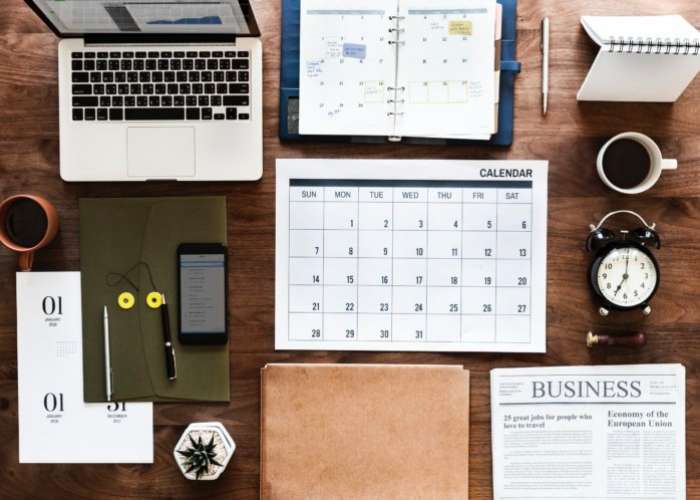 1. Organisational Tools.
Less on the tech side and more on the practical, a well-organised office makes for both a pleasant and productive work environment. Of course, office organisation can look different to different workplaces and we've been through a fair few gadgets as listed below.
Some of the most popular organisational tools include storage caddies, modular shelving for desk clusters to share, under-desk cable organisation trays, pen cups and drawer dividers for stationery storage, and hanging baskets or hooks for coats and other outerwear.
Be sure to also pick up a label maker to ensure all your office storage is clearly labelled. Clear labels are essential if you are opting for modular organisational tools or would generally like to go a step further with your office organisation efforts!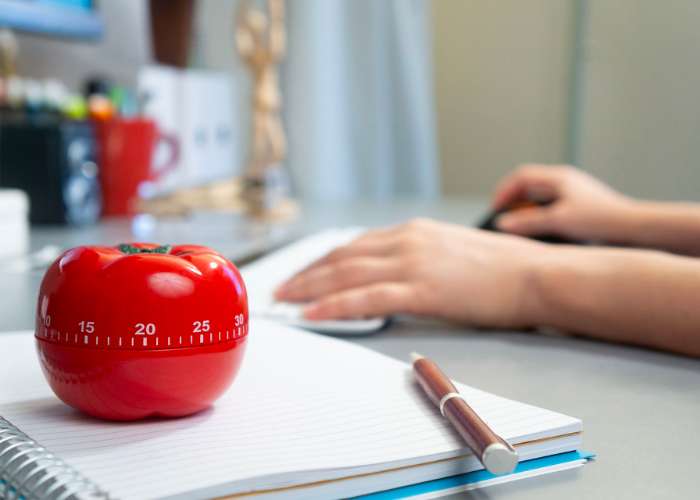 2. The Pomodoro Timer.
If you have never heard of the Pomodoro Technique then get ready for a better and more efficient you! The Pomodoro technique is a productivity booster that encourages the workforce to work for 25 minutes at a time on a set task. Once the 25 minutes has finished, you take a short break and then head back to work.
After four 25 minute sessions, you should then take a longer break for lunchtime.
If you work within an office that encourages efficient scheduling, one of these adorable Pomodoro timers will help you stay on track (and on schedule!). There's nothing too fancy here. It's a tomato shape timer that will keep your entire office on track.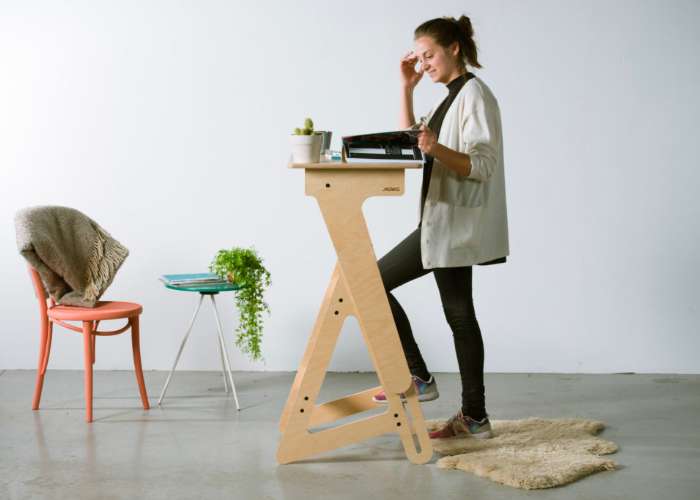 3. A Standing Desk.
There's no denying that modern office spaces are far more pleasant to occupy for full-time workers if that space supports employees in their efforts to cultivate a sustainable work/life balance. A primary factor in maintaining a work/life balance is simply ensuring that there's enough time in your week to stay physically active.
Naturally, working from a chair and desk set-up for 8 hours a day can take quite a toll on your spine in particular. The pain or discomfort caused by prolonged sitting can be rectified simply by standing here and there for periods of time during your workday. This is precisely why many modern offices are swapping out their traditional desks for convertible sit and stand desks. There is an abundance of both physical and mental health benefits behind standing desks, including lowering your risks of weight gain due to full-time work as well as boosting your productivity and energy levels during the workday.
Standing desks aren't for everybody, however, and some of your coworkers may prefer to switch up their day by lying down on a couch or a beanbag with their laptop or just leaving the office entirely to go for a quick stroll. For those who would prefer to work in a more relaxed setting, however, having a variety of different working environments within your office space will most likely cater to these individuals too.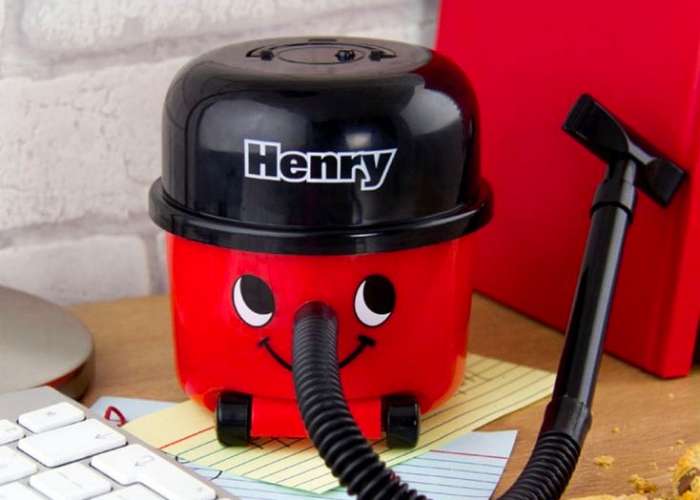 4. A Mini Desk Hoover.
What is there not to love about Henry the Hoover? Now available in miniature size, this small desk hoover will keep your workstation in pristine condition throughout the year. True to form with its signature face, the Henry Desk Vacuum is the ultimate office gadget for anybody who likes to keep on top of personal and workspace hygiene - which we hope is everybody!
Although nowhere near as powerful as the original full size vacuum, this mini desk hoover will pickup crumbs and small bits of dirt that accumulates as you rapidly type out that proposal. Despite serving more as a novelty gadget, the performance of the mini desk hoover was surprisingly quite good. As a battery-operated device, there is no need to find a power outlet and you can store Henry anywhere without fuss.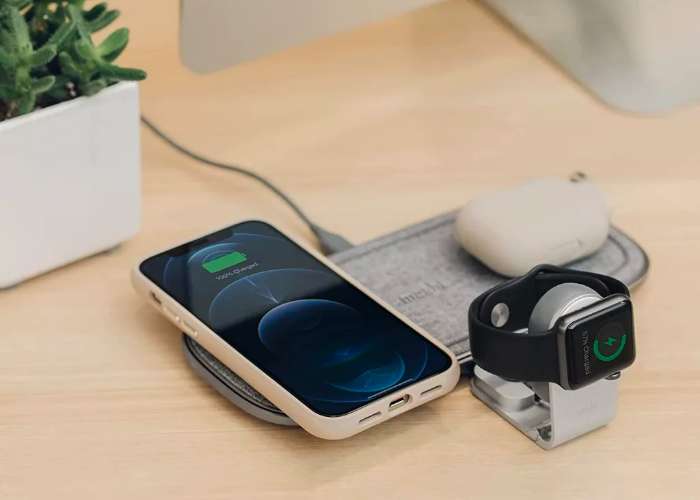 5. Wireless Charging Pads.
Naturally, a long day of work can really deplete the battery life of all your personal tech, with the main points of concern being your smartphone, over-ear on in-ear headphones, and wearable technologies like your smartwatch. Yes, you can invest in some wired charging stations for your office space just to ensure that you and your coworkers have enough digital juice to keep you entertained on your commute back home, but why not opt for something a little more streamlined?
With a wireless charging pad on your desk, you'll no longer have to waste time chasing up cables. You can simply set your devices down on your charging pad when they're not actively in use. Alongside being convenient, your wireless charging pad may also help you stay focused on your work, as you won't have to pull yourself out of any given task for the sake of worrying about your phone battery.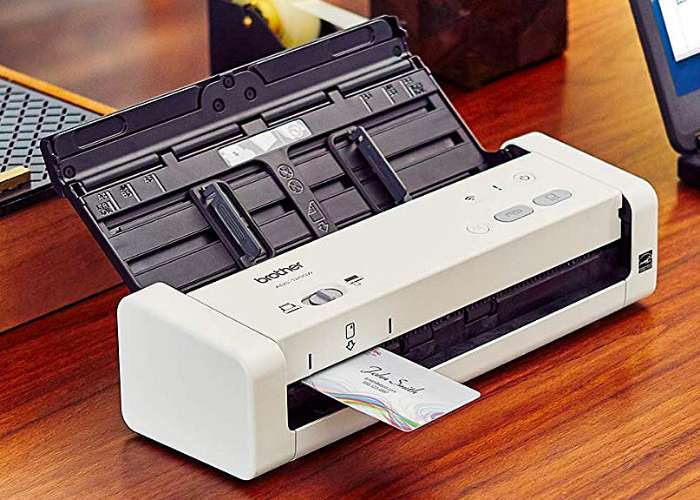 6. Ultra-Portable Scanners
With more and more office printers coming fitted with ADF scanners, multi-page document scanning is rapidly becoming a far easier and less time-consuming process, allowing administrative staff plenty of additional time in their own working days. But what about smaller documents? Are they worth a trip to your office printer? And what if your office printer has quite a hefty printing cue to tackle before it can take on your minor scanning task?
This very dilemma is what inspired the creation of ultra-portable scanning technology.
Ultra-portable scanners can come in a range of shapes and sizes to suit all kinds of work environments. They can be designed to clip onto desks and look similar to reading lights, be designed in a traditional flatbed format for familiarity and ease of use, or they can even come in handheld form, being shaped like a ballpoint pen or thicker highlighter pen.
Alongside physical scanners, you can also equip your smartphone with the ability to scan documents by simply downloading apps like the HP Smart app and Canon's own Inkjet companion printer apps, which are fitted with mobile scanning capabilities for printer users to take advantage of. There truly are a plethora of options when it comes to scanning in the digital age.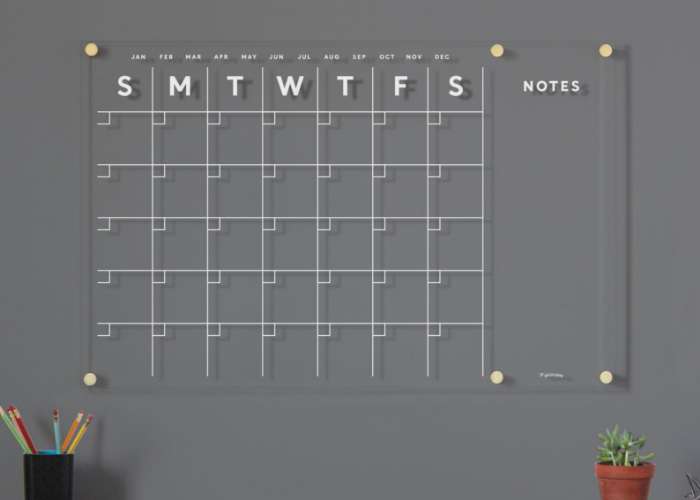 7. Office Wall Calendars
Next on our list of best office gadgets is one that may prove to be valuable for your entire office space. It can be tricky staying on track with all the individual processes or appointments of each member in your department, let alone all the departments as a whole. There are, however, specific instances like client meetings or other important appointments that you really don't want to forget about.
Enter the office wall calendar!
Whilst it's common for many modern offices to share a digital calendar like a Google calendar, there are undeniable benefits to opting for a more tangible office calendar, with total visibility of the month at a glance being just the tip of the iceberg. Putting your calendar together at the beginning of every month can encourage interdepartmental bonding, allowing your office space to feel a lot more tight-knit with virtually little to no investment. Any office space can absolutely benefit from a shared calendar with daily squares that are large enough to accommodate all of the most important dates that accompany every new month. Consider also colour-coding specific departments to ensure that all your colleagues can gain an immediate visual understanding of what days may be big for specific departments.
If you are concerned about how a physical calendar may impact your office's sustainability, you can absolutely opt for a calendar made purely out of blackboard or whiteboard materials, so that you can simply erase and replace last month's dates with this month's. Your sticky notes can also be subbed out for laminated magnetic appointment notes so that you can minimise all waste produced by your office wall calendar.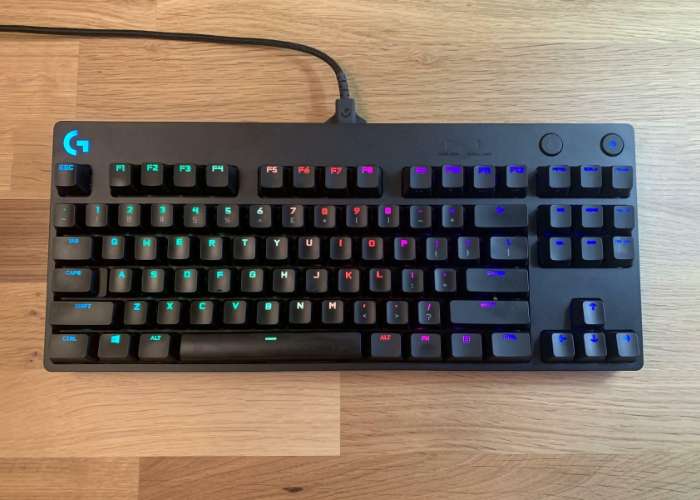 8. Mechanical Keyboards
Whilst some coworkers may have some gripes with this next office gadget due to its ability to make a fair amount of sound, there's no denying that having one of these connected up to your workplace desktop always makes for the smoothest typing experience. Mechanical keyboards are beloved by many creative professionals who find themselves tapping out written ideas or articles, entrepreneurs who are busy putting together business pitches and editing their mission statements, and also office workers who may find themselves typing up email correspondence on a daily basis.
There's something so satisfying about typing rapidly on a highly tactile keyboard, and with the superior build quality of the switches under your keys, your mechanical keyboard is more likely to be able to last a lot longer than your more traditional office keyboards. Mechanical keyboards are also highly customisable, and you can purchase specially designed keycaps from all corners of the internet, including from artists on Etsy!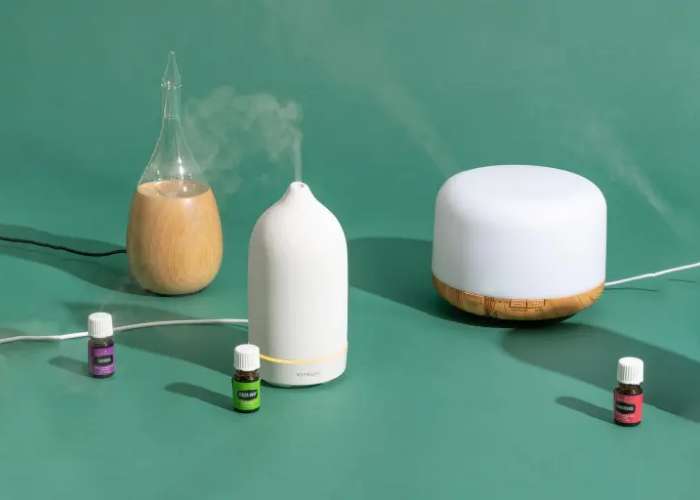 9. Essential Oil Diffusers
Essential oils can play a major role in supporting us through a lot of the daily minutiae of life, ranging from helping us grow restful at the end of the day, to even aiding in the healing of our bodies during times of illness. There's growing evidence to suggest that allowing your body to absorb particular essential oils (like rosemary) during your workday can actually help boost your productivity as well.
This is precisely why you may be seeing more and more desktop USB diffusers popping up on the desks of all your coworkers. These handy diffusers can be charged with a basic USB adaptor when not in use, and are super easy to maintain over home diffusers, due to their generally more compact size. A cool vapour diffuser is also a lot more office-friendly than a candle or two, as open air flames may likely be a no go in any shared office space.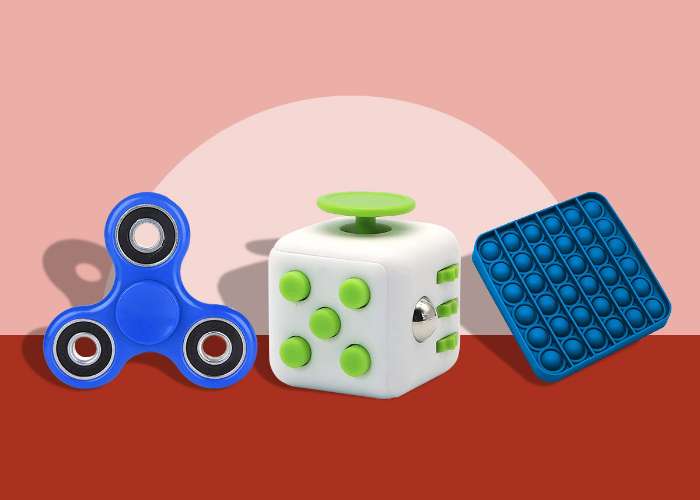 10. Fidget Desk Toys
Finally, we'd like to shine the spotlight on some of our favourite gadgets: fidgety desk toys. This category includes some age-old desktop accessories like Newton's Cradles, fidget-friendly items like Rubik's cubes, as well as fidget or infinity cubes, and some more contemporary desk toys like mini arcade machines, AI robots, and desktop sports games like miniature golf greens and basketball hoops.
There are an abundance of desk toys to suit all types of idle fidgeters and focused fiddlers, so feel free to let your imagination run wild when searching for the right accessories for your personal desk space.
Best Office Gadgets Roundup
So there you have it. Our shortlist of the best office gadgets to purchase this year for your workspace. Just as we love printers, we also love gadgets too and would love to hear from you in the comments below of any gadgets that we have missed. From fidget spinners to stand up workstations, there are so many cool office gadgets to enjoy with your colleagues. Just be sure to avoid littering your office with too many gizmos as to keep productivity as high as possible!
Content Disclaimer: At CartridgesDirect, we are committed to providing up to date and independent printer reviews in Australia. This article about the best office gadgets has been written solely based upon our own personal experiences. We have not actively rigorously tested the gadgets mentioned here as we would do our printer reviews.
Explore Popular Articles
The 21st century is the age of information and seeking alternatives to harsh chemicals. Although

There are a number of criteria to be met when choosing a new business printer. Productivity is a

Photos are precious memories and it stands to reason that you would want to buy one of the best