HP Smart Tank 455 Printer Review
-
Over the past decade, printer manufacturers have been striving to engineer printer models that cater to our evolving professional and ecological needs. New generations of all-in-one printers place greater emphasis on mobile printing capabilities and compatibility with high yield ink cartridges or ink replacement bottles that don't cost more than the printer themselves. In this HP Smart Tank 455 review, we will be uncovering one of those printers.
Across the globe, big-name printer manufacturers have their own series of printers that prioritise sustainable printing practices by cutting ink replacement frequency. In turn, this provides added value to higher frequency printer users. Epson have their EcoTanks, Canon has their Endurance range, and HP has their innovative series of Smart Tank printers.
The HP Smart Tank 455 Printer is perhaps the most cost-efficient Smart Tank of the series, providing printer users with all-in-one capabilities in a streamlined body and with ultra high yield ink bottle compatibility to boot. In essence, the HP Smart Tank 455 is a quintessential, no-nonsense modern printer for modern printer users. But let us elaborate!
In today's review, we'll be exploring all the features, capabilities, and design aspects of the HP Smart Tank 455 below so that you can ascertain whether this is the right ultra high yield printer to suit your home or business needs.
HP Smart Tank 455 Printer Design
Similar in design to HP's streamlined Envy series of printers, the first thing that you'll notice about the Smart Tank 455 is its diminutive size in comparison to, let's say, HP's OfficeJets. Standing at just 25.6cm with its 60-sheet paper tray extended (and 15.8cm with its paper tray folded down) and 52.5cm wide, the Smart Tank 455 is designed to slot in with minimal issue on a compact desk, making this a perfect printer for home office spaces.
The Smart Tank 455 is also quite lightweight for an all-in-one printer, weighing up at just 4.67kg. If you're consistently redesigning your home office space to boost productivity, or you're a workplace that likes keeping your office set-up feeling nice and fresh, the Smart Tank 455 will absolutely be light enough to support your ongoing fight to finetune your feng shui.
The no-nonsense design elements of the HP Smart Tank 455 include not just its compact size and modest weight, but also the fact that this modern printer is fitted with an uncharacteristically digital LCD display over a larger colour or touchscreen display. The printer's HP Smart app connectivity and other wireless printing capabilities means that an on-board colour display simply is not necessary for users to get the most out of this innovative all-in-one printer.
One of our favourite design features on the Smart Tank 455 has to be its transparent and easily accessible ink reservoir system, however. The compartments for your black, magenta, cyan, and yellow inks are located on the far right side of the printer in a kind of enclosed but still see-through 'sidecar' format. This means that you won't have to go fiddling with panels on your printer to find out where your ink reservoirs have been tucked into by the manufacturer. Yes, this design does extend the width of this printer for the sake of having a highly identifiable ink reservoir alone, but we believe this extra space is a small price to pay when you consider the convenience of this truly 'smart' design.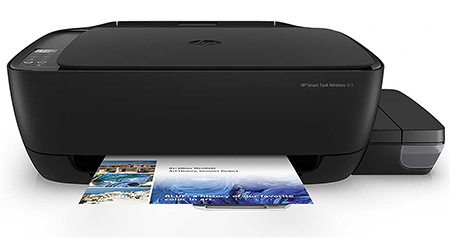 Print Speed & Quality
The HP Smart Tank 455 boasts ultra-high-quality printing capabilities using HP's thermal InkJet printing technology. The print resolution stands at a standard 1200 x 1200 dpi for mono printing, and an optimised 4800 x 1200 dpi for colour document and photo print jobs.
The Smart Tank 455's claim for producing high-quality prints has been put to the test by our printing specialists here at CartridgesDirect with monumental results. We have to highly recommend the Smart Tank 455 for printer users who are looking for a high-quality, low-cost printer with competitive photo printing capabilities.
Alongside being able to produce high-quality prints, the HP Smart Tank 455 is quite a speedy little all-in-one too, both with regards to its printing as well as its copying abilities. Printing speeds for mono printing jobs are up to 8 pages per minute, and for colour printing, you'll be looking more at 5 pages per minute.
It's important to note that although the HP Smart Tank 455 is capable of copying, it can only produce a maximum of 9 copies in a single copy job as the printer is not fitted with an automatic document feeder. Without an ADF equipped, the Smart Tank 455 is also not capable of automatic duplex printing, so double-sided documents will have to be printed manually.
Mobile Scanning & Printing
The Smart Tank 455 is a true all-in-one, however, in the sense that it is fitted with a flatbed scanner for easy document and photo scanning. The scanning resolution is respectable at 1200 x 1200 dpi, which is perfect for standard A4 documents and 4 x 6" photo scanning.
The Smart Tank 455's scanner can also convert hard-copy documents into a variety of file formats, including PNG and PDF files alongside JPEGs. With the HP Smart app, printer users also have the ability to scan photos and documents wirelessly and straight through to mobile devices or to send via email with minimal fuss.
The ability to scan directly to personal devices or to draft emails is just the tip of the iceberg when it comes to the HP Smart Tank 455's wireless printing capabilities, however. The HP Smart app allows printer users to operate their Smart Tank 455 with absolute ease, ensuring that printer users maintain the ability to run diagnostics tests as well as print, copy, and of course, scan remotely.
Alongside this, the HP Smart app also allows printer users to take advantage of HP's ink subscription service, HP Instant Ink. The service essentially allows printer users to order ink replacements at regular intervals in order to enjoy discounts on their ink supply. This service is incredibly thoughtful on HP's part, but it's not likely that many Smart Tank 455 printer users will even take advantage of this service, considering just how much mileage they can get out of a single set of ink bottles. If you are printing at a higher frequency, however, then Instant Ink may save you some time when it comes to sourcing your replacement ink bottles.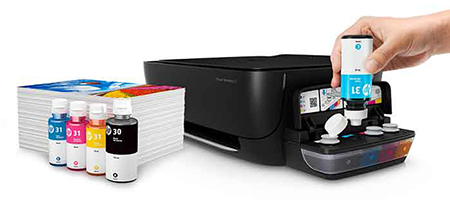 High Yield Ink Replacement Bottles
Being a Smart Tank, one of the primary selling points of the Smart Tank 455 is its compatibility with HP 30 & 31 black ink bottles, which boast page yields of a whopping 6000 pages in black and 8000 pages in the 31 magenta, cyan, and yellow colour variants.
HP markets the Smart Tank 455's high yield printing capacity as 'out-of-the-box convenience' and we can confidently say that this rings very true. The Smart Tank 455's ease of use, streamlined design, and second to none page yield makes this printer model an ideal investment for any users who are looking for a home or office printer that they can set up and forget, printing when they need to and otherwise allowing the printer to just meld into the background of their workspace.
The Smart Tank 455 also boasts a spill-free ink replacement system, making ink replacement days not only far and few in between, but also a certifiable breeze when they do roll around. Our printer specialists here at CartridgesDirect genuinely believe that both the design of HP's 30 and 31 replacement ink bottles as well as the design of the Smart Tank 455 itself will likely act as an effective template upon which printer manufacturers can develop further innovations in the world of eco-conscious ultra high yield printing and print performance.
Page Volume & Media Types
Despite having page yields of 6000-8000, the HP Smart Tank 455 possesses a modest recommended monthly page volume of around 400-800 sheets, making it perfect for small to medium-sized businesses who may print multi-page documents on a daily basis.
If your workspace doesn't find itself regularly printing multi-page documents, however, utilising the Smart Tank 455's photo printing capabilities is also likely to ensure that your printer is well-utilised from month to month and that your ink won't be likely to dry out from lack of use. Granted, HP's newly designed no-spill ink replacement bottles are designed to be fairly hardy, and reports of dried ink have been quite minimal when ink is stored correctly.
We should also mention that alongside photo printing, the HP Smart Tank 455 can also be used to print on a wide variety of different media types, including:
Plain A4 Paper

HP Photo Papers

HP Matte Brochure or Professional Paper

HP Matte Presentation Paper

HP Glossy Brochure or Professional Paper

Generic Photo Inkjet Papers

Generic Matte Inkjet Papers

Generic Glossy Inkjet Papers
If you're after a printer for brochure production, the HP Smart Tank 455 is a more than ideal fit, although the one thing that printer users should keep in mind is that duplex printing is manual for this model, so double-sided brochures should be printed with care.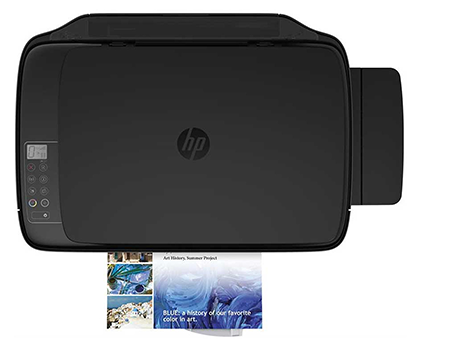 HP Smart Tank 455 Review Verdict
As the most affordable Smart Tank, the HP Smart Tank 455 is naturally highly recommended for any diehard HP tech fanatics who are on the hunt for a high yield printer. The 455's HP Smart app compatibility makes this streamlined printing machine a very attractive model for fans of mobile printing.
The Smart Tank 455's fully black design allows this modest, little printer to meld in perfectly in a range of home and office environments. Its easily accessible, transparent ink reservoir makes ink replacement procedures an effortless endeavour, and our own printing specialists here at CartridgesDirect have been more than impressed with both this printer's fresh physical design as well as its high-tier printing capabilities at such a disparately low cost when compared to HP's other Smart Tanks.
All in all, we can recommend this entry-level Smart Tank for all printer users and for a range of independent, educational, or professional environments.
Content Disclaimer: At CartridgesDirect, we are committed to providing up to date and independent reviews such as this HP Smart Tank 455 Printer Review. All printer reviews are not commissioned by manufacturers and have been independently tested by our printing experts. If you have any questions about printers or office printing, please contact us via live chat or feel free to leave a comment below. We look forward to hearing from you.
Explore Popular Articles
The 21st century is the age of information and seeking alternatives to harsh chemicals. Although

There are a number of criteria to be met when choosing a new business printer. Productivity is a

Photos are precious memories and it stands to reason that you would want to buy one of the best