HP Officejet Pro 9020 All-In-One Printer Review
-
In business, two things are often in short supply; time and space. On the other hand, two things that never seem to diminish are our workload and the variety of tasks we need to handle throughout the day. This particularly applies to the core factor of communications. As such, a communications hub needs to be fast, efficient, versatile and compact. How much power and versatility can you fit into a small device has been the go-to for many technology providers.
When it comes to multifunction printers, HP has definitely nailed this notion with the HP OfficeJet Pro 9020 printer series. Packed with bags of functionality at a modest price, take a look as we delve deep into how much functionality a $300 can bring to your business in this HP OfficeJet 9020 printer review.
HP OfficeJet Pro 9020 Printer Review Summary
For all the small headaches a business can face, the HP OfficeJet Pro 9020 All-In-One Printer Series is the perfect match. Offering printing, scanning, copying and fax functions with fast output, wireless and hardwired network connectivity to multiple devices, the 9020 from HP is ready when you need it. Combine this with versatile paper handling contained within a printer that takes up a minimal footprint, the HP OfficeJet Pro 9020 printer packs a lot of performance within a compact package.
There are four models in the 9020 printer series with the only difference between each model being the colour of the trim. The Hp OfficeJet Pro 9029 all-in-one printer has a trim of Light Basalt, the 9028 has a trim known as Oasis, which is a pale blue whilst the 9026 has a Coral trim which is a soft red. Basically, take your pick as to which one you fancy and get instant performance as well as a quality looking printer.
Using the printer, we truly obtained a sense that this printer series recognises the fact that most people involved in small and micro businesses are often out of the office but still need access to office equipment by way of mobile devices. Supporting various different types of device-to-device communication, this also places the HP OfficeJet Pro 9020 series as a printer that defines 'All-In-One'. Overall, for any small business, you will not be dissapointed with the HP OfficeJet Pro 9020 printer series.
Keeping reading our HP OfficeJet 9020 printer review to find out more about the specific functions that the 9020 printer series can bring to your business. We go under the hood with productivity, energy efficiency and some cool features that are definitely worth checking out. Don't forget to hit us up in the comments with any questions you may have when you are done.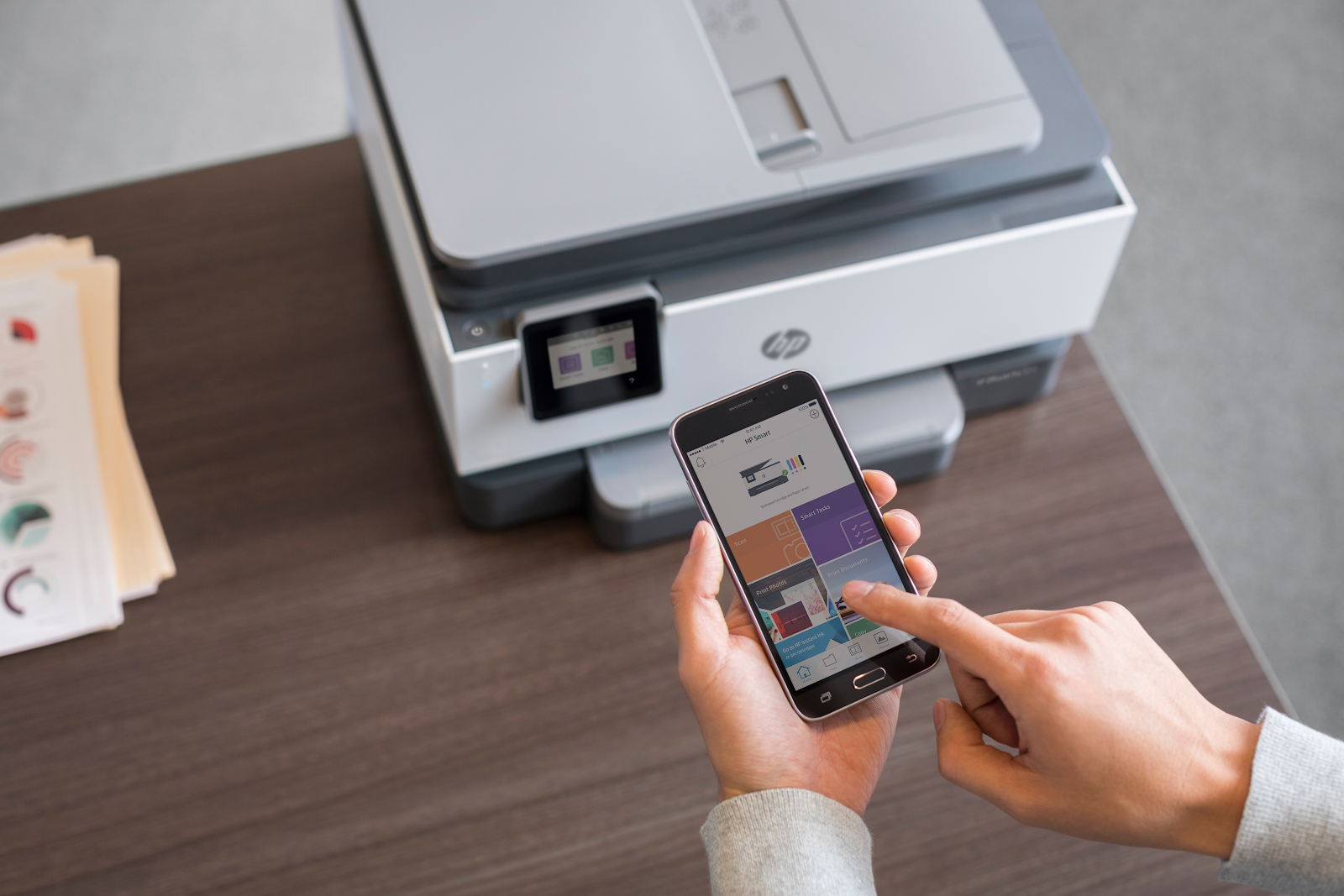 HP Smart App Printing Technology
The HP OfficeJet Pro 9020 printer series is fully compatible with the HP Smart App (Available on Android & iPhone). Using the HP Smart App on a mobile device gives remote access to a wide range of print functions that allow for printing both at the office and also on the move. Features that can be obtained via the Smart App include the following:
Portrait or landscape printing orientation.
Printing on both sides to reduce paper usage
None/Flip or Long Edge/Flip or Short Edge selection
Front to Back or Back to Frontpage sequencing.
Pages Per Sheet Settings (1, 2, 4, 6, 9, 16)
Quality Settings: Draft/Normal/Best.
Printing Shortcuts.
Printing In Grayscale: Off/High-Quality Grayscale/Black Ink Only.
Pages Per Sheet Layout Settings.
Printing In Max DPI Settings.
HP Real Life Technologies Settings.
Page Border Settings
There are a handful more settings that the HP OfficeJet 9020 can be controlled via the HP Smart App, but you get where we are going. All of these print selections are available on your mobile device with the HP Smart App allowing you to organise the print job remotely. This also ensures that you can have the printing done before you return back to the office. For us, this is an incredible feature when you consider the low cost of this printer for small businesses or home offices. The application itself is also well-polished and compatible with many other HP Smart Printers.
Printing Productivity & Cartridges
With a print speed of 24 pages per minute (ppm) in black and 20 pages ppm in colour at ISO tested quality, the HP OfficeJet Pro 9020 printer has a first page out time of 9 seconds. This goes up to 10 seconds when printing in colour. For most purposes, draft quality printing is quite acceptable and in this mode, the print speed is 39 pages per minute in both black and colour ink cartridges.
All models in the HP OfficeJet 9020 series also feature automatic double-sided printing to significantly reduce paper usage on multi-page documents. When printing double-sided the print speed is 15 pages per minute in black and 13 pages per minute in colour. All printers of the OfficeJet 9020 series use four Original HP 965 cartridges:
HP 965 Black Original Ink Cartridge
HP 965 Cyan Original Ink Cartridge
HP 965 Yellow Original Ink Cartridge
HP 965 Magenta Original Ink Cartridge
In standard form the Original HP 965 in black has an ISO tested page yield of 1,000 pages whilst the Original HP 965 Colour Cartridges has an ISO tested page yield of 700 pages. For even more economy the original HP 965XL black printer cartridge gives an ISO tested page yield of 2,000 pages and the three Original 965XL Colour Cartridges give an ISO tested page yield of 1600 pages each. In both instances, the overall economy of the HP OfficeJet 9020 printer is impressive.
Scanning Functionality
Both the scanning and the copying functions of the HP 9020 printer are accessed from a 35 sheet Automatic Document Feeder (ADF). Alternatively, you can lift up the lid to allow scanning of bulkier items such as books. To boost productivity, the HP OfficeJet Pro 9020 Series of All-in-One printers feature double-sided scanning and copying of an original document when using the ADF. Using the flatbed, this is simplified on all models by utilising easy-off glass. Instead of having a lip all the way around, the flatbed is open at the front to slide originals on and off rather than having to line them up. The ADF can accommodate originals up to 215mm x 355mm whilst the flatbed has a size of 215.9mm x 297mm.
As for speed, the scanner processes 15 images per minute for an A4 sheet in black and white and 8 images per minute in colour. When scanning duplex originals, the HP OfficeJet Pro 9020 processes and 15 images per minute and 6 images per minute in colour.
The scanner function offers multiple destinations. Documents can be scanned to a network folder, direct to email, to Google SharePoint and to a thumb drive. That said, different applications will call for different file formats. All of the models in the series scan to destinations using:
JPG Images.
BMP Images.
PNG Images.
TIFF Images.
PDF Files.
RTF Files.
A cool feature of the HP OfficeJet 9020 Pro is Optical Character Recognition (OCR) which allows text from scanned originals to be edited. By using the Smart App, you can simplify many tasks including single click customisable scan to cloud destinations, email and print. You can also create editable and searchable documents by scanning from a Smartphone or printer. Destinations such as Dropbox, Google Drive, One drive, email recipients or print can be selected remotely too. That's a lot of functionality.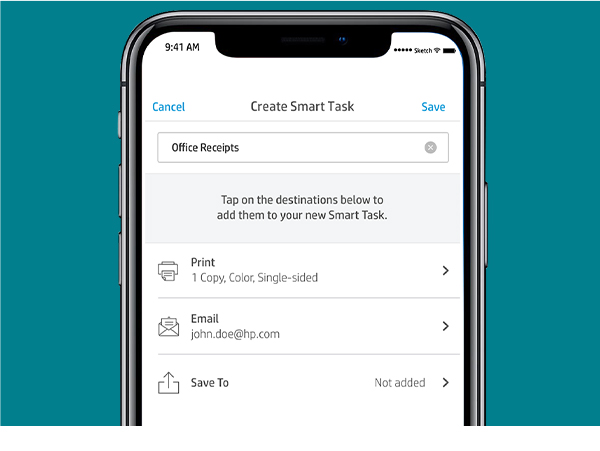 Copying Functions
In this HP OfficeJet 9020 review, we also looked at the copying functions of the 9020 series. Just like the scanner, both the ADF and the flatbed can be used to make as many as 99 copies at a time. With speeds of up to 23 copies per minute in black and up to 17 copies per minute in colour, these are delivered with 600 dots per inch resolution. Again, it's an impressive output for such a small and compact printer. All copies can be reduced, or enlarged, in size from the original between 25 and 400%. We wouldn't recommend going all the way up to 400% as your copied version will lose its fidelity. However, anything up to 200% (depending on the quality of your image) should be more than enough. Using the ADF, two-sided originals can also be copied automatically.
In addition to the ADF and the flatbed, copies can be made from a mobile device using the camera. Although convenient, it can be problematic with images being skewed and variable copy quality. That said, HP's very own HP Copy Fix technology on the HP Smart App automatically adjusts the image to give the best results in the copies. Whilst not particularly convenient in that regard, it's a solution nonetheless.
Faxing Capabilities
All models in the HP OfficeJet Pro 9020 series come with colour fax facilities as standard with a transmission speed of 4 seconds per page. Furthermore, the resolution of faxing across all 9020 series models delivers 203 x 98 DPI in black and 200 x 200 DPI in colour. The fully-featured fax facility also includes the ability to fax double-sided originals when using the ADF. Faxing with the HP OfficeJet Pro 9020 printer also supports the following:
Auto-Redialling.
Fax Delayed Sending.
Distinctive Ring Detection.
Fax Forwarding.
With a maximum number of locations for fax broadcasting at 20 and speed dialling facilities storing up to 99 numbers, there is not much the HP OfficeJet 9020 cannot do when it comes to faxing for small business. Faxing, although a slowly dying way to transmit information, is still important for most businesses and the HP OfficeJet Pro 9020 delivers on all fronts.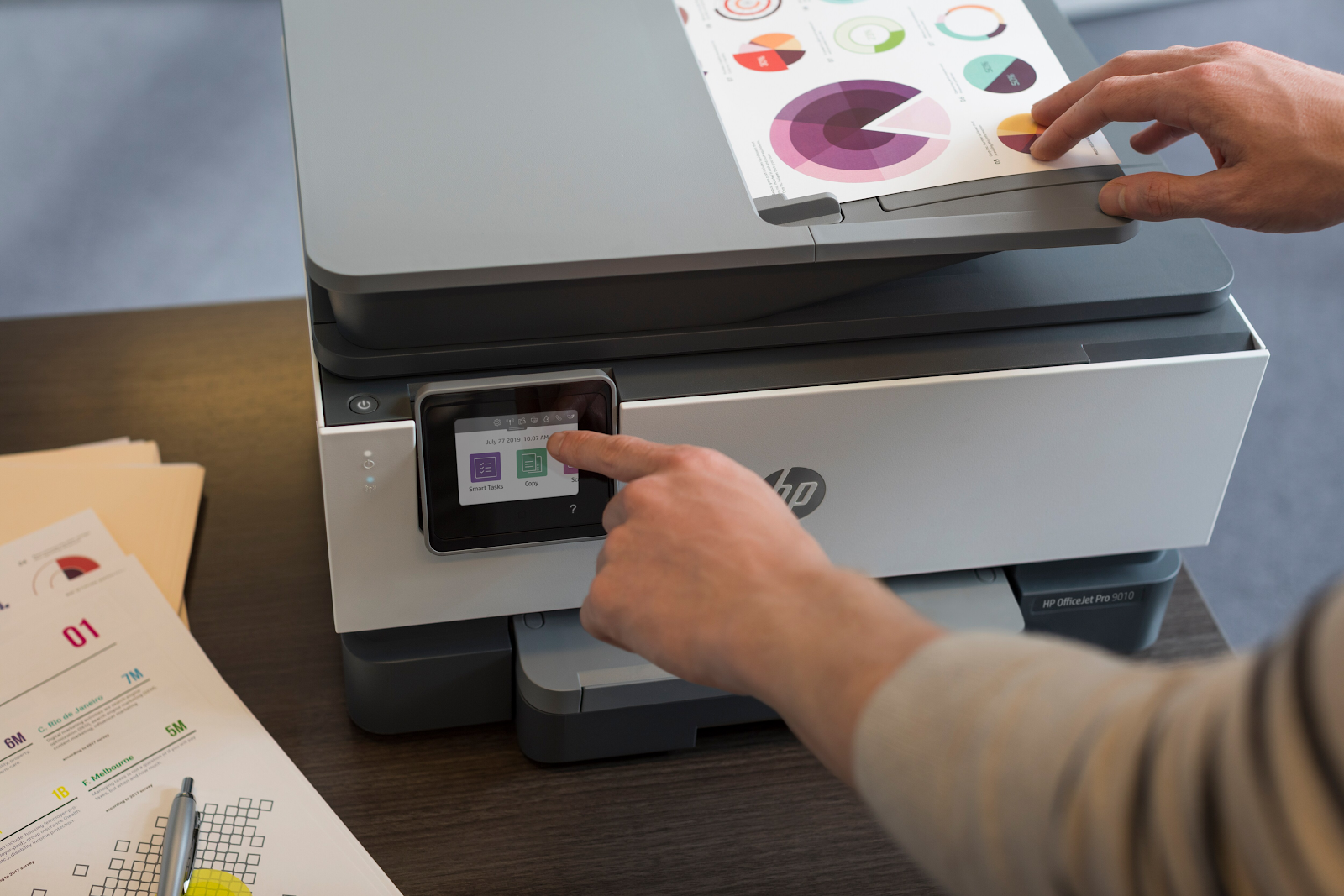 Media Handling
The HP OfficeJet Pro 9020 series offers versatility in media handling as well as functions. There are two 250 sheet input trays that can handle a wide range of paper sizes and types. All of the usual paper sizes are compatible with the Pro 9020 including:
A4 Paper.
A5 Paper.
A6 Paper.
In addition, B5 (JIS) paper can be accommodated as well as an envelope in sizes, DL, C5, C6. The All-In-One series of printers from HP also caters for different types of media. Users can expect to be able to print on the following types of paper:
Plain Paper
HP Photo Papers
HP Matte Brochure or Professional Paper
HP Matte Presentation Paper
HP Glossy Brochure or Professional Paper
Other Photo Inkjet Papers
Other Matte Inkjet Papers
Other Glossy Inkjet Papers
Thick Plain Paper
Light/Recycled Plain Paper
HP Tri-fold Brochure Paper
The output tray of the HP OfficeJet 9020 Printer has a capacity of up to 100 sheets. We cannot imagine that a small business or home office environment would require much more than 100 sheets. To retain the compact nature, the HP OfficeJet 9020 blends both physical footprint and output capability perfectly.
Printer Connectivity & Ports
For businesses on the go, printer connectivity with a variety of devices is essential. The HP OfficeJet Pro 9020 All-in-One Printer series will not disappoint in this regard. Despite it's compact nature, the OfficeJet Pro comes with all the standard connectivity features a modern-day printer should include. Users of the HP OfficeJet Pro 9020 can expect to connect via the following:
1x Ethernet network connection.
1x Wireless 802.11b/g/n connection.
2x RJ-11 modem ports for fax use.
1x USB 2.0 port
1x USB Host Port
Whether you prefer to keep your printer wired to your network or are a fast-paced organisation that requires connectivity from anywhere in your office, the OfficeJet Pro 9020 supports both scenarios. Connections to this device are also really simple to set up and come included with an easy-to-understand instruction manual.
HP OfficeJet Pro 9020 Security Review
No matter the size of the company, the security of data stored via a network is constantly under threat. Even more so, small businesses are typically hot targets as they deemed easier to hack. Peripherals, such as notebooks, tablets, smartphones and printers are always the most likely targets here. The HP OfficeJet Pro 9020 series minimises the risk of network intrusion with the highest level of security in its class.
Rather than writing every security feature the HP OfficeJet Pro 9020 All In One Printer Series includes, why not have a quick look at this short 1-minute video below.
Printer Space Requirements
When running a small business or working from home there are two constants; there is no shortage of work but there is always a shortage of space. The HP OfficeJet Pro 9020 in this regard is your saving grace. With your desktop, monitor, telephone, file storage, pens, notepads and printing accessories, the HP OfficeJet Pro 9020 still slots neatly onto or under your desk.
With a footprint of just 437mm wide and a depth of 396.3mm (which increases to 547mm when the input trays are fully extended to refill with paper), you can store neatly without a hitch. As for the height, the HP OfficeJet Pro 9020 series stands at 318.3mm tall which also includes the ADF. This is considerably smaller than the previous model from HP. Yet, the HP OfficeJet Pro 9020 still performs all the same functions; not to mention the added features. If you're looking for compact performance, the 9020 Pro series delivers.
Cost, Power Usage & Efficiency
Retailing for anywhere between $260 to $299AUD, the HP OfficeJet Pro 9020 All-in-One Printer weighs in at an affordable price. Similarly, despite the small footprint, the OfficeJet 9020 packs some serious punch without wasting power. As well as being economical with the paper by automatic double-sided printing and economical with ink by using Original HP 965XL Printer Cartridges, the OfficeJet 9020 is economical on power consumption by utilising only 30 watts to print.
Sleep Mode - 1.22 watts
Ready State - 5.80 watts
Off Mode - 0.08 watts
Combining the power statistics above, the HP OfficeJet Pro 9020 typically consumes (TEC) 0.258 kWh/Week in electricity for non-excessive usage. As such, a small business can breathe easier knowing that their printing unit is not claiming most of the quarterly electricity bill.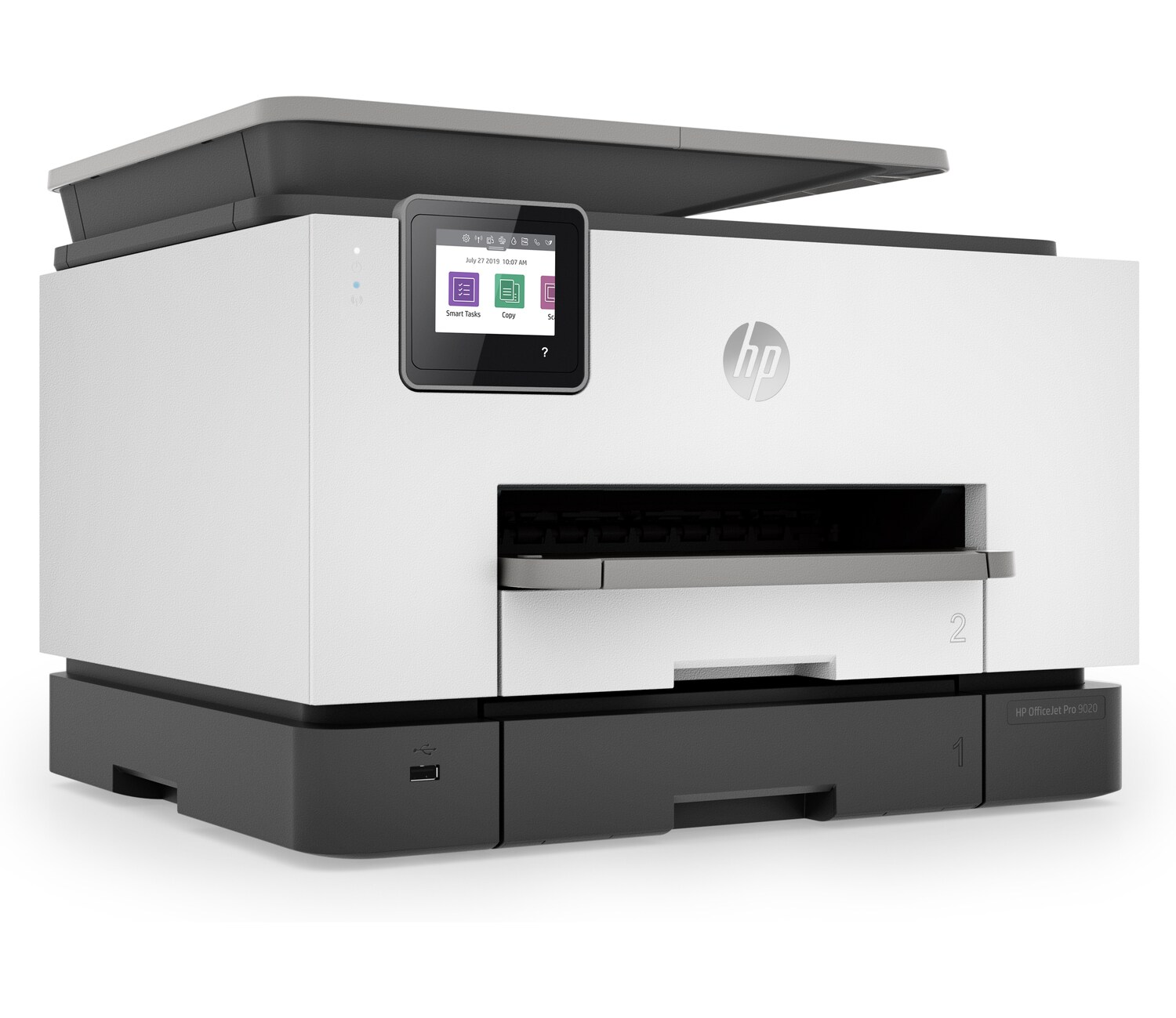 HP OfficeJet Pro 9020 Printer Review Conclusion
The HP OfficeJet Pro 9020 All In One series offers time and space savings with versatility and low operating costs. It is ideal for those seeking a business printer to work at home or those who operate within a small business environment. For the price, the OfficeJet Pro 9020 delivers extremely reasonable printouts and it's all-in-one capabilities is an added bonus. The smart device support comes with an extremely polished application and literally everything you would need when on the move. Unless you are looking for laser printer quality, the HP OfficeJet 9020 printer will deliver everything you need and more.Did you like this HP OfficeJet Pro 9020 printer review? Hit us up in the comments with any questions you would like us to answer. Alternatively, head on over to our live chat feature to speak with one of our printer experts. Let us know about your business and ask us technical questions about printers so we can pick out the perfect printer for your needs.
Explore Popular Articles
The 21st century is the age of information and seeking alternatives to harsh chemicals. Although

There are a number of criteria to be met when choosing a new business printer. Productivity is a

Photos are precious memories and it stands to reason that you would want to buy one of the best