HP LaserJet Pro M404dn Printer Review
-
When it comes to printing that's all you need it to do - right? Not really. Each business is different and your colleageus with have a variety of different needs. From scanning hundreds of pages to having the ability to connect to multiple workgroups with ease, it's been a long time since laser printers just printed the odd page or two. In this comprehensive HP LaserJet Pro M404dn printer review, we're going under the hood at how the M404 printer series can drive business forward with endless configurations to match your requirements. We'll look at the different configurations of the M404 series as well as an in-depth review of the functionality, print capabilities and extras that the HP LaserJet Pro M404dn monochrome laser printer brings to your business.
HP LaserJet Pro M404dn Printer Review Summary
As with most HP laser printer models, they often come with slight variations of specifications. The task for you is to know which one is right for your business. When it comes to the M404dn printer, the ability to automatically print double-sided allows your organisation to work smarter and cheaper whilst still retaining quality. As a monochrome printer, the M404dn laser printer from HP delivers a whole lot of function and form. Featuring two input trays which hold up to 350 sheets of paper and a 150-sheet output tray for printed documents, this printer series is built for mass. Not to mention that the M404dn print resolution of 1200 x 1200 dpi ensures sharp text on business documents.
Further to this, the HP LaserJet Pro M404dn printer has a first print out speed as fast as 6.1 seconds and operates at around 38 pages per minute once running. Combining this with the following features, you have yourself a very powerful printer for a nominal cost of around $265AUD.
USB 2.0 compatible.
Ethernet connectivity.
Mobile printing compatible.
EPEAT silver energy rated.
Energy Star qualified.
Overall, no matter what HP M404 series printer you purchase, you will not be dissapointed. For any home or small business environment, the M404dn is the perfect companion that delivers functionality, speed, quality and strong connectivity. Whilst all other printers in this series deliver the same level of output, there are a few slight differences that we will cover below.
M404n Vs M404dn Vs M404dw - The Differences
There are three models in the HP LaserJet Pro M404 printer series. Of which, each of these offer slightly different configurations to match the needs of your business and colleagues. However, don't be fooled by the model numbers as they all output the exact same printing quality. Within the series, you have the following printers:
HP LaserJet Pro M404n
HP LaserJet Pro M404dn
HP LaserJet Pro M404dw
The M404n is for users who want connection to an ethernet network and and mostly want to print on one side of a sheet of paper. The next model, the M404dn, adds automatic double-sided printing to the M404n whilst the M404dw adds wireless networking to allow users who are not part of the ethernet network to gain access to the printer. Where as some printer models give too many choices and others not enough, the HP LaserJet Pro M404 offers the right balance. All printer models in the series are dedicated laser printers for workgroups up to 10 users. The two models that have an automatic duplexer can print both sides of 31 A4 sheets per minute. This does not take long to get off the mark either with a first page out time of as little 6.3 seconds.
As monochrome printers, all three models print black pages only using the HP 76A Black Original LaserJet Toner Cartridge (CF276A) with Jetintelligence. This has a page yield of up to 3,000 pages. For greater economy, you can also use the HP 76X Black Original LaserJet Toner Cartridge (CF276X) which has a page yield of up to 10,000 pages. Both cartridges use HP Jetintelligence toner and the new HP Ecosmart black toner. The combination of HP Jetintelligence and HP Ecosmart toner technology provides not just outstanding print quality but significant energy, and therefore cost savings, as well as the video shows.
In addition to this, there is nothing too complicated about any of the M404 series. Just select the model that meets your circumstances and do it you way!
Printer Paper Handling
The HP LaserJet Pro M4040dn comes standard with a 100 sheet multipurpose tray and a second adjustable tray with a capacity of 250 sheets. This is the same for the other models in the series. Both trays will accept all the usual paper sizes from A6 up to A4 as well as being adjustable for a wide range of other standard paper sizes. The 100 sheet tray has the versatility to handle sheets as small as 76 x 127 mm, as large as 216 x 356 mm and weights ranging from 60 grammes per square metre (gsm) up to 200 gsm. It will also fit up to 10 standard size envelopes. The 250 sheet tray is adjustable to take custom sizes ranging from 100 x 148mm up to 216 x 356mm and media weights from 60 to 120 gsm.
For those users who have even heavier print requirements or a wider range of sheet sizes, the M404dn can have a third paper tray as an optional extra with a capacity of up to 550 sheets. This delivers a total capacity for the printer of 900 sheets of paper which is impressive considering the size. The output tray has a maximum capacity of 150 sheets.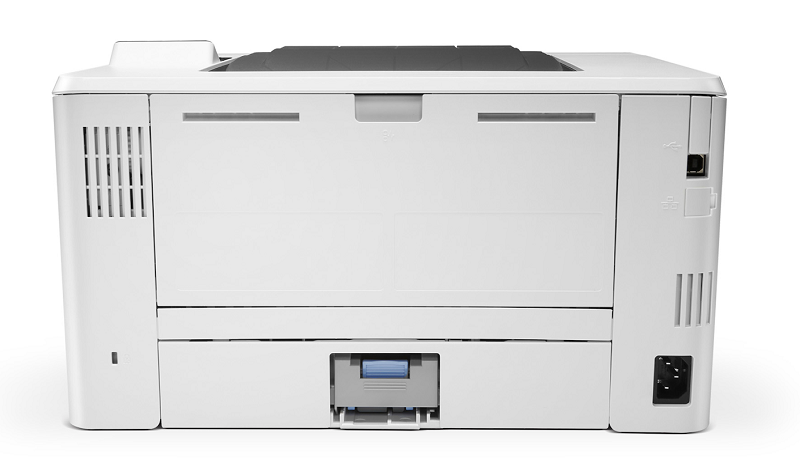 Printer Connectivity
For the highest level of productivity, a workgroup needs to be well connected. In many cases, the members of a workgroup operate from workstations connected to an Ethernet network. To fit this scenario two models, the HP LaserJet Pro M404n and the LaserJet Pro M404dn, have just one network connection; a Gigabit Ethernet 10/100/1000BASE-T network 1 connection. Sometimes, however, a member of the workgroup may need to do some work away from the Ethernet network. To meet this requirement both models have a high speed USB 2.0 port and a host USB port on the side at the rear of the unit. This allows work on devices such as smartphones, tablets and flash drives to be plugged into the printer and documents printed from them.
To accommodate mobile printing from these devices the LaserJet Pro M404 series is also compatible with the following:
Apple AirPrint™
Google Cloud Print™
HP ePrint
HP Smart App
Mobile Apps;
Mopria™ Certified
ROAM capable for easy printing.
Whilst workgroup organisation is simple for all 3 models, the HP LaserJet Pro M404dw model does offer more flexible ways to organise a workgroup. In addition to the connectivity of the other two models, it adds an 802.11b/g/n / 2.4 / 5 GHz Wi-Fi radio network. Now the workgroup can be made from members working on several remote devices as well as dedicated ethernet devices. Either way, all 3 models have many options for easy connectivity to your workgroups.
Printer Security
Data is one of your companies most valuable assets. Yet, unless protection is in place, it is the most vulnerable. An unsecured printer can be a backdoor into a network and the files it holds. Not many people know this and therefore leave the printers unsecured. The HP LaserJet Pro M404 series features a suite of security measures unmatched by other printers in its class. Many printers are most vulnerable to attack during boot-up, however the M404 series features:
Secure Boot.
Secure Firmware Integrity.
Runtime Code Integrity.
Password protected EWS,
Secure browsing via SSL/TLS 1.0, TLS 1.1, TLS 1.2;
IPP over TLS.
Network Port Enabling & Disabling
Unused Protocol Disablement.
With plenty of other security features included within the HP LaserJet M404 series, you can confident knowing that malicious hackers are not trying to steal your data via your printer. Where the HP LaserJet M404dw model is concerned, the Wi-Fi access is also secured from unauthorised access by authentication proccedures. HP have really through of everything here when tackling potential security issues with the printer models in this series.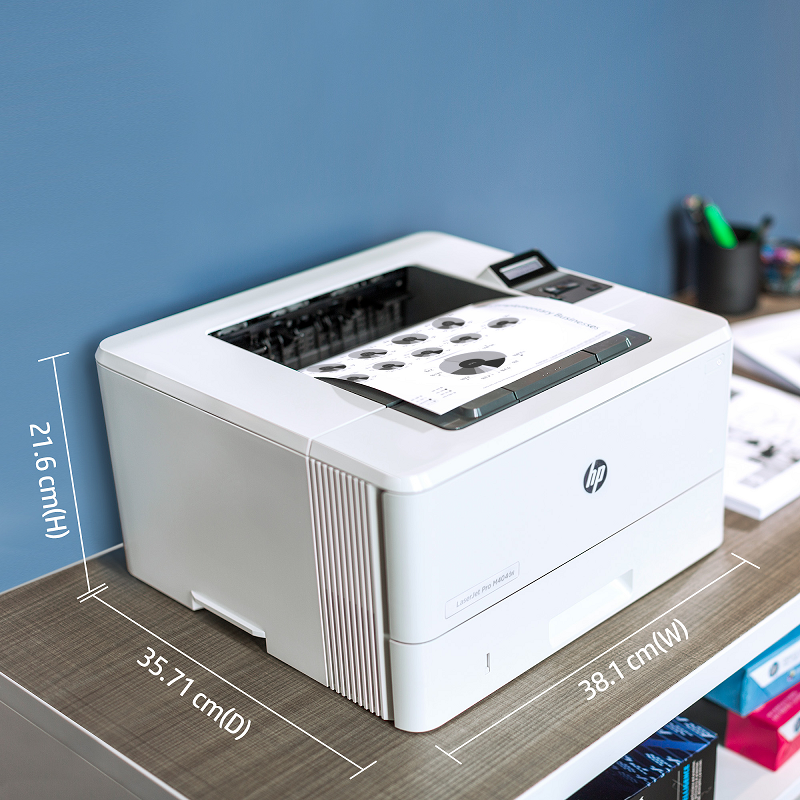 Printer Size & Control Panel
The space that you work within often comes as a premium cost to your business. Therefore, optimising your office space to ensure that you are making maximise use of the square meters you are paying for is critical. For the small business, workspace is even more vital. The simple design of the HP LaserJet M404 series printers allow them to fit into a smaller spaces than most other printers. With a footprint of just 35.73cm deep and 38.1cm wide, the M404 series does not take up precious desk space. Comprising of just 21.6cm in height also means that they can easily fit under an overhead shelf or on the tray beneath your workstation if required. Even if you have a cheaper desk, the printer weighs 8.56kg and therefore will not put your desk under much duress.
In the style of all the functions of the LaserJet Pro M404 Series, the control panel is also very simplistic. Mounted on the top of the printer it consists of a two-line LCD and five selection buttons to choose from. It is clean, simple and ticks all the boxes with what you would ever need to choose from.
Printer Energy Efficiency
The HP LaserJet Pro M404dn monochrome printer is powerful enough to cope with the printing demands of a workgroup of up to 10 users. However, it does not use vast amounts of power to do so. With an energy consumption of 485W during active printing, each model in the HP LaserJet Pro M404 series uses HP's exclusive Instant On feature. This feature sends the printer into sleep mode when it is not in use; rather than keeping it in ready mode for any length of time. This saves significantly on energy costs because in ready mode, although the energy use is just 5.5W, it is just 0.5W during sleep mode. The Instant On feature does not need any warm-up time either like other laser printers. That first page out time of a mere 6.3 seconds is from sleep mode, not ready. This delivers significant energy savings to your business, lower operating costs and higher productivity all round.
HP LaserJet Pro M404 Printer Review Roundup
The various models in the HP LaserJet M404 printer series are a fit for a number of ways to maximise productivity for workgroups. With fast printing on a variety of media and sizes, great power economy, a wide range of connectivity available and plenty of options, the HP LaserJet M404 series provides small businesses with the ability to work with a wide range of devices to give fast, economical and versatile printing. For the price, there is not much better than this series for verstality. Not to mention that as a monchrome printer, your cost of replacement ink cartridges will be much lower than if you were using a colour printer. At Cartridges Direct, we are strong advocates of green printing and cartridge recycling. The greener the printer, the better in our opinion.
Did you like this HP LaserJet Pro M404dn printer review? Hit us up in the comments below or feel free to ask us any questions you have via our live chat function. One of our printer experts will be more than happy to assist with any queries you have.
Explore Popular Articles
The 21st century is the age of information and seeking alternatives to harsh chemicals. Although

There are a number of criteria to be met when choosing a new business printer. Productivity is a

Photos are precious memories and it stands to reason that you would want to buy one of the best