HP LaserJet Enterprise MFP M528 Series
-
IT'S A BLACK AND WHITE SOLUTION
For those who have serious printing needs, the HP LaserJet Enterprise MFP M528 series deserves serious consideration. There are three models in the HP LaserJet Enterprise MFP M528 series available, the M528dn, the M528f and the M528z. They are all Mono Laser Multifunction Printers that provide high-speed printing, scanning and copying with a high level of security and flexibility to meet the needs of the user. They meet the needs of workgroups ranging in size from 5 to 15. All three share the same basic specifications but vary slightly in their standard configuration. The base model, the HP Laserjet Enterprise MFP M528dn, has the ability to automatically print on both sides of a sheet of paper and is a hardwired networked printer. The M528f adds a fax facility and an inbuilt stapler. The top of the line M528z adds even further features including inbuilt Wi-Fi and Bluetooth connectivity (which is available as an option on the other models), and HP Workflow features. Many organisations are suffering from a surfeit of paper documents, requiring the need for higher speed scanning, as well as Optical Character Recognition (OCR). OCR means that scanned documents can be digitised and stored in files that can be searched by keyword rather than title.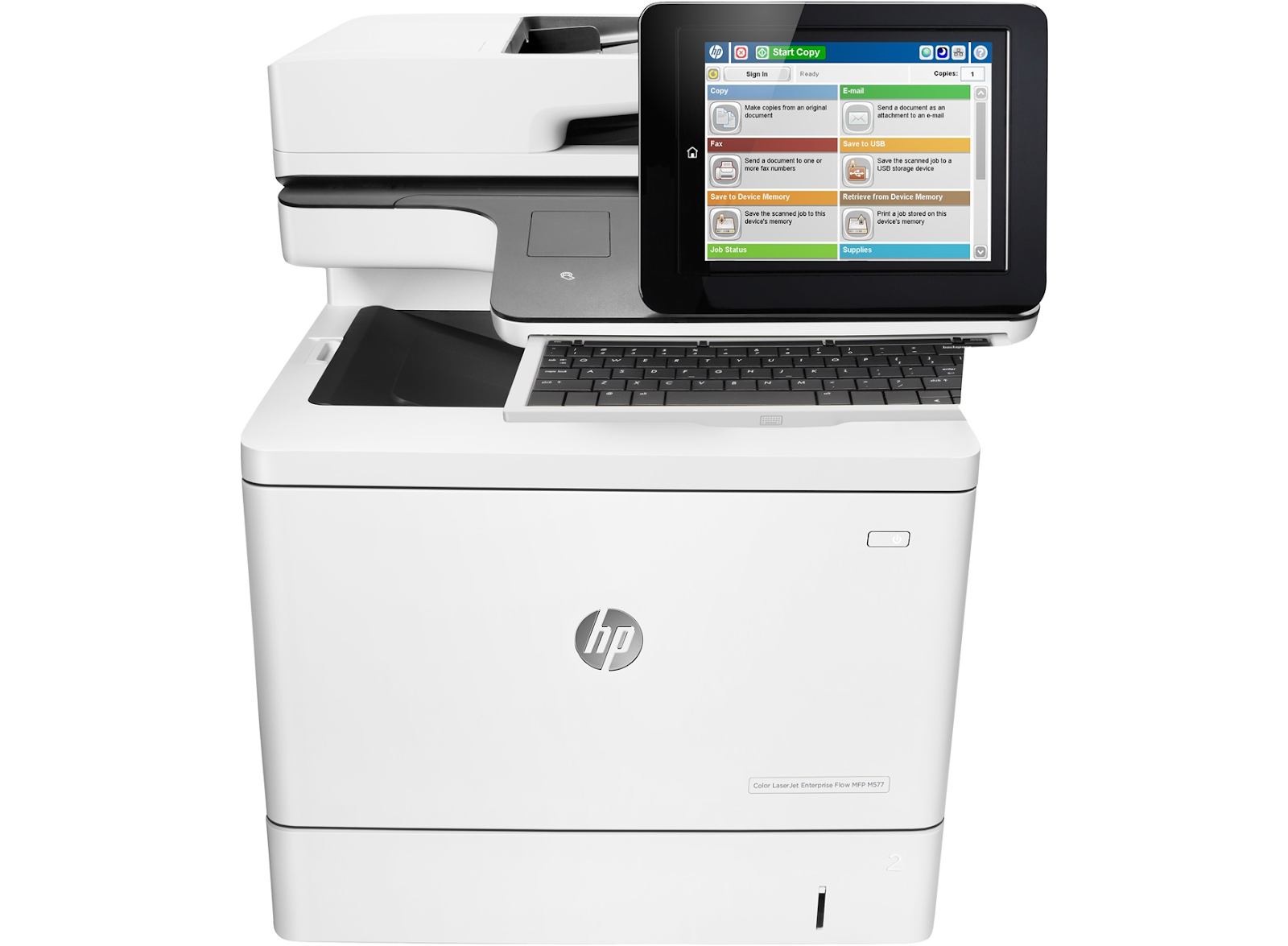 Printing
If you have a lot of printing to do and not a lot of time, you need a printer that is fast. The HP LaserJet Enterprise MFP M528 Series can keep up with the workflow. with a print speed of up to 43 single-sided A4 pages per minute (ppm), and 34 Ar4 ppm printed on both sides. Automatic double-sided printing to reduce paper usage is standard across the range. They are quick off the mark with a 'first page out' time of just 6.5 seconds from the ready state.
It's high-quality printing as well with a density of up to 1200 x 1200 dots per inch for the best quality and fine lines, with 600 x 600 dpi being used for normal printing.
All three models use a single HP 89 toner cartridge. This cartridge comes in three strengths;
The HP 89A Black Laserjet toner cartridge with a page yield of up to 5,000 pages

The HP 89X High Yield Toner cartridge offering a page yield of up to 10,000 pages

The HP 89Y extra high yield toner cartridge which can print up to 20,000 pages
All three toner cartridges in the HP 89 series use EcoSmart black toner technology, which is a polymerised toner. In an innovative new manufacturing process, a proprietary ingredient is added to the softcore layer of the toner particle. EcoSmart toner is engineered for high-speed printing and low energy consumption. The toner melts at a lower fuser temperature, which helps enable an average 21% energy savings and lower carbon footprint. EcoSmart black toner cartridges are a smart, environmentally responsible purchase and contribute to customers' and HP's sustainability commitments through the total energy savings.
Copying
Original documents for both the copying function and the scanning function are fed from an inbuilt Automatic Document Feeder (ADF), for when there are multiple originals, or a flatbed table underneath it. The ADF has a capacity of up to 100 A4 sheets.
The copies are printed at a speed of up to 34 A4 copies per minute in duplex mode.
All models in the LaserJet Enterprise MFP M528 series can produce up to 9,999 copies in one run, at a resolution of 600 x 600 dpi. The copy size can be reduced or enlarged by 25% to 400% from the original.
Both the copying and scanning functions can be accessed by the touch-sensitive 20.3cms colour LCD graphics screen. These functions are two-sided copying, scalability, image adjustments (darkness, contrast, background cleanup, sharpness), N-up, N or Z-ordering, content orientation, collation, booklet, job build, edge-to-edge job storage, ID Copy, Book Copy and A-to-B Copy (different media sizes).
Scanning
As with copying, the scanning function can be accessed from either the ADF or the flatbed scanner. Scanning functions are controlled from the control panel and include Copy, E-mail, Save to Network Folder, Save to USB, Save to Device Memory and Open Extensibility Platform (OXP) applications.
When using the flatbed scanner, originals up to 216mm x 356mm can be scanned but feeding from the ADF originals up to 216mm x 864mm can be scanned at a resolution of 600 X 600 dpi.
Scanning from the ADF gives automatic double-sided scanning in a single pass if needed, which can give a considerable time-saving. You can expect a scanning speed of up to 43 A4 images per minute (ipm) from a B&W original, and up to 38 ipm when scanning from a colour original.
Users can select from a wide range of destinations for the scans. On the lowest model, the M528dn there is a choice of Scan to Email, Save-to-Network Folder, Save-to-USB drive and Send to FTP. If you move up to the M528f, you will find that a fax facility is included, with users able to scan to fax as well. Move on to the bells and whistles M528z, and the addition of an Optical Character Recognition (DCR) facility adds a new dimension to scanning. On most scanners the original being scanned is captured as a PDF document and cannot be edited. OCR captures the original as individual characters which means that the scanned output is fully editable.
Fax
Two models in the series, the M328f and the M528z, are equipped with fax. A transmission speed of 33.6kbps, a page is sent every 3.5 seconds. The fax resolution is 300x300 dpi for sent faxes and 400x400 dpi for received faxes. Up to 500 fax pages can be held in memory. The standard smart fax software includes a number of time-saving features such as automatic scale to fit, speed dialling for up to 1,000 numbers with up to 210 destinations for each number, as well as LAN and internet fax connection.
Paper Handling
Each model in the HP LaserJet Enterprise MFP M529 series is designed to cope with the demands of medium-sized workgroups. When it comes to printing you can be sure that there are going to be long print runs needed, and a variety of paper sizes and types. Having to pause the flow of work to frequently reload paper causes disruption and lower productivity.
All of these MFPs overcome this by coming with two paper trays as standard. Tray 1 is a multipurpose tray that has a capacity of up to 100 sheets with weights between 60 and 199 grammes per square metre (gsm), and adjustable to take sizes ranging from 76.2 x 127mm to 215.9 x 355.6 mm. The second paper has a far greater capacity of up to 550 sheets of varying weights between 60 and 120 gsm and sheet sizes between 105 x 148 mm and 215.9 x 355.6 mm. If 650 sheets is not enough, up to three further trays, with the same specifications as tray 2, can be added to give a total of 2,300 sheets of varying sizes and weights. The output paper tray has a capacity of up to 250 sheets with the M528f and M528z includes a stapler.
Connectivity
Workgroups will also need a variety of ways to access an MFP and the HP LaserJet Enterprise MFP M528 series offers a variety of ways to connect to the device as standard and with options for even greater accessibility. The base model in the series, the M528f, offers 1 high-speed device USB 2.0, and an embedded HP JetDirect Ethernet print server for direct network connection. The next model, the M528f, adds a second high-speed device USB 2.0 and a fax.
Some users may require distributed access from a variety of devices such as notebooks, tablets or smartphones which are not networked. To add even greater flexibility Wi-Fi connectivity can be added with 802.11a/b/g/n wireless networking. This also gives NFC connectivity for touch and go accessibility.
Move up to the M528z, and HP Jetdirect Ethernet embedded print server (standard) which supports 10Base-T, 100Base-Tx, 1000Base-T; 802.3az (EEE) support on Fast Ethernet and Gig Links IPsec Embedded 802.11a/b/g/n wireless networking is standard.
Control Panel
All three models in the series have a 20.3cm colour LCD with touchscreen, rotating (adjustable angle) display and an illuminated Home button (for quick return to the Home menu). The top of the line M528z goes a step further by including an integrated keyboard.
Security
Network security is vital today and the HP LaserJet Enterprise MFP M528 series include the highest level of security in this segment of the market. Each printer checks its operating code and repairs itself from attacks. The printer's outgoing network connections are inspected to stop suspicious requests and thwart malware. Memory activity is monitored to continually detect and stop attacks.
How Big Is It?
All models are the same size measuring 482mm wide, 496mm deep and 497mm high. There are slight differences in weight for each model with the M528dn weighing 21.41 kg, the M528f 21.95 kg and the M528z 22.13 kg
Which Cartridges Does It Need?
The HP LaserJet Enterprise MFP M528 series uses the HP 89A Black Original LaserJet Toner Cartridge which gives a page yield of up to 5,000 pages. For greater economy, the HP89X High Yield Black Printer Cartridge has a page yield of up to 10,000 pages. To reduce print costs even further, the HP89Y Black Extra High Yield Printer Cartridge will produce up to 20,000 pages before it needs replacement.
How Economical Is It?
The HP LaserJet Enterprise MFP M538 series has a host of features to make it economical to use with automatic double-sided printing to reduce paper costs, high and extra high yield printer cartridges, fast printing, copying and scanning functions and flexibility in usage. This all adds up to high levels of productivity. With power prices continually rising, power usage is important to productivity.
All models have an input 220V power supply and use 629 watts when Printing, 28.8 watts (Ready), 5.3 watts (Sleep), 0.74 watts (Auto-Off/Auto-On), LAN connection of 0.06 watts (Auto-Off), 0.06 watts (Off).
This gives typical electrical energy consumption of .1.412 kw/h calculated with the Energy Star standard.
CONCLUSION
The HP LaserJet Enterprise MFP M528 series are flexible devices that meet the needs of medium to large workgroups Each model is featured for differing scenarios and can be optioned to be even more specific. They are highly productive with fast printing minimal paper usage and low operating costs. All offer the highest level of security in their price range.
Explore Popular Articles
The 21st century is the age of information and seeking alternatives to harsh chemicals. Although

There are a number of criteria to be met when choosing a new business printer. Productivity is a

Photos are precious memories and it stands to reason that you would want to buy one of the best