HP Envy Pro 6455 All In One Printer Review
-
While the pandemic has been a nightmare for everyone there has been one positive to enjoy; the ability to work from home rather than commuting each day. While some liked the ability to set their own hours and meet family commitments, others, who had been hotdesking, now have their own dedicated workspace.
With restrictions being lifted, many employees and employers see the long term benefits of working from home. As such, the shift towards remote working has accelerated for major organisations. But, what happens when you need reliable technology to match the previously taken for granted office hardware?
Enter the HP Envy Pro 6455 & HP Envy Pro 6475.
In this HP Envy Pro 6455 printer review, our experts go under the hood of one of HP's latest multifunction printer releases. Assessing the print quality, page yields, scanning, copying and connectivity, find out all you need to know before making a purchase right here at CartridgesDirect.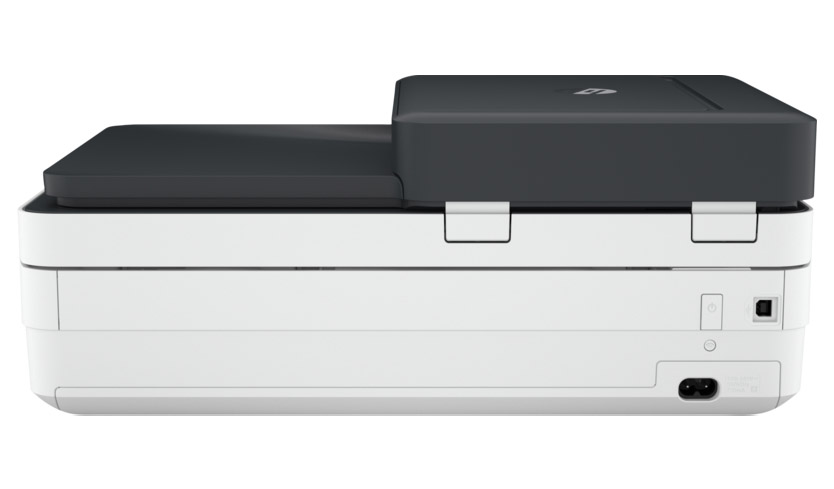 HP Envy Pro 6455 Printer Review
While the HP Envy Pro 6455 is functionally identical to the HP Envy Pro 6475, there is a slight difference in the colour scheme. The HP Envy Pro 6455 is a bone colour whilst the HP Envy Pro 6475 has a black top with highlights. From hereon, we will discuss only the HP Envy Pro 6455 All In One Printer, however, all of our comments in this HP Envy Pro 6455 Printer Review are referencing both models.
Fully loaded for the family, this multifunction printer includes print, scan and copy functions with wireless connectivity, superior photo printing in one small package to meet everyone's needs. There is even a mobile fax facility for those times when a message needs to be sent that is absolutely 100% secure. So, with lots to discuss and without further ado, we hope you enjoy our HP Envy Pro 6455 printer review right here.
Print Speed & Performance
The HP Envy Pro 6455 All In One Printer may not be the fastest printer around but it's ahead of the field with extremely high-quality printing in both text and photos. Users of the HP Envy Pro 6455 or HP Envy Pro 6475 can expect the following printing speeds:
10 pages per minute - (Black)
7 pages per minute - (Colour)
20 pages per minute - (Draft Mode - Black)
17 pages per minute - (Draft Mode - Colour)
The flexibility of being able to print fast with draft mode for documents and print slower for high-quality photo printing makes the HP Envy Pro 6455 an extremely versatile printing unit that suits many applications. In addition to respectable printing speeds, the HP Envy Pro 6455 comes with a first page out time of 18 seconds in black and 21 seconds in colour. So, while this printer is not the fastest out of the gates, it is pretty much in line with most other printers within this segment.
As for printing quality, the HP Envy Pro 6455 All In One Printer will deliver printouts with a resolution of 1200 x 1200 dots per inch (dpi) when using black ink cartridges and 4800 x 1200 dpi when using colour ink cartridges. The quality of printing is absolutely first class and possibly the best within the same price range. After testing across a variety of different prints, we can categorically say that the HP Envy Pro 6455 definitely produces sharply defined text and rich colours when photo printing.
Page Yields & Replacement Cartridges
Similarly to most HP All In One Printers, the HP Envy Pro 6455 operates with a single HP 67 Black and HP 67 Tri-Colour ink cartridge. In the most basic form, the HP 67 Black Original Ink Cartridge will print up to 120 pages whilst the HP 67 Tri-Colour Original Ink Cartridge will print up to 100 pages.
Sometimes, the HP ENVY Pro 6455 is used largely for business printing with mainly black text. Therefore, the HP 67XXL Black Original Ink Printer Cartridge with a page yield of 400 pages is more suitable. This gives the ultimate page yield, and therefore the best printing economy.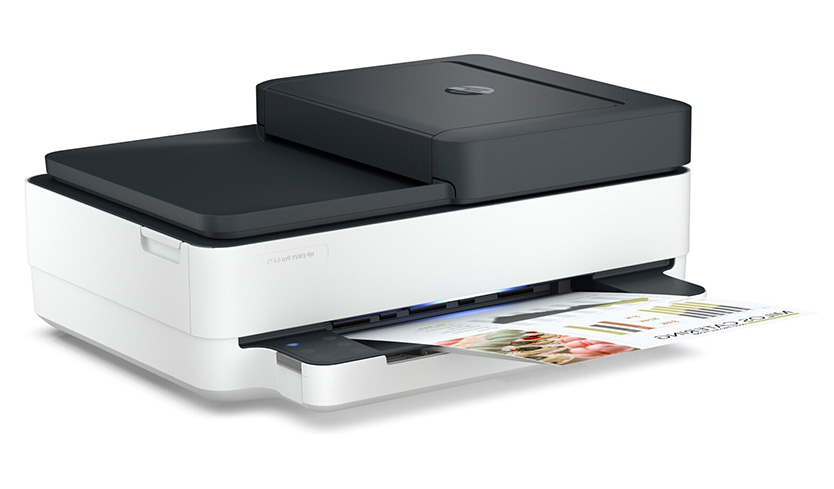 Paper & Media Handling
Users of the HP Envy Pro 6455 All In One Printer can expect an input paper tray capacity of up to 100 sheets. This also comes with an output paper tray capacity of 25 sheets. While both seem rather small for serious business printing, the HP ENVY Pro 6755 has automatic double-sided printing as standard.
As businesses strive towards reducing emissions and wastage, this feature can seriously reduce paper usage and make the relatively low input tray capacity more reasonable.
Additionally, the input tray accepts a wide range of paper sizes from A4 down to A6; passing through A5 and B5 along the way. Inclusive of this, the HP Envy Pro 6455 & 6475 will also accept DL and C6 envelope sizes. With an adjustable paper tray that will accept any paper size from 76.2 x 127 mm to 216 x 594 mm for both single-sided and double-sided printing, the HP Envy Pro 6455 is extremely flexible with paper handling. However, to be completely versatile, the HP Envy Pro 6455 must cater for a range of printing materials.
To tackle this, the HP Envy Pro 6455 will accept:
Plain Paper (60 & 70 GSM)
Envelopes (75 & 90 GSM)
Cardstock (Up to 200 GSM)
Matte Photo Paper (10 to 15 CMS)
HP Glossy Photo Paper (10 to 15 CMS)
Overall, when it comes to paper and media handling, the HP Envy Pro 6455 is best suited to small office printing and not printing in volume. When printing in volume with laser printers, you will be looking for much larger input and output paper tray capabilities. However, the versatility of the HP Envy Pro 6455 is what makes this a very good home office printer or small office printing unit.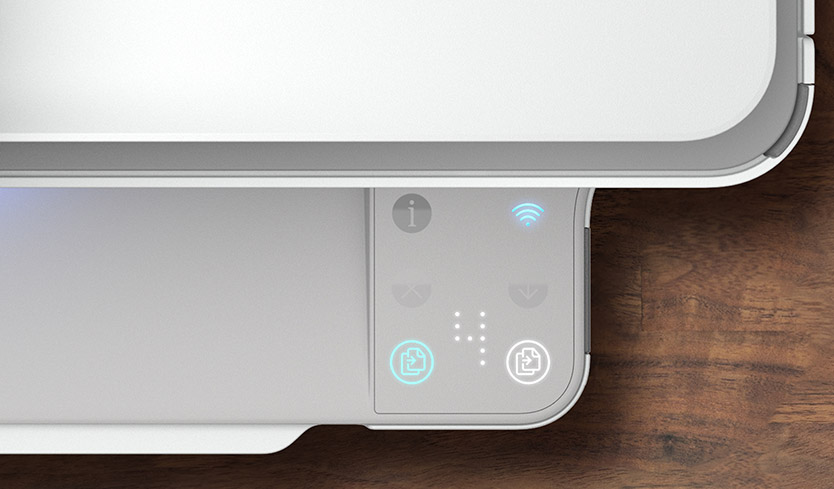 Control Panel & HP Smart App
As a true family multifunction printer, the HP ENVY Pro 6455 can be accessed by different users from a variety of locations both when situated close to the unit or from further away around your home or office. To meet this need, nearly all printer actions are accessed from the HP Smart App.
As a result, the need for a control panel on the printing unit is almost redundant. However, the printer does come with a small control panel but without a screen. Instead, the printer control panel has a few buttons which enable you to select between the following:
Colour Printing
Black & White Printing
Accept Printing Job
Cancel Printing Job.
In addition to this, there are two indicator lights on the printer which show when WiFi has been connected and when the ADF feeder has been jammed. Besides that, all printing functions are controlled from anywhere in your home or office via the HP Smart App. For us, we actually like the minimal options on the printer as we are always using our smartphones to control the majority of our business functions. However, for some, you may miss out on the traditional vibe of controlling the printer; via the printer.
Scanning
For scanning with the HP Envy Pro 6455, this can be accessed by either a 35 sheet ADF on the top of the multifunction printer, or via the flatbed scanner mounted below the ADF. Whether you are using the ADF or flatbed scanner, the maximum document size for the original document you are scanning is 215.9 x 297mm.
Similarly to the printing speed, the HP Envy Pro 6455 does scan fairly slowly but with superb accuracy. With a total scanning speed of up to 7 images per minute in black and white and 3 images per minute in colour, do not expect lightning-fast speeds. That said, the printer does take original scans with up to 1200 DPI and therefore the quality of your scanning can be assured. All scans can be completed within the following formats:
Unfortunately, scanning functionality does not include automatic double side scanning. This is a surprise with the printer considering that double sided printing comes as standard. However, it is clear that HP has prioritised printing capabilities over scanning here.
Copying
Similarly to the scanning function, the copying function on the HP ENVY Pro 6475 is accessed by the ADF or directly from the flatbed scanner for bulk original documents. Slightly faster than the scanner, up to 9 copies can be made at one time both colour and black and white. This comes at a processing speed of 8 copies per minute in black and white and 4 copies per minute when colour copying.
As usual with most HP Printers, copying documents will enable you to reduce and increase the output size of your documents. From anywhere to 25% less than the original size to 400% bigger than the original size, the flexibility of this functionality is accessed through the HP Smart App. The HP Smart App is where you will find everything you need to control the output of your printer rather than the control panel as explained above.
Mobile Faxing
Surprisingly for modern-day printers, The HP Smart App includes a Mobile Fax facility for the HP ENVY Pro 6455. Although many see the use of the fax as being outmoded by email and numerous communication Apps, faxing documents does come with major advantages. Firstly, a faxed document is encrypted end to end and cannot be infected by a virus, malware or tracker software.
Note: This makes faxing extremely suitable for law firms or government organisations.
When it comes to mobile faxing with the HP Envy Pro 6455, this comes with a 'send only' facility. This means that no faxes can be received. However, the good news is that when sending faxed documents, they are processed at 14.4 kbps which is less than half the speed of a dedicated fax facility transmission speed at 33.3 kbps. The resolution is just 150 x 150 dpi making the mobile faxing facility 'OK' for occasional use but not as a preferred messaging method unless secure transmission is imperative.
Connectivity Options
For family use, the ability to access your printer from anywhere inside the house, and outside your building, is important. The HP Envy Pro 6455 takes complete care of this ability by offering dual-band WiFi connectivity with 802.11ac. This also comes with both 2.5 GHz and 5 GHz frequencies to give the maximum signal stability and speed for modern-day technology. Additionally, the HP Envy Pro 6455 All In One printer is self-healing. This functionality automatically detects and repairs any connection problems to reduce service interruptions when printing.
Mobile printing capability is also provided supporting:
Apple AirPrint™
Chrome OS
HP Smart App
Mopria-certified
A slight downside to the HP Envy Pro 6455 is that the printer does not come with an Ethernet connection. Instead of an Ethernet connection, the HP Envy Pro 6455 comes with a Hi-Speed USB 2.0 port at the rear of the printer for a hardwired connection to a PC or desktop computer. Here you will also find the power supply connection with an easy to identify On/Off switch to save energy when not in use.
Physical Size & Energy Efficiency
As for the physical size of the HP Envy Pro 6455 & 6475 Multifunction Printers, they very well suited for family use within the home. Space in small offices and home environments normally comes at a premium, however, the HP Envy Pro 6455 is just 43.25cm wide and 36.1cm deep which means that it does not need a lot of space. Additionally, at just 19.4cm tall, this pocket-sized multifunction printer will fit within the smallest of spaces.
Further, the HP Envy Pro 6455 is super light on your energy consumption too. With an inbuilt universal power supply, the HP Envy Pro 6455 can operate between a range of 100V and 240V connections. The unit is energy star rated and uses just 0.1W when switched off, 1.7W during sleep mode and 8.0W when printing. While there may be more economical printers on the market, the HP Envy Pro 6455 balances power and energy consumption.
HP Envy Pro 6455 Printer Review Summary
If you are currently shopping for a multifunction printer that champions photo printing, both the HP Envy Pro 6455 and 6475 All In One Printers are well worth considering. Okay, so they may not be the fastest printers in the world, but the quality of the printout is far superior to other printers within the same class. In fact, of all the printers we have tested, we were pleasantly surprised at what this small multifunction printing unit can produce. This is especially true when it comes to photo printing.
Overall, the HP Envy Pro 6455 is a compact, versatile and high-quality printing unit that offers access through wireless connections whether you are close to the unit or printing from further away. Although the cost per printed page could be seen as being on the high side it is acceptable when they are used only occasionally. However, the availability of high yield and even extra high yield cartridges will reduce the cost per print significantly for more frequent use.
Content Disclaimer: At CartridgesDirect, we are committed to providing up to date and independent printer reviews. All printer reviews, including this HP Envy Pro 6455 printer review are not commissioned by manufacturers and have been independently tested by our printing experts. If you have any questions, please contact us via live chat or feel free to leave a comment below. We look forward to hearing from you.
Explore Popular Articles
The 21st century is the age of information and seeking alternatives to harsh chemicals. Although

There are a number of criteria to be met when choosing a new business printer. Productivity is a

Photos are precious memories and it stands to reason that you would want to buy one of the best