HP Envy 6020 Printer Review
-
In this HP Envy 6020 printer review, we will be going under the hood of one of HP's sleekest smart printers around. The HP Envy smart printer series is renowned for being sleek and modern, all-in-one inkjets that give homes and businesses all the features and capabilities that we need the most, or at the very least we know are most utilised in these environments.
One of HP's latest editions to its Envy series of smart printers is the new HP Envy 6020. This sleek, all-in-one inkjet printer has been designed to prioritise a high yield, meaning that you'll be getting more out of your printer without having to sacrifice as much of your desk space.
Yes, in true HP fashion, this smart printer has been designed to be reliable, trustworthy, and affordable to boot, maintaining HP's strong reputation for being not only one of the world's best printer manufacturers but also as one of the oldest, having produced cutting-edge printers for consumers for over a century now.
But its streamlined design and high output are only among some of the more valuable selling points of the HP Envy 6020. Discover whether the HP Envy 6020 is the right printer for you with our experts HP Envy 6020 printer review.
Printer Design.
The first thing that tends to catch the eye when it comes to the Envy 6020 is just how sleek it really is. This does not look like other boxy inkjet all-in-one printers. It's a lot smaller, only being around 13 cm tall and 43 cm long and weighing approximately 5.22 kg, making it the perfect addition to any minimalist office or home office space.
The Envy 6020 also doesn't come equipped with an LCD display, but basic power and print button control for ease of use. You can access a larger array of print functions through the HP Smart app, which we will be exploring later on in this review.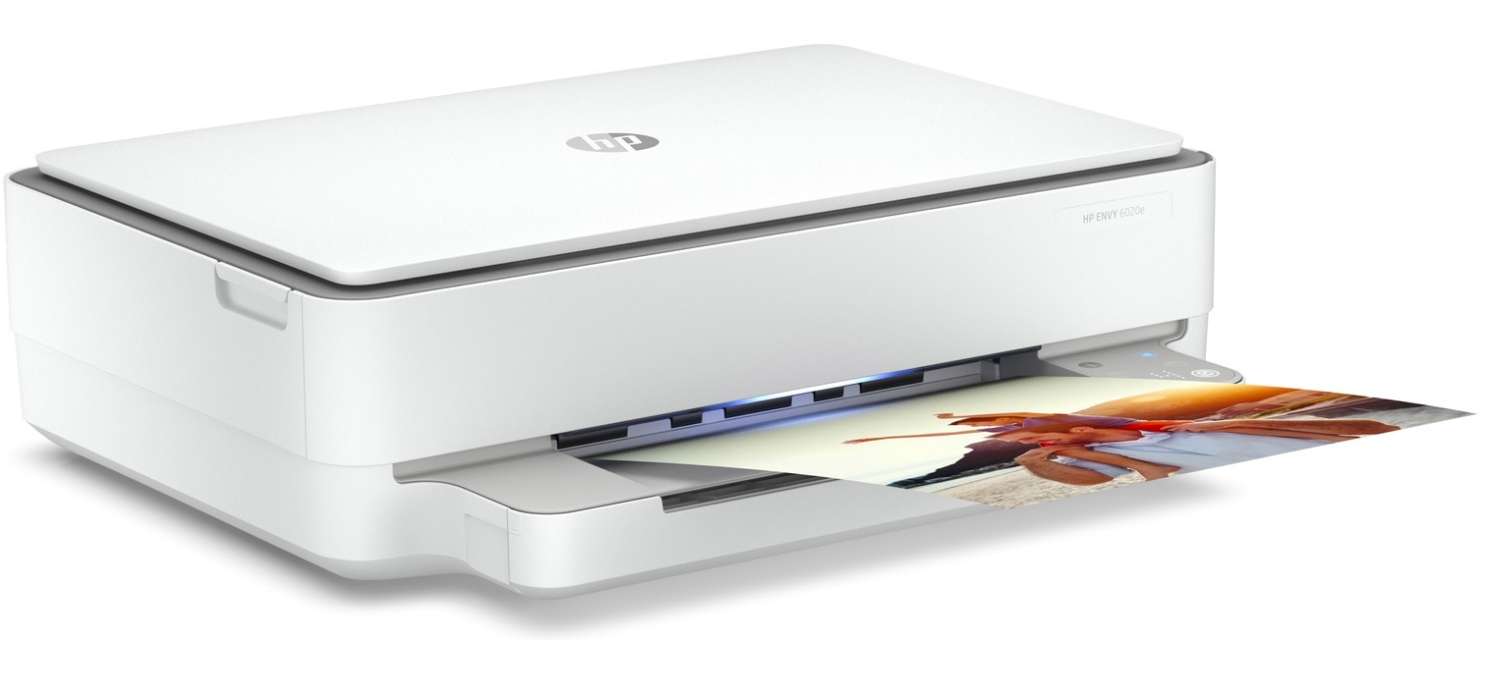 Print Speed & Quality.
The physical design of this printer isn't the only thing that's 'streamlined' about this particular model, however. As far as most inkjet printers go, the HP Envy 6020 seems to have particularly fast printing speeds too, with up to 7 pages per minute (ppm) when printing in colour, and 10 ppm when printing in black and white. On average, most inkjets can only achieve about 5 to 6 pages in colour, making this a significant boost in ppm.
As printing capabilities boast a resolution of around 1200 x 1200 dpi (black) and 4800 x 1200 optimised dpi (colour), this boost in ppm doesn't seem to come at the cost of quality. HP definitely deserves a commendation for this feat.
Scanning Capabilities.
As are HP's other Envy printers, the HP Envy 6020 is an all-in-one model, meaning that it comes equipped with a scanning flatbed measuring 215.9 x 277 mm, as well as a 100-sheet paper input tray, and a 25-page paper output tray for large-scale print and copy projects. Scanning capabilities boast a resolution of around 1200 x 1200 dpi (black), with copy resolution being recorded at around 300 x 300 dpi.
This model uses the lensless CIS scanning technology, which utilises fibre optic lenses to transfer documents to an array of sensors, with this information then being translated by the printer processor into a digital copy on your device screen. As the document is scanned as a whole and is not fed through a lens just to be restitched, CIS scanners tend to be faster and boast a higher optical resolution than CCD or lens-based scanners.
The one disadvantage of CIS scanning technology is that as it scans the document as a whole rather than in detailed segments, digital copies derived through CIS scanning may be sensitive to focus depth. This is only an issue if you're looking to scan documents or photographs that have a high level of minute detail and a wider array of intricate colouring.
Chances are that most users may not require the level of precision that CCD or CMOS lenses can grant them, so we don't believe the 6020's CIS scanner to be an issue whatsoever. In fact, as CIS scanning technology is more cost-effective and requires less fragile materials, the addition of a CIS scanner to HP's Envy 6020 ensures that the HP Envy 6020 won't just be affordable, but also longer-lasting and easier to maintain.
High Yield Ink Cartridges.
Speaking of easy maintenance, HP's original ink and high yield ink cartridges are quite different to traditional Inkjet cartridges, in the sense that there are methods you can use to ensure your ink doesn't dry up when left idle.
HP's printhead cleaning process has been designed to reactivate dried or clogged cartridges, as well as being a general troubleshooting process that can help rectify ink streaking or spotting. The printhead cleaning process can be accessed via the HP Smart app. HP also recommends that you turn printers off using the power button to ensure that printers don't retain heat, which can cause ink cartridges to dry up prematurely.
As for cartridge compatibility, the HP Envy 6020 uses HP 67 & 67XL cartridges, these being available in black and tri-colour. The 67 cartridges have a page yield of ~120 sheets (black) and ~100 sheets (tri-colour), whereas the 67XLs have around double this, with a page yield of ~240 sheets (black), and ~200 sheets (tri-colour).
As is the case with all of HP's original ink cartridges, the print quality is generally high, with crisp text and clear picture and photo printing.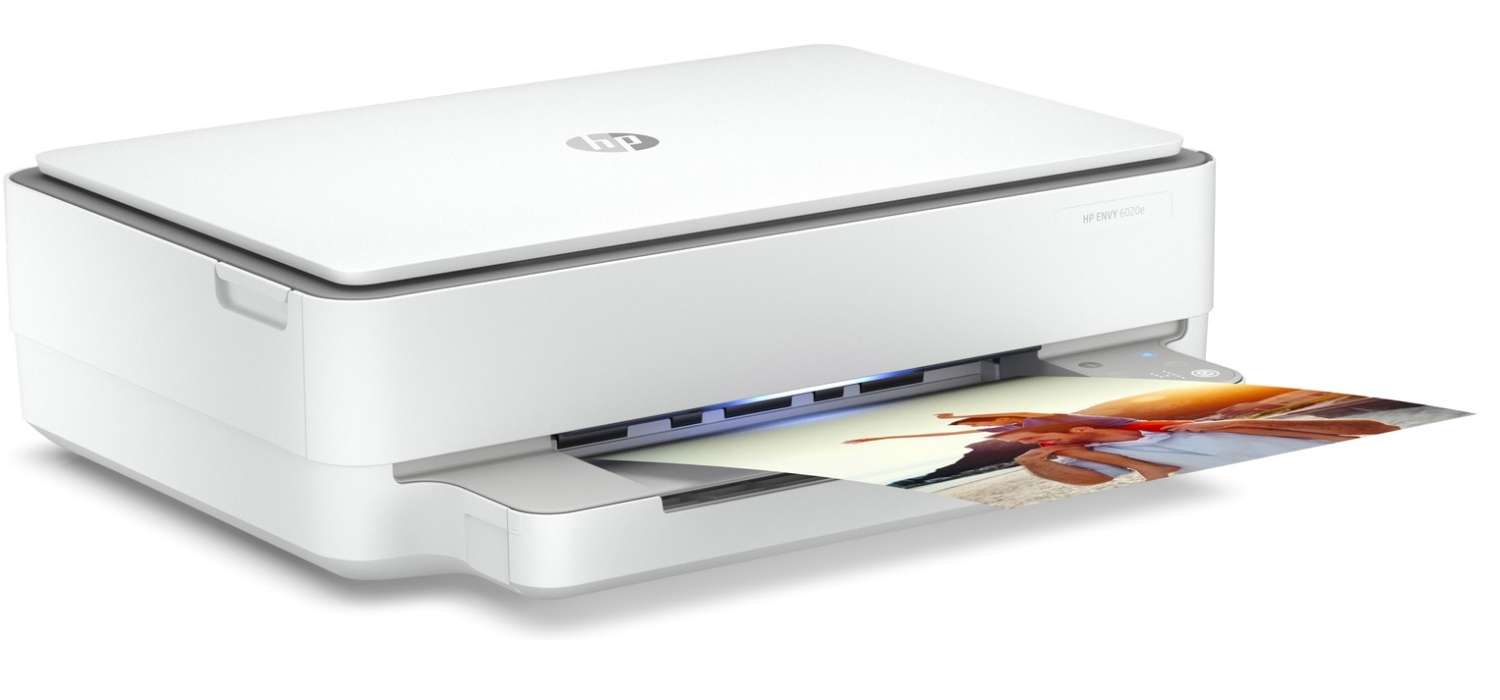 Mobile Printing.
The HP Envy series is well-known for being user-friendly smart printers, equipped with both Wi-Fi and Bluetooth functionality. The HP Envy 6020 is no different, being equipped with built-in Wi-Fi 802.11b/g/n and Bluetooth v.5.
Alongside this, HP users can utilise the innovative HP Smart app to perform basic printer functions from virtually anywhere, share documents through mobile faxing capabilities, as well as perform troubleshooting processes such as printhead cleaning and running Print Quality Diagnostic reports.
The HP Smart app is available on a plethora of devices including some eReaders, and can be installed on iOS, Mac, Windows, and Android devices. You may also be able to print directly from Google Drive, Dropbox, as well as social media platforms like Facebook and Instagram, depending on your mobile device.
The Envy 6020 is also compatible with Apple AirPrint™, so Mac and iOS users can reap the benefits of easy printing without necessarily having to install HP's own app. As the HP Smart app can also be used to identify ink cartridges through the HP Instant Ink dashboard, as well as scan documents as PDF or JPEG files via mobile for easy copying, this app is well worth a download for all HP printer users.
Mobile printing on the HP Envy 6020 has been smooth for printer users since the printer's release late last year. If you're looking for an easy Wi-Fi printer, the HP Envy 6020 may just be the perfect choice for you.
HP's recommended monthly page volume for this particular model is anywhere between 100 to 400 sheets, making this a fantastic printer model for any homes and small businesses with low to medium printer use needs.
The HP Envy 6020 prints on the following different types of paper:
Plain Paper

HP Photo Papers

HP Matte Brochure or Professional Paper

HP Matte Presentation Paper

HP Glossy Brochure or Professional Paper

Other Photo Inkjet Papers

Other Matte Inkjet Papers

Other Glossy Inkjet Papers

Plain Paper, Light/Recycled
As you can see, the HP Envy 6020 is compatible with third-party produced photo paper as well, so you'll never need to worry about running out of your HP supplies to ensure that you can still print photos at home.
Sustainability & Energy Consumption.
As unnecessary or frivolous printing can have a bit of a reputation for being a scourge on the environment, HP consistently strives to prioritise sustainability when it comes to their printer production. It's for this reason that the Envy 6020 and other printers in the series have been manufactured with materials taken from recycled printers and other electronics, with over 20% of all plastic used being from recycled sources. Even the cartridges in your HP printer are subject to these sustainability standards, as both the 67 and 67XL have been produced using recycled materials.
The HP Envy 6020 is unsurprising quite an energy-efficient as well, using only around 4 watts when printing, 1.7 watts when in sleep mode, and only 0.1 watts when powered down. Oddly enough, this makes the Envy 6020 more energy efficient than some Epson EcoTank models! Of course, the EcoTanks still have their ultra high yield ink cartridges going for them, which would definitely offset their slightly higher initial carbon footprint. Whilst the Envy 6020 may not be the most energy-efficient model on the market when you factor in the life cycle of the average ink cartridge, it's still one of the most energy-efficient inkjet printers available today.
Alongside this, the HP Envy 6020 boasts automatic double-sided printing to ensure that your paper use is consistently economical and eco-friendly. Of course, you can make your printer use even more green by purchasing with CartridgesDirect.
As a certified 4 Planet Ark partner, we've made a commitment to recycling cartridges sent in by our customers. When you purchase your HP Envy 6020 ink cartridges through CartridgesDirect, you'll receive a free, postage-paid satchel that you can use to send any used cartridges back to us to ensure that they find their way right back to our circular economy.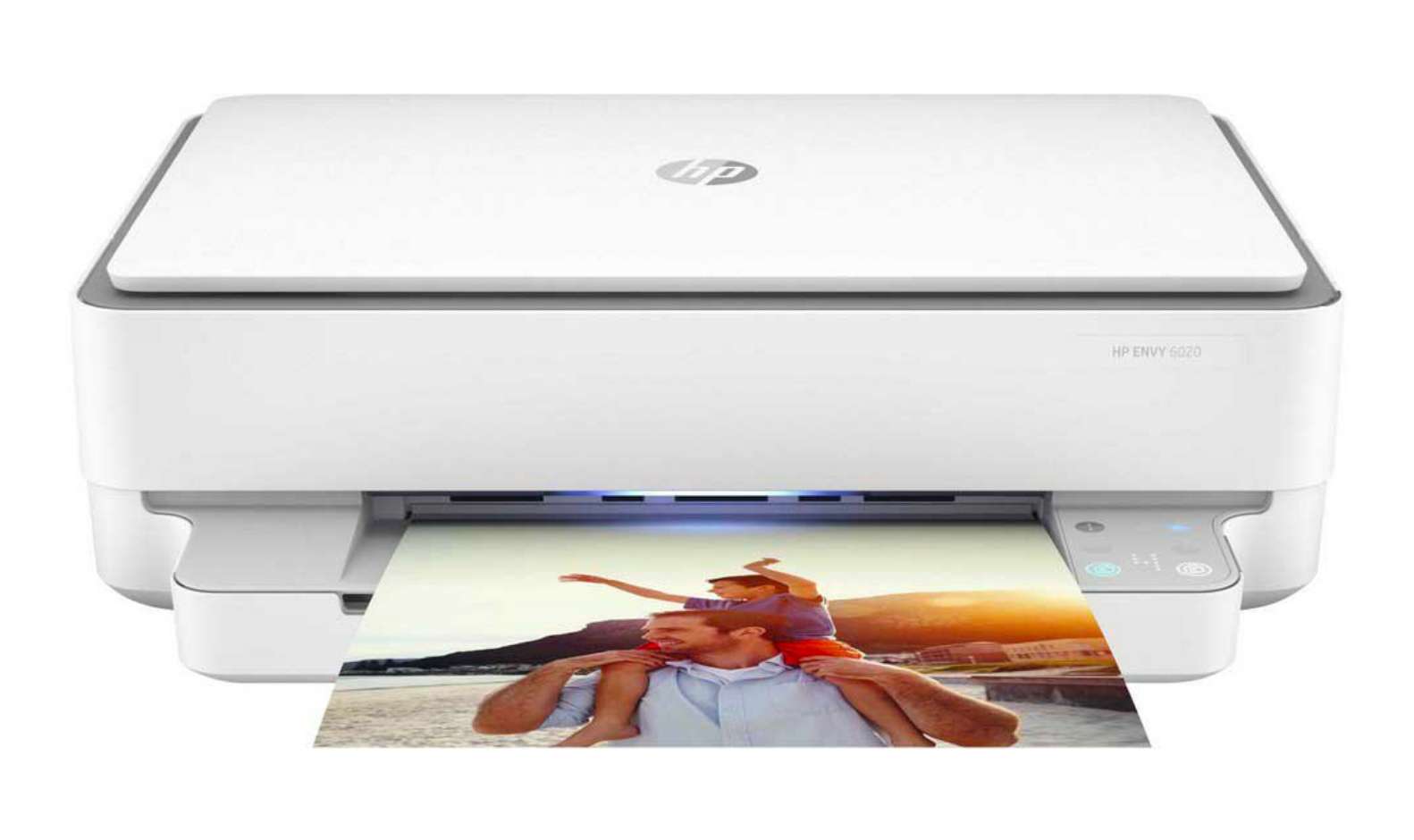 HP Envy 6020 Review Verdict
Compared to other Inkjets, the HP Envy 6020 does seem to exist in a league of its own. It looks quite unlike a lot of traditional inkjets but in accordance with the design principles that HP has been utilising over its past few generations now. The high ppm and a print resolution of this model will make this printer a definite asset to any home or business.
Whilst the printer itself is incredibly streamlined and lacks an LCD display, the versatile HP Smart app will allow for easy and remote printer use from a great range of devices. Its CIS scanner holds itself to a higher standard, but may not be suitable for users who are looking to scan documents that have intricate details and require colour sensitivity.
Both the lack of an LCD display and the addition of a CIS scanner point to one ultimate goal, however: to manufacture a printer using less complicated technology and will thus, stand the test of time. With regular diagnostics reports and consistent use, the HP Envy 6020 is likely to be a smart printer that you will be able to use with ease for years to come.
Content Disclaimer: At CartridgesDirect, we are committed to providing up to date and independent reviews such as this HP Envy 6020 Printer Review. All printer reviews are not commissioned by manufacturers and have been independently tested by our printing experts. If you have any questions about printers or office printing, please contact us via live chat or feel free to leave a comment below. We look forward to hearing from you.
Explore Popular Articles
The 21st century is the age of information and seeking alternatives to harsh chemicals. Although

There are a number of criteria to be met when choosing a new business printer. Productivity is a

Photos are precious memories and it stands to reason that you would want to buy one of the best