HP Colour LaserJet Pro MFP M479 Series Review
-
If running a small business is like gambling with the odds stacked against you, the HP LaserJet Pro MFP M479 printer is a sure thing. In this extensive HP LaserJet Pro MFP M479 printer series review, we explore how this HP multifunction printer range has you covered.
No matter what the business, one constant is paperwork. Action causes reaction and in business, every action causes paperwork! With all that paper production, circulation and storage, an important environmental consideration is how to reduce your requirements of storing hard copies. A key step to reducing environmental chaos is to digitise as much materials as possible whilst remaining flexible with a strong communications hub.
For a small business, the HP Colour LaserJet Pro MFP M479 has all the power and flexibility to not only increase your productivity but also the reduce the odds with the gamble of running a business.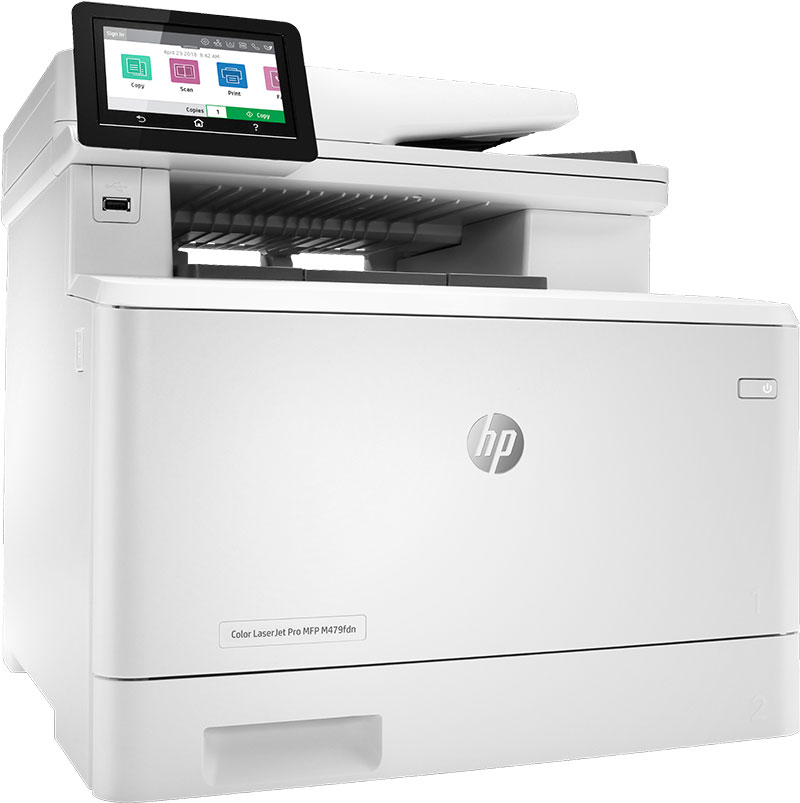 HP Colour LaserJet Pro MFP M479 Printer Series Review
Whilst small in size, the HP LaserJet Colour MFP M479 printer range is big enough in productivity to simplify printing, scanning, copying and faxing. These are the 4 key essentials to making your business productive. With an easy to use interace and simplified resolutions for complex business problems, the MFP M479 printer series is a sure thing.
Currently, there are four models in the HP Laserjet Pro MFP M479 series:
HP Colour LaserJet Pro MFP M479FDN - N/A
HP Colour LaserJet Pro MFP M479DW- $560.03
HP Colour LaserJet Pro MFP M479FNW - $625.91
HP Colour LaserJet Pro MFP M479FDW - $637.66
All four models come with varying options and capabilities to provide total flexibility for the variety of business needs. The task is for you to decide which one best suits both your current and future requirements as you grow. Let's take a look at the slight differences between the 4 models.
| | |
| --- | --- |
| M479 FDN | Double-Sided Print + Fax |
| M479 DW | Double-Sided Print + No Fax |
| M479 FNW | Fax + No Double-Sided Print |
| M479 FDW | Double Sided Print + Fax |
Now that we've established the differences between each model let's look at all their commonalities in this comprehensive HP Colour LaserJet Pro MFP M479 Series review. If you have any questions about this printer series, feel free to head on over to our live chat or send us a message and we'd be more than happy to help. Alternatively, why not add a comment to this blog once you're done reading up about the LaserJet Pro MFP M479 Series with any questions you have.
Print Productivity & Quality:
No-one likes being left hanging around waiting for the first print to appear, especially if you are rushing for an important meeting. The good news is that none of the HP LaserJet Pro MFPs will do that to you with respectably fast first page out speeds. All four models will deliver:
A4 First Page Out (Black) - 9.7 Seconds
A4 First Page Out (Colour) - 11.3 Seconds
Once out of the blocks all four HP LaserJet Pro MFP M479 models will also keep up a steady pace. For the most part, printing speeds are the same across the range at up to 27 A4 pages per minute when printing single-sided. In addition to this, for those models with automatic duplex printing, each A4 sheet of paper is printed on both sides at a speed of 24 pages per minute.
As for printing resolution, all 4 models print with the standard 600 x 699 dots per inch. These can also be enhanced all the way up to 3,400 x 600 dots per inch if you are looking to print out something a little classy. Who doesn't love quality looking prints after all!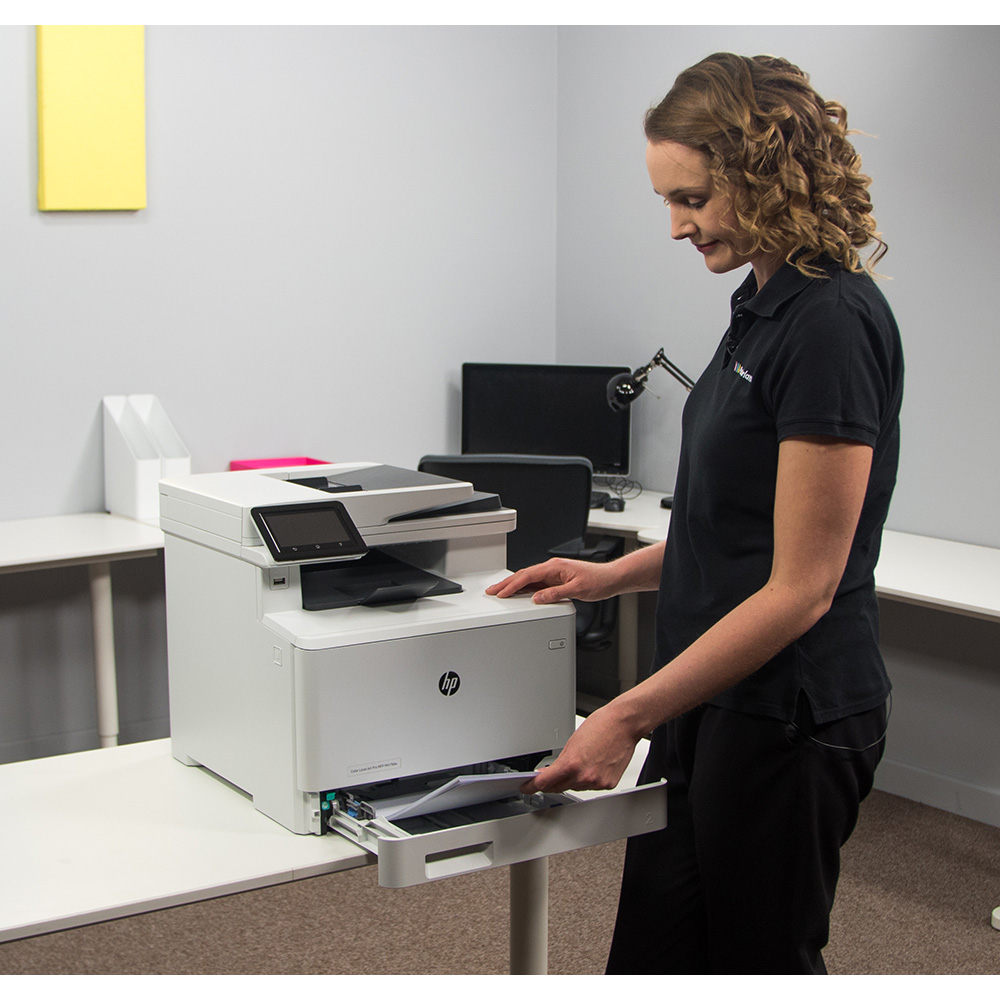 Scanning Functionality:
For the LaserJet Pro M479 MFP printer models that have scanning capabilities, there are two ways to access the scanning functions. The first option is to scan via a top-mounted Automatic Document Feeder (ADF) which holds a capacity of up to 50 sheets. The second option is to simply lift up the lid of the printer to reveal a flatbed scanner which, of course, will handle just one sheet of paper at a time. When using the ADF scanner, this will accept documents ranging in size from 102mm x 152 mm up to 216 mm x 356 mm. As for the flatbed scanner, this will scan documents of up to 216mm x 287mm in size with both options scanning at a resolution of 1200 x 1200 dpi.
There are slight differences between the HP M479 printer models when it comes to scanning capabilities. The ADF on the M479DW will only produce single-sided scanning. Whereas the other two models have an ADF that will scan both sides of an original in a single pass automatically. As for speeds, the M479DW will scan up to 29 pages per minute in black and white (being a single sided scanner of course). When scanning colour, the M479DW will scan 20 pages per minute. The other two models, with the ability to scan both sides of an original document within one swoop, will scan at the same speed in simplex mode but can achieve speeds of up to 46 pages per minute in black and white and 34 pages per minute in colour.
An MFP (multifunction printer) is often the hub of a network as it is connected to a multitude of different devices. Each of these devices have different tasks and functions. Scanners with the HP LaserJet Pro M479 series allow paper-based documents to be transferred into a variety of both digital and printed formats. To store paper-based documents digitally users can:
Scan to the cloud (Google Drive & Dropbox).
Scan to a network folder.
Scan to a USB drive.
Scan to Microsoft SharePoint®
Scan to a computer with software.
Inclusive of this, digital scans using Windows are available in the following formats:
Quick Sets PDF
PDF
JPG
RTF
TXT
BMP
PN
TIFF
For Mac users, digital scans are also available with JPG-2000 as an additional format. As the final cherry on the cake, digital sending is also available including scan to email functionality with LDAP email address lookup. For models that include faxing capabilities, it is also possible to Fax archive to network folder, to email, to a computer or enable and disable faxing altogether.
Copying Functionality:
Just like most HP multifunction printers, the copying functions are also accessed from either the ADF or the flatbed. Users of the HP LaserJet Pro MFP M479 printer series can expect:
27 copies per minute (A4) on single-sided
24 copes per minute (A4) on double-sided
The copier functions of the HP M479 printer series can also reduce and enlarge your originals from between 25% to 400%. This will also a cater for custom page sizes by setting up pages with binding margins and fitting two pages onto a single sided sheet of A4 paper. All these features are accessed from the control panel with a preview function available should be using the flatbed copier. As for resolution, the copier produces at 600 x 600 dpi with optimisable content presents such as text only, photo only and mixed content. This enables you total flexibility to copy exactly what you need at a speed that suits the fast-paced nature of your business.
Connectivity:
To serve as a true communications hub within a business your device needs to be well connected. The HP LaserJet Pro Colour MFP M479 printer series communicates with a wide range of devices for workgroups ranging in size from 3 to 10 users. As a result, you will find that there is a model within the printer series that suits most communication structures. Three of the four models have Wi-Fi connectivity and three of the four models have fax communication.
All four models have a built-in Gigabit Ethernet 10/100/1000 Base-TX network port; for hard wired network connection. The M479DW, M479FDW and M479FNW add Wi-Fi connectivity by a built-in dual-band Wi-Fi. This comes complete with:
Authentication via WEP
WPA/WPA2
WPA Enterprise
Encryption via AES or TKIP
WPS
Wi-Fi Direct
Bluetooth Low-Energy
By including a wide variety of connectivity options, this allows for members of the workgroup to access the multifunction printer from a wide range of devices such as laptops, tablets and smartphones, without being physically attached to the multifunction printer.
Inclusive of this, all models also have a Hi-Speed USB 2.0 port and an accessible Host USB 2.0 port at the rear of the printer. For complete connectivity on the move, the HP LaserJet Pro MFP M479 printer series also comes with a wide range of mobile printing facilities. These include:
Apple AirPrint™
Google Cloud Print™
HP ePrint
HP Smart App
Mobile Apps
Mopria™ Certified
Wi-Fi® Direct Printing
Roam capable for easy printing.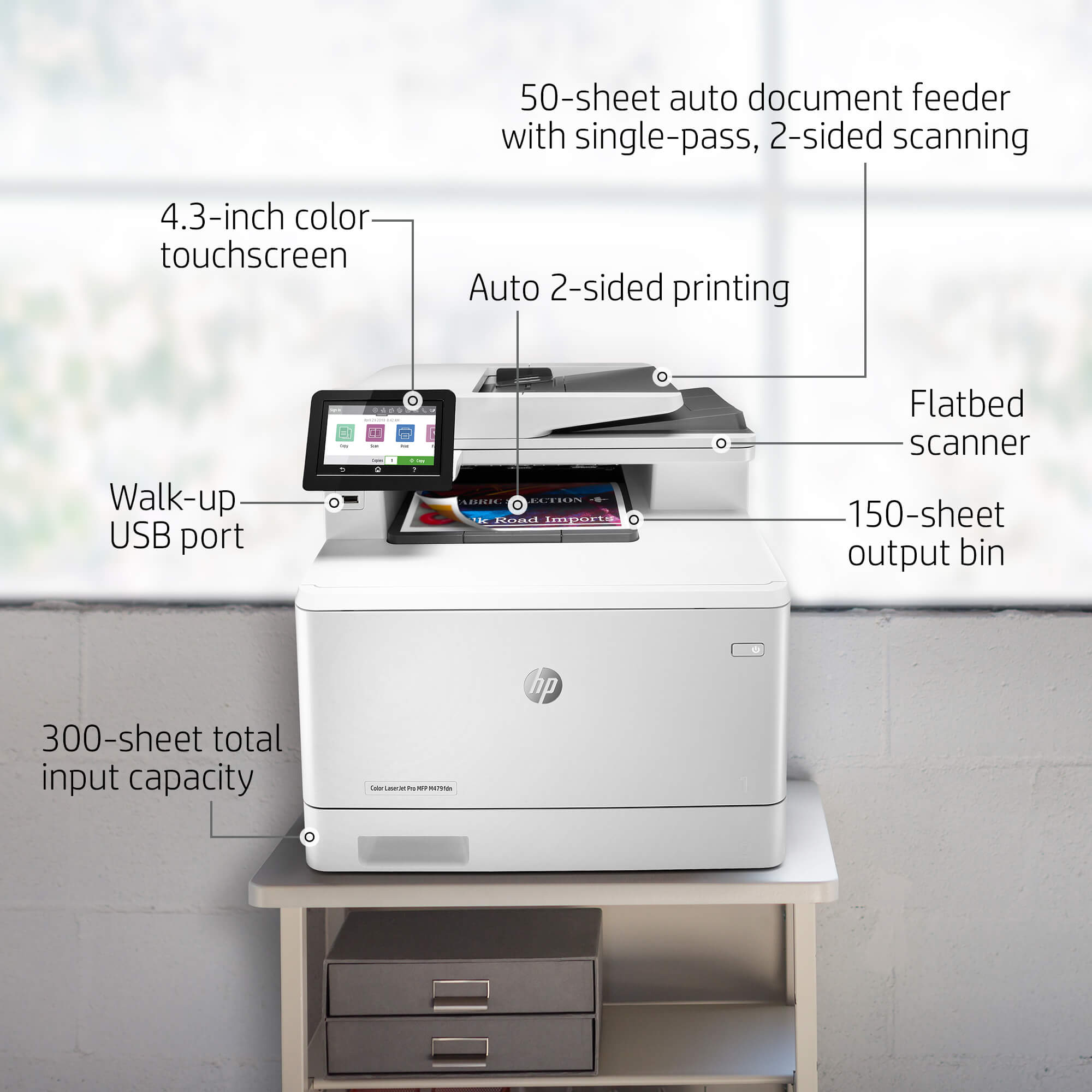 Control Panel & Faxing Capabilities:
The three models that have fax capability deliver transmission speeds of 33.6 kbps from a fax memory of up to 400 pages. The standard fax resolution for all 3 models is 203 x 96 dpi which is respectable amongst competitive printer models. For higher resolutions, you will have options for 203 x 196 dpi or superfine resolution which stands at 300 x 300 dpi for text and line drawings.
As for the control panel, this is situated at the font of the printer and comprises of a 10.9 cm colour touchscreen which is customisable to give easy access to all the functions. Frequently used tasks can also be preset with customisable buttons to give one touch and go operations. This feature allows all the time wasted in continually setting up the same task over and over again making that time more productive with other tasks.
Paper Handling:
There will always be a need for printing, no matter how much material is stored digitally or sent electronically. From reports and brochures to forms and a host of other documents that need a hard copy, you need a printer that can match your needs. The good news is that the HP LaserJet Pro Colour MFP M479 series can handle a wide variety of papers and sizes.
All models with the HP LaserJet Pro Colour MFP M479 series come with a smaller tray that holds up to 50 sheets. The sheet sizes also range from A4 right down to just 10 x 15 cms. For those of you printing more than just paper, the tray can be further adjusted to take postcards and envelopes.
For those of your looking for larger capabilities, the HP Colour LaserJet Pro MFP M479 printer series also comes with a second tray with a capacity of up to 250 sheets of paper. If this still is not enough, there is an optional third tray that can hold another 500 sheets. This delivers a total capacity of 850 sheets of paper which is more than enough for a small business.
Printer Security:
It is a sad fact that there are people out there who want to either steal or corrupt your precious data. As such, security is of the essence and this range of MFP's has the highest level of security available within the price bracket. As part of HP's mission to ensure they deliver the most secure printers in the world, each model of the MFP M479 printer series comes with:
Secure Boot
Secure Firmware Integrity
Runtime Code Integrity
Password protected EWS
Secure browsing via SSL/TLS 1.0, TLS 1.1, TLS 1.2
IPP over TLS
Network & Ports: Enable/Disable Features
Unused protocol and service disablement
SNMPv1, SNMPv2 and SNMPv3
Community password change
HP ePrint
HTTPS with certificate validation
HTTP Basic Access Authentication
SASL authentication
LDAP authentication and authorization
Firewall and ACL
Control panel lock
Certificates configuration
UPD PIN printing
Syslog
Signed firmware
Administrator settings
Access control
802.1x Authentication (EAP-TLS, and PEAP)
Encrypted Data Storage
Secure Data Erase
Automatic Firmware Updates
Secure Encrypted Print via optional job storage
Compatibility with optional HP JetAdvantage Security Manager
Phew, now that's a lot of security functions. This may read like a lot of jargon, except, to a few, but what it does mean is that anyone without the correct authentication will find it extremely difficult to access your network and consequently your data.
When combined with HP JetAdvantage Security Manager, you can be 100% sure that you have the most secure printing solution available for your business.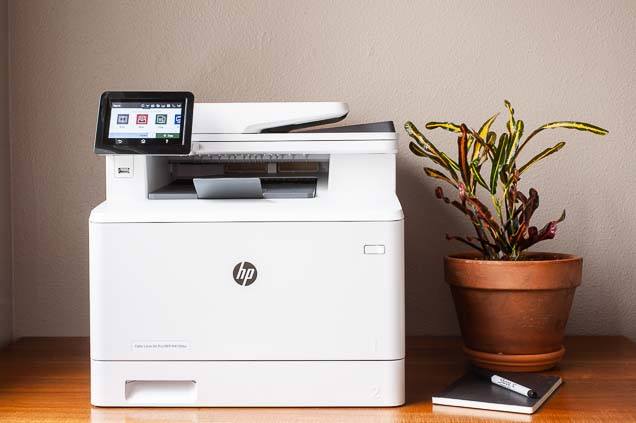 Power & Energy Consumption:
Whilst the HP LaserJet Pro M479 series saves time and money with its speed and versatility, it also saves on paper usage with duplex printing. Further to this, the multifunction nature of this printer series also reduces your need for storage space by digitising documents and reducing energy consumption.
All models of the M479 printer series have a built-in 220-240v power supply that delivers:
550 watts during active printing.
20 watts during ready state.
0.7 watts on standby.
HP Auto-On/Off Technology.
All models have a built-in 220 - 240V power supply. During active printing, the MFP uses 550 watts In the ready state the power consumption is 20 watts Energy savings are made by using HP Auto-on/Auto-off technology which uses 0.7 watts on standby and turns on instantly when required.
Page Yield & Compatible MFP M479 Ink Cartridges:
As for compatible ink cartridges, the HP LaserJet Pro MFP M479 comes with simplified options. All models in the series make use of four HP 416 toner cartridges which are also available in bundle packs. There are two types of cartridges available, the HP 415A and the HP 416X.
These come with the following page yields:
HP 416A Black - 2,400 pages.
HP 416A Cyan - 2,100 pages.
HP 416A Magenta - 2,100 pages.
HP 416A Yellow - 2,100 pages.
HP 416X Black - 7,500 pages.
HP 416X Colour - 6,000 pages.
Printer Size & Space Requirements:
Now we have seen how the HP LaserJet Pro MFP M479 series fits into a business, let's look at how these multifunction printers fit into the office. The best thing, in our opinion is that all MFP M479 printers are economical on space as well as their printing output. Considering the advanced functionality, you can expect this multifunction printer to be slightly bigger than your everyday laserjet printer models. The M479DW, M479FDN and M479FDW all share the same footprint, when closed, at 416mm wide x 472mm deep. The M479fnw has a slightly smaller minimum footprint at 416mm wide x 461mm deep and all four models have the same minimum height of 400mm.
The maximum size for the first three models with all doors open increases the footprint to 426mm wide x 652mm deep and the maximum height is 414mm. The M479FNW is again slightly smaller at 426mm wide and 641mm deep with a maximum height of 414mm. As for weights, the MFP M479 printers are relatively heavy:
M479DW - 23.3kg
M479FNW - 22.6kg
M479FDW - 23.4kg
M479FDN - 23.4kg
HP Colour LaserJet Pro MFP M479 Series Review Summary
For the price of the 3 available models, you will not get better levels of security. The HP LaserJet Colour Pro MFP M479 printer series is almost on par with enterprise printers with it's advanced functionality and despite it's size, will fit nicely into most small offices. For those of you with a smaller working environment, the bulkiness of the printer may be a sticking point, however, this is to be expected with a printer of this capability. Overall, the HP LaserJet Colour Pro MFP M479 printer series is the absolute perfect solution for growing businesses with challenging demands.
If you have any questions regarding this HP LaserJet Colour Pro MFP M479 printer review, hit us up in the comments and our team would be more than happy to assist.
Explore Popular Articles
The 21st century is the age of information and seeking alternatives to harsh chemicals. Although

There are a number of criteria to be met when choosing a new business printer. Productivity is a

Photos are precious memories and it stands to reason that you would want to buy one of the best