HP Colour LaserJet Enterprise M455DN Review
-
There are a number of criteria to be met when choosing a new business printer. Productivity is as important as the economy and future needs and requirements. The HP Colour LaserJet Enterprise M455dn is a dedicated colour laser printer that has excellent primary credentials and is expandable in paper handling and connectivity. Importantly it is highly secure from hackers and malware and is updateable from firmware to keep up with new threats and opportunities as they occur.
In this HP Colour LaserJet Enterprise M455dn printer review, our experts go under the hood of one of HP's latest multifunction printer releases. Assessing the print quality, page yields, scanning, copying and connectivity, find out all you need to know before making a purchase right here.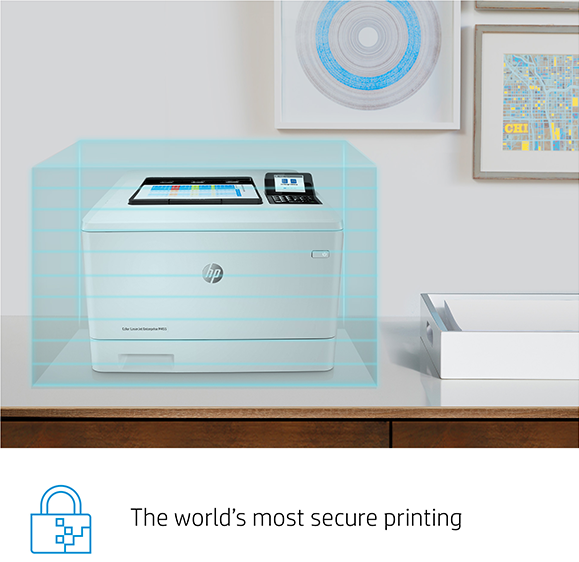 HP Colour LaserJet Enterprise M455dn Printer Review
Printing at lightning speeds with the first page out time as quick as 9.5 seconds in black, as fast as 11.1 seconds in colour and printing speed of 27 pages per minute (ppm) for A4 paper in both colour and black and white, the HP Colour LaserJet Enterprise M455dn gets on with the job quickly and efficiently. With a recommended monthly page volume of between 900 and 4,800 prints per month coupled with the ability to meet the printing needs of a workgroup from 3-10, the HP Colour LaserJet Enterprise M455dn is a serious colour laser printer.
To reduce paper usage the standard automatic double-sided printing feature not only reduces the amount of paper used but with a duplex print speed of up to 24 images per minute in both colour and black and white, the M455dn maintains the pace throughout the printing run. With a resolution level of 600 x 600 dots per inch in both colour and black and white, the output is of high quality for every print job you action. For any workforce that requires a modern printer that can handle large prints without a problem, the HP Colour LaserJet Enterprise M455dn is the ultimate choice.
M455dn Printer Cartridges
As with any workforce, the need for a printer that does not cost you a fortune with replacement toner cartridges is the ultimate goal. Using a series of HP 416 toner cartridges, the M455dn laser printer will require 4 toners to be completely operational. These toner cartridges include:
HP 416A Black Toner Cartridge
HP 416A Cyan Toner Cartridge
HP 416A Magenta Toner Cartridge
HP 416A Yellow Toner Cartridge
When printing with the HP 416A series, the 416A black toner cartridge will print up to 2,400 pages whilst the cyan, magenta and yellow toner cartridges have a page yield of 2,100. For even more economical printing the HP 416X toner cartridge range gives a page yield of up to 7,500 pages in black and 6,000 pages in each of the colours. To save further, we would recommend you purchase a single HP 416A toner cartridge value pack that contains 2x cartridges for both black, cyan, magenta and yellow. While the upfront cost of the value pack is almost double individual items, there are huge savings to be had when purchasing bulk quantities.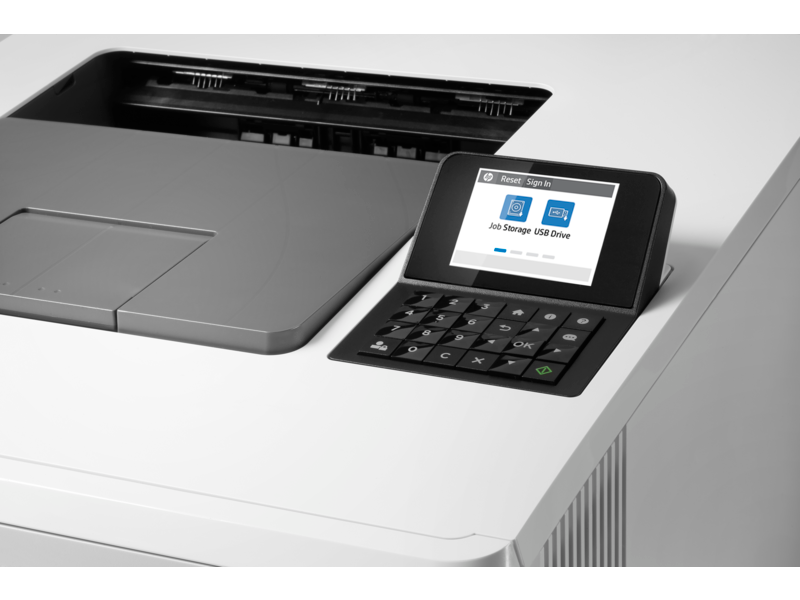 Media Handling
The HP Colour LaserJet Enterprise M455dn comes with two paper trays as standard. Firstly, there is a 50 sheet multipurpose tray and a 250 sheet input tray giving a total of 300 sheets. However, an additional tray with a capacity of up to 500 sheets is available as an additional option to give a total of 850 sheets. A wide range of media types and weights including bond, brochure, coloured, glossy, letterhead, photo, plain, preprinted, pre-punched, recycled, and rough papers, as well as postcards, labels and envelopes.
The multi-purpose tray, is fully adjustable to take sheets sizes ranging from 76 x 127 up to 216 x 356 mm. This includes:
A4
RA4
A5
B5 (JIS)
B6 (JIS)
A6
16K
The M455dn also takes envelope sizes B5, C5 ISO, C6, DL and ISO. The second standard paper tray with its 250 sheet capacity is adjustable between the sizes of 98 x 148 to 216 x 356 mm. This covers standard paper sizes A4; RA4; A5; B5 (JIS); B6 (JIS); 10 x 15 cm; A6 and 16K. There is an optional third paper tray available that can accept the same sheet sizes as the standard Tray 2 with a capacity of up to 550 sheets to give a total of 850 sheets to handle heavy workloads. The 150 sheet output tray is on the top of the HP Colour LaserJet Enterprise M455dn with the 6.9 cm non touch colour graphics display screen and 24 keypads for instruction input.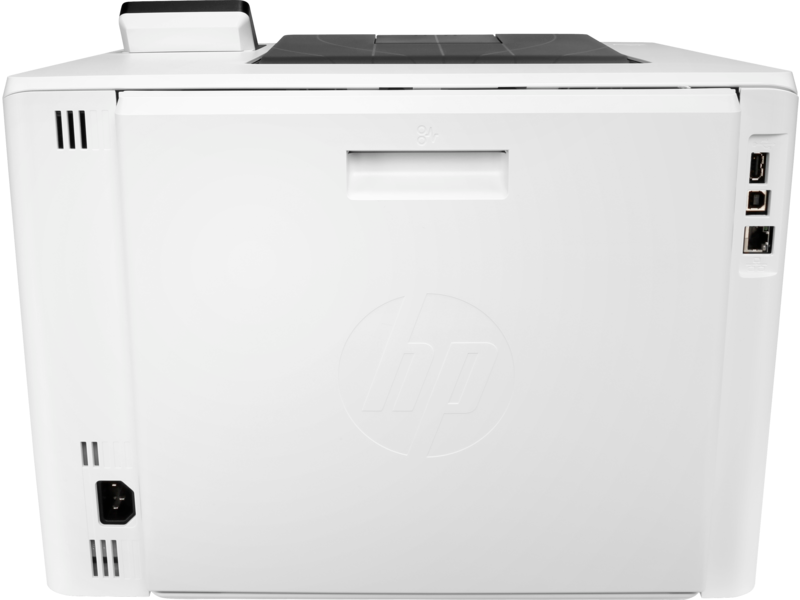 Connectivity
The HP Colour LaserJet Enterprise M455dn is primarily a workhorse printer for larger workgroups. As such it meets the needs of groups working on a network with the main connection is a 1 Gigabit Ethernet 10/100/1000T network connection But there are also occasional users from outside the network that will want to print seamlessly.
To meet their needs there are two Hi-Speed USB 2.0 Host ports to connect laptops and other portable devices with one conveniently mounted on the front but to avoid unauthorised use of the printer or access to the network, its use can only be authorised by the administrator and 1 Hi-Speed USB 2.0 Device port to connect a flash drive with the printer. Some workplaces use a WiFi network rather than a hard-wired network and so an optional HP Jetdirect 3100w BLE/NFC/Wireless Accessory 3JN69A to connect a wide range of devices wirelessly.
Security
For any business, data security is of paramount importance. A network-connected printer can be used as a point of entry to a network unless it is strongly secured. The HP Colour LaserJet Enterprise M455dn has the world's highest level of security. The operating code (BIOS) is automatically checked during startup and repairs itself when compromised. Security systems in place include identity management with up to 1000 user pin codes, data storage encryption, intrusion detection with constant device monitoring to detect attacks, and numerous other methodologies.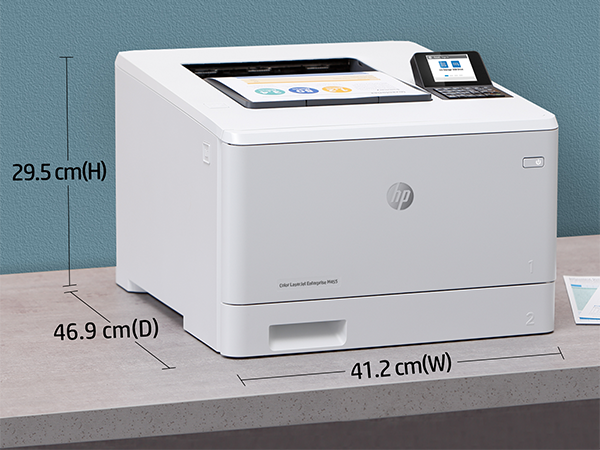 Energy Usage
The HP Colour LaserJet Enterprise M455dn printer has an inbuilt power supply of 220/240V and 50-60 Hz only. However, it is not suitable for 110V operation. When printing, all users of the HP Colour LaserJet Enterprise M455dn can expect the following energy consumption:
Printing Mode: 574 watts
Ready State Mode: 16.7 watts
Sleep Mode: 1.1 watts
Manual Off Mode: 0.08 watts
In addition to this, the M455dn colour laser printer is Energy Star certified with Blue Angel RAL-UZ 205; CECP; ENERGY STAR® certified and EPEAT® Silver EcoLabels. This makes the HP M455dn printer suitable for anybody who wants to save energy and be an energy-efficient business
Physical Size & Space Requirements
When you have a bustling office and an endless amount of printing to complete, the last thing you want is a printer that takes up a large amount of space. Although the HP Colour LaserJet Enterprise M455dn can meet the printing needs of a medium-sized workgroup, it requires only a limited amount of space. This makes the M455dn perfect for offices that do not have surplus space for hardware. See below the dimensions of the HP ColourJet Enterprise M455dn printer.
Printer Depth: 46.9 cm
Printer Width: 41.2 cm
Printer Height: 29.5 cm
Given that the M455dn enterprise printer does not require much headroom, you may be able to neatly slide onto a shelving unit amongst other storage items that are currently within your office. Overall, the M455dn is a compact printing unit that is powerful, energy-efficient and highly flexible to cater for varying printing needs.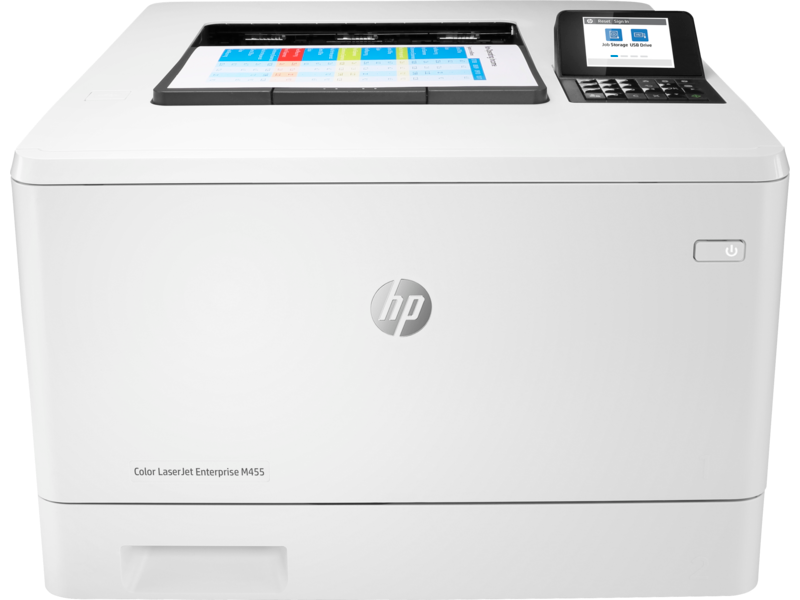 HP Colour LaserJet Enterprise M455DN Review Summary
For anybody who is looking for a colour laser printer to handle the various print tasks of a workgroup of up to 10 users, the HP Colour LaserJet Enterprise M455dn is really worth putting on the list. With two standard multi-adjustable paper trays (giving a total capacity of up to 300 sheets and an optional third tray to give a total of 850 sheets) the M455dn has the versatility to print both short-run and long-run jobs. All of this comes with a respectable printing speed of around 27 ppm.
Combine this with automatic duplexing and a selection of toner cartridges to give your printing operations extra high page yields, the HP Enterprise M455dn is as economical as it is flexible. The high level of security keeps your business network and valuable data from intrusion and prying eyes. This makes the HP Colour LaserJet Enterprise M455dn suitable for both small home offices and large corporate workforces. All round, the M455dn is a super printing unit with extreme flexibility.
Content Disclaimer: At CartridgesDirect, we are committed to providing up to date and independent reviews such as this HP Colour LaserJet Enterprise M455dn printer review. All printer reviews are not commissioned by manufacturers and have been independently tested by our printing experts. If you have any questions about printers or compatible ink cartridges, please contact us via live chat or feel free to leave a comment below. We look forward to hearing from you.
Explore Popular Articles
The 21st century is the age of information and seeking alternatives to harsh chemicals. Although

There are a number of criteria to be met when choosing a new business printer. Productivity is a

Photos are precious memories and it stands to reason that you would want to buy one of the best