How To Recycle Printer Cartridges? - It's Too Easy!
-
There are around 1.5 billion printer cartridges sold each year around the world. As such, the social responsibility of ensuring these do not end up in landfill is real. Unfortunately, 70% (1 billion) of these cartridges are not ethically recycled. With composting times of anywhere between 400 to 1000 years, printer cartridges are not exactly mother nature's best friend.
While this is definitely not good for the environment, nearly every aspect of your printer cartridges can be recycled into new products. Therefore, by not recycling, you are also wasting valuable non-renewable resources. So, if you were wondering why you should recycle empty cartridges, they are 2 of the reasons. For those of you who want to make a difference, take a look at these 5 fantastic options on how to recycle printer cartridges easily throughout Australia.
You'll be surprised at how easy printer cartridge recycling can be!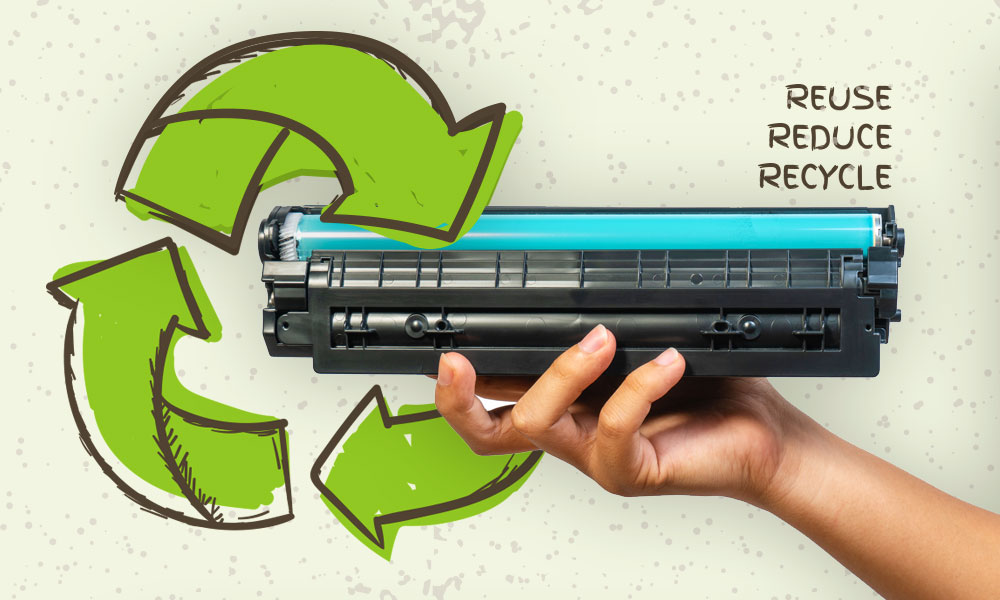 Recycling your empty printer cartridges is the best way to dispose of them once you're done. All original printer cartridges (genuine ink cartridges) can be ethically recycled through authorised collection programs. The reason why genuine ink is so much better when comparing genuine vs compatible ink is that only the original printer cartridge manufacturers pay for ethical recycling.
Not a single 'compatible' printer cartridge manufacturer ethically disposing of products and unfortunately, only 15% of printer cartridges go down the correct road. The same goes for toner cartridges which can also be recycled and are often forgotten about.
Anywho, enough rambling about a serious environmental issue. Let's put you in the 85% percentile and show you how to recycle ink cartridges in Australia for free!
1. Join our free cartridge recycling program.
As proud partners and supporters of Cartridges 4 Planet Ark and Close The Loop, recycling your cartridges is simple with CartridgesDirect. When you purchase genuine ink cartridges from our website, you will have the option upon checkout to receive a free recycling satchel. Once this recycling satchel has been received, simply collect 8 empty ink cartridges and drop off at your nearest postbox at a time of your convenience. It is totally free and all satchels are then posted directly to Close The Loop for responsible recycling.
By purchasing genuine ink cartridges from a provider such as ourselves, not only will you be guaranteed to have the best quality ink, you will also take comfort in knowing that we're investing back into the earth.
2. Cartridge recycling through Australia Post.
Just like CartridgesDirect, Australia Post is also an official partner of Cartridges 4 Planet Ark. If you already have existing printer cartridges and do not have a recycling satchel, you can simply visit your local post office for processing. Each post office will have a Cartridges 4 Planet Ark recycling box. Here, you can simply drop-off your empty cartridges absolutely free of charge.
With free postal services and collection bins, the question is not 'how to recycle printer cartridges'. It is in actual fact 'when will you recycle printer cartridges'. There are zero roadblocks.
3. Start your own collection program.
If you want to make a bigger difference, you too can become a Cartridges 4 Planet Ark partner. If your workplace, business, university or school uses more than three inkjet, toner cartridges or toner bottles within a month, you may be eligible for your own free 'Cartridges 4 Planet Ark' collection box.
4. Partner with Close The Loop.
Close the Loop has earned the reputation for being the best-in-class sustainable option for businesses looking to reduce their impact, without having to do the work themselves. Close the Loop works on a simple three-step model - take back, recover and reuse. Taking back printer cartridges is the most important step as it's the only one that's intentional and it informs the following steps.
You, the consumer, are responsible for only this step and once you have registered your interest, taking back can be easily automated. After the printer cartridges are collected (either through a regular partnership arrangement or a pick-up request) Close the Loop can recover the valuable materials and parts from the printer cartridges, and use these precious metals and minerals for other purposes.
5. Refill your ink cartridges.
Last, but not least, you could always refill your ink cartridges. While a method for recycling empty ink cartridges, by not purchasing new cartridges, you are greatly assisting the earth by reducing Co2 emissions that are caused by manufacturing. If you have an original brand ink cartridge that you have used just once, there is a very good chance you can refill and reuse that cartridge with the correct ink refill kit.
Most refill kits include a bottle of ink, a syringe, screw tool, plastic gloves and refilling instructions. To refill, you will need to manually inject the appropriate level of ink into the cartridge. Once the cartridge is at capacity, you should be able to reuse the cartridge again and print as expected. Be sure the refill kit you've purchased is intended for your specific cartridge series, refill instructions and ink capacities vary across brand and cartridge type.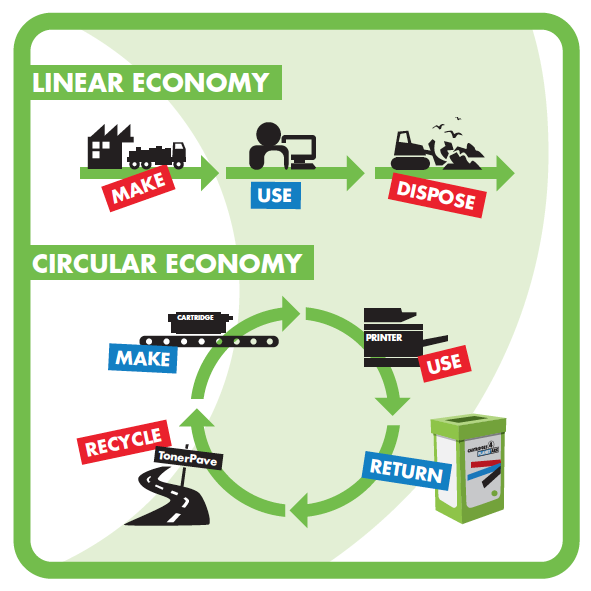 How To Recycle Ink Cartridges Summary
It's becoming harder and harder to ignore the responsibility that both companies and individuals have when it comes to the environment. Not to mention the impact we have upon it. Whilst companies often get the most pressure, the responsibilities should be everyone's.
Every tonne of empty printer cartridges recycled for re-application can save up to 10 tonnes of greenhouse gas emissions. It's true that printer cartridges are made from numerous non-renewable resources, but every component can be recovered and used for something else. Now that you know how to recycle printer cartridges, we hope to see you receive one of our free recycling satchels soon.
Should you have any questions regarding how to recycle printer cartridges or our free program, please feel free to hit us up in the comments. It's our goal to make sure 100% of all supplied printer cartridges go through the recycling process. So, next time you find yourself with empty cartridges, be sure to avoid throwing them in the bin!
Explore Popular Articles
The 21st century is the age of information and seeking alternatives to harsh chemicals. Although

There are a number of criteria to be met when choosing a new business printer. Productivity is a

Photos are precious memories and it stands to reason that you would want to buy one of the best