Epson Workforce Pro WF-M5299 Printer Review
-
When comparing inkjet printers versus laser printers, inkjet printers are typically much cheaper to purchase. However, the ongoing operational costs have always been substantially higher. They are slower to print than laser printers and the amount of ink within a cartridge runs out preventing continuous printing. In fact, when historically comparing ink tanks vs ink cartridges, there no world where ink cartridges could even compete for cost-efficiency.
As a result of this, inkjet printers are traditionally seen as home and micro-business printers which, broadly speaking, are not suitable for serious printing in small and medium businesses. Although ink cartridge capacities have increased over time, alongside printing speeds to the extent of matching a laser printer, inkjet printers have historically had to rely upon other features to make their way onto the shelves of bustling offices. That said, there has never been a mono, dedicated inkjet printer that can print as fast as a laser printer at a lower cost per page and with a higher page yield to be competitive. That was, until now.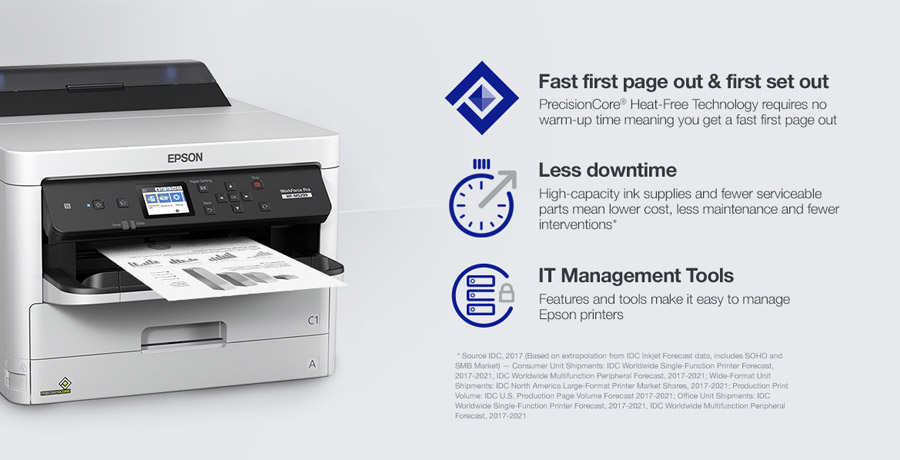 Epson Workforce Pro WF-M5299 Review
Introducing the Epson Workforce Pro WF-M5299. Matching the speeds of a low-end laser printer, the WF-M5299 also comes with a much lower cost per print with a higher page yield before replenishing. To top that, users can also enjoy reduced energy bills as the WF-M5299 uses far less energy than a laser printer; resulting in lower ongoing costs.
But how does the Epson Workforce Pro WF-M5299 meet the demands of businesses? Find out as our experts take the WF-M5299 for a test drive in our comprehensive Epson Workforce Pro WF-M5299 printer review. Scroll down to explore printing speeds, ink cartridge replacement, connectivity, media handling, and much more.
Printing Speed
When it comes to printing speeds, the Epson Workforce Pro WF-M5299 is a total game-changer. For a long time, inkjet printers have avoided competing directly with laser printers in the high-volume monochrome printing market segment. However, the WF-M5299 is putting entry-level laser printers to the sword with high-quality text and illustrations, acceptable print speeds, very low cost per printouts, and continuous printing with very low energy usage.
Not only does the overall performance of the WF-M5299 give laser printers a run for their money, but the printing unit is also very quick off the mark too. With a first page out time of 5 seconds from sleep mode, you could be easily fooled into thinking that the Epson WF-M5299 was a laser printer. After that, the Epson Workforce Pro WF-M5299 prints at up to 24 pages per minute (ppm) single-sided and 15 ppm on both sides. Furthermore, the standard automatic double-sided printing can offer significant savings in paper usage and the 800 nozzle printhead gives a very high print definition of 4800 x 1200 dots per inch.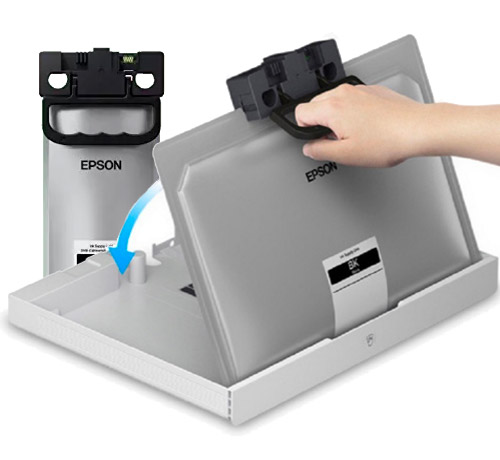 Ink Replacement & Innovation
A major innovation of the Epson Workforce Pro WF-M5299 is the ink delivery system. Over the years the page yield of cartridges has increased with high yield and extra high yield. Then, the refillable ink tank printers gave even greater page yields. Each step brought ink cost per page and page yields closer to those of a laser printer. Now, Epson has taken this not just to the next level but several levels higher by placing inkjet printers ahead of laser printers in both operating costs and productivity.
Through the introduction of a recyclable, high capacity, and replaceable ink pack which fits into a slide-out compartment below the paper tray, users can enjoy seamless ink replacement alongside much larger page yields from the Epson Workforce Pro WF-M5299.
There are two sizes of ink bags including:
Epson 907 (Page yield - 10,000 pages)
Epson 907 Hardcore (Page yield - 40,000 pages)
This printer is capable of serious printing with minimal downtime due to easy ink replenishment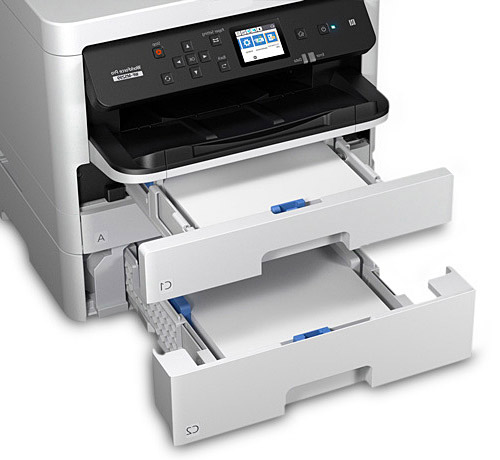 Media Handling
The primary input paper tray on the Epson Workforce Pro WF-M5299 can be found mounted at the front just above the ink station. With a capacity of 250 sheets this input tray is adjustable to handle:
A4 Paper.
A5 Paper.
B5 Paper.
A6 Paper.
Legal Paper.
13 x 18cm Paper.
10 x 15cm Paper.
9 x 13cm Paper.
13 x 20cm Paper.
20 x 25cm Paper Sizes.
Envelope Sizes (C6, No 10, and DL).
Additionally, the Epson Workforce Pro WF-M5299 can handle compatible sheets with weights between 64 gsm and 256 gsm. For any business looking for larger print runs, there is a second paper tray that pulls upwards at the rear with a capacity of up to 80 sheets. But wait, there's more. An optional third paper tray that fits below the main tray and the ink pack is also available. With a capacity of up to 500 sheets using the same paper sizes as the other two trays, business owners can enjoy up to 800 sheet capacity of printing paper.
In addition to plain paper, the Epson Workforce Pro WF-M5299 will also print with:
Epson Bright White Paper.
Presentation Paper Matte.
Epson Premium Presentation Paper Matte.
Epson Premium Presentation Paper Matte Double-Sided.
Being an inkjet printer, and with a resolution of up to 4800 x 1200 DPI, the WF-M5299 will also produce brilliant photo reproduction. Specifically, the Epson Workforce Pro WF-M5299 works seamlessly with:
Photo Glossy.
Epson Premium Photo Paper Glossy.
Epson Ultra Premium Photo Paper Glossy.
Epson Premium Photo Paper Semi-Gloss Papers.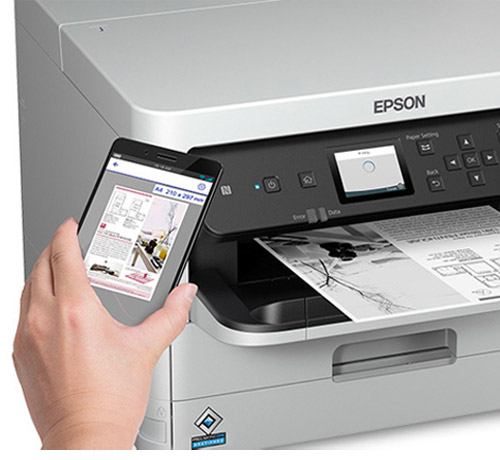 Connectivity
Ideal for small workgroups, the Epson Workforce Pro WF-M5299 printer features a range of connectivity to give access to users from diverse devices. For those operating as part of a hard-wired network, there is an Ethernet Interface (1000 Base-T/ 100-Base TX/ 10-Base-T Port). Then, for anybody who is not sharing the same ethernet network, there is also Wireless LAN IEEE 802.11 b/g/n to meet their needs. In addition, there is WiFi Direct for occasional users as well as NFC touch on connectivity. This allows mobile printing from most portable devices using:
Epson Connect™ Solutions.
Epson Email Print.
Epson iPrint™ Mobile App.
Epson Remote Print.
Users can also print from other systems such as:
Apple® AirPrint®
Google Cloud Print™
Amazon Fire™ OS.
For anybody who is not using an internet connection to print, there are also options to print your documents from 2x USB 1.1 Type-A ports and an additional USB 2.0 HiSpeed port. This is ideal for quick printing when right next to the printing unit.
Energy Consumption
The Epson Workforce Pro WF-M5299 prints efficiently with high page yields and minimal energy consumption. This is due to high-capacity ink sachets and automatic double-sided printing to reduce paper usage and operational time.
However, the Epson PrecisionCore technology is where the real smartness comes into action. During printing, laser printers use the most energy to fuse the toner to the paper at a high temperature. Most inkjet printers use bubble jet technology where the ink is superheated to create a bubble to form the droplet when forced through the printhead, The Epson PrecisionCore technology works entirely differently. Unlike thermal inkjets and laser printers, Epson's heat-free PrecisionCore technology does not require heat in the ink ejection process. Instead, pressure is applied to the Piezo element, which flexes backward and forwards to fire the ink from the printhead.
This results in energy consumption figures that are as much as 87% less than a comparable laser printer. Users can expect the following consumptions:
23W during active printing.
7W when on standby.
1.1W during sleep mode.
This technology also eliminates the need for a warm-up period from sleep meaning that the first page out time is minimal resulting in a first page out time of just 4.3 seconds.
Physical Size & Space Requirements
For a printer that is big on performance and cost savings, the Epson Workforce Pro WF-M5299 is actually surprisingly compact. Users of the WF-M5299 will quickly notice that the printer does not require too much bench space. With a footprint that is just 425mm wide, 535mm deep, and 357mm tall, the Workforce Pro WF-M5299 will be very comfortable throughout most small offices. In addition to this, the printer makes use of ink packs that are relatively flat to store large quantities of ink.
Epson Workforce Pro WF-M5299 Printer Review Summary
Overall, the Epson Workforce Pro WF-M5299 is a breakthrough in productive and cost-effective printing. As a complete workhorse, the WF-M5299 can print tens of thousands of sheets without any need to resupply the ink. As businesses strive for greater efficiencies, having a printer that can keep going without any downtime is critical to productivity. The Epson Workforce Pro WF-M5299 achieves this without breaking a sweat.
Besides cost-efficiency, what we like about the Workforce Pro WF-M5299 the most is that everything has been made with good proportion. For example, the standard paper trays can contain a reasonable number of sheets of paper but there is the addition of an optional paper tray allows for much longer print runs. Then, there is also a diverse range of connectivity that gives access to a number of users from a number of devices. The printer is simply well-matched for businesses.
Content Disclaimer: At CartridgesDirect, we are committed to providing up-to-date and independent reviews such as this Epson Workforce Pro WF-M5299 printer review. All printer reviews are not commissioned by manufacturers and have been independently tested by our printing experts. If you have any questions about printers or compatible ink cartridges, please contact us via live chat or feel free to leave a comment below. We look forward to hearing from you
Explore Popular Articles
The 21st century is the age of information and seeking alternatives to harsh chemicals. Although

There are a number of criteria to be met when choosing a new business printer. Productivity is a

Photos are precious memories and it stands to reason that you would want to buy one of the best