Epson EcoTank ET-4750 Printer Review
-
Epson's EcoTank printer range is growing very popular amongst professionals across Australia - and for good reason. Offering powerful multifunction printing capabilities alongside advanced continuous ink printing technology, it stands to reason that printer ranges like the EcoTank series are the way forward.
In this Epson ET-4750 printer review, we explore one of Epson's mid-range ink tank printers which form part of the incredible EcoTank series. Suitable for both home, student or small office printing, this compact multifunction continuous ink printer delivers far more than you might expect from such a small unit. Now, without further ado, scroll down as we explore everything from the design of the printer to core functionality that makes the ET-4750 worth every cent.
Don't forget, when you are finished reading our Epson EcoTank ET-4750 printer review to leave a comment with any questions you have. Our printing experts would love to hear from you and answer any questions about EcoTank printers or printing technology.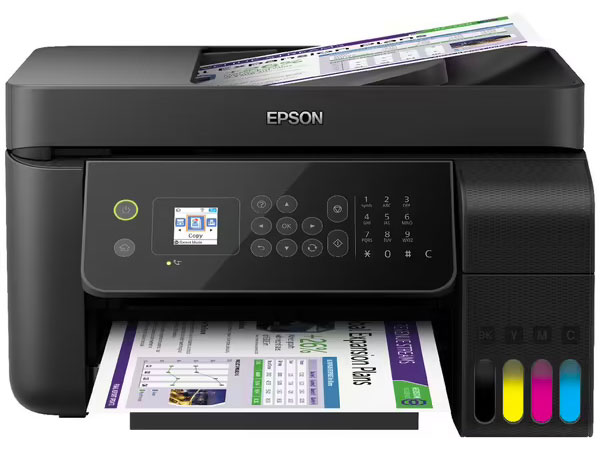 Printer Design
As with all Epson printers, design is never a compromise. Featuring a sturdy structure, all-black casing and stylish touchscreen buttons, the Epson ET-4750 is both compact and professional; blending comfortably within the majority of office or home office setups. What we love most about the design of the entire EcoTank series is the way that Epson has managed to balance plenty of printing functionality into compact structures.
In the past, manufacturers have preferenced function over form which has resulted in many multifunction printing units becoming large and bulky. On the other hand, the Epson ET-4750 does not compromise on functionality yet delivers everything you need within a professional shell. Sure, there are 'cooler' looking printers on the market. However, what you ultimately want is advanced technology inside the printing unit, rather than on the exterior. This is where Epson really excels.
Print Speed & Quality
Unless you are a bustling office printing hundreds of documents each hour, printing speeds may become a consideration for you. However, for most users, the actual printing speed is not always a big consideration but rather the quality of the printout. The good news is that the ET-4750 delivers a superb blend of both.
Using ISO standard testing, the Epson ET 4750 has the following print speeds:
11 pages per minute (black and white)
5.5 pages per minute (colour printing)
For photo printing, these speeds a much slower, however, the overall quality is highly respectable. For all photo prints we have tested during this ET-4750 review, the colours are clear, and there's only a small presence of colour in the grayscale. These results are based on the actual physical photo, not the scanned image provided for reference above, which may not be representative of the printer's photo print quality. If you want a printer that prints higher quality photos, you should also check out the Epson Expression Photo XP-970.
As an inkjet printer, although laser printers will deliver faster volume printing, the focus here is really on the quality. Printing at 4800 x 1200 dpi with variable sized droplet technology, the quality of each printout is far superior to most printers which prioritise draft mode black and white printing. In addition to high-quality printouts, users will save hundreds of dollars on replacement ink cartridges too. With up to 2 years worth of ink straight out of the box, compromising a little of printing speed for huge cost savings is well worth the trade.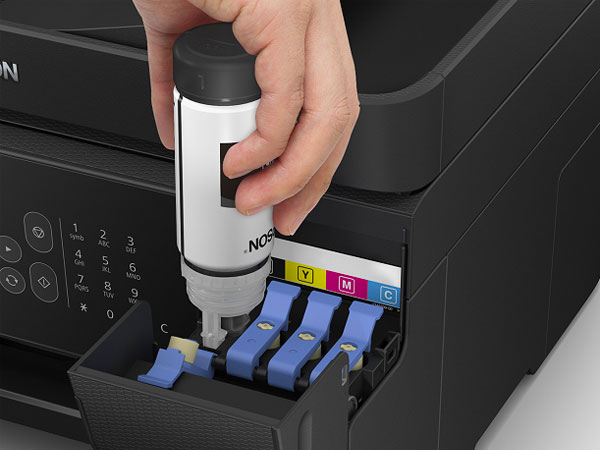 Refillable Ink
When the time arrives to eventually replace your ink, the Epson ET-4750 makes things very simple. Using high-volume ink bottles that have a drip-free nozzle and resealable cap for easy storage and refilling, replacement bottles hold enough ink for a massive 4,500 pages in black and 7,500 in colour.
Replacement ink bottles for the Epson ET-4750 printer include:
With an integrated high-capacity ink tank system the Epson EcoTank ET-4750 delivers an unbeatable combination of convenience and value. In 3 easy steps, all you have to do is fill or refill the tanks, set up your printer and then print until your heart's content, week after week, month after month.
Scanning, Copying & Faxing
The Epson ET-4750 also includes an impressive scanner. There's a flatbed scanner with an Automatic Document Feeder (ADF) for processing paper documents quickly and also fax functions which can be useful in an office setting. When using the scanner, users scan A4 documents via the automatic document feeder. The resolution of the scans are 1200 x 2400 dpi and can be scanned to all your usual devices.
As for copying and faxing documents, the ET-4750 has you covered too. The only drawback with the ET-4750 is that the printer does not provide duplex scanning. This means that for double-sided documents, you must scan both sides separately. If you would like an automatic double-sided scanner with your printer, you should check out the Epson Expression Premium ET-7750 EcoTank.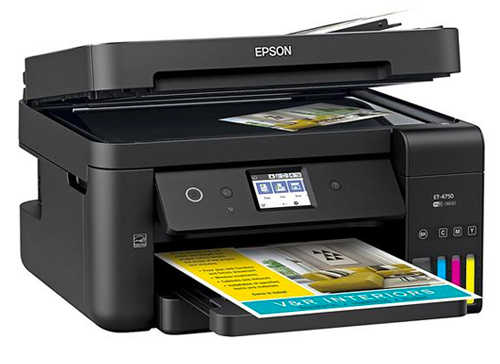 Connectivity
With any printer, diverse connectivity is important to ensure that the printing unit slides nicely into your current setup. Connecting to almost all types of devices, the ET-4750 offers compatibility with Apple AirPrint and Mopria, allowing you to connect the printer to your smartphone or tablet. In addition to this, you can also use an app from a cloud services provider such as Google Cloud Print or Epson Connect which allows you to use features such as printing photos directly from your smartphone.
As for standard internet connectivity, unlike the Epson ET-2720, the ET-4750 comes with an ethernet connection which makes it more suitable for office printing. Alternatively to Ethernet connectivity, users also have the option of a stable Wi-Fi connection or a USB 2.0 Hi-Speed port that you can use to bring transferred files from your computer over to the printer.
Physical Size & Energy Consumption
The Epson EcoTank ET-4750 is actually surprisingly compact for a multifunctional printer with an array of cool features. Achieving this through a rear paper feed that can slot up to 100 A4 pages, the maximum dimensions of the printer are as follows:
375mm (Width)
347mm (Depth)
231mm (Height)
As for energy consumption, the ET-4750 stays true to its 'EcoTank' nature. While many compact multifunction printers use a lot of energy, the Epson ET-4750 is also surprisingly efficient. Using a maximum of 12 watts when printing and less than 1 watts when idle, the ET-4750 is just as cheap to operate as it is cheap to refill with ink. This is a huge win for the ET-4750.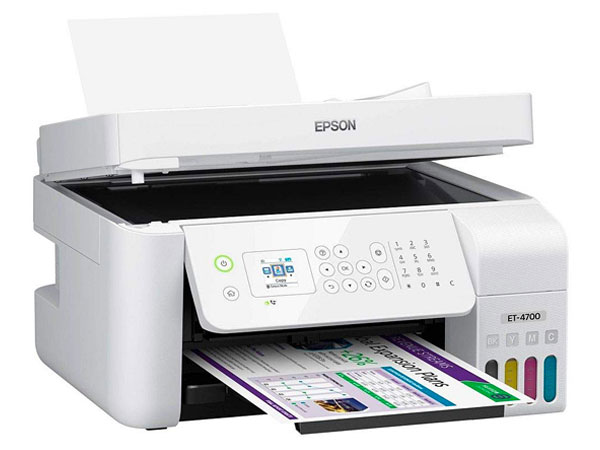 Epson ET 4750 Printer Review Verdict
In summary, the Epson EcoTank ET-4750 is a well-manufactured, high-quality ink tank printer that will suit the majority of both home and business needs. Suitable for a variety of uses, this compact ink tank printer can serve as a student printer, family unit or a small office saviour. Thanks to its impressive EcoTank system, the ET-4750 comes with all the quality performance you would expect from a modern-day printer, but with an exceptionally low cost per print. Just be sure to use the printer often to get the most value.
When you combine mobile printing technology, advanced printing functions and near-silent printing, we would go as far as saying that the Epson ET-4750 is one of the best ink tank printers to come out of Epson in the past few years. Almost all of the models under the Epson EcoTank series are fairly similar. However, the ET-4750 would be classified as your mid-range printing unit when compared to the others. Given the cost, the 2 years worth of ink straight out of the box and the quality feature set, the Epson EcoTank ET-4750 is seriously worth considering.
Content Disclaimer: At CartridgesDirect, we are committed to providing up-to-date and independent reviews such as this Epson ET-4750 printer review. All printer reviews are not commissioned by manufacturers and have been independently tested by our printing experts. If you any questions about the ET-4750 continuous ink printer or this Epson ET-4750 printer review, please contact us via live chat to speak with one of our printing experts. We would be more than happy to assist.
Explore Popular Articles
The 21st century is the age of information and seeking alternatives to harsh chemicals. Although

There are a number of criteria to be met when choosing a new business printer. Productivity is a

Photos are precious memories and it stands to reason that you would want to buy one of the best