Epson EcoTank ET-8500 Printer Review
-
Digital cameras wiped out traditional film cameras a long time ago with instant images. The cry of "someday my printouts will come" is no longer a fairytale and the results of our creativity can be viewed within the camera or device instantly. Blending incredible smartphones with seamless printing applications, it comes as no surprise that we now spend more time snapping photos than we do making phone calls.
Some camera phones also have multiple lenses including telephoto and wide-angle lenses. The resolution of some of these devices often exceeds that of digital cameras giving truly magnificent and memorable photos. But of course, with great power comes great responsibility and the need for a printer to match the evolution of photo technology has never been greater.
Step up, the Epson EcoTank ET-85 printer series.
In this Epson EcoTank ET-8500 printer review, we're exploring one of Epson's latest and greatest printer range and how this continuous ink printer keeps up with modern-day printing requirements. From huge printing capacities to superior quality printouts, scroll down as we go under the hood of one of the best ink tank printers currently available today.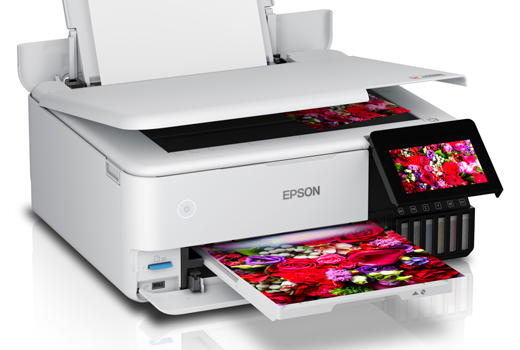 Epson EcoTank ET-8500 Printer Review
Today. there are dedicated photo printers that produce outstanding prints and enlargements but that is often all that they do. While they have more colours of ink and higher resolution than an ordinary inkjet printer, it can be difficult to justify the costs of a dedicated photo printer no matter how good the results. As a result, to help mitigate some of these costs, what you really need is a printer that has all the features of a photo printer but can handle the more mundane tasks of printing documents, copying and printing materials.
If this printer comes with a low cost per print and can print photos of outstanding quality that will last for years and years without fading, that's just an added bonus.
There are two models in the ET-8500 range that meet these requirements; the Epson EcoTank ET-8500 and the Epson EcoTank ET-8500. The basic differences are that the Epson EcoTank ET-8500 will produce prints up to A4 size whilst the Epson ET-8550 will print up to A3 size. This also includes extra long panorama images. Both models are All-In-One printers that can print, scan and copy documents on a wide range of media. They can also print, scan and copy photos onto a range of specialist photo paper and both models feature six refillable ink tanks that significantly reduce the cost of printing and reduce the time between refills.
Visually distinguishable from each other by the Epson EcoTank ET-8500 having a white body whilst the Epson ET-8550 has a black body, from here on the two have identical specifications. So let's take a look at how they do what they do. Although we will be referring to the Epson EcoTank ET-8500 the comments equally apply to the Epson EcoTank ET-8550.
Printing Speeds & Quality
Whether used throughout the home or by semi-professional photographers, in most cases much of your printing time will be devoted to printing documents rather than photos. Due to photo printing capabilities, the Epson EcoTank ET-8500 ink tank printer has a particularly high resolution of 5760 x 1440 dots per inch (dpi). This is far higher than most printers and results in crisper text and greater definition when printing documents. For speed, users can expect the following competencies:
16 pages per minute (black and white)
12 pages per minute (colour printing)
The Epson EcoTank ET-8500 also features automatic double-sided printing which will minimise paper usage when printing documents. The benefits of duplex printing are absolutely unrivalled and it is great to see that the ET-8500 ink tank printer delivers this as a standard feature. When printing both sides of an A4, users can expect the following speeds:
6 pages per minute (black and white)
5 pages per minute (colour printing)
The Epson ET-8500 also uses the Epson Heat Free Piezo Crystal Printing technology. Unlike Bubble Inkjet printers, which heat the ink to form a bubble that gets squeezed through a nozzle, Epson printers use pressure created by the vibration of a piezo crystal to force the ink through the nozzle. This means that there is no warm-up time to heat the ink and your Epson Inkjet Printer will start printing straight away which is perfect for the busy lifestyle.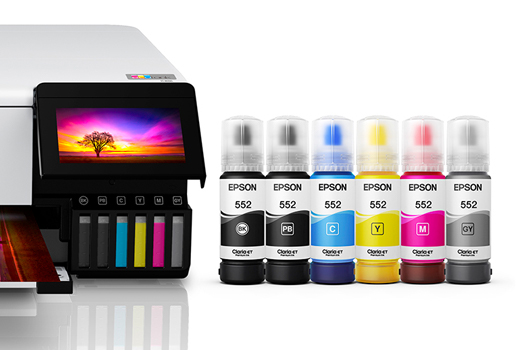 Epson ET-8500 Series Ink Bottles
When you open the printers box, you will find included a full set of ink bottles ready to print thousands of documents. The A4 page yield from the original bottles that come with the printer, when testing using the International Standards Organisation method, will produce 5,500 printouts from the black bottle and 4,900 printouts from each of the colours. So, from the moment you set up the printer, you will have enough ink supplied to keep your printing going for a very long time.
When the time finally comes to refilling the ink tanks the black and colour refill bottles have an A4 page yield of 6,700 and 5,200 A4 pages respectively. Each tank and the corresponding colour refill bottle have matching connections so that a tank can only be refilled with the correct colour. The result is some of the most economical printing around making the EcoTank ET-8500 printer series handy for both quality and quantity printing without breaking the bank.
Photo Printing Quality
A major attraction of the Epson EcoTank ET-8500 for home users and semi-professional photographers is its ability to print superior and longer-lasting photographs. Through adding both 'Photo Black' and 'Grey Ink' to the standard Cyan, Magenta, Yellow and Black variants, the Epson ET-8500 provides more depth and clarity to photographs than ever before. Claria ink, a superior ink formulation developed by Epson specifically for photo printing, has not only better clarity but other benefits as well including reduced fading.
Many photos that capture a moment will fade long before the actual memory does. This is true of old analogue film photos as well as digital photos that have been printed onto photo paper. Most inks are not designed to have an archival life span but the Epson EcoTank ET-8500 has a little trick up its sleeve. Using a different ink formulation that resists fading for up to 150 years, the Epson EcoTank ET-8500 will print out memories that will last longer than we will!
Although the top tray on the front is dedicated to 10 x15 cm photo paper there are options for larger sizes of photo papers for those who take their photography even more seriously. On the Epson EcoTank ET-8550, the pull up tray at the rear of the printer will take photo papers up to A3 whilst the Epson EcoTank ET-8550 will take photo paper sizes up to A3+
Large Photo Printing
Panorama photography of landscapes is becoming increasingly popular. Most digital cameras and even some smartphone cameras have the ability to take a series of photos as the camera rotates through up to a full circle. The camera will then blend each photo seamlessly into the next to create one long image.
The Epson EcoTank ET-8500 can print these huge images into one long photo up to 2 metres in length by feeding the photo paper through a slot at the rear. Obviously print times vary enormously depending on the size of the print, but a 10 x 15 cm print takes 15 seconds to finish.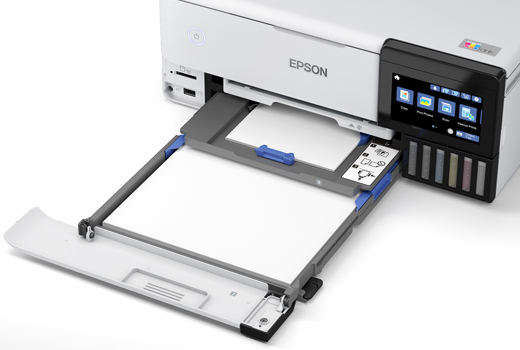 Media Handling
Versatility is key with the Epson EcoTank ET-8500 and this extends to the range of media types and sizes it can handle. There are three media trays, two at the front, and a pull-up tray at the rear. There is also a single sheet pass-through slot at the rear too.
Of the two front trays, the lower one is for printing paper and can take up to 100 sheets of A4 paper. It is adjustable to take A5, A6, B5 and B6 paper sizes as well as a range of envelope sizes. Immediately above you will find a tray for photo papers up to 15 x 12 cm with a capacity of up to 20 sheets. The pull up tray at the rear will take up to 50 sheets of A4 paper on the Epson EcoTank ET-8500 and up to 50 sheets of A3+ paper on the Epson EcoTank ET-8550.
The output tray, which is just above the two input trays, has a maximum capacity of 59 sheets of plain paper and 20 sheets of photographic paper. While some printers come with much larger paper capacities, you have to remember that the Epson ET-8500 printer series is built for quality, not quantity printing and assumes you will print less at one time. Still, with up to 100 sheets of paper for standard A4 printing, this is more than enough for most users.
Scanning
The top-mounted flatbed scanner will take original documents up to A4 size. When scanning, an original document can be enlarged or reduced in size by between 25% and 400% where necessary and the clarity is not compromised too much when scaling upwards. Unlike other printers on the market, there is no ADF fitted to the Epson ET-8500 and this means that only one single original document can be fed into the scanner at one time.
Considering the majority of original documents you will be scanning will be single photographs or documents, there should not be too many issues here. That said, for what becomes a compromise with the missing ADF, the scanning resolution makes up tenfold. With the ability to scan at resolutions of 1200 x 4800, the Epson ET-8500 is more than suitable to scan every minor detail on both graphical and photographic originals with superior clarity.
The resultant scans can be sent to any connected memory device including your PC, portable device or USB. The versatility here is extremely handy.
Copying
The copying function of the Epson EcoTank ET-8500 can be accessed in the exact same way as the scanner. Up to 99 copies can be printed at any time and the resolution allows original photos to be copied and printed with extreme clarity. Given that the Epson EcoTank ET-8500 comes with six-colour ink tanks, this will provide you with 256 gradation grayscale for B&W photograph copies and as well as approximately 16.7 million colours.
Obviously, the Epson EcoTank ET-8500 also copies ordinary documents at speed of 16 images per minute (ipm) in black and 8 images per minute when copying colour documents. As far as the speed goes, this is quite impressive considering there are many laser printers on the market that run slower than the ET-8500 for copying.
Connectivity
To match the range of applications for both your home and semi-professional photography environments, the Epson EcoTank ET-8500 comes with a range of connectivity options. For anybody who preferences secure internet connections for printing, your options include:
100BASE-TX/10BASE-T (Ethernet Connection)
802.11b/g/n (WiFi Connection).
In addition to this, there is also WiFi Direct for devices that want to connect to the printer just for single use. This allows guests to connect to your printing unit without having to provide them with complete access to your network.
Finally, because many devices (especially digital cameras) use an SD Memory Card there is an SD Card Reader which gives access to the printer for a wide range of SD Card types. For mini and micro SD cards, you will need an adaptor, however, this is not too much trouble to purchase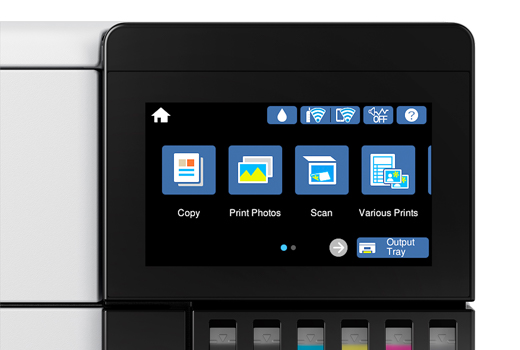 The Control Panel
Ismounted on the right-hand side of the Epson EcoTank ET-8500 you will find the control panel. This is situated just above the ink tanks and perfectly reachable from all angles. As an All-In-One control panel, all functions of the printer can be accessed from here.
Alternatively, the Epson Smart Panel App can be downloaded to any mobile device. This will provide you with remote access to the printer; rivalling the HP Smart App. There are both iOS and Android versions available of the Smart Panel App and all functions of the printer are available.
In addition to this, using the camera on your compatible mobile device, you will enjoy the ability to quickly scan a document from a remote location and then upload the document straight to the Epson EcoTank ET-8500 printer. Now that's smart.
Physical Size & Energy Usage
Because the Epson EcoTank ET-8500 printer series contains Epson Heat Free Piezo technology, each printer within the series uses less energy. Comparatively to a laser printer or bubble jet ink printer, the EcoTank ET-8500 uses very little energy both when operational and fast asleep.
Users can expect the following energy consumptions:
17 Watts (Print Mode)
7.5 Watts (Ready State)
0.8 Watts (Sleep Mode)
0.3 Watts (Switched Off)
In addition to this, despite the huge versatility of the Epson EcoTank ET-8500 printer, the physical footprint of the unit is a pleasant surprise. Standing at just 403mm wide, 369mm deep and 162mm tall, the Epson EcoTank ET-8500 continuous ink printer does not take up a lot of space.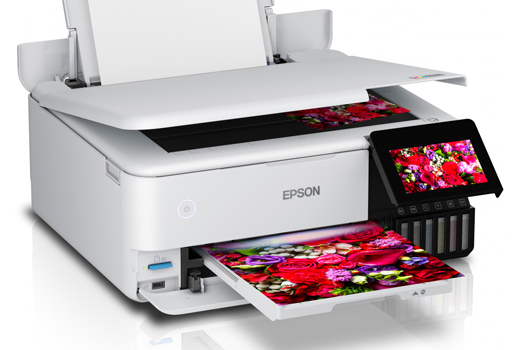 Epson EcoTank ET-8500 Printer Review Conclusion
The ever increasing sophistication of smartphone cameras; together with the continuing popularity of digital cameras, results in a growing need to display artistic flair more permanently and in larger formats. With an acute focus on traditional photo lab quality but without compromise on reduced cost or production time, the need for modern printing technology has never been greater.
To tackle these needs, the Epson EcoTank ET-8500 printers series will print out your photos to a professional standard that is far improved from conventional inkjet or laser printers. In fact, you could even liken the results to the quality of a traditional photo lab.
In addition to this, the cost per printout is much lower than expecting and of course, you can also print documents, scan, copy and access the printer via a wide range of connectivity options. The Epson EcoTank ET-8500 printer series will communicate with almost all major devices and handle almost every printing requirement your busy lifestyle could ever need.
As soon as you take delivery of any Epson EcoTank ET-8500 printer, there is enough ink in the box to print thousands of photos before you need refilling from an ink bottle. With each ink bottle printing thousands more, the incredibly low cost per print compared to traditional ink cartridges is incredible. Overall, this series is absolutely stunning and well worthy of a place within your home or office.
Content Disclaimer: At CartridgesDirect, we are committed to providing up-to-date and independent reviews such as this Epson EcoTank ET-8500 & ET-8550 printer review. All printer reviews are not commissioned by manufacturers and have been independently tested by our printing experts. If you have any questions about printers or compatible ink cartridges, please contact us via live chat or feel free to leave a comment below. We look forward to hearing from you.
Explore Popular Articles
The 21st century is the age of information and seeking alternatives to harsh chemicals. Although

There are a number of criteria to be met when choosing a new business printer. Productivity is a

Photos are precious memories and it stands to reason that you would want to buy one of the best