Canon Pixma G7065 Endurance Printer Review
-
To meet the needs of lower print costs and fewer printer maintenance requirements, many printers have done away with the traditional cartridge; adopting refillable ink tank printers. The Canon Pixma G7065 Megatank Multifunction Printer is a prime example of this trend.
It is one of a growing number of continuous ink printers from not just Canon but Epson and HP too. As a rival to Epson EcoTank Printers and HP Smart Tank printers, all 3 of these printer series have not just revolutionised the way that inkjet printers work but how they are marketed as well. For a long time now printer ink has been said to be the most expensive liquid on earth because of the relatively low number of pages that an ink cartridge can print before it is replaced.
As a result, many regard inkjet printers as being low-cost initial purchases but with high operating costs - resulting in questionable economics. So much so that a previous trend would be to buy new inkjet printers instead of ink cartridges. This was a major issue for the environment and manufacturers were forced to change.
In doing so, some of the best printer manufacturers reduced the cost per page of printing by increasing the size of the cartridge as a first step. However, with limitations to how big a cartridge can be, although it did reduce the printing cost, it was not enough to meet the needs of those who print larger quantities or those who just simply do not want to keep buying replacement ink cartridges. As such, a different approach was needed.
Enter the refillable ink tank printer.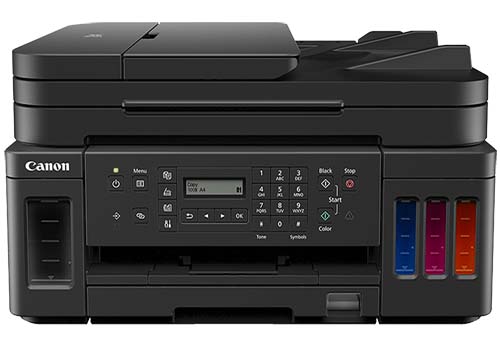 Canon G7065 Megatank Printer Review
As a continuous ink printer, the Canon Pixma G7065 Megatank removes the requirement of replacing ink cartridge technology by leaving all of the gadgets inside of the printing unit. Instead, all you have to do is refill the ink with easy to use ink bottles and start enjoying huge cost savings.
What's more, due to continuous ink tank printers being typically larger in size, the Canon G7065 comes with huge page yields that can print up to 6,000 A4 pages in black and 7,700 colour pages from each bottle of ink. This means that you actually end up replacing your ink far less than you would with an ink cartridge saving even more money.
But is the Canon G7065 printer one of the best refillable ink tank printers in the market? Scroll down to find out as our experts go under the hood of one of Canon's leading multifunction continuous ink printers. We'll be exploring its printing functions, media handling and cost efficiencies in this Canon G7065 printer review.
Canon G7065 Megatank Printer Performance.
As a continuous ink printer, the Canon Pixma G7065 prints, scans, copies and faxes your documents with incredible colour accuracy. In addition to this, the G7065 Megatank will also continue to save you money with double-sided printing as standard. However, at the heart of the Canon Pixma G7065 Endurance Printer is it's printing capabilities.
So far, we have seen that the G7065 can print a huge number of pages. It's a bit on the slow slide when processing these, however, with a print speed of 13 images per minute (ipm) in black and 6.5 images per minute in colour, the Canon G7065 still delivers average printing speeds for a printer in this class. It takes just 45 seconds to print a 10 cm x 15 cm borderless photo. However, the print quality is excellent with a resolution of 4,800 x 1,200 dots per inch.
Automatic double-sided printing is standard on the Canon Pixma G7065 Megatank to reduce paper usage but it can only be used with paper. It can be switched off though if you don't want to use both sides of a sheet.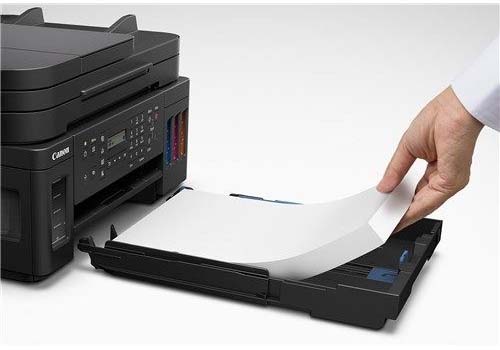 Media Handling
The Canon Pixma G7650 gives great versatility in paper handling. With two paper trays, one in the front and a second as a pull up from the rear. It has a capacity of up to 250 sheets of plain paper and is fully adjustable to take international sheet sizes. These include:
A4 Paper
A5 Paper
B5 Paper
Legal & Envelopes (DL, COM10)
Photo Paper (4" x 6", 5" x 7", 7" x 10" and 8" x 10")
The second tray at the rear can take up to 20 sheets of photo paper or 800 sheets of plain paper of the same sizes as the paper tray. This means that the main tray could be loaded with plain paper and the second tray with photo paper, cardstock or plain paper to give a maximum capacity of 330 sheets.
Not only is the Canon Pixma G7650 versatile in the sizes of media it can use but it is just as versatile in the weights and thicknesses it can print on. It can print on plain paper weighing anywhere between 64 and 105 grammes per square metre but it can print on such things as photo paper weighing up to 300 grammes per square metre.
The output tray has a capacity of up to only 50 sheets which is a nuisance if you are doing a lot of printing or longer runs
Scanning & Copying
To make copies of a single sheet original the Canon Pixma G7065 Megatank has a 35-page Automatic Document Feeder (ADF) mounted on top of a flatbed scanner. Lift the ADF up and the flatbed scanner can be used to make copies from thicker originals Both the ADF and the flatbed will make copies up to A4 size.
Up to 99 copies can be printed at any one time. The scanner can only scan one side of an original at a time so that a two-sided original will need to be scanned twice. It takes 22 seconds to produce a single colour copy of the original whilst multiple copies are produced at the speed of 3.9 IPM. The scanning resolution is an acceptable 1200 x 2400 dpi.
Faxing Capabilities
The Canon Pixma G7065 Megatank also includes a desktop fax facility. Now I get that faxing is totally secure when transacting documents and that a signature on fax documents is legally accepted. However, I don't understand why so many printers feature a fax function as standard these days, especially on a printer that is aimed at the home and micro business market.
Nevertheless, it's there on the off chance that anyone needs it. Faxes can be sent and received in black and white and colour at a transmission speed of 3 seconds in black and white whilst transmitting in colour takes one minute. The maximum memory capacity, for both sending and receiving fax messages, is 50 pages.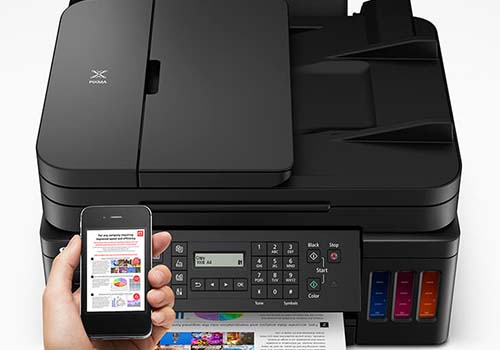 Printer Connectivity
With Inbuilt 802/11n/g/b wireless network, this allows the Canon Pixma G7065 Megatank to connect with a wide range of devices such as smartphones, tablets and laptops. Using the Canon PIXMA Cloud Link you can print documents and images from sources such as Instagram, Facebook, DropBox and GoogleDrive.
There is also a USB 2.0 Port to connect a cable to a desktop PC or to use a thumb drive. There is a control panel with a 2 line LCD display mounted on the front panel but you can also use the Canon Print Inkjet SELPHY app from any Smart device to access all the functions of Canon Pixma G7065 Megatank.
Printing & Energy Efficiency
The Canon Pixma G7065 Megatank is economical in so many ways. Starting with printing costs, the Canon Pixma G7065 is extremely economical by using refillable ink tanks instead of cartridges. It comes with three black ink bottles in the box to refill the black ink tank which means you can print up to 18,000 pages before you need to buy any more.
There is also enough Cyan, Magenta and Yellow ink in the box to print up to 7,000 pages so it is economical in printing costs right from the start. All refill bottles of black ink will print up to 6,000 pages and refill bottles of Magenta, Cyan and Yellow ink will print up to 7,000 giving a continuing low cost per page printed.
With automatic double sided printing as standard it is economical in paper usage as well. The combination of minimal ink costs and reduced paper usage makes for very economical printing. For small business and home users it's not just the cost of consumables that need to be kept as low as possible, there's energy costs to consider as well. The Canon Pixma G7065 scores well here as well. When it's not doing anything and is just connected to a PC by the USB connection but is ready to spring into action it uses just 0.1W. When the wireless network is turned on as well the energy consumption is still just 0.3W. The most energy hungry operation, copying, when the scanner light is on and printing in operation, still uses a mere 15W.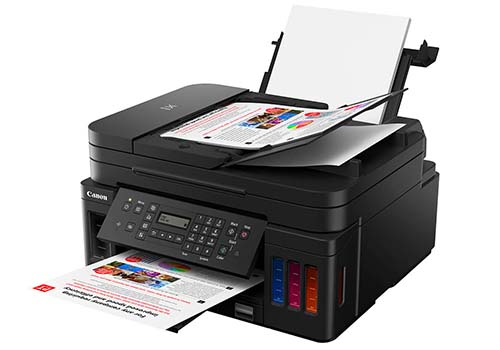 Physical Printer Size
For most home users and small business users space is at a premium, there's not a lot of room for anything that's not essential. Economy in space usage is another area in which the Canon Pixma G7065 excels. Some continuous ink printers have the ink tanks mounted on the side looking like an add-on which they sometimes are. The Canon Pixma G7065 has taken an integrated design approach with the ink tanks included into the body to give a smooth, integrated look.
It also gives a smaller footprint to fit into smaller spaces. With a width of 403 mm and a depth of 369 mm it certainly doesn't need the wide open spaces to fit it in. The integrated design also makes the occasional refilling of the megatanks a simple task without stretching towards the back of the printer to reach the last ink tank.It also means that the ink level in each of the tanks can be seen from the front rather than the side.
Canon Pixma G7065 Megatank Review Conclusion
Overall, the Canon Pixma G7065 is a cleverly designed refillable inkjet printer capable of printing high-quality colour prints at much lower costs than traditional cartridge inkjet printers. Through smart connectivity, you can access all of the printing functions from a range of mobile devices too.
Blending the reasonable setup cost, the low ongoing costs, the features and diversity of this inkjet printer, it quickly becomes an attractive offering for most small home businesses. Sure, there is a slight compromise on the printing speed as the majority of the manufacturing costs has gone into ensuring that your costs are kept down. However, this bodes well for the future as continuous ink printers become more popular.
Content Disclaimer: At CartridgesDirect, we are committed to providing up-to-date and independent reviews such as this Canon G7065 printer review. All printer reviews are not commissioned by manufacturers and have been independently tested by our printing experts. If you have any questions about printers or compatible ink cartridges, please contact us via live chat or feel free to leave a comment below. We look forward to hearing from you.
Explore Popular Articles
The 21st century is the age of information and seeking alternatives to harsh chemicals. Although

There are a number of criteria to be met when choosing a new business printer. Productivity is a

Photos are precious memories and it stands to reason that you would want to buy one of the best