Best Wireless Printers Australia (2022 Update)
-
The emergence of wireless printers in the home and office printing market has naturally revolutionised the way that we handle our personal and professional printing needs. Having a wireless home printer with mobile app connectivity in the study or home office allows the entire household to make full use of the printer. This expands not just on PCs and laptops, but also via tablets and even mobile phones too. Similarly, the ability to conduct network printing allows organisations to take their diverse printing needs into their own hands, alongside of course drastically minimising time wasted standing in physical printing queues.
It's worth noting, however, that not all wireless printers are going to boast the same features or specs. In fact, of the printers outlined below, the only thing that some of them really have in common is their Wi-Fi connectivity, as well as a 'W' in their printer model name that also simply denotes these wireless capabilities.
That's why we've taken a little time to outline the best wireless printers to suit specific printing needs, including the best mono wireless printer and best modern InkTank and Inkjet wireless printers. Read on to find a wireless printer model that may be best suited for your printing needs.
1. Epson XP-2100 Home Inkjet Printer (Best Cheap Wireless Printer)
Price: $55.00 (+ Shipping)
Epson's series of Expression Home printers have garnered quite a reputation for being affordable and dependable home printers. This is precisely why the Epson XP-2100 Home Inkjet Printer has been named our best cheap wireless printer here at Cartridges Direct. Alongside being a wireless home printer model, the XP-2100 also happens to be a multifunction printer, with scanning and copying capabilities for streamlined home office spaces. Scanning resolution on the XP-2100's CIS flatbed scanner is stock standard at 1200 x 2400 dpi. Copying speeds are about 3.8 ppm for colour jobs, and 7.7 ppm for mono copying.
Printing speeds for this model are quite modest, with 4 ppm for colour printing jobs, and 8 ppm for mono printing. Like other models that can be found in the Epson Expression Home Printer range, the XP-2100 also boasts photo printing capabilities. Naturally, photo printing speeds are a little slower than regular printing, with an estimate of 42 seconds per photo to ensure colour accuracy.
The XP-2100 is modest both in build and design, measuring at 390mm x 300mm x 146mm (w x d x h respectively) and weighing just 4kg. This particular model also doesn't come equipped with an LCD display, however, this isn't too much of an issue considering the XP-2100 is compatible with the Epson Connect and iPrint applications, making printing from personal computers and mobile devices virtually effortless. These companion apps can also be used to run diagnostics tests including printer ink tests too.
With regards to printing yields, the XP-2100 uses both Epson's 212 and 212XL printer ink cartridges, with the former boasting a yield of 150 pages for black or mono printing and 130 for colour, and the latter boasting a whopping 500 pages for black and 430 pages for colour printing jobs. As a handful of other XP and Epson WorkForce models use these cartridges, it's likely that they'll be available for purchase for the foreseeable future.
Considering that the Epson XP-2100 can be purchased for just under $80, the value that you're getting from this cheap wireless printer quite honestly makes the XP-2100 well worth a purchase for home office environments, or even study rooms for students who may require a modest but unequivocally reliable wireless printer.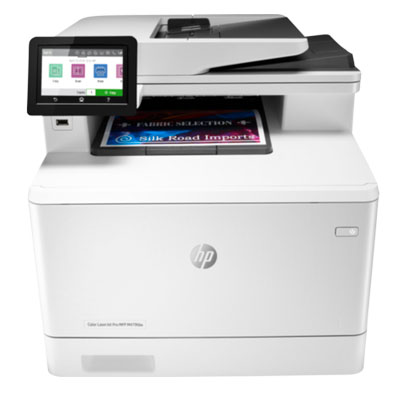 2. HP Color LaserJet Pro MFP M479FDW Printer (Best Wireless Laser Printer)
Price: $818.53 (+ Free Shipping)
Laser printer models tend to be second to none when it comes to speed and printing accuracy, making them perfectly suited for office environments with medium to high printing needs. That's why HP generally releases their LaserJet models with a variety of different specifications. The HP Color LaserJet Pro MFP M479FDW Printer is actually one of four variations of the M479 LaserJet Pro. What distinguishes the M479FDW from its other three lookalikes (the DW, FNW, and FDN) is its wireless, fax, and duplex printing capabilities. The inclusion of wireless connectivity as well as an ethernet port makes the M479FDW perhaps the most versatile LaserJet Pro to date. Naturally, these impressive specs are accompanied by a price tag, with the M479FDW retailing at $899.00.
What else do you get for that price? A fair bit, it turns out. The M479FDW has print, copy, and scan speeds of around 26-28 ppm, a printing and copy resolution of 600 x 600 dpi, a scanning resolution of 1200 x 1200 dpi, page yields that vary between 2100 and 7500 pages depending on whether you use the 416A or 416X toner cartridges, and a paper capacity of 300 sheets over two paper trays. There's also the option to expand on your M479FDW's overall paper capacity by adding an extra HP LaserJet 550-sheet paper tray.
Although the M479FDW comes with a 4.3" colour LCD display and easy menu navigation, chances are high that you won't even need to use this display, opting instead to use HP's intuitive Smart app for easy mobile printing. Alongside being compatible with the Smart App, the M479FDW is also ready to take on printing jobs with Google Cloud Print, Apple AirPrint, and Android printing. This full compatibility naturally makes wireless printing a breeze regardless of which device or operating system you may be using. On top of all of this, USB printing capabilities lets printer users print documents without even needing a PC or mobile device.
The one downside to this model may just be its size and weight, measuring at 415.4 mm x 461 mm x 399.8 mm (w x d x h) and weighing a whopping 21.8 kg. Considering that LaserJet models are generally more heavy-duty compared to their more streamlined OfficeJet inkjet counterparts, the hefty size and weight of the M479FDW is to be somewhat expected. If you're looking at securing the M479FDW for your office space, however, it's recommended that you allocate a desk space specifically for this printer model due to its size and expansion when paper trays are pulled out. This is not a printer that you'll want to share a desk with!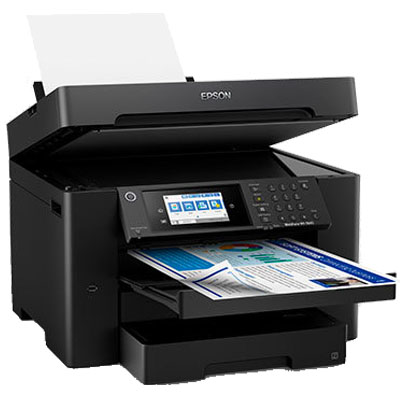 3. Epson Workforce WF-7845 (Best Wireless Inkjet Printer)
Price: $362.80 (+ Free Shipping)
Inkjet printers come in an assortment of shapes, specs, and sizes, but Epson's WorkForce series tends to produce some of the market's most popular high-capacity inkjet printer models. The Epson WorkForce WF-7845 in particular has an impressive list of printing capabilities alongside some truly enviable printing speeds (25 ppm for black and 12 ppm for colour printing), especially when considering this wireless inkjet model's fairly reasonable price tag. Copy speeds are comparable at 16 ppm for mono copy jobs and 9 ppm for colour jobs. The WF-7845 also doesn't compromise on printing quality for the sake of boosting print speeds either, as the printing resolution of this particular Epson WorkForce model is 4800 x 2400 dpi. The scanning resolution for the model's A3-sized CIS flatbed scanner is equally impressive at 1200 x 2400 dpi.
As is the case with most Epson WorkForce models, the WF-7845 can print on a wide range of different paper types and sizes, including glossy photo paper as well as A3 paper for easy poster production. Duplex printing is also enabled, making the WF-7845 one of Epson's most versatile WorkForce printer models. The model's 4.3" colour LCD also accommodates both button and gesture navigation for total user-friendliness.
With the release of Epson's 812XXL extra high yield cartridges, the page yields for the WF-7845 have come to vary from 300 pages with the traditional 812 cartridges, to a whopping 2200 pages if opting for extra high yield printing. Naturally, the 812XXLs are usually in high demand, but the option to source the Epson 812XL Cartridges (which boast page yields of around 1100 pages) virtually ensures that you'll never find yourself with an ink shortage when you secure yourself a WF-7845.
How does Epson's WF-7845 measure up to HP's larger LaserJet Pro M479FDW though? The two models are actually quite similar in size, with the WF-7845 measuring at 515mm x 415mm x 350mm (w x d x h), and weighing up at 20.6kg. Again, the WorkForce is an office printer with high printing capabilities. With its wireless connectivity and compatibility with the Epson Connect app and Epson Easy Photo Print, however, the WF-7845 should feel perfectly at home in any corner of your home or office space.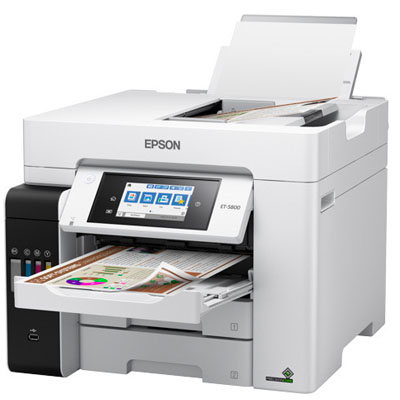 4. Epson EcoTank Pro ET-5800 (Best Wireless Office Printer)
Price: $1,173.13 (+ Free Shipping)
Epson EcoTank printers are known for being reliable high yield printers that prioritise the longevity of both the printer hardware as well as of your ink supply, making them highly popular models not just for office spaces, but also for use in homes that may use their printers infrequently, but could still undoubtedly benefit from a high capacity printer. With the EcoTank's signature DURABrite ink bottles over traditional printer ink cartridges, families no longer need to worry about valuable inks drying up in their idle printers. Epson found that most people were actually happy to spend more money on their printer if it meant that replenishing their ink supply would become both a cheaper as well as a more infrequent chore. Epson figured that if this altered model can support students and families, there's no reason why an office EcoTank wouldn't perform just as well.
Enter the Epson EcoTank Pro ET-5800!
Designed for office use, in particular, the ET-5800's wireless capabilities is really just the tip of the iceberg when it comes to this printer's capabilities. With a 1200 x 2400 dpi resolution flatbed scanner, a total paper input capacity of around 500 sheets, and duplex printing and copying (copy speeds at around 23 ppm for mono and 10 ppm for colour jobs), the ET-5800 is a work-ready printer that is likely to be an asset to a wide range of office environments. Printing resolution and speeds are also comparable to the Epson WF-7845, with a resolution of 4800 x 2400 dpi and printing speeds of 25 ppm for mono printing and around 12 ppm for colour.
You'll be happy to hear, however, that the ET-5800 is a bit on the smaller and lighter side when compared with the other wireless office printer models we've explored here, measuring at 425mm x 500mm x 350mm (w x d x h) and weighing at 17.5kg. Like the WF-7845, the ET-5800 also comes equipped with an easy-to-use 4.3" colour LCD touch display as well as also boasting full compatibility with the Epson Connect app alongside Epson printing software for a selection of both Windows and Mac operating systems. In true EcoTank fashion, this venerable powerhouse of a printer also has an estimated page yield of around 7500 pages in mono printing and 6000 pages in colour with its T542 EcoTank ink bottles.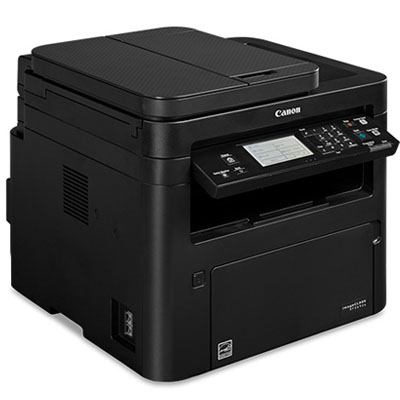 5. Canon imageCLASS MF269DW Mono Laser Printer (Best Wireless Black & White Printer)
Price: $616.06 (+ Free Shipping)
Many office environments that print documents and very little else most likely won't have any need for a printer that is equipped with colour printing capabilities. Mono printers can be valuable for offices like accounting agencies and law firms who may not require colour printing on a day-to-day basis, or even just office spaces who are looking to cut down on their overall printing costs. Whilst mono printers can be valuable when it comes to cutting down printing costs, it's imperative that offices select a mono printer model that can still cater to their varied printing needs, just to ensure that they haven't invested in a single-function device for their busy office environment.
With print, copy, scan, and fax capabilities, the Canon imageCLASS MF269DW Mono Laser Printer is the quintessential high capacity wireless mono printer that is most likely to be a lasting asset to any and all office environments. The MF269DW boasts a printing resolution of 600 x 600 dpi, and a printing speed of 28 ppm. Despite being a mono printer, the MF269DW does have colour scanning capabilities, and is equipped with the ability to produce grayscale scans at an optical resolution of 1200 x 1200 dpi, and colour scans that can be sent to PCs wirelessly at a driver enhanced resolution of around 9600 x 9600 dpi!
These phenomenal scanning capabilities demonstrate Canon's attention to detail regarding their production of eco-friendly wireless printer models, as the MF269DW encourages printer users to produce high-quality scans over physical paper documents. Speaking of being eco-friendly, the MF269DW uses both Canon's CART051 and CART051H Black Toner Cartridges, which have page yields of around 1700 and 4100 pages respectively.
The MF269DW is also a reasonably sized wireless mono printer, measuring at 390 mm x 405 mm x 375 mm (w x d x h) and weighing up at just 13.3kg. These physical dimensions greatly complement the printer's streamlined navigation menus, as presented both on the MF269DW's 6-line LCD display as well as in the Canon PRINT Business app. Alongside having mobile app connectivity, this wireless mono printer is also fully compatible with Apple AirPrint and Mopria Print cloud-based printing too.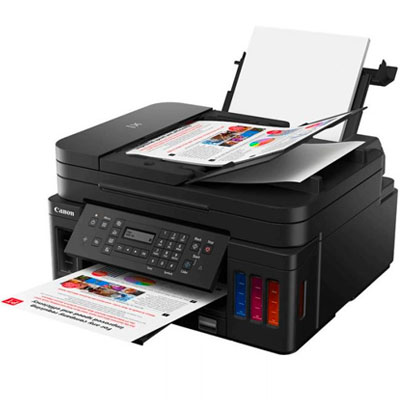 6. Canon Pixma Endurance G7065 (Best Wireless Ink Tank Printer)
Price: $623.70 (+ Free Shipping)
Concluding our list of best wireless printers has to be the inestimable Canon Pixma Endurance G7065 Ink Tank Printer. Canon's series of MegaTank ink tank printers have been making some major waves since their market release a few years ago, with many calling the MegaTanks the primary contender against Epson's EcoTank series and HP Smart Tank printers as well. With the printing industry calling for more of a focus on sustainability, the MegaTanks and their Epson and HP counterparts are a solution to some of the printing industry's most pressing problems.
MegaTanks are superb value for money, both in terms of their multifunctionality as well as their impressively high page yields (7700 pages in black and 6000 pages in colour) thanks to Canon GI60 ink bottles. These ultra-high yield bottles are similar to Epson's own replacement ink bottles, except that they're specifically for Canon's MegaTank series. As it's likely that Canon will continue to expand on the MegaTanks to minimise their overall carbon footprint, it's safe to assume that these ink bottles will be fairly easy to source for the foreseeable future.
Printing resolution is 4800 x 1200 dpi, and printing speeds clock at around 13 ppm for mono printing, and 6.8 ppm for colour printing jobs. In true Canon fashion, the G7065 is capable of photo printing as well, with borderless 4" x 6" photos taking around 45 seconds to print apiece. The G7065's CIS flatbed scanner boasts a resolution of 1200 x 2400 dpi. As well as printing and scanning, this monolith of a printer model can also copy and fax with minimal fuss, thanks in part to its intuitive 2-line LCD display. As the G7065 is also fully compatible with Canon's Print Inkjet SELPHY app, mobile printing and remote printer diagnostics tests are a virtually effortless endeavour.
It's also worth mentioning that the G7065 is a fairly small and light printer for what is, essentially, for all intents and purposes, a high capacity AIO printer. Dimensions for the G7065 are 403 x 369 x 234 mm (w x d x h), which is very similar in size to the ET-5800. Despite the G7065 being a comparable size to the ET-5800, this model weighs significantly less than the EcoTank Pro, with this MegaTank weighing up at just 9.6kg.
Purchase: Buy Canon Pixma Endurance G7065 Ink Tank Printer
Best Wireless Printers Australia Roundup
Wireless printers come in a variety of sizes and capacities, which can naturally make it difficult to find a model that aligns best with your printing needs. Thankfully, any of the six models outlined above are guaranteed to fit the mould you may be using for your ideal wireless printer model.
Browse through our online store or head to our blog if you're looking for more information on the printers and printer supplies that we stock here at Cartridges Direct.
Content Disclaimer: At CartridgesDirect, we are committed to providing up to date and independent reviews on the best wireless printers in Australia. All printer reviews are not commissioned by manufacturers and have been independently tested by our printing experts. If you have any questions about home or home office printers, please contact us via live chat or feel free to leave a comment below. We look forward to hearing from you.
Explore Popular Articles
The 21st century is the age of information and seeking alternatives to harsh chemicals. Although

There are a number of criteria to be met when choosing a new business printer. Productivity is a

Photos are precious memories and it stands to reason that you would want to buy one of the best