Best Small Printers Australia (2022 Update)
-
Today, there is a wide variety of the best compact printers to choose from for a range of demographics. Including both small printers that are most suitable for office or home environments, and handheld, portable printers for easy printing on the go, choosing the best small printer can be a challenge. In addition, for photographers who need to print photos in an array of environments, compact photo printers are an absolute must.
From behemoth double-tray Epson Workforce Printers to the ultra-portable Canon Selphy Photo Printer range, there's no denying that printers come in a plethora of shapes and sizes. Even our collection here at CartridgesDirect includes office laser printers ranging from a whopping 45kg to handheld printers that weigh just under 200 grams. If you're on the hunt for the best small printer, your ideal model is largely reliant on your printing needs and the environment within which that printer is likely to be used.
To help, we've put together our list of the best small printers to be used in the home, at the office, or for a variety of different printing jobs below. Read on to unearth which of our compact printers may be best suited to fulfil all of your printing needs.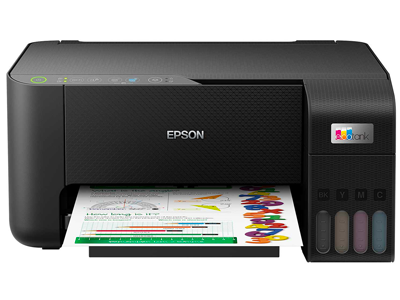 1. Epson ET-2810 Inkjet Printer (Best Small Office Printer).
Price: $386.94 (+ Free Shipping)
Not all businesses require an industrial-sized printer. In fact, many modern office spaces are equipped with modest laser printers to minimise printing use and encourage employees to go paperless wherever possible. For some small businesses who are navigating organisational expansion, however, minimising printer use may not be a current focus. That doesn't mean that you and your wider organisation can't consider methods for reducing your printing costs.
If you're looking for a quality small printer to suit your small business, there's really no looking past Epson's EcoTank series of high yield multifunction printers. The Epson EcoTank ET-2810 Inkjet Printer is our recommendation today, as it is one of the smallest EcoTanks available, weighing only 3.9kg and with dimensions of 375mm x 578mm x 253mm (W x D x H). It has document and photo printing, copying, and scanning capabilities, with a maximum print resolution of 5760 x 1440 dpi and a CIS flatbed scanner with a standard optical resolution of 1200 dpi.
The one drawback of the ET-2810 is its printing speeds (10ppm for black; 5ppm for colour) and copy speeds (7.7ppm for black; 3.8ppm for colour). Print and copy speeds for this printer naturally cannot compare to Epson WorkForce models, so businesses with high printing needs may find a larger printer model more suitable for their workplace. By size alone, however, the ET-2810 is a superb option for businesses that are on the lookout for a small but highly capable office printer.
In true EcoTank fashion, the ET-2810 boasts impeccably high page yields, with its Epson T522 EcoTank Ink Bottles and their ability to produce around 4500 pages in colour and 7500 pages in black. These high yields coupled with the ET-2810's wireless and mobile printing capabilities make this compact office printer perfectly suited for businesses of all industries.
2. Canon PIXMA TS6360 (Best Small Home Printer).
Price: $151.80 (+ Free Shipping)
When you think of the best compact home printer, many of us are likely to picture a small all-in-one that's streamlined by design and incredibly easy to use. That is the Canon PIXMA TS6360 Home Printer in a nutshell. The TS6360 is perhaps the most popular Pixma model that Canon has ever produced and it's not likely to be unthroned for a number of reasons, the least of which is its affordability.
Not only does the TS6360 boast wireless and networking capabilities, but it can also be used with the Canon PRINT app, Apple Airprint, and Mopria for Android. If you're not one for wireless printing, you can still use the TS6360's built-in 1.44" OLED display that allows printer users to easily navigate through this model's intuitive operational menu and wider OS.
A true A-I-O, the TS6360 can print, copy, and scan, with printing speeds of 15ppm for mono printing and 10ppm for colour. If your home printing needs extend to printing family photos, then you'll be happy to hear that the TS6360 is capable of producing 4 x 6" borderless photos in just under 21 seconds apiece and with a printing resolution of 4800 x 1200 dpi. For document printing, the TS6360's automatic duplex printing functionality will help to keep paper usage at a minimum for your household.
With high yield and ultra high yield ink cartridge options available for the TS6360, however, your family will still be likely to run out of paper well before you run out of ink! Using the Canon PGI680 and CLI681 ink cartridges, the TS6360 boasts yields of 1505 pages for mono printing and around 250 pages for colour printing jobs. With the XL or XXL variants of the 681 cartridges, however, the TS6360's yields are improved significantly, with a whopping 6360 pages for mono and around 760 pages for colour printing jobs.
On top of all of this, this powerhouse of a Pixma only weighs 6.3kg and measures up at approximately 376 x 359 x 141 mm (W x D x H), making it an ideal size for even the smallest home office set-ups. Overall, the PIXMA is a quality small printer.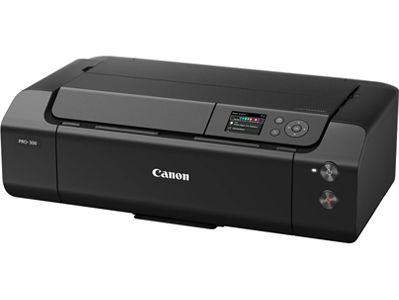 3. Canon imagePROGRAF Pro-300 (Best Small Photo Printer).
Price: $1,137.24 (+ Free Shipping)
Although the Canon Selphy photo printers and HP Sprocket printers must get an honourable mention here for being some of the best handheld photo printers available on the market today, the fact of the matter is that these ultra-portable printers really cannot be compared to the elite printing capabilities of Canon's own imagePROGRAF PRO-300 Printer.
Weighing up at 14.4kg and measuring at around 639 x 379 x 200 mm (W x D x H), this may admittedly be the biggest printer on our list of the best compact printers. When compared to other photo printers with similar printing capabilities, however, the PRO-300 really is quite small for the punch that it packs.
With 9 different LUCIA PRO PFI300 ink colours and one additional ink slot for the PFI300 Chroma Optimizer Ink Tank, the PRO-300 can produce incredibly high quality, detailed borderless photo prints ranging from standard 4 x 6" photo paper to panorama size paper as well (paper measuring 594mmx210mm). The PRO-300 has the potential to produce A3 prints in just a little over 4 minutes as well!
It's important to note, however, that the PRO-300 is definitely more of a photo printer than an A-I-O, as it doesn't possess scanning or copying capabilities. It does, however, come equipped with a 3" display and wireless printing capabilities, making it perfectly suited for professional photographers who may have to work between multiple sites.
The PRO-3oo is actually capable of printing on a variety of different media types, so it's well worth looking deeper into this model's extensive specifications if you're looking to invest in this small yet undeniably powerful photo printer.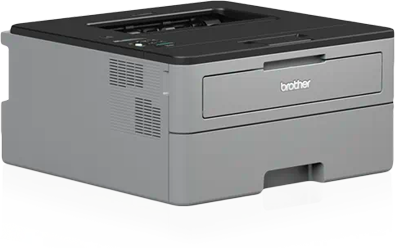 4. Brother HL-L2350DW Mono Laser (Best Small Laser Printer).
Price: $141.00 (+ Free Shipping)
Brother has a strong reputation for being the trendsetter when it comes to laser printing technology. One of its most affordable and definitely streamlined printer models has to be the Brother HL-L2350DW Mono Laser Printer. The HL-L2350DW is comparable to its predecessor the HL-2300D in terms of its size and other printing capabilities and specifications. The main difference between the two models is the HL-L2350DW's wireless capabilities.
This is an inarguably modern mono laser printer that is perfectly suited for homes and offices that possess modest printing needs but could still benefit from high printing speeds, as the HL-L2350DW boasts a printing speed of around 26ppm and a print resolution of around 2400 x 600 dpi. The HL-L2350DW also has duplex printing capabilities, so homes and offices looking to minimise their paper usage will likely be satisfied with investing in this mono laser printer.
Brother's penchant for producing high-quality mono laser printers naturally walks hand in hand with their knack for promoting sustainability and maintaining their eco-conscious thinking in the printing industry, as the HL-L2350DW's printing yields reflect.
The HL-L2350DW uses Brother's TN-2430 and TN-2450 toner cartridges, which possess printing yields of a whopping 3000 pages, making the HL-L2350DW an ideal compact mono laser printer for use at home as well as for small to medium-sized office spaces with moderate to high printing needs.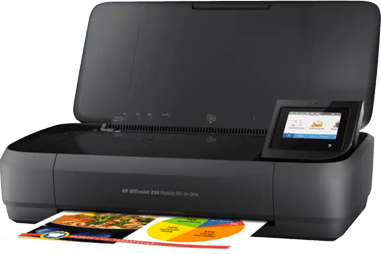 5. HP OfficeJet 250 Mobile All-In-One (Best Small Portable Printer).
Price: $441.49 (+ Free Shipping)
Nobody does small and streamlined printing quite like HP. From HP's series of ultra-portable Sprocket photo printers to their highly reputable series of compact HP Envy All In One Inkjet Printers, it's honestly rather surprising that an HP model wasn't found further up this list of our best compact printer models. What's even more surprising is the fact that the prize for our best small portable printer doesn't actually go to an Envy or a Tango for that matter, but to an OfficeJet, namely the HP OfficeJet 250 Mobile All-in-One Inkjet Printer!
Believe it or not, the OfficeJet 250 is perhaps the smallest of HP's OfficeJet series, weighing up at just over 3kg and measuring at 380.2 x 198.3 x 91.3 mm (W x D x H). It comes in the box with a power cord for easy home and office use, but this model also has a rechargeable battery, making it 100% portable and ready for on-the-go printing.
The OfficeJet 250 has decent printing specifications and is capable of photo printing on a variety of paper styles, with a print quality of 4800 x 1200 dpi when printing from a computer, and speeds of up to 10ppm for black and 7ppm for colour when connected via its AC cable. Specifications are subject to some change when this printer is relying on its battery for power, but the change in speeds is fractional here.
Using HP's 62 and 62XL Ink Combo Cartridges, the OfficeJet 250 has decent page yields as well, with the 62XL's boasting a yield of around 6oo pages for black and 415 pages for colour printing jobs. With the 2.56" colour LCD touch display, printing with this highly compact mobile printer is quite honestly a delightful experience.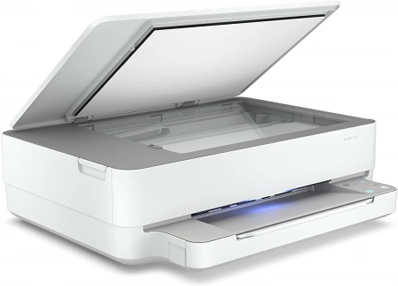 6. HP ENVY 6020 All In One (Best Small Wireless Printer).
Price: $101.64 (+ Free Shipping)
Concluding this list of best compact printers is the HP Envy 6020 All-In-One Printer. A true standout model of HP's expansive Envy series of products, the Envy 6020 weighs up at just 6.35kg and measures at around 432.5 x 511.5 x 132.1 mm (W x D x H) with its paper tray extended.
Printing speeds for the Envy 6020 are respectable at 10ppm for black and 7ppm for colour printing jobs, with a print resolution of 1200 x 1200 dpi for both document and photo printing. The Envy 6020 also comes with automatic duplex printing for easy double-sided document production. Its CIS flatbed scanner has a standard optical resolution of 1200 dpi.
With regards to its page yields, the Envy 6020 uses the HP 67 & 67XL ink cartridges, with the 67XL variant boasting page yields of around 240 pages for mono printing jobs and 200 for colour printing.
As is the case with all HP Envy printers, the Envy 6020 is compatible with the HP Smart app, which can be used to print remotely and even alter the size of printing and copy jobs prior to placing these jobs in your printing queue. With consistent updates and a myriad of highly valuable features like printer ink level testing, ink ordering, and printer diagnostics and troubleshooting processes, the HP Smart app is a superb tool for printer users with varying degrees of printing needs.
Best Small Printers Roundup
As you can see, even though all the small printers we've explored in this list share similar physical attributes, their specifications can vary greatly. Printer manufacturers prioritise different features and specifications with their own range of small printers, and so the 'best small printer' is really a highly subjective statement.
Using the small printers we've outlined above, however, you may be able to find the best small printer to suit your printing needs.
Content Disclaimer: At CartridgesDirect, we are committed to providing up to date and independent reviews on the best sublimation printers in Australia. All printer reviews are not commissioned by manufacturers and have been independently tested by our printing experts. If you have any questions about home or home office printers, please contact us via live chat or feel free to leave a comment below. We look forward to hearing from you.
Explore Popular Articles
The 21st century is the age of information and seeking alternatives to harsh chemicals. Although

There are a number of criteria to be met when choosing a new business printer. Productivity is a

Photos are precious memories and it stands to reason that you would want to buy one of the best