Best Printers For Sticker Printing
-
There's nothing quite like getting artsy and craftsy with modern technology and our shortlist of the best sticker printers will definitely help you with that! Learning how to leverage technology to help advance your own artistic pursuits can be incredibly rewarding. That's actually part of the reason why our printing enthusiasts here at CartridgesDirect are so crazy about not just printers; but all office technology in general.
Modern printing technology now supports at-home sticker makers and creators into being able to produce their own diverse range of creative goods. From high-quality art prints, framed photographs, and even adhesive stickers for personalising anything and everything; your creative is only limited by your imagination. If producing your own stickers sounds like something you'd like to have a crack at, then this our guide to the best sticker printers is absolutely the read for you.
Today, we'll be outlining six of our best printers for making stickers here at CartridgesDirect, so all you independent creators out there can do what you do best. Ready to get creative? Let's get started!
Best Printer For Vinyl Stickers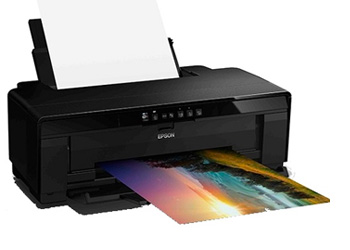 Epson SureColor SC-P405 Inkjet Printer
Price: From $725.63 (+ Free Shipping)
One of the primary concerns that arts and crafts fanatics may have when printing their own stickers is ensuring that your printed creations pop. This is best achieved by using high-gloss ink during the sticker printing process.
The Epson SureColor SC-P405 Inkjet Printer is our top recommendation for anybody looking to produce high-gloss vinyl stickers of varying sizes. This inkjet printer is incredibly diverse, with all MFP printer functionalities as well as the added bonuses of photo printing, and being able to produce prints up to an A3 size. Simply put, investing in an Epson SC-P405 will allow independent makers the unique opportunity to produce large stickers to a higher quality, thanks to this inkjet's maximum print resolution being a whopping 5760 x 1440 dpi.
But the capabilities of this powerhouse of a printer don't just stop there. The SC-P405 is also capable of printing on a wide range of media types, ranging from posterboard and polypropylene/polyethylene roll media, to printable CDs and DVDs. And with easy adjustable margins and other user-friendly features across their print drivers and companion printer software, Epson SC-P405 printer users can enjoy highly precise prints regardless of what media type they may be printing with.
Epson's UltraChrome Hi-Gloss ink system also boasts 8 colours, including Photo Black for photography print production, and a Gloss Optimiser specifically for producing high-gloss print jobs like vinyl stickers without any concerns of smudging or premature ink fading.
Best Printer For Art Prints & Detailed Stickers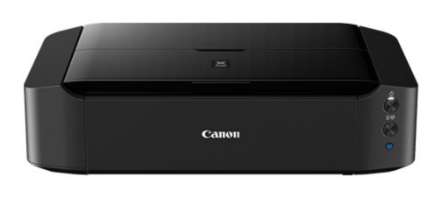 Canon iP8760 A3 Inkjet Printer
Price: From $341.55 (+ Free Shipping)
With superb colour technology and precision printing functionalities, the Canon iP8760 A3 Inkjet Printer is the definitive printer of choice for any artist looking to produce highly intricate or detailed stickers and artistic prints. There is a lot to love about the Canon iP8760, with its modest price point being just the tip of the iceberg. Its price is well worth speaking on, however, because even our printing specialists at CartridgesDirect were baffled to find a printer as versatile as the Canon iP8760 at such a low RRP.
But let's take a minute to unpack exactly what you're getting for this low price. Like the SC-P405, the iP8760 is capable of producing A3 prints, professional level borderless photos, and can print on CDs and DVDs. It's the Canon iP8760's 1 picolitre FINE printhead technology that allows the printer to produce high-quality prints at a maximum resolution of 9600 x 2400 dpi.
This monumental level of quality makes the iP8760 the ultimate printer for stickers that are on the smaller side, or stickers with a high level of artistic detail. The Canon iP8760 is also likely to be the cheapest printer with a six ink system that's on the market today, boasting an additional ink slot for Photo Black to help printer users produce more dynamic photo prints with second-to-none colour contrasting capabilities.
You can ensure that your Canon iP8760 printer is fully stocked up on ink by purchasing our Canon PGI650XL and CLI651XL Ink Cartridge Value Pack right here at CartridgesDirect. These XL cartridge variants will also ensure that printer users can reap all the benefits of a 500 page yield.
All things considered, the Canon iP8760 inkjet printer is a superb investment for any artists on a budget who don't want to skimp on their production quality when bringing their own art prints and unique sticker designs to life.
Best Portable Printer For Stickers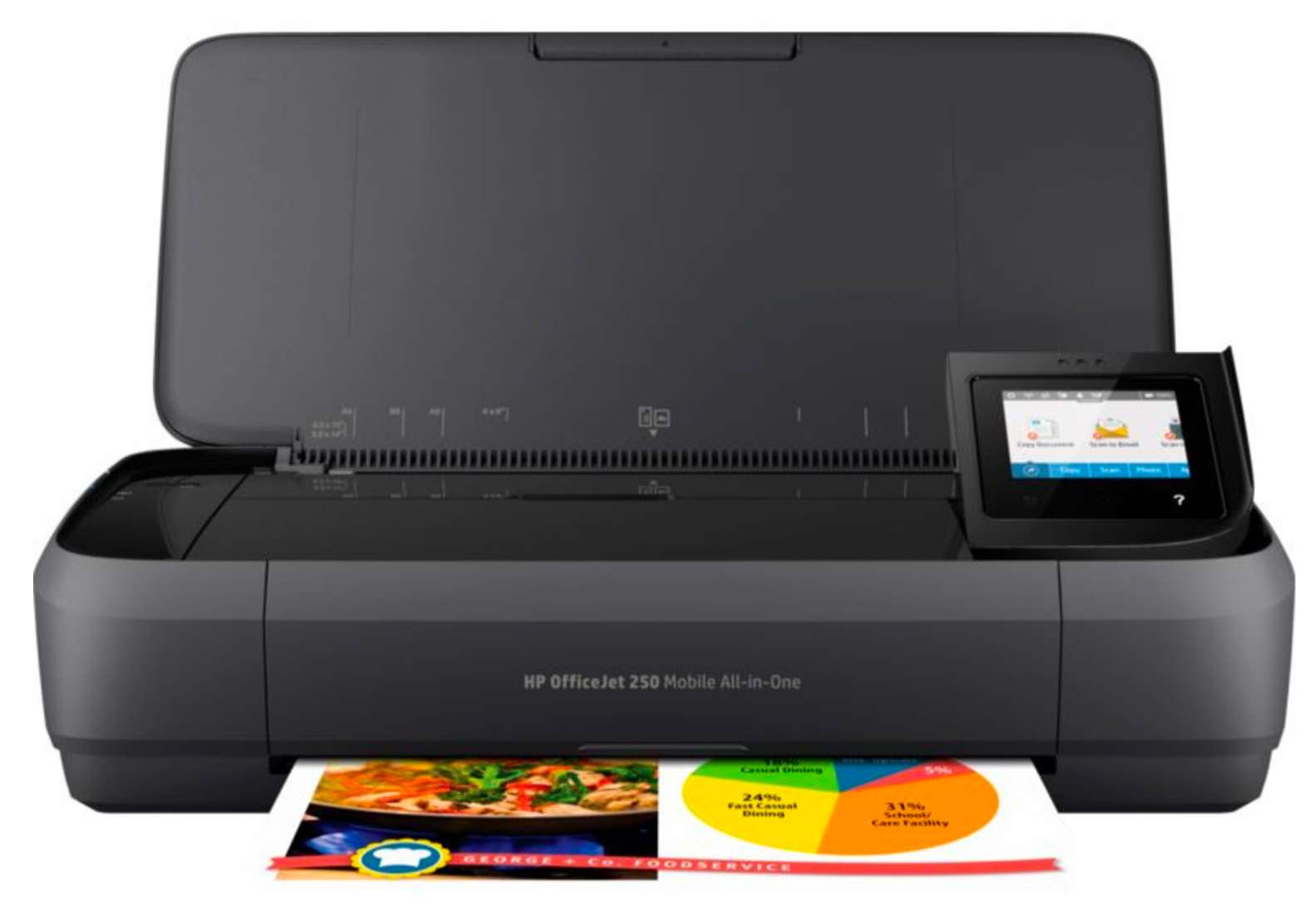 HP OfficeJet 250 Mobile All-in-One Inkjet Printer
Price: From $520.30 (+ Free Shipping)
For those looking to print stickers on the go, look no further than the HP OfficeJet 250 Mobile All-In-One Inkjet Printer. This compact printing machine should by no means be underestimated, as its diminutive build is actually chock-full of modern, innovative printing technology that's sure to suit artists and creators of all shapes and stripes.
Some examples of features that you can look forward to taking full advantage of when investing in an OfficeJet 250 include wireless printing (photos and documents at a resolution of 4800 x 1200 dpi), scanning, and copying, with a maximum production of 99 copies. Using HP's Smart app makes operating this printer on the go an absolute piece of cake. The OfficeJet 250 is also capable of printing on a range of media types, including glossy photo paper, iron-on transfer paper, cards, envelopes, and glossy or matte brochures.
The OfficeJet 250 is also compatible with a handful of HP ink cartridges, including the high yield 62XL Black & Tri-Colour ink cartridges. With the XL cartridge variants, printer users can enjoy a page yield of 6oo with black cartridges and 415 for tri-colour cartridges. Not too bad for a printer that weighs less than 3 kg!
Best Photo Printer For Stickers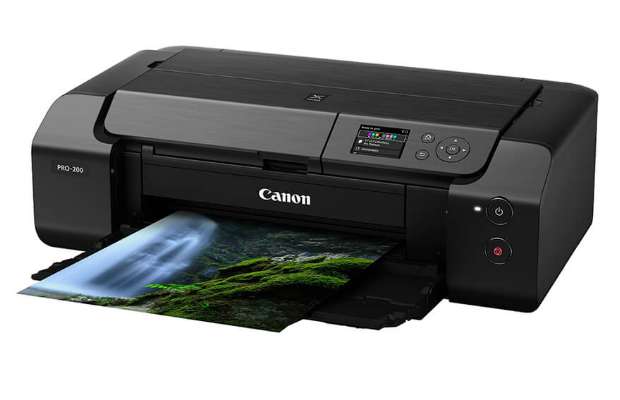 Canon PRO200 Pro Inkjet Printer
Price: From $872.85 (+ Free Shipping)
Have you ever wanted to print an A3-sized art print in just 1 minute and 30 seconds? Well the Canon PRO200 Pro Inkjet Printer will help you realise this dream and then perhaps easily a dozen others. Suitable for a wide range of commercial printing and photo printing applications, the PRO200 is considered a quintessential printer for all creative professionals, spanning from photographers to graphic designers and artists.
The Canon PRO200's colour precision capabilities is supported by the printer's eight ink system, utilising Canon's CLI650 Ink Cartridges. The CLI650 ink range includes photo grey and light grey for ensuring optimal shading and colour correction during borderless photo printing. These additional ink colours are also perfect for helping printer users print high-quality stickers that are just as sharp as they are vivid.
Although the Canon PRO200 is at a particularly higher price point when compared to the cost-effective Canon iP8760, printer users can enjoy a range of additional benefits and features when they invest in this professional-grade photo and multimedia printer. For example, the PRO200 is suitable for printing directly from photo editing software like Photoshop and Canon's own Digital Photo Professional. Build quality and engineering behind the PRO200 also feels substantially improved when compared to the Canon iP8760.
Best Printer For Larger Stickers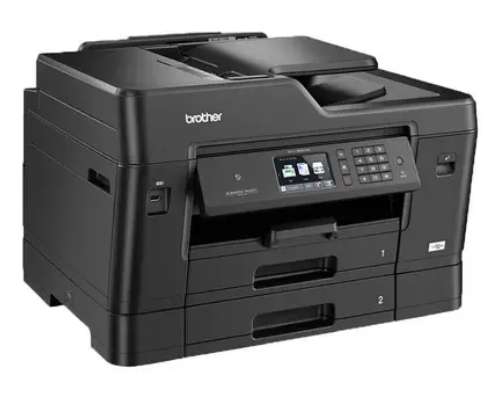 Brother MFC-J6930DW All In One A3 Inkjet Printer
Price: From $401.75 (+ Free Shipping)
Although we have already explored a few printers for sticker production that are capable of printing to an A3 or poster format, there's no harm in having a few extra choices! Our printing specialists here at CartridgesDirect also felt that the Brother MFC-J6930DW All In One A3 Inkjet Printer deserved at least an honourable mention on this list for being one of the only office printers that caters to larger sticker printing jobs.
Like many other Brother office printers, this multifunction inkjet printer is also capable of automatic duplex printing and scanning and has a paper capacity of 600 sheets, allowing the MFC-J6930DW to go from arts and crafts to corporate affairs between a long queue of printing jobs. Simply put, the MF-J6930DW is an ideal office printer for workplaces that may possess a balance of both creative and analytical types.
Although the Brother MFC-J6930DW isn't by any means considered a photo printer, it has no issue producing high-quality prints using glossy printing paper, making this particular printer perfect for poster production alongside printing glossy adhesive stickers. High-quality and high yield ink technology also ensures that printer users can enjoy super detailed printing without having to worry too much about ink consumption.
The Brother MFC-J6930DW is compatible with both Brother LC3317 and LC3319 ink cartridges, which are relatively easy to source either from Brother themselves or with compatible ink cartridge manufacturers.
Best Sublimation Printer For Iron-On Patches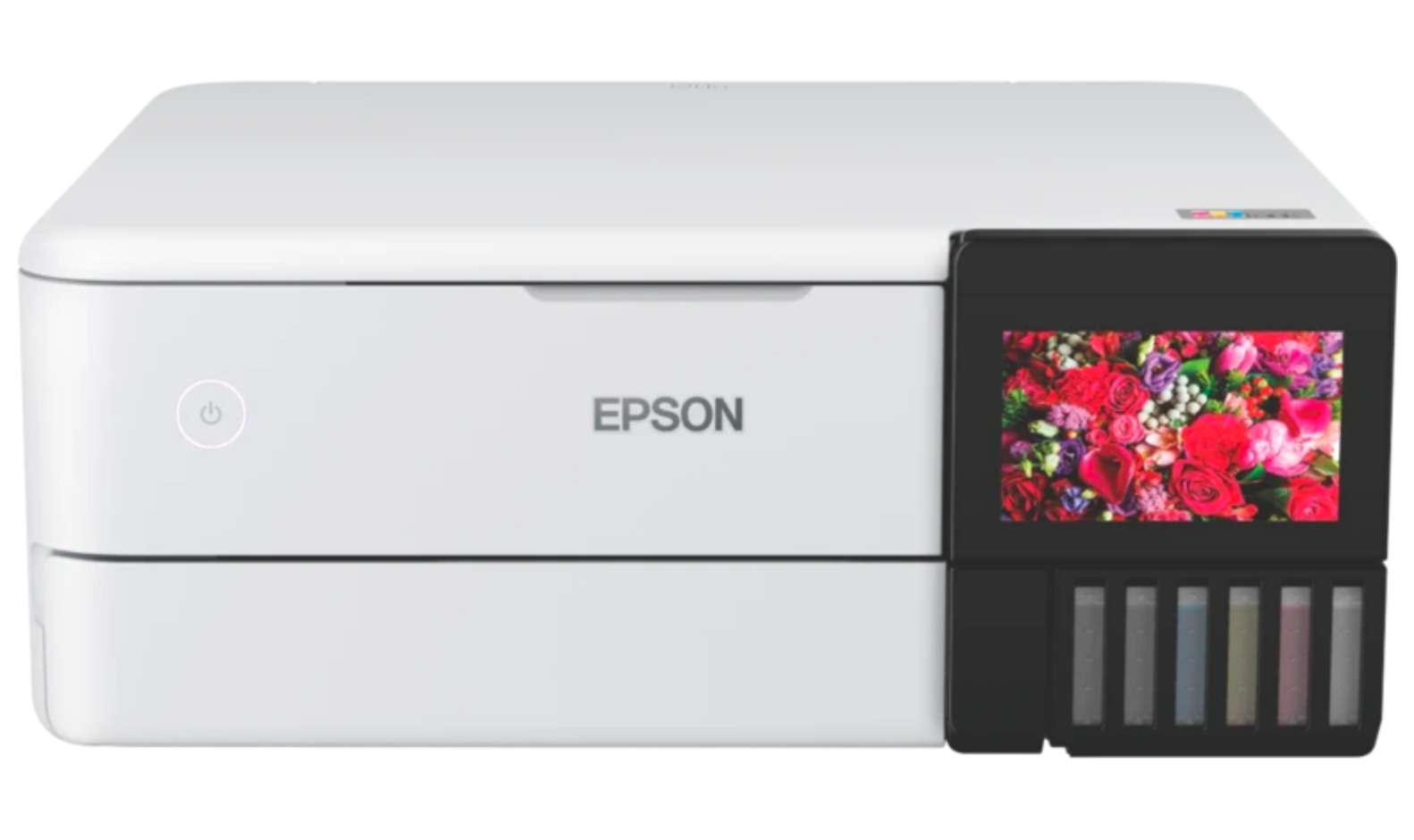 Epson EcoTank Photo ET-8500 Printer
Price: $959.00 (+ Free Shipping)
Of course, printing stickers doesn't just have to involve printing on adhesive paper. The world of stickers is vibrant and encapsulates so much more than the production of traditional adhesive stickers. That's precisely why a lot of artists experiment with creating their own iron-on patches alongside making their own stickers. And whilst a handful of the printers we've outlined above are capable of printing on iron-on transfer paper, investing in a sublimation printer is always guaranteed to ensure total compatibility when it comes to producing custom printed iron-on patches.
Our printing specialists are inclined to recommend the Epson EcoTank Photo ET-8500 Printer for any makers out there who are looking to create their own iron-on patches alongside producing traditional adhesive stickers. The ET-8500 is able to produce high-quality colour photo and glossy prints at a resolution of 5760 x 1440 dpi, making it perfect for both sticker printing as well as producing custom-printed iron-on patches using transfer paper
Like all Epson EcoTanks, the ET-8500 uses ultra high yield ink bottles over ink cartridges, allowing printer users to enjoy page yields of over 6000 when using replacement ink bottles. The ET-8500's T552 Claria Ink Bottles are also a little bit different from other EcoTank ink bottles, in that there's actually six of them rather than four. This is due to the fact that the ET-8500 is primarily a photo printer, despite possessing sublimation printing capabilities. The Claria ink bottles include grey and Photo Black colours for optimal colour accuracy when printing detailed photographs.
Embroidered or screen-printed iron-on patches are becoming an increasingly popular product, and so it's in your best interests as a creative to jump on the opportunity to produce your own. Just be sure to swap out your Epson Claria ink bottles for sublimation ink bottles when preparing to use your ET-8500 for sublimation printing.
Deep-Dive Into Best Printers For Stickers Roundup
All of the printers we've outlined above are more than suitable when it comes to printing high-quality stickers from the comfort of your home studio. It's important to note, however, that each and every printer we have explored today comes with its own unique functionalities alongside being stellar for printing stickers.
In order to find the printer that best suits your crafting needs, it's worth considering all of these outlined functionalities and comparing them to your own creative goals and ambitions. By doing so, you'll undoubtedly be able to find the best printer for your sticker production needs, as well as all your other creative pursuits, whether they be in the realm of photography, fashion, design, or any other medium.
Explore Popular Articles
The 21st century is the age of information and seeking alternatives to harsh chemicals. Although

There are a number of criteria to be met when choosing a new business printer. Productivity is a

Photos are precious memories and it stands to reason that you would want to buy one of the best