Best Laser Printers Australia (2022 Update)
-
If you have considered the differences between laser printers vs inkjet printers (arriving at the conclusion that laser printers are the right type of printing unit for your needs), your next decision will of course be to ensure you get the best laser printer at the right price. While the very best laser printers have lightning-fast printout speeds in common, no two laser printers are the same. Some provide advanced multifunction printing capabilities while others are manufactured purely to achieve the very basics. As such, considering your needs carefully is important.
Over the past 15 years, we have seen both the very worst and the very best laser printers emerge from the printing industry. So much so that we are able to bring to you this extensive guide on the best laser printers available to purchase throughout Australia today. From the very cheap to some of the most advanced laser printing technology, we're breaking down the cost, key functionality and our overall professional assessment of each printing unit.
Now, without further ado, let's get you set up with a quality laser printer.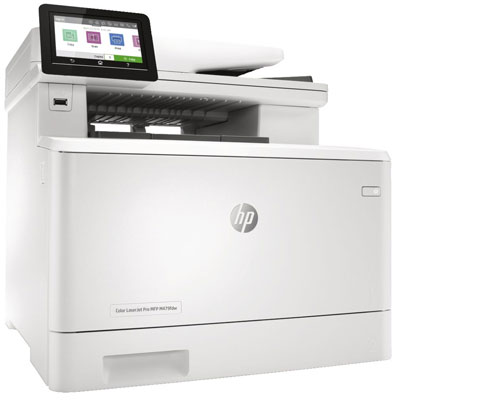 1. HP Colour LaserJet Pro M479FDW (Best Overall)
Price: $818.53 (+ Free Shipping)
Topping our list of the best overall laser printer is the HP Colour LaserJet Pro M479FDW. Built to keep businesses moving forward, the HP M479FDW is ready to print, scan, copy and fax consistently high-quality documents wirelessly. Utilising HP Secure as standard, the M479FDW will print with speeds of up to 28 pages per minute and comes with a 50 sheet auto document feeder alongside 250 sheets input tray capacity.
While there are other laser printers on the market that will print your documents faster, the reason why we have classified the HP M479FDW as the best laser printer available is due to its sheer versatility and overall performance. From high-quality toner cartridges that come with strong page yields to years of innovation of printing quality, the HP Colour LaserJet Pro M479FDW is a printing unit that fails to disappoint across the board.
Compact enough to fit anywhere within your office, the HP LaserJet Pro M479FDW comes with a slick white shell, is easy to set up and is perfect for small workforces. With the ability to connect via Wi-Fi across multiple devices using the HP Smart App, your colleagues can enjoy seamlessly printing functions without unnecessary headaches.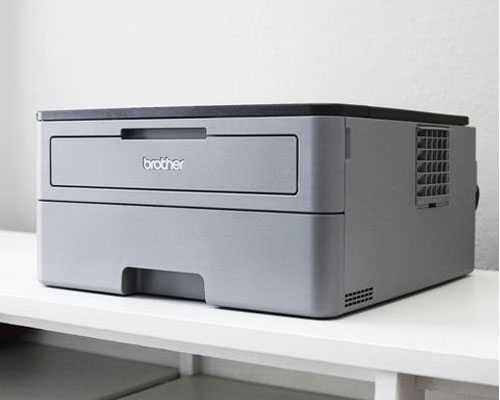 2. Brother HL-L2350DW (Best Cheap Laser Printer)
Price: $141.00 (+ Free Shipping)
Also featured on our guide to some of the best black and white home printers available today, the Brother HL-L2350DW also takes the crown for the best cheap laser printer throughout Australia. While there are cheaper laser printers, the Brother HL-L2350DW is absolutely perfect for anybody who wants a completely 'no-frills' printing unit that is up to the task of churning out up to 30 pages per minute.
What you get with the Brother HL-L2350DW is a printer that focuses purely on the primary function of printing and leaves all of the fancy stuff to other printer models. For anybody seeking quality laser printing technology without the fuss, this printer becomes a very good option.
What's more, with automatic double-sided printing, the Brother HL-L2350DW will also save printing costs by reducing your paper usage. Sure, do not expect high-quality photo printing from this entry-level laser printer. However, for crisp text documents that are printed quickly and with zero fuss, you cannot go wrong. In addition, you will also enjoy smooth compatibility with Google Print, AirPrint and WiFi direct which will help you to print using a wireless connection. The paper tray will hold 250 sheets of paper and your documents will be clear thanks to the 2400 x 600 dpi print resolution.
Overall, the Brother HL-L2350DW is seriously impressive for the price.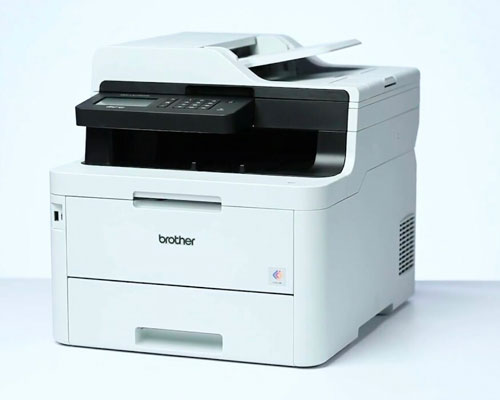 3. Brother MFC-L3770CDW (Best Low Volume Laser Printer)
Price: $524.56 (+ Free Shipping)
Sticking with Brother printers, the next device on our list of the best laser printers is the Brother MFC-L3770CDW. As a superb entry-level multifunction laser printer, the Brother MFC-L3770CDW is absolutely perfect for low volume office printing. Despite being one of the best laser printers available, the operational costs of the Brother MFC-L3770CDW are not suited to high-volume printing. However, everything else about the Brother MFC-L3770CDW is absolutely perfect.
Holding almost twice as much paper (280 sheets) as the Canon MF634CDW (151 sheets), the Brother MFC-L3770CDW is slightly larger most other high-quality laser printers within the same ballpark. However, where space is no issue, this makes the L3770CDW more robust as a complete unit. Printing up to 25 pages per minute, which is fairly fast for an entry-level laser printer, the Brother MFC-L3770CDW comes with scanning and copying as standard.
Despite being 3x more expensive than one of the cheaper laser printers in the Brother HL-L2350DW, the L3770CDW comes with complete all-in-one printing functionality. This includes scanning, copying, faxing, mobile printing and just about every goodie you could ever need. As such, this makes the L3770CDW a much more complete printing unit. Trust us, you just never know when you might need that scanner. Overall, the Brother MFC-L3770CDW is a fast colour laser printer that comes with multifunction printing capabilities and the ability to churn out high-quality prints at respectable speeds.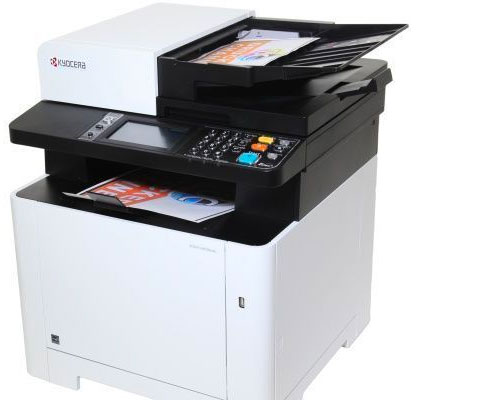 4. Kyocera Ecosys M5526CDW (Best All In One Laser Printer)
Price: $621.92 (+ Free Shipping)
When it comes to quality home printing, Kyocera printers will rarely feature. However, where laser printers are concerned, the Kyocera Ecosys range is some of the best laser printers on the market. If you are looking to save printing costs without foregoing advanced multifunction printing capabilities, the Kyocera Ecosys M5526cDW is a superb choice.
Printing both black and colour documents at 26 pages per minute, the M5526cDW supports both A4 and A3 printing while also offering quick scanning, photocopying and even faxing. In addition to this, Ecosys toner cartridges are made to last for thousands of prints for both colour and black and white documents. With an integrated address book and encrypted data transfer, both scanning and faxing are also extremely simple with the M5526cDW.
Another positive for Kyocera when working within a busy office environment is reliability. Renowned worldwide for durability and reliability, Kyocera focus on the core of printing and they deliver this really well. In fact, whenever we do hear about a faulty Kyocera printer we are left feeling rather shocked. If you are looking for an all-in-one laser printer that will produce crisp text documents at scale while keeping your costs down, the Kyocera Ecosys M5526cDW becomes a superb choice for your office environment.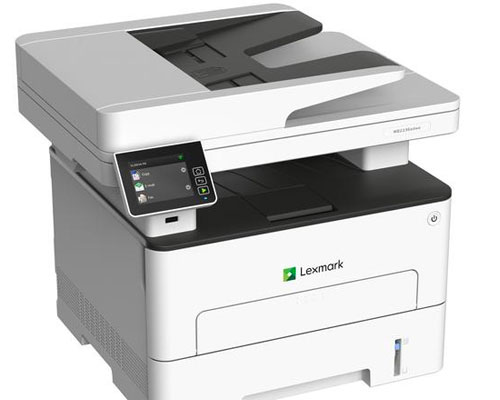 5. Lexmark MB2236ADWE Mono Printer (Best For Small Offices)
Price: $367.17 (+ Free Shipping)
For small office printers, look no further than the Lexmark MB2236ADWE. Despite the long product name, this reasonably sized monochrome laser printer delivers superior functionality that is extremely simple to use. As an entry-level monochrome all-in-one (print, copy, scan, and fax) printer designed for use in small or home-based offices and small workgroups, the MB2236ADWE prints well, is faster than more expensive laser printers and has higher monthly volume ratings than competing models. Unlike most of its competitors, though, the MB2236adw does not come with an auto-duplexing ADF (automatic document feeder), which can be a significant inconvenience. Despite that, the MB2236adw offers enough great perks to make it a solid option for modest-volume small offices.
That said, just like most Lexmark printers, the MB2236ADWE comes with auto-duplex printing as standard which will save your business significant costs on paper usage. In the fight towards greener emissions and eco-friendly printing, this becomes a huge win for the MB2236ADWE. As for printing speeds, this compact laser printer delivers around 34 pages per minute using simplex printing and 18 pages per minute when printing high-quality documents. As a monochrome printer, there is no option to print with colour, however, the crispness of the printouts with monochrome ink is extremely impressive.
If you do not foresee your workforce copying or scanning double-sided documents very often, the Lexmark MB2236ADWE (as we have shown within our Lexmark MB3442ADW review) becomes an extremely well-priced all-in-one printing unit. It prints with high quality and comes with above-average security features. Overall, this mono laser printer is well-suited for churning out low-volume prints and copies in small offices or workgroups.
Best Laser Printers Australia Roundup
No matter whether you are hunting for the best monochrome laser printer or a colour laser printer that comes with all the bells and whistles, the good news is that you are spoilt or choice. As laser printing technology advances, we are seeing strong shifts towards even further reduced operational costs and better performance across photo printing. Typically, laser printers are not suitable for photo printing, however, as the years roll past they are becoming better and better.
As with most of our buyer's guides, there is no standout brand for laser printing. All major printer brands offer a variety of different solutions which become suitable for varying needs. The choice between the best laser printers ultimately boils down to your needs as the buyer. Do you prefer fast speeds or can you wait a little longer for each print to achieve a better quality printout? By deciding upon what is most important to your home or business, choosing between the best laser printers becomes a much simpler decision.
Once you purchase a laser printer, be sure to keep on top of your printer maintenance. The last thing you want to do is splash out on a high-quality laser printer to find that within a year's time the unit starts to underperform due to lack of maintenance. From your waste toner bottles to keep your print heads clean, your printer will love you for looking after the core components.
Content Disclaimer: At CartridgesDirect, we are committed to providing up to date and independent reviews on the best laser printers in Australia. All printer reviews are not commissioned by manufacturers and have been independently tested by our printing experts. If you have any questions about home or home office printers, please contact us via live chat or feel free to leave a comment below. We look forward to hearing from you.
Explore Popular Articles
The 21st century is the age of information and seeking alternatives to harsh chemicals. Although

There are a number of criteria to be met when choosing a new business printer. Productivity is a

Photos are precious memories and it stands to reason that you would want to buy one of the best