Best Inkjet Printers Australia (2022 Update)
-
Inkjet printers have had an interesting developmental arc over the past few decades in particular. As printers that are defined by their use of liquid inks over toners that use powdered inks, inkjets have been known for producing vibrant documents with great colour and depth accuracy over their laser printer counterparts. However, inkjets have not always been as reliable as they are now, primarily due to a lack of developments in printer hardware and production. Earlier inkjet models lacked sophisticated micronozzle systems that would allow for total control over ink dispersion, causing ink streaks and other pesky imperfections.
Thankfully, all of the models that have been outlined below are considered amongst us to be the most top of the range inkjet printers available for purchase right here at Cartridges Direct. Explore this rundown of the best inkjet printers available on the market today, so that you can find an inkjet printer that suits your personal printing needs.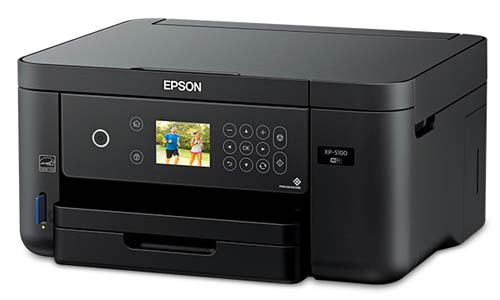 1. Epson Xpression Home XP-5100 (Best Cheap Inkjet Printer)
Price: $111.20 (+ Shipping)
Epson's Xpression series of home printers are amongst some of our most popular cheap home printers here at Cartridges Direct, and for good reasons too. Their all-in-one functionality coupled with their modest build and design, generally make Epson's Xpression Home printers the obvious choice for many families and professionals with low to medium printing needs.
The Epson Xpression Home XP-5100 Inkjet Printer in particular is the flagship printer model of Epson's current generation of Xpression Home printers, and boasts print, copy, and scan functionalities alongside boasting wireless capabilities. The printing resolution is an impressive 4800 x 1200 dpi, with printing speeds of 14 ppm for black and white or mono printing, and 7.5 ppm for colour printing jobs. The XP-5100's flatbed CIS scanner can deliver scans at a resolution of 1200 x 2400 dpi. Despite being our favourite cheap inkjet printer, it's clear to see that the XP-5100 does not compromise when it comes to its print quality.
The XP-5100 is also equipped with a 2.4" colour LCD display on the printer's front panel, making manual printing quite an effortless endeavour. Mobile printing and wireless printing are also enabled through the use of the Epson Connect app or Google Cloud Print and Apple AirPrint as well. Despite being the most expensive and capable Xpression Home printer in the series, the XP-5100 is a comparable size to Epson's other XP printers, measuring at just 375mm (W) x 347mm (D) x 187mm (H) and weighing a light and airy 5.5kg.
Page yields are also quite reasonable with Epson's 202 and 202XL Ink Cartridges. Respectively, the 202 standard-sized cartridges deliver yields of 165 pages in colour and 210 pages in black, and the 202XLs deliver a whopping 470 pages in colour and 550 pages in black. As you can see, the XP-5100 does have the most impressive specs of the Xpression Home series, all at a rather reasonable price point. If you're looking for a home printer that's well worth its value, then the XP-5100 is likely to be the cheap inkjet printer model that ticks all of your boxes.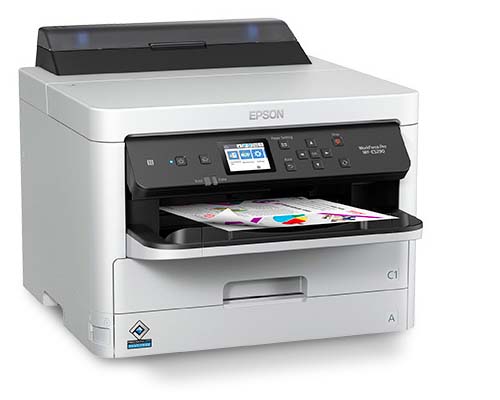 2. Epson WorkForce Pro WF-C5290 Inkjet Printer (Best Inkjet Office Printer)

Price: $307.58 (+ Free Shipping)
Another fantastic series of Epson printers, the WorkForce printer series is generally defined by their high-capacity printing capabilities and faster printing speeds, to minimise the lengths of printing queues in corporate environments. The last thing you want to do on a fast-paced Monday morning is wait for your printer to start spluttering to life.
The Epson WorkForce Pro WF-C5290 Inkjet Printer delivers all the innovation and high-capacity multifunctionality of past WorkForce printer models, alongside providing printer users with significantly hefty page yields as well! Using Epson's 902, 902 XL, and 902XXL printer ink cartridges, you can feel free to source an ink supply that works best for you and your wider organisation's printing needs. At the 902's standard size, your WF-C5290 can boast page yields of around 3000 pages for black and colour. This is greatly contrasted by Epson 902 XXL Ultra High Yield Cartridges that deliver a page yield of 10,000 pages!
Of course, alongside being one of Epson's most high-capacity printers, the WF-C5290 is a multifunctional printer like Epson's earlier WorkForce models. You can print both single and double-sided documents with ease at a resolution of 4800 x 1200 dpi and at superb speeds (24 ppm for mono printing and 15 ppm for colour printing jobs).
Despite being a truly heavy duty inkjet office printer, the WF-C5290 is fairly reasonably sized when compared to other office printers with scanning and copying capabilities. This little powerhouse of a printer measures at 425mm (W) x 535mm (D) x 342mm (H) and weighs up at just 11.4kg, making it perfectly suited for office spaces of varying sizes and printing needs.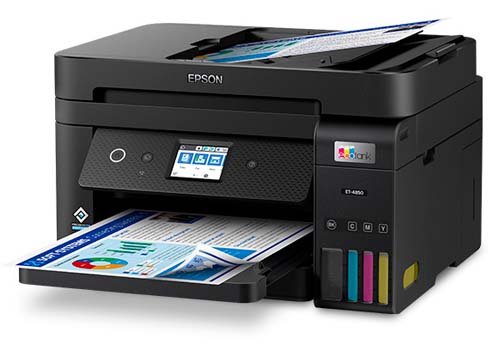 3. Epson ET-4850 Wireless Colour AIO Inkjet Printer (Best All In One Inkjet Printer)

Price: $613.85 (+ Free Shipping)
Inkjet printers come in an assortment of shapes, specs, and sizes, but Epson's WorkForce series tends to produce some of the market's most popular high-capacity inkjet printer models. The Epson WorkForce WF-7845 in particular has an impressive list of printing capabilities alongside some truly enviable printing speeds (25 ppm for black and 12 ppm for colour printing), especially when considering this wireless inkjet model's fairly reasonable price tag. Copy speeds are comparable at 16 ppm for mono copy jobs and 9 ppm for colour jobs. The WF-7845 also doesn't compromise on printing quality for the sake of boosting print speeds either, as the printing resolution of this particular Epson WorkForce model is 4800 x 2400 dpi. The scanning resolution for the model's A3-sized CIS flatbed scanner is equally impressive at 1200 x 2400 dpi.
As is the case with most Epson WorkForce models, the WF-7845 can print on a wide range of different paper types and sizes, including glossy photo paper as well as A3 paper for easy poster production. Duplex printing is also enabled, making the WF-7845 one of Epson's most versatile WorkForce printer models. The model's 4.3" colour LCD also accommodates both button and gesture navigation for total user-friendliness.
With the release of Epson's 812XXL extra high yield cartridges, the page yields for the WF-7845 have come to vary from 300 pages with the traditional 812 cartridges, to a whopping 2200 pages if opting for extra high yield printing. Naturally, the 812XXLs are usually in high demand, but the option to source the Epson 812XL Cartridges (which boast page yields of around 1100 pages) virtually ensures that you'll never find yourself with an ink shortage when you secure yourself a WF-7845.
How does Epson's WF-7845 measure up to HP's larger LaserJet Pro M479FDW though? The two models are actually quite similar in size, with the WF-7845 measuring at 515mm x 415mm x 350mm (w x d x h), and weighing up at 20.6kg. Again, the WorkForce is an office printer with high printing capabilities. With its wireless connectivity and compatibility with the Epson Connect app and Epson Easy Photo Print, however, the WF-7845 should feel perfectly at home in any corner of your home or office space.
4. Epson SureColor SC-P405 Inkjet Printer (Best Photo Inkjet Printer)

Price: $725.63 (+ Free Shipping)
Photographers aren't the only people who may benefit from having a reliable inkjet photo printer for personal use. With the advancements in the technology used to design and develop inkjet printers, modern inkjet photo printers are quite honestly an indispensable asset to any family that treasures the art of photo album design, or simply just want some high-quality photographs over Polaroids or other instant photo printing alternatives.
The Epson SureColor SC-P405 is our recommended inkjet photo printer for two primary reasons. First of all, the sheer precision and colour accuracy of Epson's Micro Piezo print heads makes SureColor quite true to its name. The SC-P405 is a genuine contender for Canon's extensive Pixma range of home printers. The SC-P405 has a printing resolution of 5760 x 1440 dpi, which is quite remarkable when compared to other similarly priced home multifunction printers.
The second reason we've named this model our best inkjet photo printer, is simply because it is, in fact, also a multifunction printer that's capable of printing on a diverse range of media types, including CDs and DVDs, 1.3 mm thick poster board, and glossy and matte printing paper. The SC-P405 is also able to print on an equally extensive list of paper sizes, including A3 printing for easy poster production. In essence, you're getting a lot more than just photo printing out of the SC-P405.
Alongside being able to print on a variety of media types and paper styles, the SC-P405 is also compatible with Epson's Print Layout Software, which includes plug-ins for Adobe Photoshop, Lightroom, and other camera software, making printing straight from your camera or Lightroom gallery quite an easy feat. Despite not having a scanner or copy capacity, the connectivity of this inkjet printer is undoubtedly an asset to any creators who are looking for a good photo printer.
The SC-P405 is also a decently sized printer to facilitate easy A3 printing as well as print jobs that are up to 3.5 m long (though 0.5 m is recommended for maintaining print quality). This model's dimensions are 622 x 324 x 219mm (w x d x h), and it only weighs up at around 12.3kg.
The SC-P405 also uses Epson's T312 printer ink cartridges, which are available in up to 8 different colour shades for ensuring colour precision during photo printing. Naturally, yields are largely dependent on the colour photo printing jobs and are generally hard to estimate. Knowing Epson, you're likely to be getting your money's worth.
Best Wireless Printers Australia Roundup
Modern inkjet printers have undergone some unprecedented developments over the past decade in particular, elevating inkjet printing to the high standards that we know them to possess today. Be sure to check out our blog right here on Cartridges Direct for more information about selecting the right printer for your personal or office needs, or contact us for more information on any of the inkjet printer models we've outlined above.
Content Disclaimer: At CartridgesDirect, we are committed to providing up to date and independent reviews on the best inkjet printers in Australia. All printer reviews are not commissioned by manufacturers and have been independently tested by our printing experts. If you have any questions about home or home office printers, please contact us via live chat or feel free to leave a comment below. We look forward to hearing from you.
Explore Popular Articles
The 21st century is the age of information and seeking alternatives to harsh chemicals. Although

There are a number of criteria to be met when choosing a new business printer. Productivity is a

Photos are precious memories and it stands to reason that you would want to buy one of the best