HP Neverstop 1001nw Laser Printer Review
-
Continuous ink printers have been around for some time now as a way of reducing the cost of printing. Now, HP has extended this technique to laser printers with the HP Neverstop 1001nw Monochrome Laser Printer.
Aimed at the home business and small business markets, this compact monochrome laser printer significantly reduces your cost per printed page. Not only will the 1001nw laser printer deliver 5,000-pages as standard, but it is also complete with a simple toner top-up method that removes all messiness. This particular model, with an enhanced range of connectivity options, is unique to the Australian and New Zealand markets.
HP Neverstop 1001nw Laser Printer Review Summary.
So, what is so different about the HP Neverstop 1001nw laser printer?
Everybody wants the lowest cost per printed page at the highest quality of printing performance. The HP Neverstop 1001nw printer achieves that with incredible innovation.
Instead of using a separate toner cartridge like any other HP laser printer, the HP Neverstop 1001nw uses a rechargeable toner hopper with all the traditional components associated with a laser cartridge integrated into the printer. Through this, you will immediately save money as all of those components last far longer than the toner in the cartridge.
In addition, while a toner cartridge needs to be replaced regularly, the HP Neverstop 1001nw has an inbuilt imaging drum. This comes with an extremely useful lifetime of up to 20,000 printer pages before it will need replacing. Combine that with the hopper that can hold enough toner to print up to 5,000 pages, the HP Neverstop 1001nw is built to, well, never stop!
The toner syringe is locked into the hopper and the toner is injected into the hopper. The process takes just 15 seconds to complete with no mess as shown by the video below.
Printing Performance.
Despite saving printing costs with this innovation, the HP Neverstop 1001nw does not fall short with printing performance. When you purchase the HP Neverstop 1001nw, the unit will come fully charged to print 5,000 pages and is ready to go straight out of the box. That's up to seven times the number of pages than other laser printers within the same class.
With the first page out time from the ready state of 8.5 seconds for an A4 sheet of paper, the Neverstop 1001nw is also quick off the mark. From sleep more, the first page out time is just 15 seconds and the printer will also deliver up to 20 pages per minute at a resolution of 600x600 dots per inch. This performance is the same across both best and standard printing modes.
Despite the speed, the printer does not support automatic double-sided printing which is a slight downturn. However, it does support manual duplex printing by way of installed driver support. So, with a few extra minutes spent setting up, the HP Neverstop 1001nw can become extremely economical and sustainable too.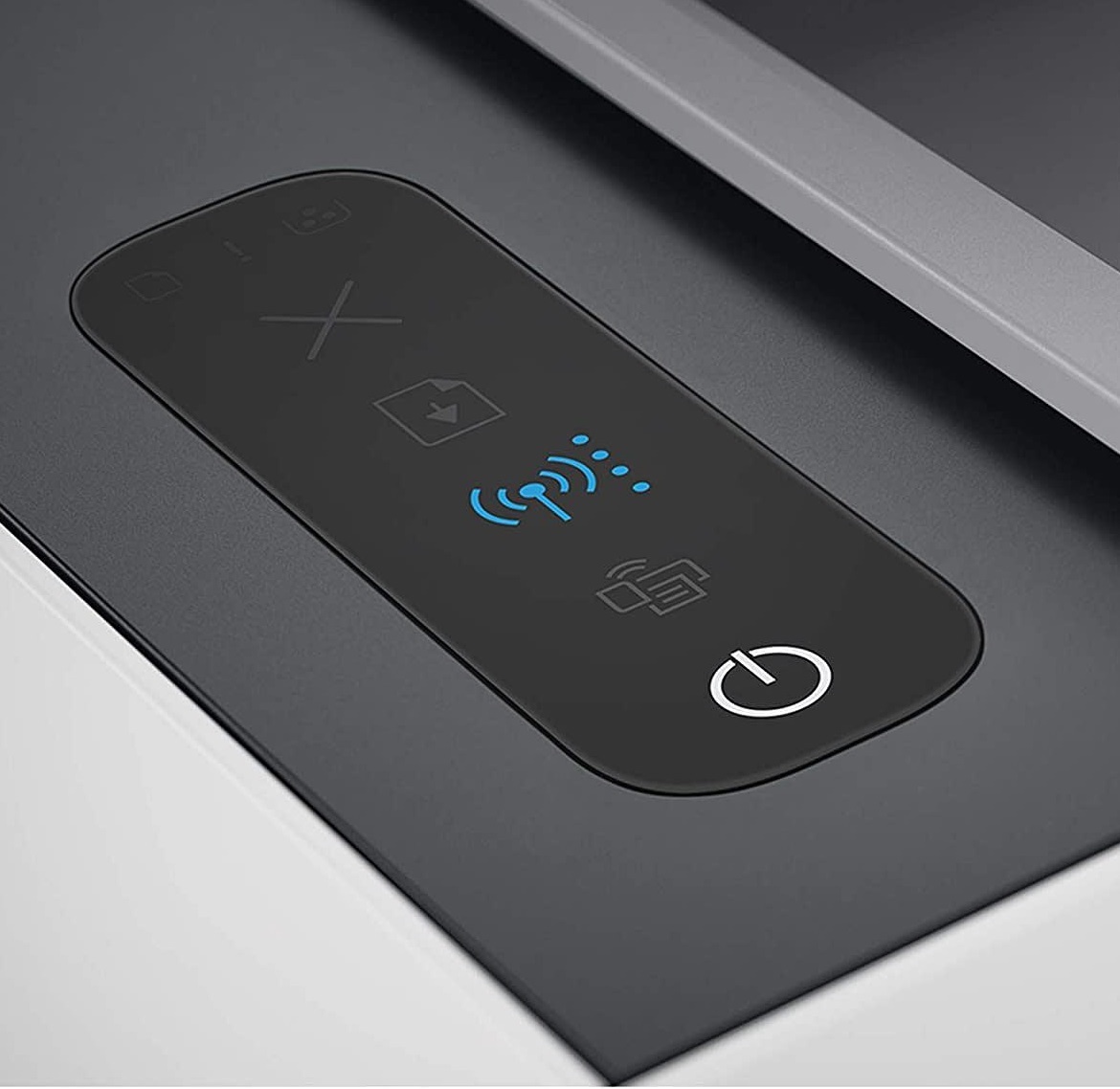 Connectivity.
The HP Neverstop 1001nw has a wide range of connectivity as standard smoothly connect with the multitude of ways that businesses work. These include:
Hi-Speed USB 2.0 port
Fast Ethernet 10/100 base hardwired network connection
Built-in WiFi 802.11b/n/g wireless connection.
This diversity of connectivity allows up to 5 users to access the printer from a wide range of devices. It also offers mobile printing capability by way of the following connections:
Apple AirPrint™
Google Cloud Print™
HP Smart App
Other mobile apps.
Wi-Fi® Direct printing.
Mopria™-certified.
Using the HP Smart App makes mobile printing simple. It allows documents and images to be printed from a mobile device using Dropbox or Google Drive Using a portable devices camera and Dropbox or Google Drive material can be scanned and sent to the printer for printing or copying. The HP Neverstop 1001nw is compatible with Windows and Mac Operating systems.
Paper Types & Media Capacity.
As with all major HP laser printer models, the HP Neverstop 1001nw caters for a diverse range of paper and media types. The output bin on top of the printer can accommodate up to 100 sheets of printed paper. Whereas, the input tray has a capacity of up to 150 sheets in a wide range of sizes including:
A6 Paper
A5 Paper
A4 Paper & Letters.
Multiple Envelope Sizes.
In addition to this, the tray is adjustable to take sheets from 105mm x 148.5mm to 216mm x 356 mm. It can also handle media types from plain paper, heavy paper, bond paper, label, light paper and envelopes in weights ranging from 60 to 120 g/m². So, whatever your major printing needs as a business or small home business, the HP Neverstop 1001nw has you covered.
Running Costs.
In addition to the print costs being low, the energy consumption costs are equally low making it the ideal package. Using an inbuilt 220 -240V power supply the printer uses just 307W whilst printing and 5.3W in the ready state. In sleep mode, the power consumption is 0.93W and 0.1W when switched off. The printer is Blue Angel compliant when using HP Original supplies.
Inside The Box & Space Requirements
In any home or small business, space is at a premium. The HP Neverstop 1001nw printer is not merely economical in use it is economical in the amount of space it needs as well With a footprint of 380.5 mm wide and 293.4 mm deep it doesn't need a lot of shelf or desk space. The height of 211 mm means that it can fit under a shelf to save even more space. The unit weighs 7kg.
Everything you need to get printing straight away is there. With the HP Neverstop Laser 1001nw comes a preinstalled HP Black Original Imaging Drum with a page yield of up to 5,000 pages from the integrated hopper and useful life of up to 20,000 pages. The support documents include a reference guide, setup guide; regulatory flye, support flyer. warranty guide, a USB cable and a power cord.
HP Neverstop 1001nw Laser Printer Review - The Final Word
The HP Neverstop 1001nw is a revolution in laser printing. Designed to reduce the cost-per-page of printing it meets this objective in a unique way with easy no-mess refilling of the toner hopper it brings the same benefits to Laser Printing as the Continuous Ink Bottle did to inkjet printing. If you are looking for continuous inkjet printers instead of toners, you should check out our experts' guide to the best continuous ink printers available within Australia. Here, we delve deep into which ink tanks are leading the way currently on the market.
If you have any questions about our HP Neverstop 1001nw printer review or HP printers in general, please visit our live chat and our printing experts will be more than happy to assist.
Explore Popular Articles
The 21st century is the age of information and seeking alternatives to harsh chemicals. Although

There are a number of criteria to be met when choosing a new business printer. Productivity is a

Photos are precious memories and it stands to reason that you would want to buy one of the best