Canon Maxify Range Review - Printers For The SOHO
-
Canon produces four desktop printers for Small Office and Home Office (SOHO) users. For the Small Office, Canon offers the Office Maxify MB 5160 and the Office Maxify MB 5460. Both are multifunction printers offering not just printing but scan, copy and fax as well. Both printers give the same performance and share the same specifications except for in the area of paper handling. The MB 5460 has two paper trays whilst the MB 5160 has one which reduces its overall height slightly for even smaller spaces.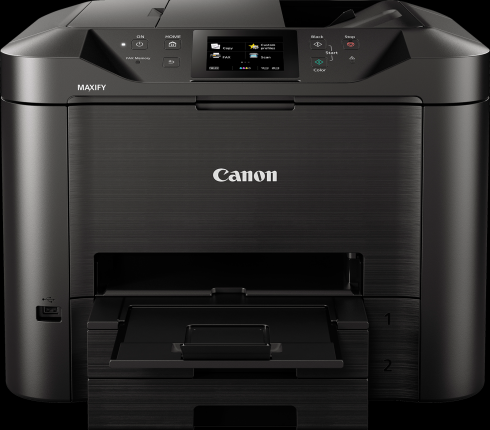 The Output
Productivity is important for any business irrespective of its size. The Canon Maxify Small Office Multifunction Printer range does not disappoint in this respect with a print speed of up to 24 pages per minute in black, and 15 pages per minute in colour. They are quick off the mark as well with a first page out time of 6 seconds in black, and 7.5 seconds in colour.
The Canon MB5180 has one paper tray with a capacity of up to 250 sheets, whilst the Canon MB5460 has a second paper tray with the same capacity. All trays are adjustable to take a wide range of paper sizes and envelopes of various types including photo paper.
Both models have a USB 2.0 port, a USB flash memory Type A port, Ethernet LAN and wireless LAN connectivity. This gives access to mobile printing and all functions from tablets, smartphones, notebooks as well as PCs.
The copier and scanner functions are accessible from both an Automatic Document Feeder and Flatbed mounted on the top of the machines. Up to 99 copies can be produced at one time at a speed of 22 images per minute (ipm) in B&W, and 11.5 ipm in colour.
A4 originals are scanned from either the ADF of the flatbed at a resolution of 1200 x 1200 dpi at a speed of 19ipm in B&W, or 16ipm in colour. Both models feature double-sided scanning through the ADF. Instead of scanning one side and then the second side of a double-sided original, the scanner will scan both sides in a single pass and save a lot of time.
Functions
For those who still need it, there is even fax thrown into the mix transmitting in both B&W and colour. The inbuilt modem has a speed of 33.6 kbps and sends a B&W page in about 3 seconds, but a colour page will take around 1 minute.
All functions are accessed by an 8.8cm colour touchscreen mounted on the top of the unit. All these features don't take up a lot of space. Both units share the same footprint of 463mm wide and 394mm deep. The Canon Maxify MB 5160 has a height of 291mm and the MB 5460 has a height of 361mm because of the extra paper tray.
If you are running a business from home or print a lot of documents from your study or home office, then the Canon Maxify MB 2760 is worthy of consideration. It has all the functionality of the two small office printers with the ability to print, copy, scan and fax. Like the Canon Maxify MB 5460 it has two paper trays, both with a capacity of 250 sheets and has a very similar speed as the other two. It's in the area of connectivity that it differs. For nearly all home users, wireless and Ethernet LAN connectivity is important so these are standard as well as two USB ports.
It does not offer the double-sided scanning function of the other two models. This makes it slightly smaller with a slightly smaller footprint of 463mm wide, 389mm deep and 329mm high.
The Canon Maxify Range is popular with creatives and corporates alike, and it's clear to see why. If you are looking to upgrade your printer and have some special needs, consider the Canon Maxify Range.
Explore Popular Articles
The 21st century is the age of information and seeking alternatives to harsh chemicals. Although

There are a number of criteria to be met when choosing a new business printer. Productivity is a

Photos are precious memories and it stands to reason that you would want to buy one of the best