Best Ink Tank Printers Australia (2022 Update)
-
From the very worst in printing technology to awe-inspiring innovation, CartridgesDirect has seen almost all there is to see throughout our 15-year history. Most recently, our experts have been heavily testing a wide range of continuous ink printers to bring to you our curated list of the best ink tank printers available within Australia. As businesses strive towards cutting unnecessary expenses, switching to a continuous ink printer could prove to be your silent savings bond. With huge reductions to your cost per printed page, a smart tank printer keeps your business flowing, without any unforeseen costs.
When it comes to continuous ink printers, the 4 major players are HP, Canon, Epson & Brother. While Epson was the first to launch an ink tank system back in 2010, all 4 major print manufacturers have developed superb printing units over the years. So much so, there is stiff competition to win the race for the most economical printing unit in the world. But what do our printer experts think?
Without further ado, discover our experts carefully selected list of 5 continuous ink printers available within Australia as we crown the best ink tank printer available right here, at CartridgesDirect.
Best Ink Tank Printers Australia (2021 Update)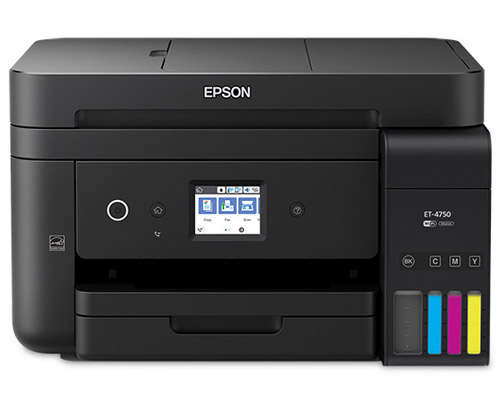 1. Epson EcoTank ET4750 Inkjet Printer
Price: $651.74
King of the continuous ink printers at CartridgesDirect is the Epson EcoTank ET-4750 Inkjet Printer. With first movers advantage in 2010, Epson has produced the very best ink tank printers over the past decade and the ET-4750 is absolutely at the top of the class. While some continuous ink printers are best suited to photo printing or as mono printers, the Epson ET-4750 is your complete all-round printing unit and as such, wins our title.
Slightly more expensive than the EcoTank 2750 Inkjet Printer, the ET-4750 offers high-quality printing, scanning, copying, faxing and double-sided printing as standard. With print speeds of up to 15ppm in black and 8ppm in colour, the ET-4750 will have no trouble keeping up with high-pressure demands of your business. What's more, all EcoTank ET-4750 printers come with up to 2 years worth of ink straight out of the box. So, while you pay a little more for the printing unit itself, you will not need to refill your ink tank until you have printed up to 14,000 pages with black ink or 11,000 pages in colour ink. That's equivalent to approximately 270 standard inkjet cartridges!
When running your business or home office, reliability and flexibility are priceless. If you are looking for the best ink tank printer available within Australia that is a complete all-rounder and backed up with the latest technology, then the Epson EcoTank ET-4750 is a superb choice.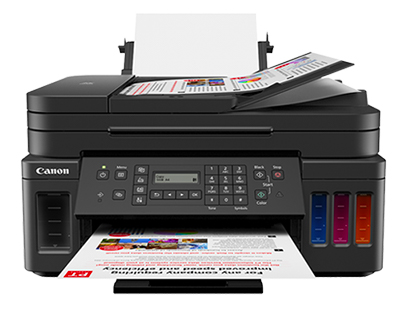 2. Canon Pixma Endurance
Price: $612.15
Currently, the Canon Endurance series has two leading ink tank printers on the market with the Canon Pixma Endurance G6065 & G7065. While both printers deliver superb cost savings without compromise on quality, there is a standout winner between the two. Firstly, the Pixma Endurance G7065 offers double-sided printing which is not available with the G6065. Given that ink tank printers are primarily purchased to improve printing economy, double-sided printed pages literally reduce your printing costs by 50%. Additionally, the G7065 comes with a flatbed, ADF and CIS scanner, whereas the G6065 provides only a flatbed scanner.
Our decision to select the G7065 as the winner between the two is also compounded by the fact that the G7065 is compatible with Apple AirPrint while the G6065 is not. For printing performance, both printers are almost identical. Offering up to 18,000 printed pages with a single refill in black and 7,700 pages in colour, either choice will significantly reduce your ongoing printing costs. Overall, the G7065 is just a much more capable printing unit with built-in multifunction printer capabilities. While it costs an additional 10% to purchase, you will get much more than 10% worth of value by choosing the G7065.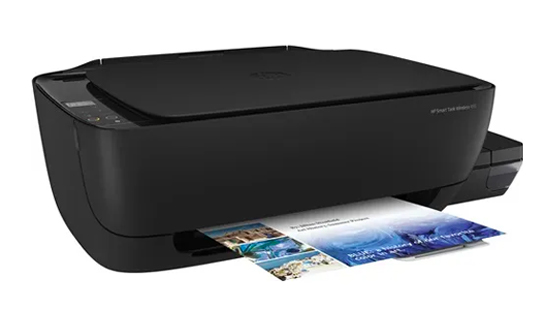 3. HP Smart Tank 455 Inkjet Printer
Price: $519.17
Right now, the Epson EcoTank series proudly commands the position of king of the ink tanks. However, the HP Smart Tank 455 series is a genuine competitor. Rivalling the EcoTank in both ongoing printing costs and print quality, Epson will be paying close attention to what HP is up to with continuous ink printing.
Okay, so the price of the HP Smart Tank 455 may make your cringe, but it comes with good reason. Firstly, when you buy the HP Smart Tank 455 you also receive up to 2 years worth of ink straight out of the box. This saves you plenty of money down the road.
Secondly, the HP Smart Tank 455 is not just a continuous ink printer. It is also a scanner, copier, wireless and mobile printer via the HP Smart App that comes with a variety of connectivity options. So, you have a printer that is super flexible to your needs, can print up to 8,000 colour pages and 6,000 black pages while also is compact enough to fit just about anywhere in your home office. Sound like a better deal?
Well, it should be. When you combine these features, the initial price of the HP Smart Tank 455 is completely justified. HP are renowned for producing premium printers that are flexible, business-focused, cost-efficient and complete with secure printing without compromise.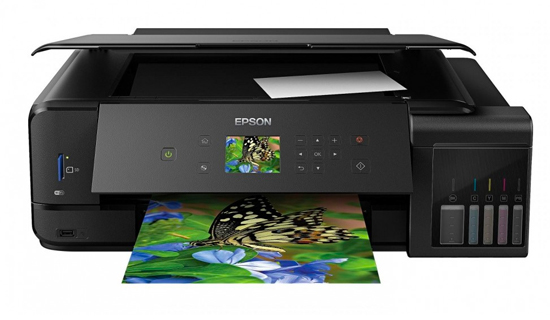 4. Epson Expression Premium ET-7750
Price: $1,003.32
The Epson Expression Premium is one of the most expensive continuous ink printers on the market, but for good reason. Unlike other ink tank printers, the Epson Expression ET-7750 comes with 5 colour refillable ink tank systems. This is a huge improvement when photo printing thanks to the addition of a dedicated photo black pigment ink. The pigment ink and additional depth produce some incredible photo prints; albeit it takes some time.
Additionally, photo inkjet printers are renowned for quality, not quantity printing. However, with the Expression ET-7750, you get the best of both worlds. Plastered all over the box, you will see that the ET-7750 comes with enough ink to print up to 3,600 high fidelity photos. Okay, so this can only be achieved when printed on photo paper instead of A4 paper, however, that is way more than any other inkjet printer can offer you.
That said, no product is perfect and to be extremely critical the Epson Expression ET-7750 does have some drawbacks. Firstly, the display on the printer is not touchscreen and much smaller than other Epson printers. However, it is legible and functional nonetheless. Secondly, the Epson ET-7750 is not your fastest printer. Users can expect around 13ppm for basic monochrome printing and around 27 seconds for each high-quality photo. Although, when you throw into the mix that the Epson ET-7750 also comes with a highly capable scanner and copier, you have yourself an extremely reliable, well made and premium photo ink tank printer.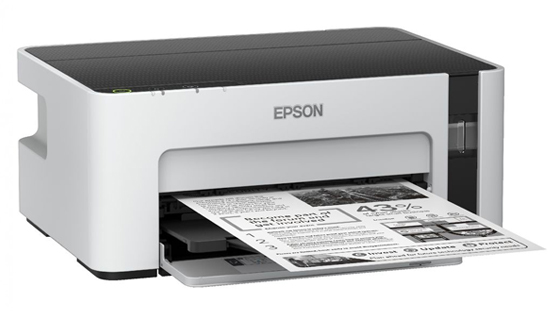 5. Epson EcoTank M1100 Mono Printer (Cheapest Ink Tank Printer)
Price: $260.39
As our wildcard entry for the best ink tank printer in Australia, we have selected the Epson EcoTank M1100 Mono. The reason for this entry is because the initial unit price is almost 3x less than any other mention throughout this article. Sometimes, you do not need all the bells and whistles when it comes to printing and the EcoTank M1100 Mono Inkjet Printer is the perfect example of print first, smart stuff later. As a simple continuous ink printer, the M1100 delivers is lightweight, elegant and delivers low cost, fast monochrome printing. Compared to other monochrome inkjet printers, the M1100 can save up to 95% of power consumption too.
Okay, so this printer is missing duplex printing, wireless connectivity and the ability to scan, copy or fax. However, for bustling offices that need to print simple documents en mass for a cheap price, the M1100 will not let you down. Not only does the M1100 print immediately without any warmup time, when fully operational, but it will also print up to 15 pages per minute very comfortably. This comes with the guarantee of up to 6,000 printed pages per refill which saves you around 80% on standard black Epson ink cartridges. Overall the Epson M1100 is a neat, tidy and highly efficient printer suitable for anybody who just wants life to be simple.Purchase: Buy Epson EcoTank M1100 Mono Printer
Best Continuous Ink Printer Roundup
So there you have it. Our experts take on the best printers with refillable ink tanks available within Australia. Epson takes the crown with 3 entries into our top 5 shortlist, however, nearly every product on the market today is of extremely high quality. As print manufacturers continue to strive towards improved printing economies and sustainability, ink tank printers are the perfect example of how far we have come. Remember, ink tank printers are best suited when printing in volume. For anybody who only prints very occasionally, forking out additional costs to purchase a continuous ink printer will not pay dividends in the long term. However, for the frequent printer, buying one of the best continuous ink printers available today is a consideration worth seriously thinking about.
Note: The best continuous ink printers are not cheap. But when you combine cutting edge technology alongside minimal fuss and huge cost savings during full operation, the setup cost is worth every cent.
Saving money printing has been a major focus for businesses for a very long time. With continuous ink tank printers, your business can take that extra step towards residual cost savings by completely slashing your cost per printed page. Yes, the startup cost will be greater than purchasing an inkjet printer or laser printer, however, you will be pleasantly surprised at how little you will need to refill the tanks.
Content Disclaimer: At CartridgesDirect, we are committed to providing up to date and independent reviews on the best ink tank printers in Australia. All printer reviews are not commissioned by manufacturers and have been independently tested by our printing experts. If you have any questions, please contact us via live chat or feel free to leave a comment below. We look forward to hearing from you.
Explore Popular Articles
The 21st century is the age of information and seeking alternatives to harsh chemicals. Although

There are a number of criteria to be met when choosing a new business printer. Productivity is a

Photos are precious memories and it stands to reason that you would want to buy one of the best